Print This Post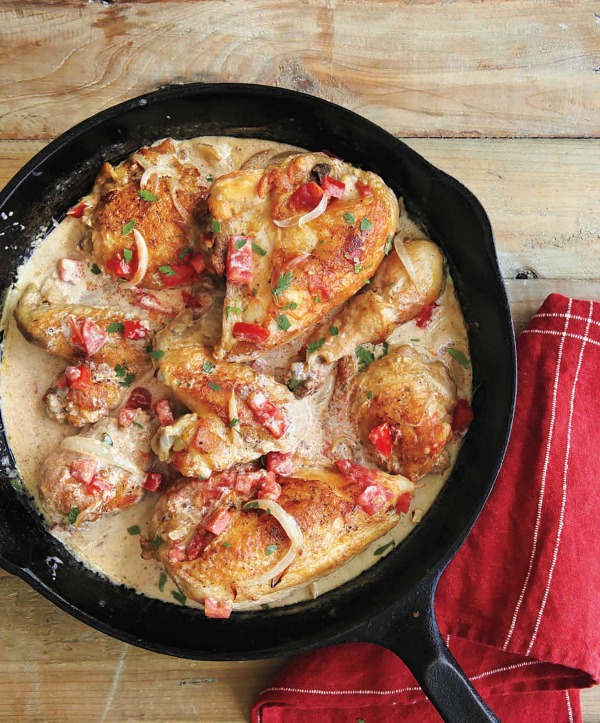 Pollo en Crema (Chicken in Cream): Simple, homey, lightly spicy and deeply comforting, this saucy chicken dish is perfect over hot cooked rice, quinoa or wide egg noodles.
We home cooks in Southern California use a lot of different pepper varieties, what with the influence of so many different cultures mixing and mingling in our communities, markets and restaurants.
We're comfortable with bell peppers in our stir-fries and salads, with mild Padron chiles in our Chili Mole, Hatch chiles in our salsa, cornbread and even our cranberry sauce, the hotter jalapeno in our Tuna Mac and Cheese, and the fiery Red Savina in our dip.
But chiles, with their wildly varying heat levels, can be daunting and a bit scary, especially if you don't know what level of heat to expect. For many of us, the hottest pepper on Earth – the scorpion chile pepper – is but a funny punchline to a joke. We have no intention of challenging ourselves to eat one, no matter what the bet is.
So a cookbook that highlights more than 30 types of peppers, ranging from sweet bell peppers to blazingly hot bhut jolokia chile peppers is very welcome here, indeed!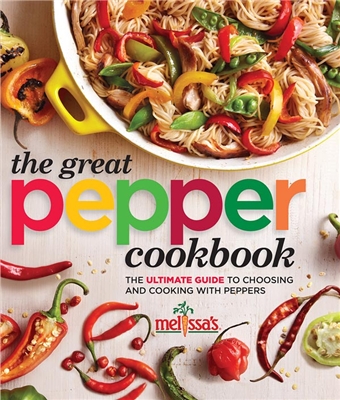 "The Great Pepper Cookbook: The Ultimate Guide to Choosing and Cooking with Peppers," by Melissa's Produce, arrived just in time for Cinco de Mayo, and the whole hotsy-totsy spring and summer potluck and entertaining season.
It offers explanations, recipes and inspiration to use chiles for more than simple heat. Each variety has its own personality, flavor profile and best uses. For example, cooks need to know when to use dried chiles and when to use fresh, for best results.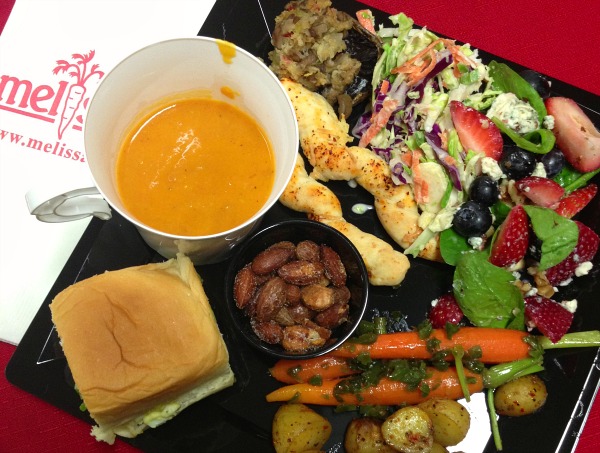 A few lucky food writers got to sample dishes from the book, which show the varied uses to which chiles can be put.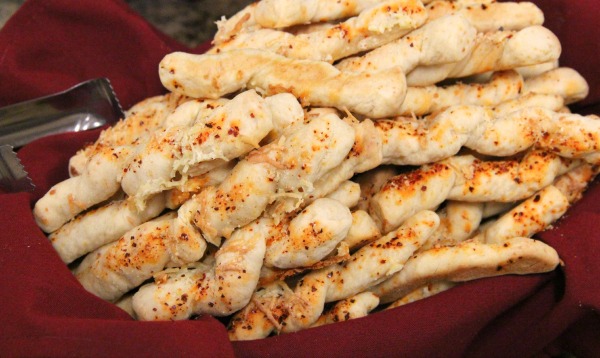 Cheddar-Chile-Lime Breadsticks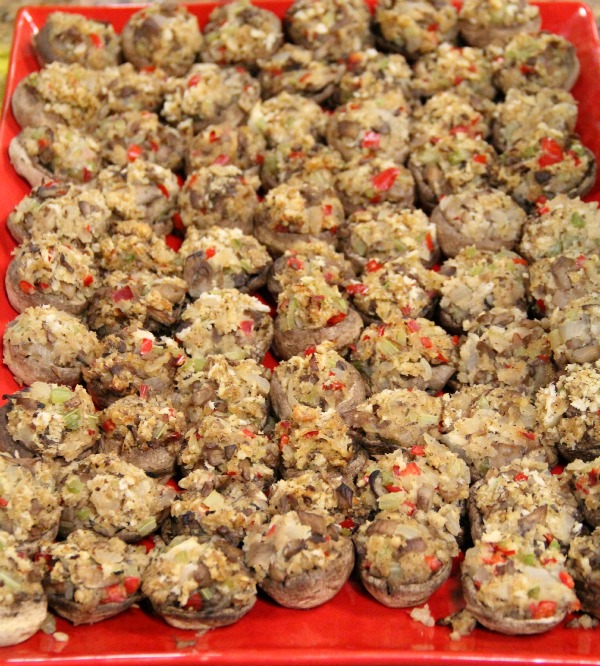 Spicy Stuffed Mushrooms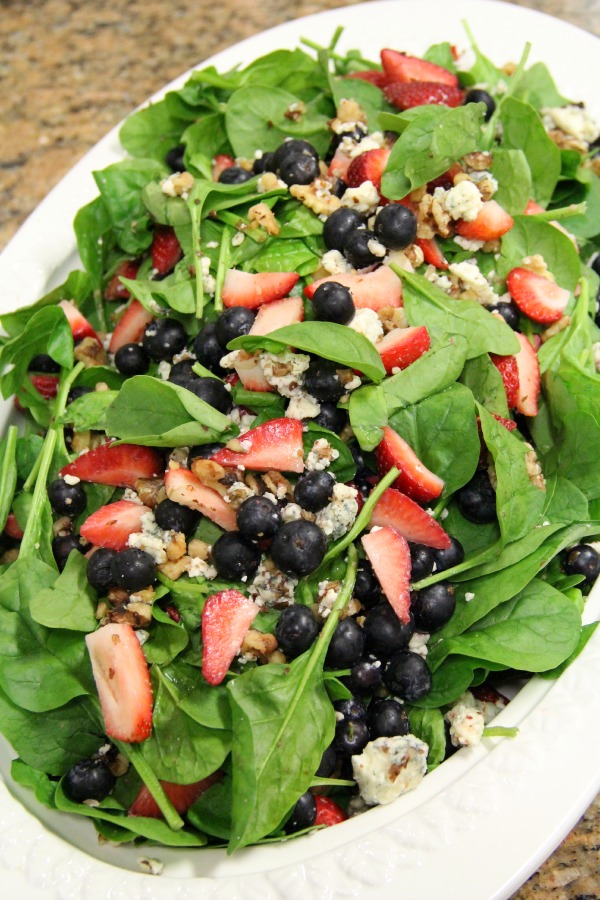 Tropical Spinach Salad with Trinidad Scorpion Vinaigrette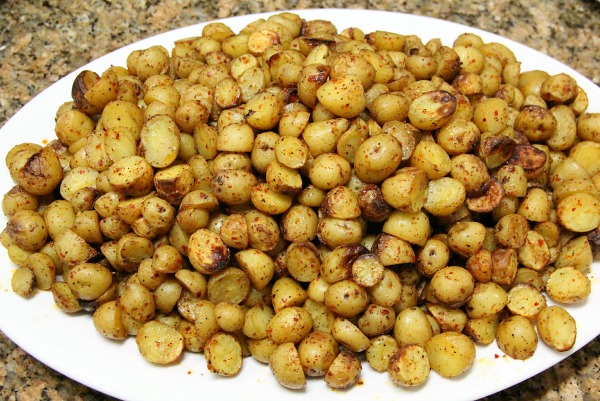 Chile Roasted Dutch Yelllow Potatoes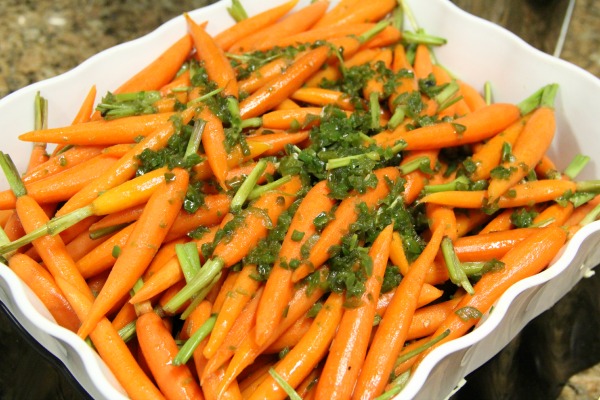 Glazed Chile-Spiced Baby Carrots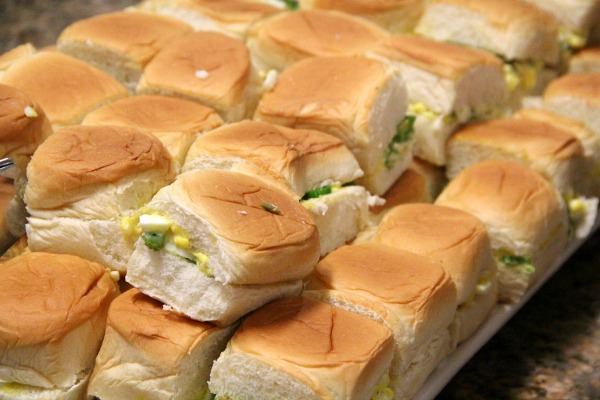 Egg Salad Sandwiches with Pepper Relish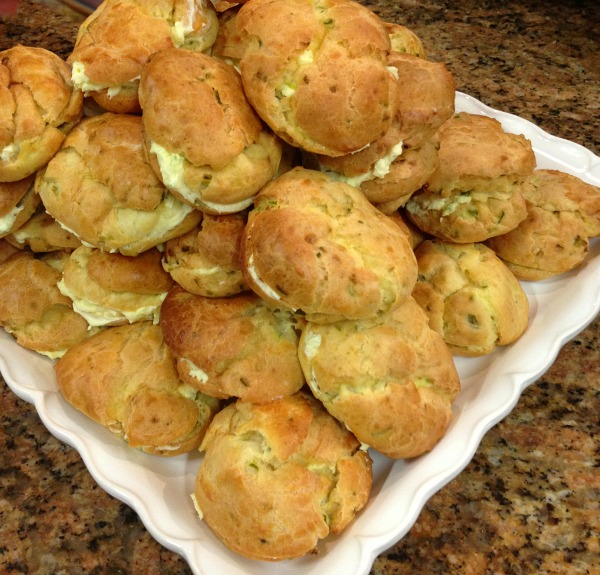 And even Chile-Lime Cream Puffs for dessert!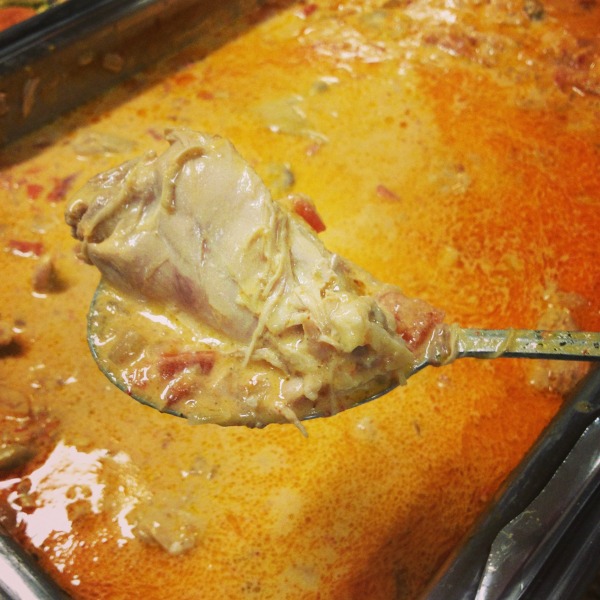 But the star of the entire lunch, in my not-so-humble opinion, was Pollo en Crema. There were raves around the room for this simple, homey dish created by Melissa's test kitchen chef Raquel Perez. She enjoys it at home, and spoons the sauce over rice and places the chicken atop it.
If she were my relative, I would require she bring it to each and every potluck meal. For eternity. Raquel, will you be my sister?
This is a winner-winner chicken dinner, and I'm ready for dinner! 
Pollo en Crema (Chicken in Cream)
Pollo en Crema: Simple, homey, lightly spicy and deeply comforting, this saucy chicken dish is perfect over hot cooked rice, quinoa or wide egg noodles.
Ingredients
4 pounds bone-in, skin-on chicken pieces, trimmed
3 garlic cloves, thinly sliced
3 dried chipotle chile peppers, stems and seeds removed
1 cup sour cream
1/8 teaspoon salt
2 tablespoons extra-virgin olive oil
1 small sweet onion, thinly sliced (about 2/3 cup)
2 large Roma tomatoes, finely chopped (about 3/4 cup)
Garnish: Chopped fresh cilantro (optional)
Directions
In a large, straight-sided sauté pan, sear chicken skin side down in a single layer over medium-high heat, about 3 minutes. Sprinkle evenly with garlic; add chiles and water to cover. Bring just to boiling. Reduce heat; simmer until chicken is completely cooked through and a meat thermometer inserted into thickest part reads 165°F, about 20-25 minutes.
Transfer chicken to a plate, reserving chiles and liquid. Place chiles and 2 cups liquid from sauté pan in a blender*, discarding any remaining liquid; add sour cream and salt. Process until smooth.
Return empty sauté pan to stovetop. Add oil; heat over medium-high heat. Add onion and tomato; cook, stirring occasionally, 3 minutes. Add chile mixture; bring just to boiling. Nestle chicken into chile mixture; simmer until chicken is heated through, about 5 minutes. Serve.
Serves 6.
Notes
https://www.shockinglydelicious.com/pollo-en-crema-and-a-new-pepper-cookbook/
Copyright Dorothy Reinhold | ShockinglyDelicious.com. All rights reserved.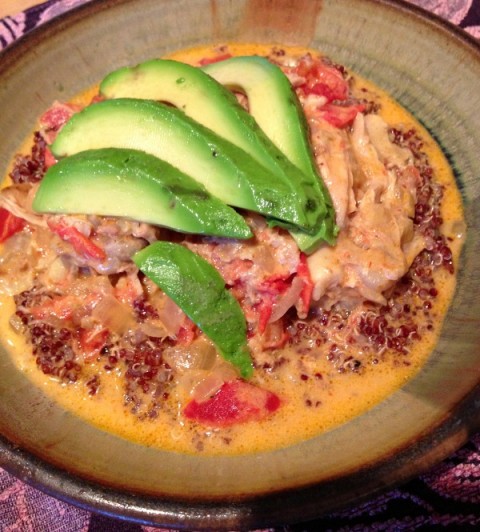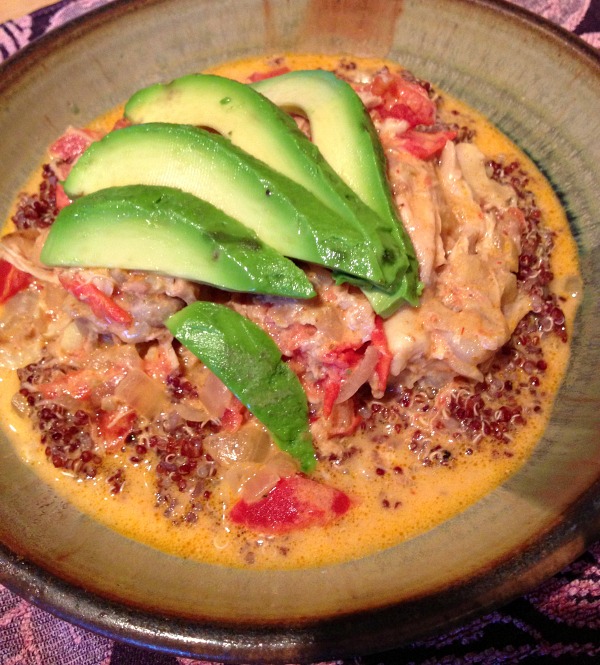 Above, I have put leftovers on a bed of cooked red quinoa, with sliced avocados on top, for dinner!
Pin the image below to your Pinterest board to save this recipe for later!
Thanks for visiting…are you hungry for more? Follow Shockingly Delicious on…
FACEBOOK   |   PINTEREST   |   INSTAGRAM   |   TWITTER
…for all the latest recipes, ideas and updates!
This post may contain affiliate/referral links. It is a way for this site to earn advertising fees (at no cost to you) by advertising or linking to certain products and/or services that I approve and prefer.


Disclosure: Melissa's Produce provided a copy of the book for review.
This post was originally published April 19, 2014, and has been refreshed and republished.