Print This Post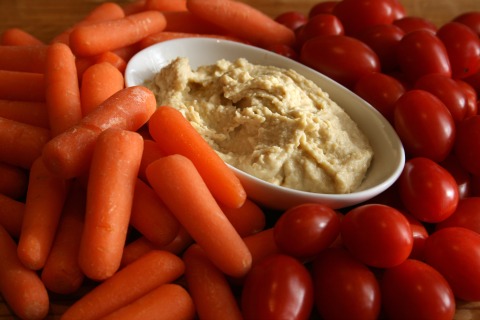 This is a sponsored post written by me on behalf of VinoVinti. All prose and opinions are 100% mine.
We do love our girls' nights here in the neighborhood. Some friends, some food, and of course, some wine, and we're good to go!
We usually assemble a motley collection of appetizers – all delicious, all easy, all wine friendly – and then set to opening a couple of bottles of vino.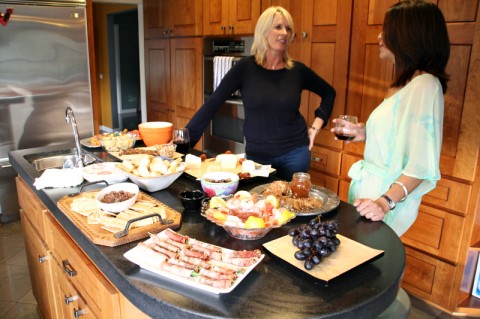 In the past, for food I've ventured to bringing tapenade and elegant Prosciutto goat cheese rolls. This time, I wanted to go super simple, with a Perfect Homemade Hummus.
I like hummus with wine because hummus fills you up enough that you don't get tipsy. It's delicious on baguette slices, using fresh vegetables as dippers, and it's nutritious. What more do you need? You could make dinner out of it!
For this get together, I also wanted to try a new wine gadget I got, called VinoVinti.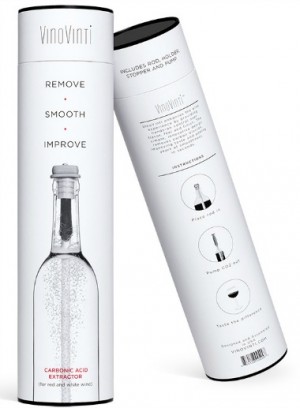 VinoVinti is essentially a lightning fast device that speeds up the work that aeration or decanting used to do. It removes carbon dioxide from wine, improving taste and adding smoothness in seconds. It allows you hands-on control over the flavor, feel and finish of your wine, with about 20-30 seconds of work.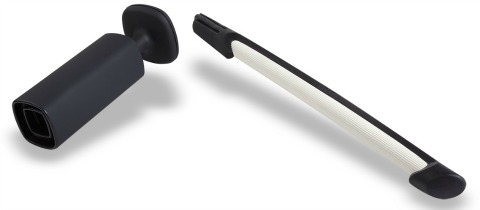 The gadget consists of a specially engineered ceramic rod and vacuum pump to create "nucleation," which allows excess carbon dioxide (CO2) molecules to come together, form a bubble and escape the wine. This reduces the harshness of tannins and gives the wine a smoother finish.
What's the science behind it? The main gas that VinoVinti extracts from a bottle of wine is CO2 or carbon dioxide. Carbon dioxide in liquid solution is carbonic acid — the same stuff that makes soft drinks fizz. A little of it is good in wine; too much and the wine has an acidic "bite."
So you simply assemble the device, insert the rod in the bottle of wine (pour off a shot first to make room for the rod), and use the vacuum pump until bubbles form. Release the stopper in 15 seconds, and you're done! It works for both red and white wines, and treats the whole bottle in a matter of 20-30 seconds.
Want to see how it works?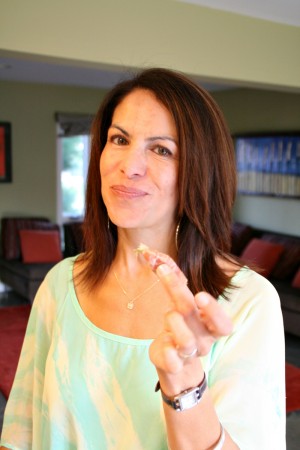 I tried it on my favorite wine — Nobilo Sauvignon Blanc from New Zealand, which I chose because it is crisp, mineraly and flinty — a perfect foil for the rich hummus. It worked like a charm, and it would make a good gift for the wine lover on your list. You can see more about it at the VinoVinti store.
It's brilliant, and delicious, just like my friends and my hummus.
Recipe: Perfect Homemade Hummus with Raw Vegetables
Summary: Homemade hummus perfectly seasoned with caramelized shallots and garlic, warm spices and a shot of lemon juice. Use fresh vegetable dippers.
Ingredients
3 tablespoons extra virgin olive oil, plus additional
1 large shallot, peeled and finely minced
4 fat garlic cloves, divided use
16-19 ounces no- or low-salt cooked garbanzo beans
3 tablespoons tahini (sesame seed paste)
2-3 tablespoons fresh lemon juice
1 teaspoon ground cumin
1/2 teaspoon ground coriander
1/8 teaspoon kosher salt

For dipping

: Toasted pita bread wedges or vegetables (beet slices, radish slices, broccoli florets, carrot sticks, cherry tomatoes)
Instructions
Add 3 tablespoons olive oil to a skillet. Sauté shallots for 5 or so minutes, until lightly brown. Add 3 pressed garlic cloves and sauté for another minute or two.
Add contents of skillet, including oil, to the bowl of a food processor. Add garbanzo beans, tahini, lemon juice, cumin, coriander and salt. Whirl for a minute or so until it forms a paste, adding another tablespoon of olive oil and 1 tablespoon of water if needed to get it moving. Press the final garlic clove and add it, whirling for another 30-60 seconds, adding another tablespoon of water if you need to, for proper consistency. The final result should be like thick paste or frosting.
Taste and adjust seasonings, adding another pinch of salt if needed, or more lemon juice, of even more garlic if you like it that way. The final result should be to your liking! Feel free to add another tablespoon of water if it isn't a loose enough puree for you.
Transfer to a serving bowl, and surround with vegetable dippers.
Serves 6-8.
Source
Recipe by Dorothy Reinhold | Shockingly Delicious
Preparation time: 15 minutes
Cooking time: 8 minutes
Diet type: Vegetarian, vegan
Diet tags: High protein
Number of servings (yield): 6-8
Culinary tradition: Middle Eastern
My rating 5 stars:  ★★★★★ 
Follow VinoVinti on Facebook, and tell me in the comments below what you think about this new wine tool.
**Please drink responsibly, and as always, only drink if you are of legal age — at least 21 years old or older**