Print This Post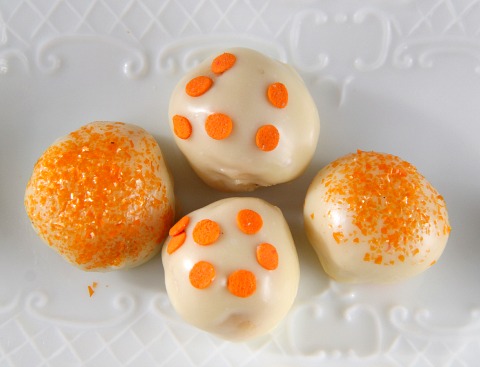 Confession time: We love Oreos here in the ShockD household. That's probably no surprise, since they're America's favorite cookie.
But have you ever tried an Oreo Cookie Ball? They're even better!
The folks at Oreo challenged me to come up with a creative spin on the classic cookie ball, and my mind wandered. Winter (it's coming!)…Southern California (where I live)…winter citrus (my backyard orange tree)…Dreamsicle (a favorite childhood flavor).
So I dreamed them, and then made Dreamsicle Oreo Cookie Balls.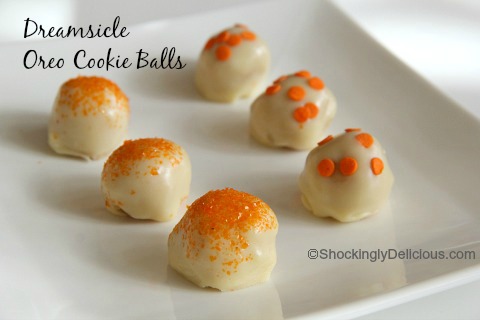 The original recipe calls only for Oreo cookies, cream cheese and chocolate to coat them – couldn't be easier, especially if you have a food processor to whir things up.
For mine, I used Golden Oreos, Neufchatel (1/3 fat cream cheese), my favorite flavoring called Fiori di Sicilia, which is an Italian vanilla-orange flowery essence, and white chocolate to coat them.

Shall we make them?
Recipe: Dreamsicle Oreo Cookie Balls
Summary: A favorite childhood flavor comes to life in a variation on Oreo Cookie Balls. Orange and vanilla cookie balls coated with white chocolate? Sign me up!
Ingredients
18 Golden Oreos
4 ounces Neufchatel (1/3 the fat cream cheese)
¼ teaspoon Fiori di Sicilia (or substitute ¼ teaspoon vanilla extract and ¼ teaspoon orange extract)
White chocolate chips
Sprinkles (orange is a nice color to let people know what flavor to expect inside)
Instructions
Whirl the Oreos in a food processor until they are crumbs.
Add Neufchatel and extract and whirl until it comes together into a mass or ball.
Using hands, shape into 24-28 small balls and set on a waxed paper- or parchment paper-lined baking sheet. Place in freezer for 10 minutes to firm up.
While balls are in freezer, melt white chocolate chips following package directions. One by one, dip each ball (a pair of forks will help you do this), and place ball on waxed paper or parchment paper. Immediately sprinkle (if you wait too long, the coating will seal and the sprinkles won't stick). When done, place coated, sprinkled balls back in the refrigerator for an hour, until firm. (You may also freeze them.)
Makes 24-28 balls.
Source
Recipe by Dorothy Reinhold | Shockingly Delicious
Preparation time: 30 minutes
Diet type: Vegetarian
Number of servings (yield): 24
Culinary tradition: USA (General)

If you would like to make the original version, here it is!

Recipe: Original Oreo Cookie Balls
Ingredients
1 (8-ounce) package brick cream cheese, softened
36 Oreo Cookies, finely crushed (about 3 cups)
16 ounces semi-sweet baking chocolate, melted
Instructions
Mix cream cheese and cookie crumbs until blended.
Shape into 48 (1-inch) balls. Freeze 10 min. Dip balls in melted chocolate; place in single layer in shallow waxed paper-lined pan.
Customize it with your own ingredient additions or decorative skills.
Refrigerate 1 hour or until firm.
Share and enjoy!
Preparation time: 30 minutes
Diet type: Vegetarian
Number of servings (yield): 48
Culinary tradition: USA (General)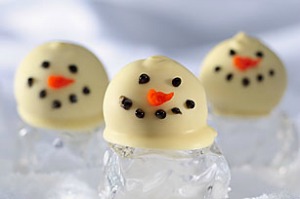 How would YOU customize Oreo cookie balls? Here are a couple of ideas to get your creative mind working:
add coconut to the outside to make mini snowballs
add crushed candy canes – either inside or outside — for minty freshness
pretzel antlers anyone? Create your own squadron of reindeer
use up all those crazy sprinkles you have in the pantry!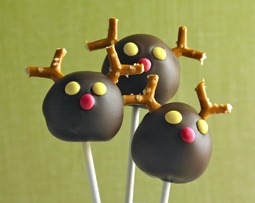 You can learn more about Oreo cookie balls and find fun takes on the classic recipe here. Follow @oreo on Twitter for cookie ball inspiration and recipes all season long.
Disclosure: This post was sponsored by Oreo Cookies and Yummly. All prose, opinions and photos are mine, and the Dreamsicle Oreo Cookie Balls recipe is a Shockingly Delicious original.