Print This Post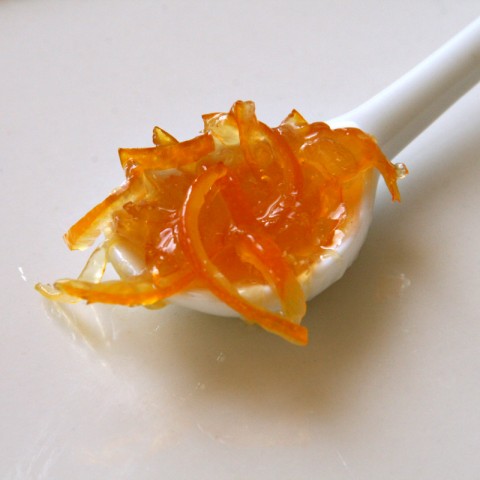 From where I sit – nearly 30 years into marriage – Valentine's Day isn't about the ubiquitous chocolates, roses and red wine.
It's about understanding what your beloved really wants from your kitchen. More than chocolate, mine adores orange marmalade – on his toast, his croissants, even his raisin bread. If we run out, there is a small morning panic in our kitchen.
So I took the jewel of the winter citrus – Meyer lemons – and a little sugar, and made easy homemade marmalade. Tied with a ribbon, it will shine on Thursday morning.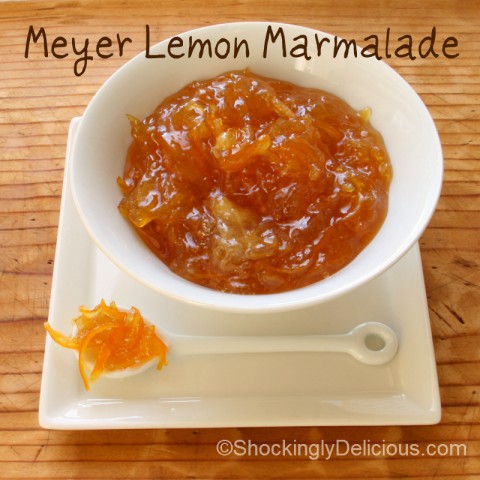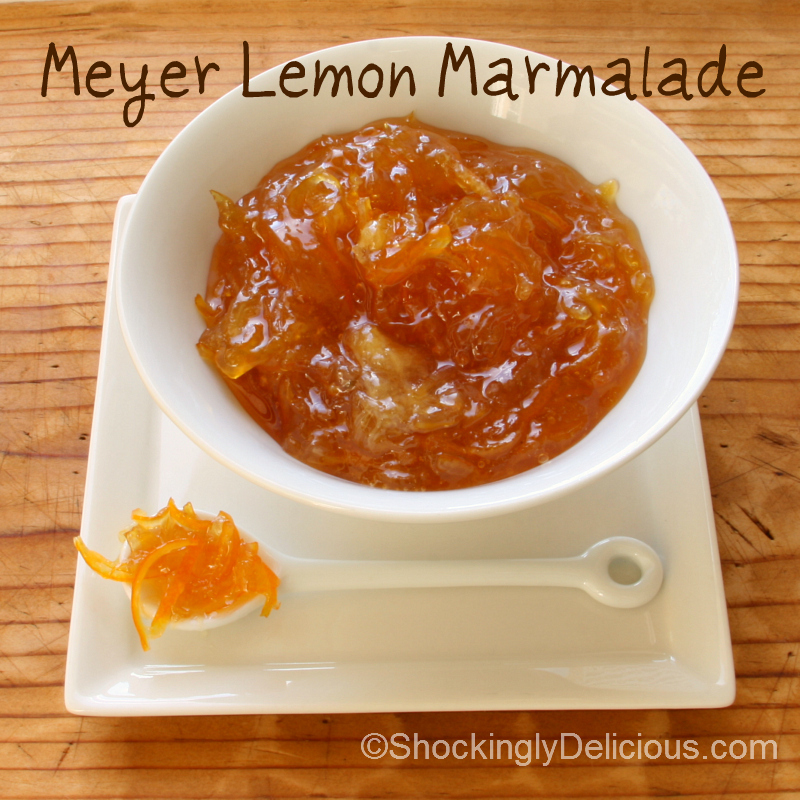 No, it's not orange, it's lemon. I still have a few tricks up my sleeve.  😎
Recipe: Susan Feniger's Lemon Marmalade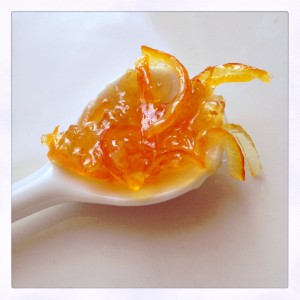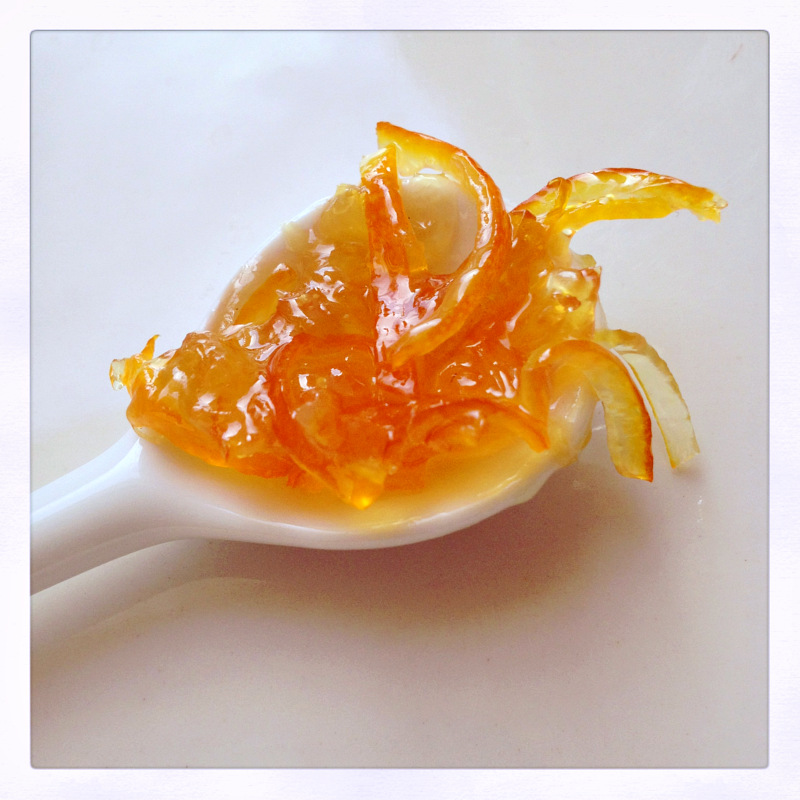 Summary: Refreshingly sweet and sour, a tad bitter and chewy from the rind, this is perfect — and perfectly easy — lemon marmalade. On toast, on a sandwich, or just out of the jar.
Ingredients
5 lemons, washed well (I used Frieda's Specialty Produce Meyer Lemons)
1 1/2 cups sugar
1/2 teaspoon kosher salt
Instructions
Using a vegetable peeler, remove the yellow zest from all of the lemons. Slice the zest into narrow, delicate strips and put them in a small saucepan. Cut off the ends of each lemon, and then cut down the sides, removing the white pith so that you are left with just the fruit. Discard the pith. Cut the fruit into 1/2-inch pieces, removing any large membrane and seeds. Put the fruit in the same saucepan with the zest.
Pour 1/4 cup water into the saucepan and add the sugar and salt; stir well to combine and dissolve the sugar. Put the pan over medium heat and, stirring occasionally, bring to a boil, about 5 minutes. Reduce the heat to medium-low and simmer for 20-25 minutes, until the marmalade is thick and glossy.
Transfer the mixture to a container and let it cool in the refrigerator. Store the marmalade in an airtight container in the refrigerator for up to 3 weeks.
Makes 1 ½ cups.
Source
Lightly adapted from "Susan Feniger's Street Food: Irresistibly Crispy, Creamy, Crunchy, Spicy, Sticky, Sweet Recipes," by Susan Feniger (Clarkson Potter/Publishers; $27.50).
Preparation time: 20 minutes
Cooking time: 30 minutes
Diet type: Vegan, Vegetarian
Diet tags: Reduced fat, Gluten free
Culinary tradition: USA (General)
My rating 5 stars:  ★★★★★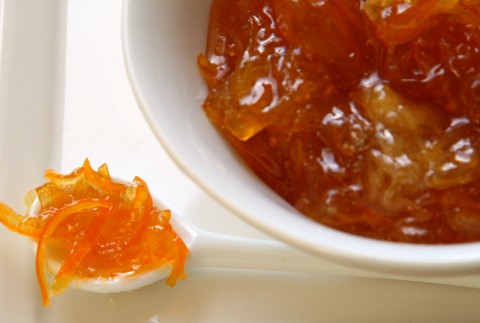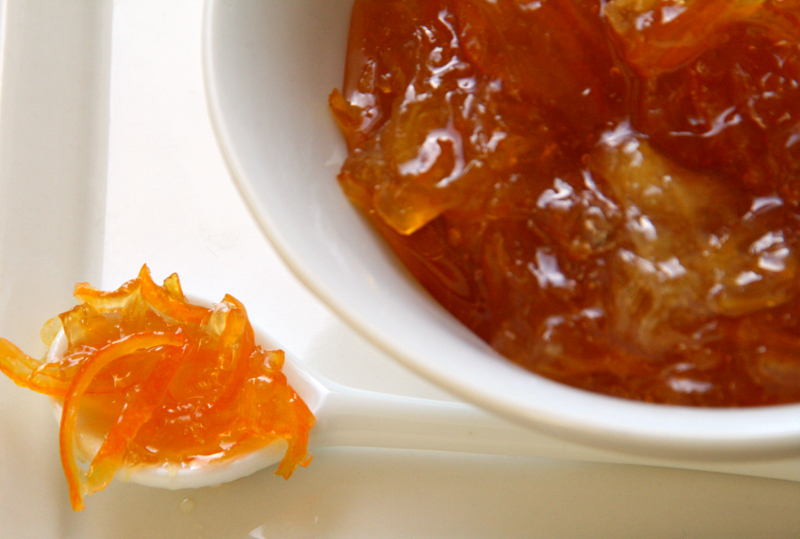 Make sure you check out the other #SundaySupper participants to see what they've made for our Valentine's Day #SundaySupper!
#SundaySupper Valentine's Day Breakfasts, Apps & Main Dishes:
#SundaySupper Valentine's Day Sweet Eats:
#SundaySupper Valentine's Day Drinks:
#SundaySupper Valentine's Day Tablescape:  A Romantic Table For Two Please from An Appealing Plan
Join the #SundaySupper conversation on Twitter today (Sun., Feb. 10) to talk all about Valentine's eats and treats!  We'll tweet throughout the day and share recipes from all over the world.  Our weekly chat starts at 4 p.m. PT and you do not want to miss out on the fun. Follow the #SundaySupper hashtag, and remember to include it in your tweets to join in the chat.  Check out our #SundaySupper Pinterest board for more fabulous recipes and food photos!