Print This Post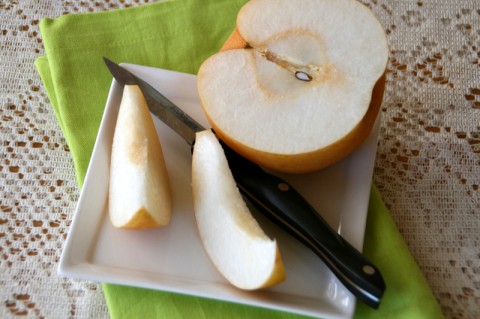 As soon as Halloween is over, it's time for one of my favorite fruit seasons – fall fruit just bursts forth if we will only look away from the candy, doesn't it?
Among the plethora of fresh apples and a variety of pears dotting the produce shelves, you'll soon find Korean Pears. A Korean Pear is like the love child of a big green apple and a Bosc pear — round, bigger than typical pears, with a crisp, sweet, white interior with a brownish-yellow skin. It's hard and crisp when ripe, not like other pears that must soften to be ripe.
It's no wonder these are sometimes referred to as apple pears.
The beauty of Korean pears is they are superbly crisp, juicy and sweet with the thinnest skin (no need for peeling). They're good in any salad where you might use chopped apples, or simply sliced and eaten for a snack or dessert.
A plus is they don't tend to darken when cut, unlike lots of apple varieties and some pears, so they hold up well in a salad or lunchbox, even when sliced or chopped. Another plus is they're only about 50 calories per fruit!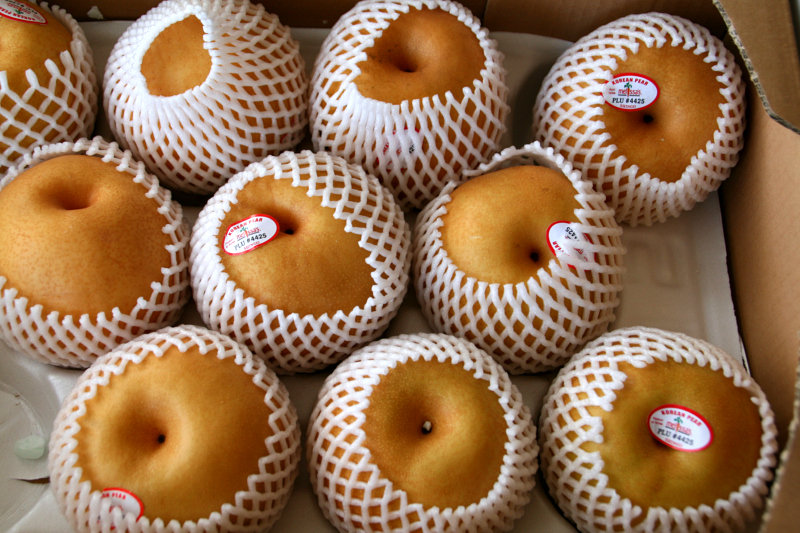 Korean Pears are what we might call pampered produce – grown purposefully with fewer pears per branch, they wear little jackets while they are still on the tree (ensuring thin, smooth, perfect skin), are coddled on the packing line, and encased in different little jackets for shipping and displaying in the store. These pears have better outerwear than I do!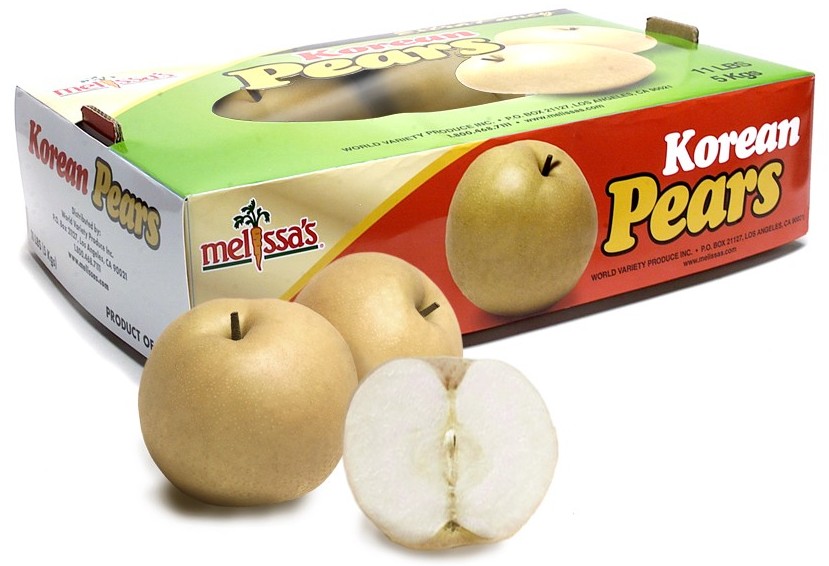 Each pear is quite large, about 14-16 ounces each! They retail for about $2.50 per pound, and are most often sold individually, although some retailers (like Asian markets) might sell by the case.
What to do with Korean Pears?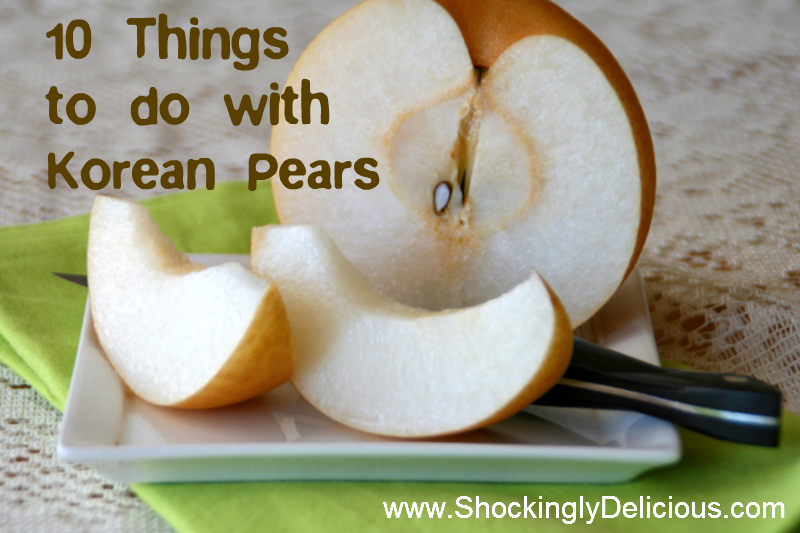 1. I most often slice one and put it on our dinner plates, for variety and crunch.
2. Eat them for dessert, simply cored and sliced (leave the skin on). Maybe a simple shortbread cookie alongside…maybe not.
3. My Korean Pear Turkey Salad (use chicken if you don't have turkey available).
4. Iron Chef Masaharu Morimoto is a big fan of Korean Pears and uses them in this Asian-Pear Salad at his New York restaurant Morimoto
5. Pair this pear (ha ha!) with cheese for an easy appetizer, or put them on your grazing boards.
6. Speaking of appetizers, wrap a Korean pear slice in prosciutto, spear it with a toothpick and call me for cocktails and appies!
7. Use it as a palate cleanser between spicy dishes or at the end of a meal.
8. Core and chop in a salad in place of apples.
9. Core, chop and sprinkle the pieces over your bowl of morning oatmeal, for a crunchy textural change.
10. Core, slice thinly and put in your Pear, Brie Panino!
If you've never tried a Korean pear before, now is the time since they're just arriving in stores. The season will peak in December and continue until February or March. They'll make a wonderful addition to holiday feasts this month and next, as well as family dinners and lunchboxes.
A sample of this fruit was sent by Melissa's Produce. I was not compensated for this post, and all opinions are firmly my own.
Thanks for visiting…are you hungry for more? Follow Shockingly Delicious on…
FACEBOOK | PINTEREST | INSTAGRAM | TWITTER
…for all the latest recipes, ideas and updates!
This post may contain affiliate/referral links. It is a way for this site to earn advertising fees (at no cost to you) by advertising or linking to certain products and/or services that I approve and prefer. Thank you for using my affiliate link to shop, so I can continue to bring you shockingly delicious recipes!