Print This Post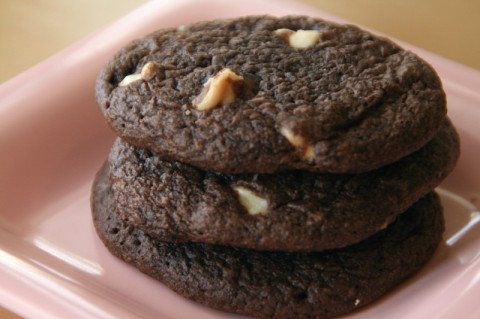 I've been baking up a storm lately, with batches of sweets needed for one child's play performances (home-baked concessions help fund the school's arts program), and the other child's classroom parties and sports team events. Whew!
I've been relying on my adaptation of this super easy, delicious, flexible recipe for Chocolate Chewy Brownie Cookies from the Cake Mix Doctor lady, Anne Byrn. With my frugal hat on, I stock up on brownie mixes when the price plummets, and with a few simple additions, I can have a half-brownie, half-cookie that is fully satisfying.
Lessons learned:
You absolutely must refrigerate the dough for an hour or so before baking. Most often I make up the dough and chill it until I can bake it off the next day. Keep the dough chilled between batches.
Line your baking sheet with parchment paper for ease of cleanup.
Use a cookie scooper to make the job fast and for size consistency among cookies.
If your instant coffee crystals are clumpy or large, grind them a bit more with a mortal and pestle. I used decaf crystals so the kids don't get further amped up.
She calls for dusting the tops with powdered sugar, but this makes them fussier. I ignore this advice and go naked.
Chocolate Chewy Brownie Cookies
1 package (about 20 ounces) brownie mix
2 tablespoons all-purpose flour
1 teaspoon instant coffee powder
2 large eggs
8 tablespoons (1 stick) unsalted butter, melted
2/3 cup white chocolate chips
In the bowl of an electric mixer, place the brownie mix, flour, coffee powder and eggs. Mix on low for about 30 seconds. While mixer is on (low), pour in melted butter. Mix until well blended, about 30 seconds more. Stop the machine, scrape down the sides, remove blade, and stir in white chocolate chips with a wooden spoon. Dough will be very stiff and sticky. Scrape dough into a lidded container and refrigerate for at least 2 hours, or overnight.
When ready to bake, heat oven to 350 degrees. Cover 2 ungreased baking sheets with parchment paper and set aside. Using a small scoop or spoon, drop cookie dough by generous tablespoons or 1-inch balls about 2 inches apart on the prepared baking sheets. Place one baking sheet at a time into the oven, and bake until cookies are firm around the edges but still soft in the center, 10-11 minutes.
Remove the baking sheet from the oven and let the cookies cool on sheet for 2 minutes, then transfer cookies to a wire rack to finish cooling. Serve slightly warm or let cool 20 minutes before storing.
Makes 48-56 cookies, depending on the size of your scoop.
(This article was published in the Pasadena Star-News, San Gabriel Valley Tribune and Whittier Daily News on May 15, 2010.)