Print This Post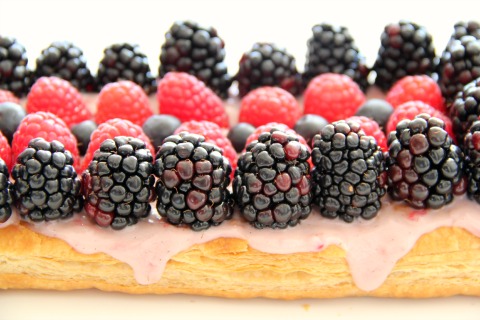 Whether you are feeding friends and relatives with allergies (lactose intolerance?), those watching their fat intake (cholesterol?) or committed vegans, the holidays can sometimes seem like more of a challenge than a celebration.
With relatives coming, I wanted a fanciful breakfast pizza that everyone could eat, so I grabbed a package of frozen puff pastry, envisioning this as my base, a carton of GO Veggie! Dairy Free Vegan Cream Cheese in Strawberry flavor, which I imagined would be the healthy, lactose-free, vegan "glue," and a few cartons of fresh berries for the topping.
With berry-crazy kids, this was going to be an epic special breakfast! What I didn't realize was how pretty it would be, as well. That's a bonus when you're having guests over.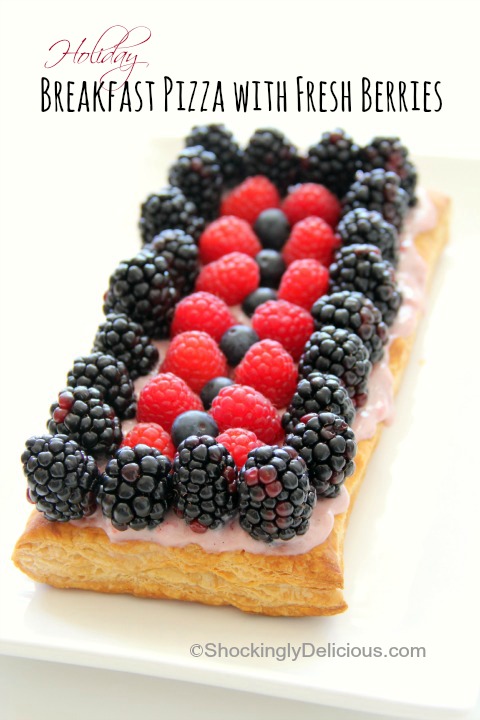 What would YOU make with a container of GO Veggie! (plain, chive & garlic or strawberry flavor)?
The folks at GO Veggie! would like to encourage you to create your own great recipe with GO Veggie! Dair Free Vegan Cream Cheese! Visit their Facebook page to upload your original recipe until Dec. 26. Submit a recipe and receive an embroidered GO Veggie! apron and GO Veggie! will also donate $10 to one pre-selected charity partner of your choosing. Spread the Holiday Cheer here. (There's also a $1 off coupon at that click.)
They're also doing a great giveaway for ShockD readers. Details are in the recipe! 
First, though, try my Holiday Breakfast Pizza with Fresh Berries to spread your own holiday cheer!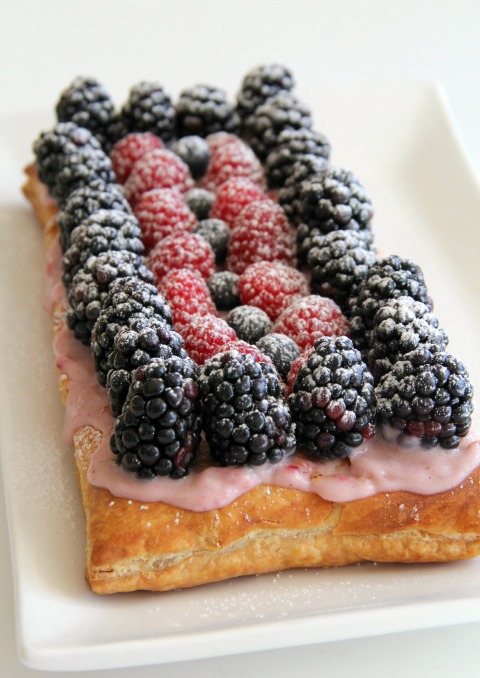 Recipe: Holiday Breakfast Pizza with Fresh Berries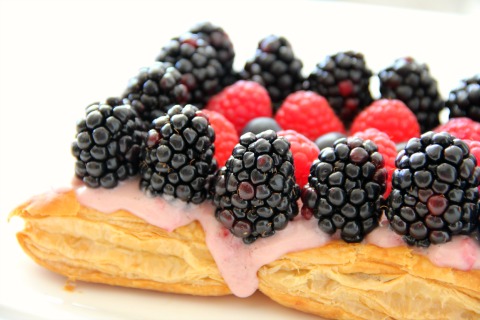 Summary: Light, fruity and fun for a special breakfast or brunch buffet, this Breakfast Pizza with Fresh Berries will wow them for showmanship and style.
Ingredients
1 sheet frozen puff pastry (I used Pepperidge Farm brand)
1 (8-ounce) container GO Veggie! Dairy Free, Vegan Strawberry Cream Cheese Alternative
1 (6-ounce) container fresh raspberries
1 (6-ounce) container fresh blueberries
2 (6-ounce) containers fresh blackberries
1 (8-ounce container fresh strawberries
½ teaspoon vanilla bean paste (I used Heilala brand)
¼ teaspoon almond extract
2 teaspoons sugar (or equivalent other sweetener of your choice)
Garnish: powdered sugar (optional)
Instructions
Thaw 1 sheet of puff pastry, per package directions, and cut in half lengthwise (so you will have roughly 2 pieces about 10×4.5 inches each).
With the tip of a sharp knife, gently score the top of each puff pastry diagonally in several spots. If you don't do this, the pastry will puff up like a football (trust me on this; I am not going to show you the picture because I don't want to humiliate myself).
Bake per package directions (my package advised 400 degrees for 15 minutes). Remove pastries from oven, slide onto a wire rack and cool completely.
While they are cooling, assemble the "glue." Scrape GO Veggie! Dairy Free, Vegan Strawberry Cream Cheese Alternative into a mixing bowl, add 6 raspberries and 3 strawberries that have been mashed with a fork (to amp up the color of the glue), vanilla paste, almond extract and sugar. Stir to mix well.
When crust is cool, place it on your serving platter, and slather on some of the flavored spread. A small offset spatula is helpful to spread it to the edges.
Carefully seat berries in the strawberry spread, arranging in any pattern you like. There will be enough berries so you can make a fanciful pattern if you like. Repeat spread and decoration with the other crust.
Dust with powdered sugar if you like.
Makes 8 ample pieces.
Source
Recipe and photos by Dorothy Reinhold | Shockingly Delicious
Giveaway!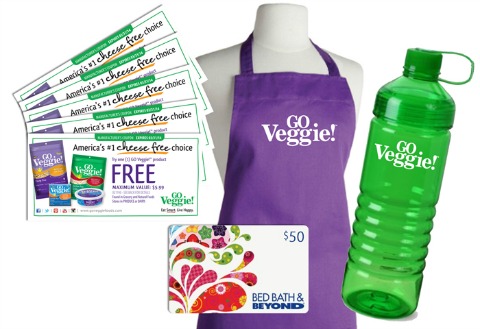 Check out the Shockingly Delicious Facebook page  for a special GO Veggie! giveaway of a fun hostess prize pack ($50 gift card to Bed, Bath and Beyond; coupons for free GO Veggie! products, an apron, a water bottle). Skedaddle over there; you know you want that.
Preparation time: 20 minutes
Cooking time: 15 minutes
Diet type: Vegetarian, vegan
Number of servings (yield): 8
Culinary tradition: USA (Nouveau)
And don't forget to stop by Kitchen PLAY to see what fun, creative, non-dairy recipes were made with GO Veggie! from my fellow bloggers.
Disclosure: This post is sponsored by GO Veggie! and Kitchen PLAY.