Print This Post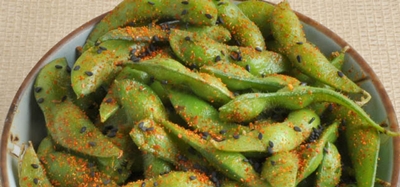 1. Spicy Edamame Bowl: Our foodie friends at Melissa's Produce have come up with a real winner in the new Spicy Edamame Bowls. Ready to eat, straight from the refrigerated produce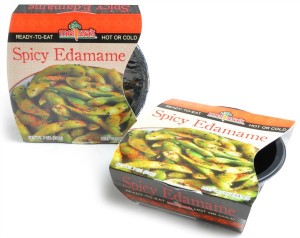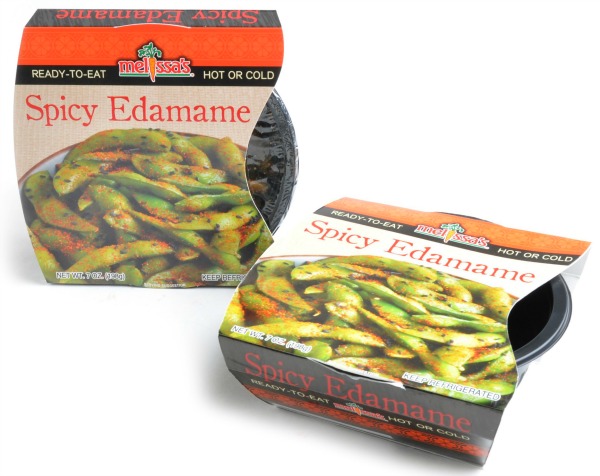 section, these 7-ounce bowls are filled with edamame in the shell, blended with a traditional Japanese spice mix — sesame oil, soy sauce and sprinkled with black sesame seeds, Togarashi seasoning and sea salt. They're pretty to look at, and a flavor explosion in your mouth! Pop the edamame into your mouth to suck the seasoning off and the beans out of the shell. We've used them as a flavor spark on the dinner plate, we've removed them from the shell and used the beans in cold noodle dishes, and served them as an appetizer. It's all good. They're spicy, but if anyone in your family finds them a tad too hot, do what my daughter does — wash a bit of the seasoning off, and go from there! $3.79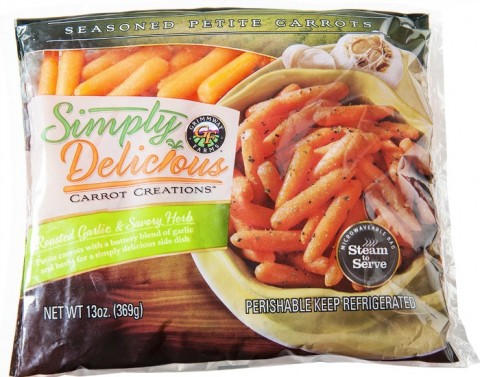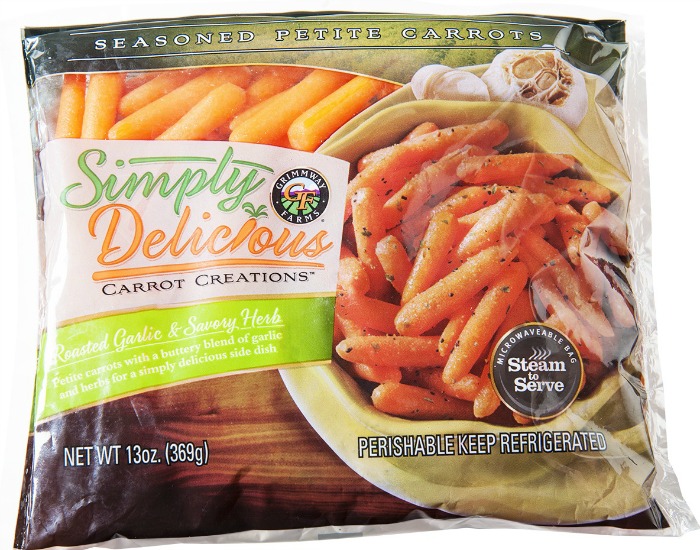 2. Seasoned carrots from Grimmway:
Grimmway Farms has a new product that has made it a cinch to get a winning vegetable onto our dinner plates. Called
Simply Delicious Carrot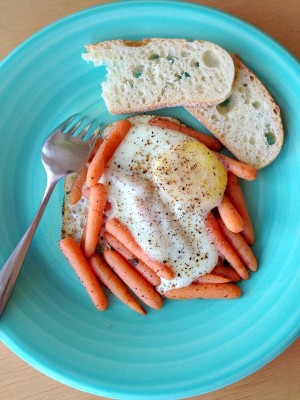 Creations
, these are petite carrots in a microwavable bag that includes a buttery garlic-herb sauce, or a honey-brown sugar-cinnamon sauce. My family asked for the garlicky version 2 nights in a row – the sauce made all the difference, and had a delicate garlic taste with light herbs. I had a brainstorm about what to do with leftovers from the cinnamon version, and ate them with my fried egg in the morning, thus working in some vegetables for my breakfast. Yum on both flavors!  Grimmway, AKA the carrot people, really know their stuff.
3. Heilala Vanilla Syrup:
This elixir is the savior of many a pedestrian dish. Heilala makes the most premium vanilla on the planet, and their rich, sweet 
Vanilla Syrup
 really delivers. This secret weapon is a way to amp up the flavor in any sweet dish you want. I


drizzle a teaspoon over my fresh berries, or use instead of sugar on my muesli or cooked oatmeal in the morning, and sometimes I add it to a shot of rum for a fantastic cocktail, or to my iced tea, or as a finishing flourish on a fruit sorbet. It made some wonderful vanilla yogurt stirred into thick, plain Greek yogurt this morning. Sometimes, when no one is looking, I get a teaspoon out of the drawer and just administer it like medicine, to myself. I saw my husband eyeing it for his coffee and I had to give him the stink-eye, but I know he saw where I hid the bottle. The flavor is 100% pure vanilla, and it also includes a whole vanilla bean in the bottle so the flavor continues to deepen as it ages. This is an eyes-closed, tropical dream. About $14.95 for a 250 ml bottle at gourmet retailers including some Whole Foods, Bristol Farms and online.
4. Ice cream biscuits:
Bread-maker extraordinaire Donna over at the blog Cookistry came up with
2-ingredient biscuits
. That's right — ice cream and self-rising flour is all it takes to make a delicious biscuit. I will try this, and use the biscuits as the base for a berry shortcake (maybe with some Heilala Vanilla Syrup over top 😀 ).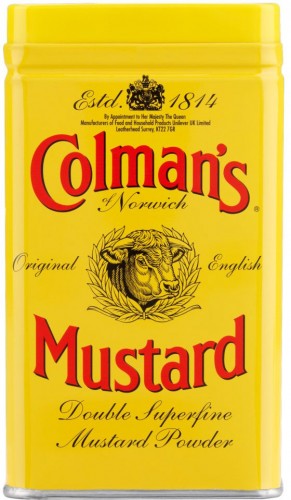 5. Colman's Dry Mustard: Fiery and fresh, Colman's Dry Mustard might make you rethink your favorite yellow condiment. Beloved in England for nearly 200 years (it dates back to 1814 and the time of King George III), this is some mustard with a pedigree! It gets its punch from a zesty blend of high-quality brown mustard seeds (Brassica Juncea) and white mustard seeds (Sinapis Alba). To experience freshly made mustard, simply mix Colman's mustard powder in an equal quantity with cold water (so 1 tablespoon mustard powder to 1 tablespoon cold water, for example). Allow to stand for 10 minutes, so flavors develop, and then spread on your burger. Yowza, that will clear your sinuses! I am fond of mustard on hard cooked eggs (standing over the sink eating them) and on Pennsylvania Dutch-style hard pretzels. The trick with dry mustard it to mix it with wet ingredients, so it also makes a fine addition to salad dressings. Try it!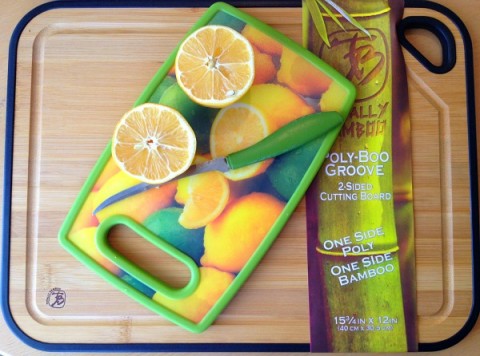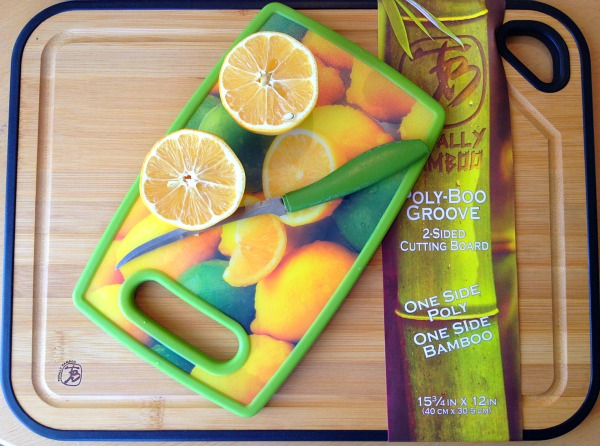 6. Two-sided cutting board: A kitchen genius came up with this idea – a two-sided cutting board with one side bamboo (for cutting vegetables, lemons, limes, etc.) and the other side polyurethane for cutting meats, fish and poultry. Called Poly-Boo, these boards are pretty AND practical! I have taken to using the poly side for cutting, and the bamboo side for serving, because it is so attractive. Bamboo is durable, lightweight and a fast-growing, natural, sustainable material that is a good alternative to endangered hardwoods. Polyurethane is non-absorbing, stain-resistant and won't dull your knife. The boards, made by Totally Bamboo, come in different sizes, ranging in price from about $10-$20.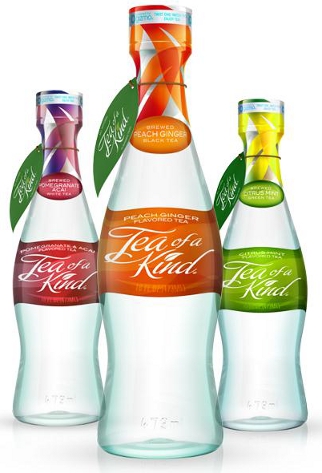 7. Tea of a Kind: This is just plain fun! You twist the cap on Tea of a Kind, and you hear a whoosh, which means the bottle's pressurized nitrogen chamber released the tea's active ingredients as a plume into the bottle of purified water. It's the first beverage to use the patented Gizmo, an innovative bottle cap design that infuses a drink with fresh ingredients upon opening. It comes in Peach Ginger Black Tea, Pomegranate Acai White Tea and Citrus Mint Green Tea. I enjoyed all the flavors, and found them very crisp and fresh – perfect with lunch. They're lightly sweetened with a bit of sugar from evaporated cane juice and a pinch of Stevia, with 10 calories per serving (2 servings per 16-ounce bottle).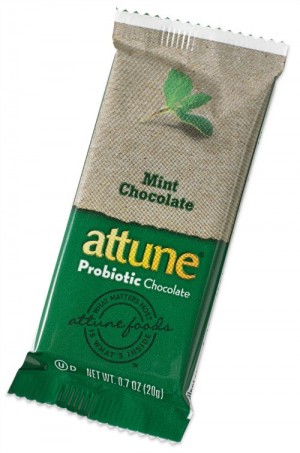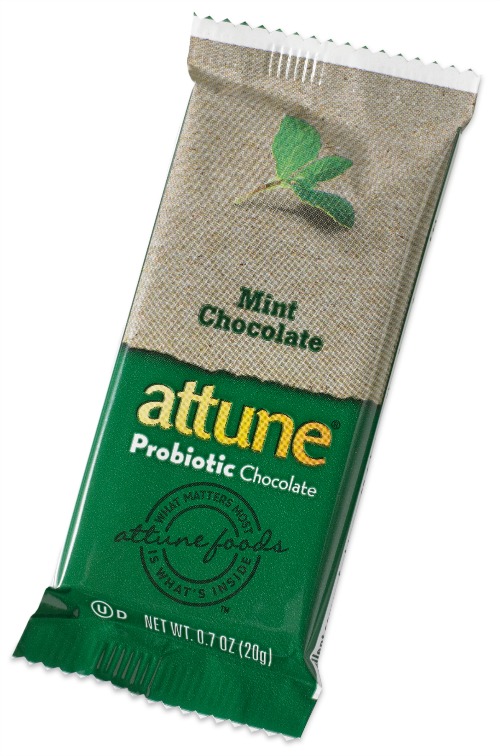 8. Good-for-you chocolate bar: We're used to probiotics in our yogurt (to support a healthy digestive and immune system), but in a sweet? Yes, in the rich-tasting Mint Chocolate Probiotic Chocolate Bar from Attune Foods. It has brown rice crisps inside, and just enough cool mint flavor to be interesting, without veering off the rails into toothpaste territory, if you know what I mean. While my favorite flavor is the mint, they also have Dark Chocolate and Milk Chocolate. It's a very satisfying 80 calories, gluten-free and with 3g of fiber. Refrigerate for longest life of the 6.1 billion probiotic cultures. $1.30-$1.50 per bar, or $9ish by the box, available at Whole Foods, Wegman's (in the refrigerated yogurt section) and other natural foods stores.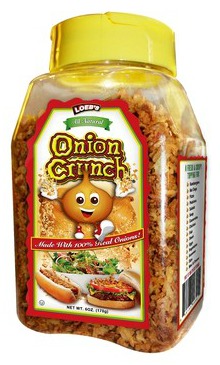 9. Onion Crunch: A new crispy, crunchy, vegan, kosher, lower-salt, lower-fat onion topping is all the rage in the Shockingly Delicious kitchen these days. Onion Crunch has become our perfect condiment to improve just about anything, and we reach for it to top our scrambled  or fried eggs, soup, hummus dip, mashed potatoes, garden salad, grilled steak, etc. If it is a savory dish, we want Onion Crunch on it. The company suggests you put it on hamburgers and hot dogs, which sounds good to us. In fact, there are some roasted vegetables in our refrigerator, just waiting for some deeply oniony Onion Crunch bling, and some jalapeno tuna casserole that definitely needs some tasty decoration. There's a Hollywood connection to it – the company is owned by Nick Loeb, who is AKA the boyfriend of actress Sofia Vergara ("Modern Family"). With just four ingredients, all of them pronounceable (onion, oil, flour, salt), this stuff is wildly good! If you get hooked, don't say we didn't warn you!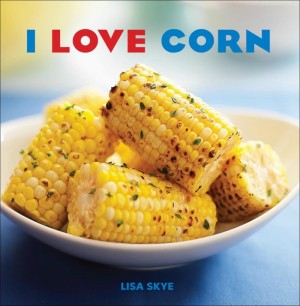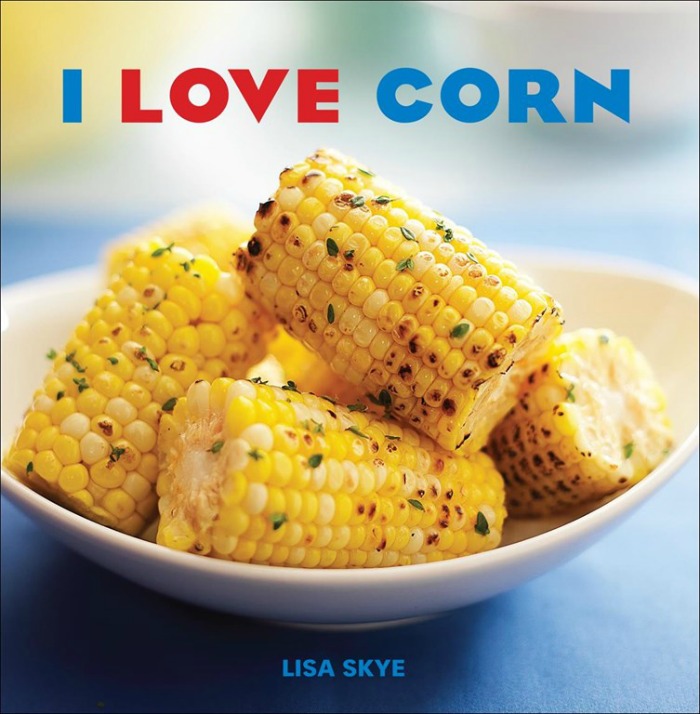 10. Aw shucks: "I Love Corn," by Lisa Skye (Andrews McMeel Publishing; $19.99) is a single-subject cookbook that celebrates corn in every way possible, including 50 recipes from award-winning chefs around the country. There is something delicious for everyone, from breakfast (Sweet Corn Waffles with Concord Grape Syrup), to soup (Fresh Corn Gazpacho), appetizers (Lobster and Corn Bruschetta), main dishes (Warm Polenta Stew), sides (Caramelized Corn with Shallots), to final sweets (Corn Sherbet or Popcorn Pudding). Corn makes everything taste better, doesn't it? I have 20 bookmarks in this book already, and I just took the Baked Polenta with Gorgonzola out of the oven and tasted it. WOW!  I'll be in tall corn this summer.
Melissa's Produce, Grimmway, Heilala Vanilla, Colman's Mustard, Totally Bamboo, Tea of a Kind, Attune Foods, Onion Crunch and Andrews McMeel Publishing sent products for review and testing.