Print This Post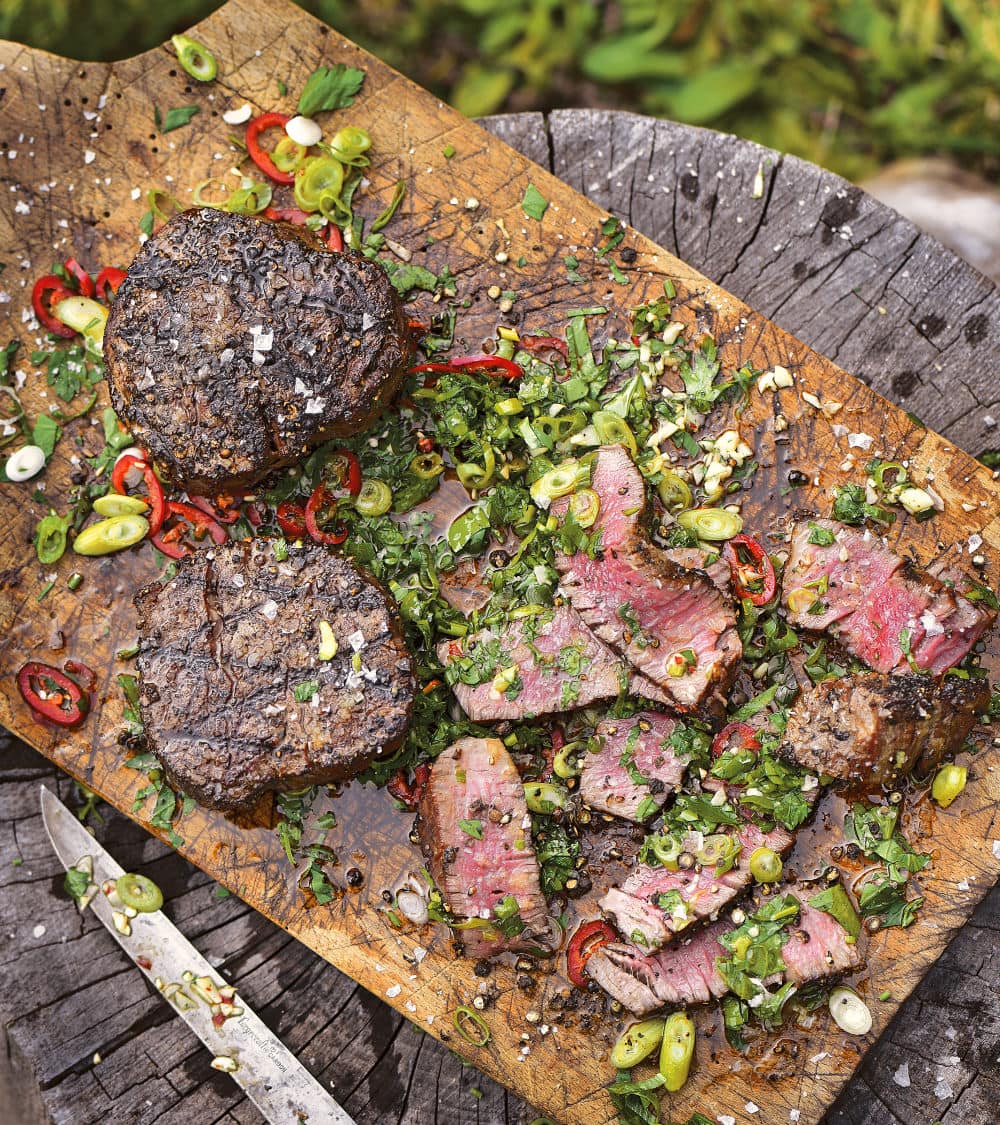 Filet Mignon with Cutting Board Sauce is a genius idea. Take filet mignon, prized for its tenderness and mild flavor, and grill it to perfection. When it's done, place it on a bed of herbs and aromatics right on the cutting board. As you slice the steak, the hot meat juices combine with the herbs and sauce ingredients on the board, creating a sublime sauce.
If the description above doesn't get you drooling, I don't know what will. Wouldn't this make a perfect Father's Day dinner, or grilled meal for any summertime get-together?
Here's the Cutting Board Sauce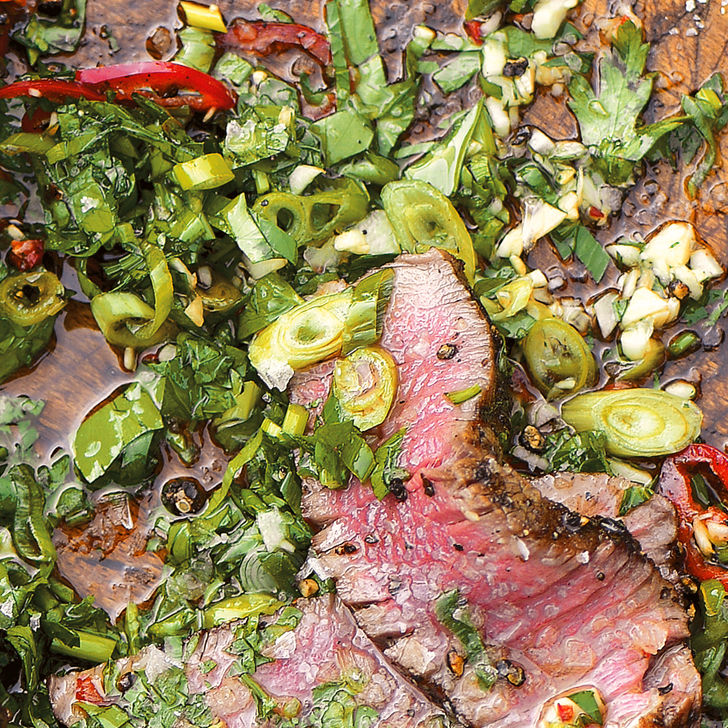 There is no complicated prep for the sauce. You assemble the Cutting Board Sauce right on the cutting board with the meat juices and aromatic herbs when you carve the steak.
The idea comes from a new cookbook by grill master Steven Raichlen, the James Beard Award-winning author of 30 books, who has graced seven TV series and is a Barbecue Hall of Famer. Around the globe, we're obsessed with live-fire cooking, and he's been our guru for decades, most recently with his "Project Smoke." He's back with "Project fire: Cutting-Edge Techniques and Sizzling Recipes form the Caveman Porterhouse to Salt Slab Brownie S'mores." I have tasted an entire menu from the book when he came to visit Melissa's Produce, and the book is a keeper! Don't even get me started on those Brownie S'mores. I recommend the book as a gift to anyone who loves to grill, or who might want to up their game a bit. It's not intimidating, and leads you through a wide range of grilling techniques, different methods of heat, and different grills, not to mention 100 delicious, big-flavor recipes.


Why use Filet Mignon?
Raichlen says, "I've always preferred richer, fattier cuts, like rib-eyes or strip steaks. But filet mignon has its partisans—people who prize its tenderness (you can virtually cut it with the side of a fork) and mild flavor—the mildest of all cuts of beef. Dry-brining gives you the best of both worlds: tenderness and flavor." I say if your budget doesn't accommodate filet mignon, try this technique with whatever cut you prefer. I am a huge fan of flank, flap and hanger steak, so I would be tempted to do those. Or try his original thought of rib-eyes or strip steaks.
What is dry brining?
Raichlen's insider tip: "This recipe uses a technique called dry-brining to give depth of flavor to a steak that's normally mild. You season the steak generously with salt an hour ahead of time. The salt draws out and mixes with some of the meat juices, creating a brine (saline solution), which with time, is partially reabsorbed into meat. The result: added flavor and succulence."
Filet Mignon with Cutting Board Sauce
Filet Mignon with Cutting Board Sauce: The hot meat juices from the tender filet mignon steaks combine with the herbs and sauce ingredients right on the cutting board. As you cut the steak, it creates a sublime sauce.
Ingredients
4 filet mignon steaks (each 6-8 ounces and at least 2 inches thick)
Coarse salt (sea or kosher)
Vegetable oil for oiling the grill grate
1/2 cup cracked black peppercorns, spread out in a shallow bowl
.

Cutting Board Sauce

1 clove garlic, peeled
1/2 cup stemmed flat-leaf parsley or other fresh herbs
2 scallions, trimmed
1 red jalapeño or serrano pepper
Coarse salt (sea or kosher)
Freshly ground black pepper
1/3 cup best-quality extra virgin olive oil, in a small bowl
Directions
Arrange the filets mignons in a baking dish. Generously salt each on both sides. (Tip: Sprinkle the salt from a height of 6 inches for even distribution.) Dry-brine the steaks in the refrigerator for 1 hour, uncovered, turning them once.
Set up your grill for direct grilling and heat to medium-high. Brush or scrape the grill grate clean and oil it well.
Dip each filet mignon in cracked black pepper to crust the top and bottom. Arrange the steaks on the grill grate. Grill for 1 1/2 minutes, then give each steak a quarter turn to lay on a crosshatch of grill marks. When the bottom is sizzling and browned (you may see beads of blood start to form on the top), turn the steaks and grill the other side the same way. Grill the steaks on the sides, too, to expose all surfaces to the heat.
You'll need about 3 minutes per side for rare (120° to 125°F); 4 minutes per side for medium-rare (130° to 135°F); 5 minutes per side for medium (140° to 145°F). Use an instant-read thermometer inserted through the side of the steak to check for doneness. Alternatively, use the poke test.
Transfer the filets mignons to the board for the Cutting Board Sauce.

Make the Cutting Board Sauce while steak is cooking:

Working on a large cutting board with a well (a juice-catching groove usually around the periphery), finely chop the garlic and parsley. Thinly slice the scallions (both white and green parts) and the pepper crosswise. Season generously with salt and pepper and pour half the olive oil on top. Mix with the blade of the knife. Remove the hot filets mignons from the grill and lay them directly on top of the ingredients on the cutting board. Cut each steak with downward strokes of the knife into 1/4-inch-thick slices. (There is no need to let the meat rest like you usually would.) Pour the remaining olive oil over the sliced steaks and toss on the board with a spoon and the blade of the knife: The idea is to coat the steak slices with herbs and oil and mix them with the meat juices. Add salt and pepper to taste. The whole process should take less than a minute.
Transfer to a platter or plates and serve at once.
Serves 4.
Notes
Recipe source: Excerpted from "Project Fire: Cutting-Edge Techniques and Sizzling Recipes from the Caveman Porterhouse to Salt Slab Brownie S'Mores" by Steven Raichlen (Workman Publishing). Copyright © 2018. Photographs by Matthew Benson. Raichlen gives credit to chef Adam Perry Lang for the ingenious idea of combining the sauce ingredients with the hot meat juices right on the cutting board.
https://www.shockinglydelicious.com/filet-mignon-with-cutting-board-sauce/
Copyright Dorothy Reinhold | ShockinglyDelicious.com. All rights reserved.
Pin the image below for Filet Mignon with Cutting Board Sauce to your Pinterest board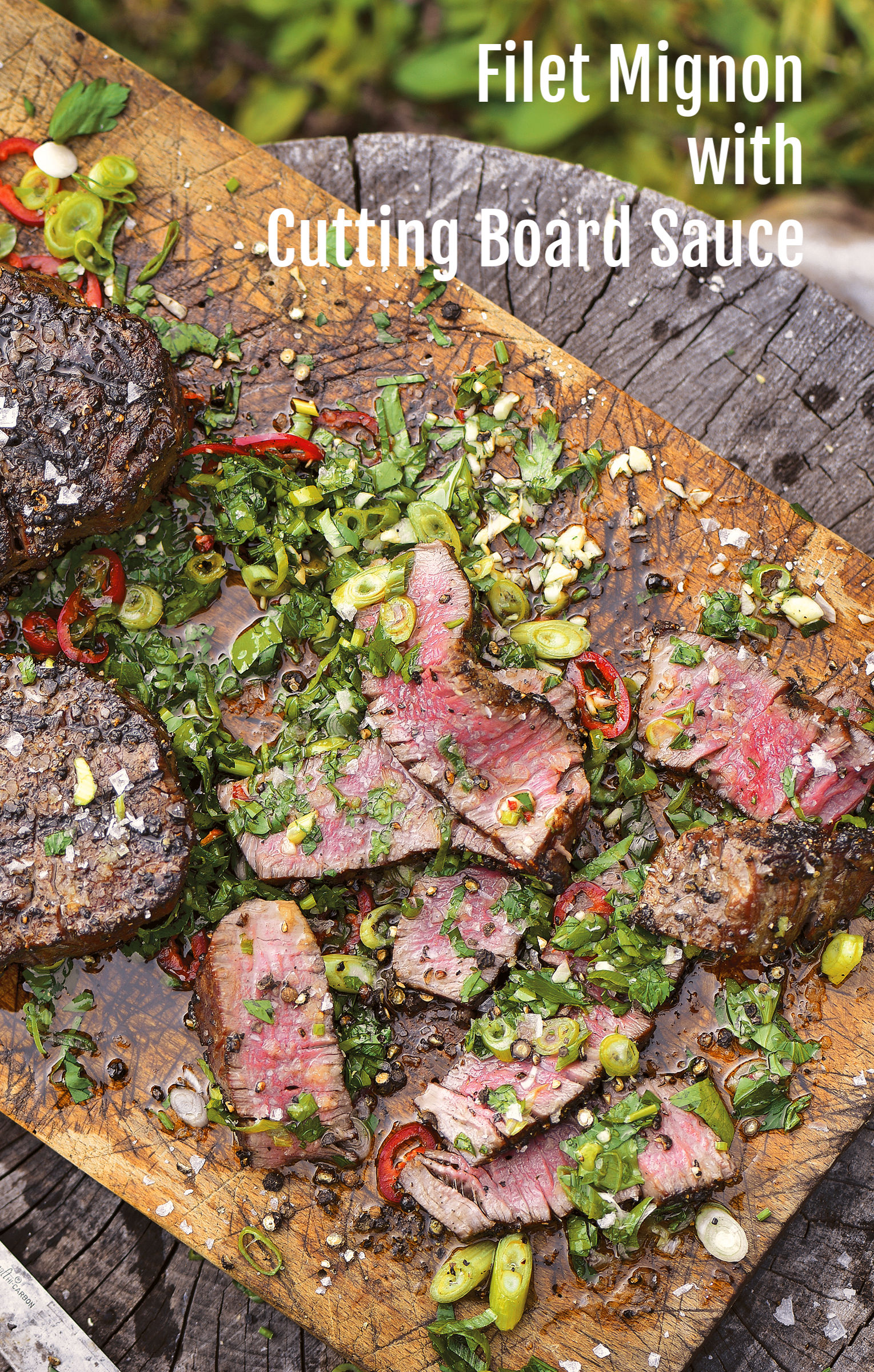 Want a different steak recipe?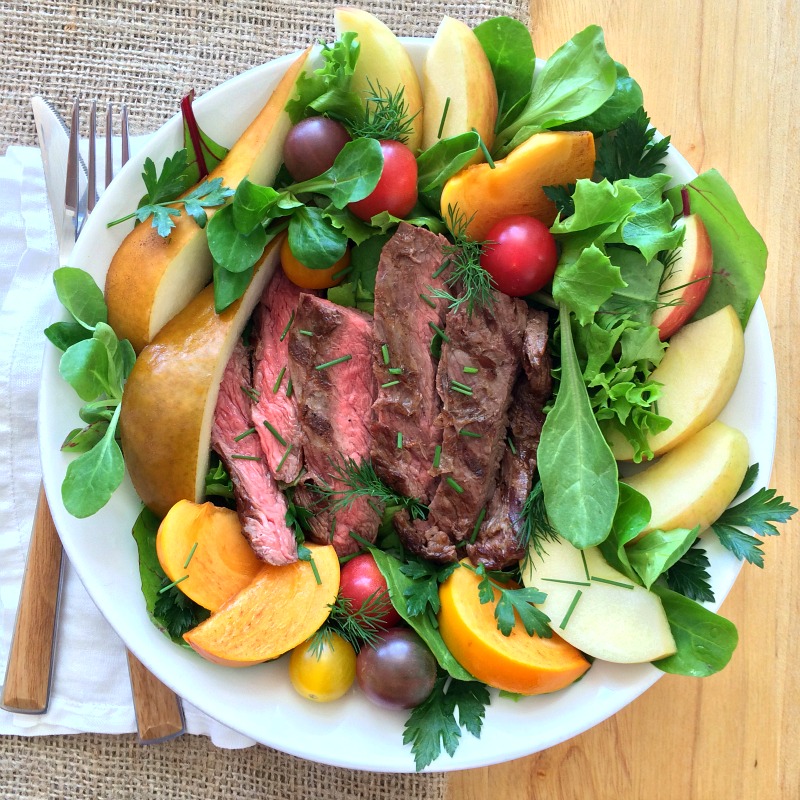 Thanks for visiting…are you hungry for more? Follow Shockingly Delicious on…
FACEBOOK | PINTEREST | INSTAGRAM | TWITTER
…for all the latest recipes, ideas and updates!
This post contains affiliate/referral links. It is a way for this site to earn advertising fees (at no cost to you) by advertising or linking to certain products and/or services.