Print This Post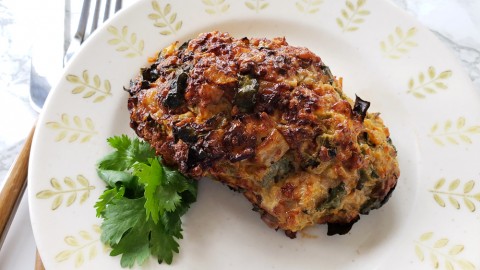 Done from start to finish in a half hour, this healthy Mexican Turkey Meat Loaf is warmed by chili and cumin, perfumed with cilantro and zipped up with green chiles and salsa. Bonus: it uses only 1 bowl, too!
This new air fryer has really changed my kitchen life. It's the little engine that could, from baking stuffed mushrooms to crisping up frozen French fries to making the best chicken fingers a kid ever ate. I'm sure they named it an air fryer because it is supposed to achieve that crispy fried exterior without dipping the food in hot oil. But if you think of it like a powerful little convection oven — perhaps an oven on steroids — you'll soon see it can conquer almost anything!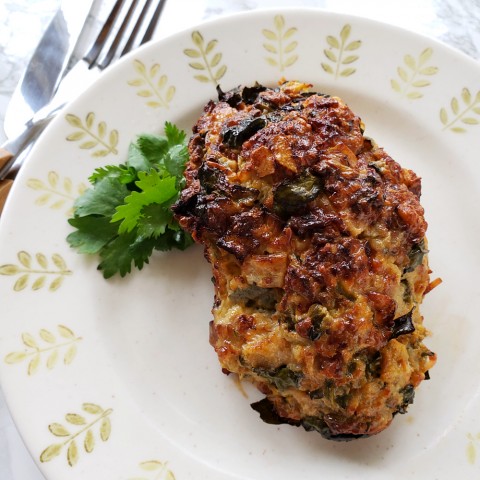 Case in point, this meat loaf. I had a pound of ground turkey and everyone was going to be home in half an hour. What to do? Sure, burgers would have solved it, but I didn't have any burger buns. What about meat loaf? That's fine, but meat loaf can take 45-60 minutes to bake. As I contemplated, I thought of the air fryer as a solution, with its powerful convection aspect. As the food bakes, the hot air swirls, which eliminates a considerable amount of cooking time. In fact, I cut the cooking time in less than half with the air fryer, and I even checked the temperature inside the finished meat loaves to make sure I was correct that they were done. Voila!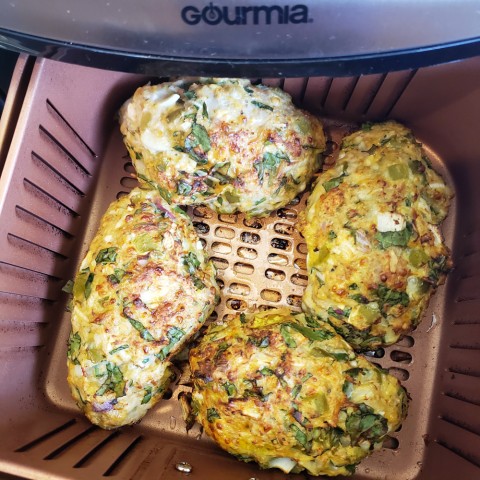 I took a peek and this is what it looked like a few minutes into the cooking…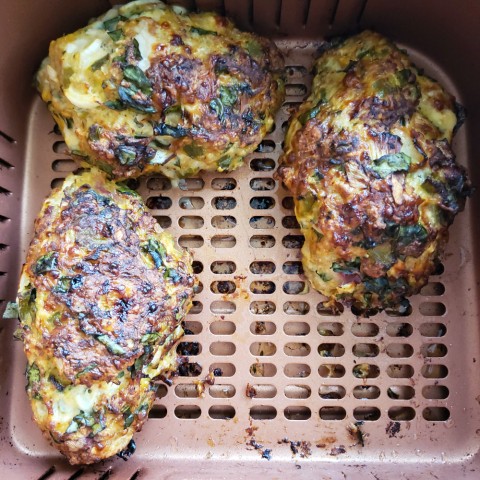 …and here's what the finished loaves looked like. There was hardly any grease on the bottom.
Since we love Mexican food and flavors, I wanted to Mexi-up this loaf. I found a wonderful starting point with an oven-baked recipe on the blog Family Food on the Table, and adapted from there to amp up and add some spices, add cilantro and garlic and adjust the amounts and directions for the air fryer. It has an overall green-ish feel from the green chiles, kale, cilantro and salsa verde. (You don't have  to tell anyone there's kale in it.)

I served the individual loaves over a tossed green salad dressed with a simple vinaigrette. It was utterly delicious.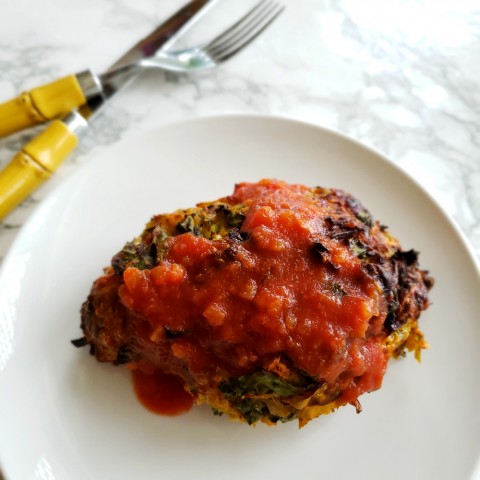 Here it is with some salsa on top!
Let's make Mexican Turkey Meat Loaf in the air fryer. Dinner is served!
Mexican Turkey Meat Loaf in the Air Fryer
MEXICAN TURKEY MEAT LOAF: Done from start to finish in a half hour, this healthy meat loaf is warmed by chili and cumin, perfumed with cilantro and zipped up with green chiles and salsa. Bonus: it uses only 1 bowl, too!
Ingredients
1 egg
1 pound ground turkey
1 onion, chopped (about 1 cup)
2 cloves garlic, pressed or minced
1/2 cup fresh breadcrumbs, unseasoned
1 cup (about 4 ounces) grated Mexican blend cheese (or use Cheddar or Monterey Jack)
1/4 cup salsa verde (green salsa)
1 cup finely sliced kale leaves
2-4 tablespoons chopped fresh cilantro
1 (4-ounce) can chopped green chiles
1 teaspoon chili powder
1/2 teaspoon ground cumin
1/2 teaspoon ground oregano
1/8 teaspoon fine sea salt
A few grinds of black pepper
.

Garnish:

extra salsa verde (or use a red salsa if you like)
Directions
Spray the basket of the air fryer with nonstick spray and set aside.
In a large mixing bowl, crack the egg and use a fork to beat it lightly. Add the turkey, onion, garlic, breadcrumbs, cheese, salsa, kale, cilantro, green chiles, chili powder, cumin, oregano, salt and pepper. Gently mix with your hands.
Using your hands, shape the turkey mixture into 4 loaves; I like to shape them like footballs, but you could make squares or rounds if you like. Place them in the air fryer, turn the heat to 400F degrees, and set the timer for 20 minutes.
As they bake, loaves will brown on the outside and smell great! Remove basket from oven, and place each meat loaf on a dinner plate. Top with additional salsa -- either salsa verde or red salsa, as you like. I like to serve an individual loaf on top of a fresh green salad dressed with a simple vinaigrette.
Notes
https://www.shockinglydelicious.com/mexican-turkey-meat-loaf/
Copyright Dorothy Reinhold | ShockinglyDelicious.com. All rights reserved.

If you like this recipe and want to save it, pin the image below to your Pinterest board.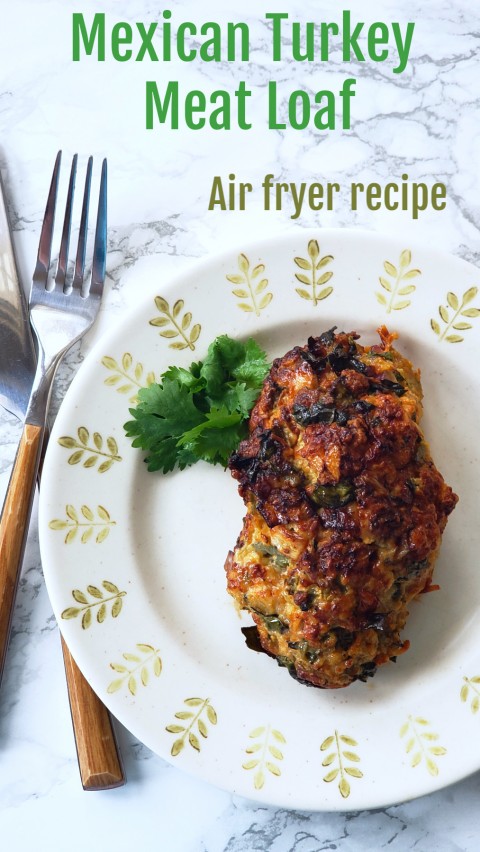 This is the air fryer I have.

Thanks for visiting…are you hungry for more? Follow Shockingly Delicious on…
…for all the latest recipes, ideas and updates!
This post contains affiliate/referral links. It is a way for this site to earn advertising fees (at no cost to you) by advertising or linking to certain products and/or services.