Print This Post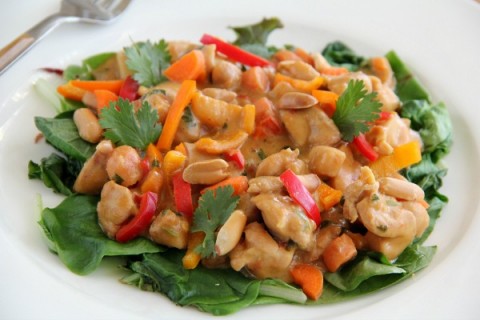 If you're a fan of satay chicken with peanut dipping sauce from your local Thai restaurant, you're going to love today's winner winner chicken dinner.
Get the skillet heating, and let's get dinner on the table!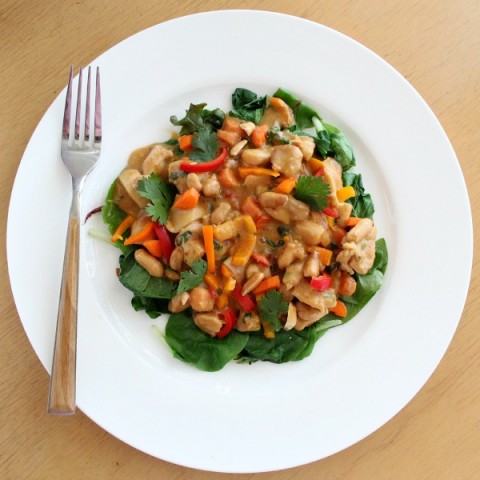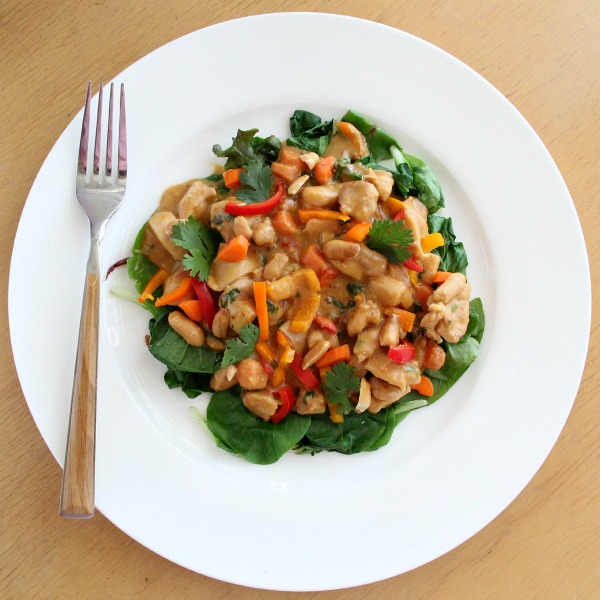 Creamy Peanut Chicken Over Greens
Reminiscent of chicken satay with peanut dipping sauce, this is a winning Asian-style chicken dinner over healthy wilted greens.
Ingredients
Sauce

1 (13- to 14-ounce) can organic light coconut milk

(Thai Kitchen brand preferred)

2/3 cup crunchy peanut butter

(Pic's Really Good Peanut Butter brand preferred)

2 tablespoons reduced sodium soy sauce
¼ cup Heilala vanilla syrup
4 teaspoons sambal oelek garlic chili paste
3 cloves garlic, minced or pressed
1 1/2 teaspoons dried ground ginger
1/2 cup finely chopped cilantro
Juice of 2 limes

Chicken

1 ½ pounds boneless, skinless chicken thighs, diced
2 large carrots, peeled and diced, or 15 baby carrots
1 red bell pepper, diced, or 8 mini colored bell peppers, sliced

Assembly

2 (5-ounce) clamshells Organic Girl Five Happiness Salad Blend (an Asian greens blend)
Garnish: Chopped cilantro, chopped peanuts
Directions
In a large bowl, combine the coconut milk, peanut butter, soy sauce, vanilla syrup, sambal oelek, garlic, ginger, cilantro, and lime juice. Whisk well to combine. Cover and let sit on the counter for about half an hour, or refrigerate overnight if you are making it ahead.
Heat a large skillet over medium-high heat. Add the chicken and diced carrot and sauté for about 8 minutes, until browned all over and the carrot is beginning to soften. (If there looks like too much fat in the pan, sop up a bit of it with a paper towel and discard.) Add the diced pepper and sauté another 2 minutes.
Stir about one-half of the peanut sauce into the chicken and cook until heated through. You will see the color change and it will get slightly darker as it heats and thickens. (Use enough sauce to suit yourself, but you will most likely have sauce left over for another purpose; perhaps with stir-fried gai lan/Chinese broccoli for another meal?)
On another burner, heat a dry skillet until hot. Toss both containers of greens in the skillet and wilt for 1 minute. Remove and divide greens among 4 wide, shallow bowls or plates.
Serve saucy chicken mixture over the bed of greens, and garnish with chopped peanuts and extra cilantro if you like.
Serves 4.
Notes
https://www.shockinglydelicious.com/creamy-peanut-chicken-over-greens/
Copyright Dorothy Reinhold | ShockinglyDelicious.com. All rights reserved.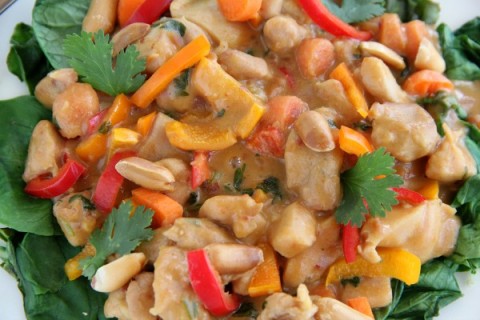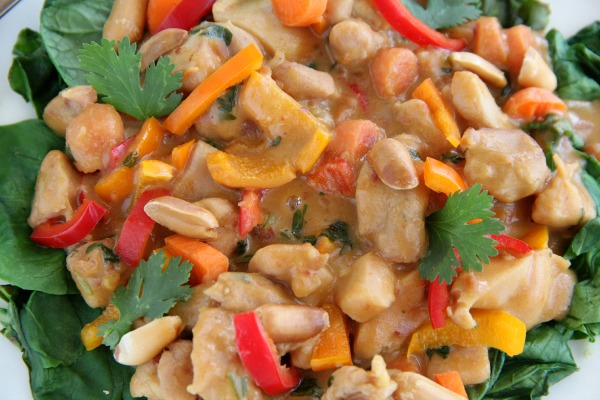 Let me introduce you to Erin of The Spiffy Cookie, where I found inspiration for this dish. She has a B.S. in molecular genetics, a Ph.D in microbiology, is a lover of food, paints, also does spin, Core Blast, and Pi-Yo (Pilates-Yoga fusion), which makes total sense since she bakes every day.
With 84 recipes for cookies, and 56 recipes for brownies and bars on her site, she has earned her blog title, eh? She is not only the cookie girl, but also the snack girl! I could hardly stay away from her recipes for Cheesy Taco-Seasoned Hard Pretzels, her dangerously named Single-Serving Onion-Fried Onion Rings and her two wild Cheetos creations – Caramelized Cheetos (SAY WHAT?) and her Cheetos Marshmallow Crispy Treats. I vote that weirdest-and-most-wonderful-sounding crispy treat!
Her Gluten-Free Avocado Brownies (yes, they have avocado in the brownie and the icing!) and Gluten-Free Brownie for One are on my list to bake for a teacher who is GF.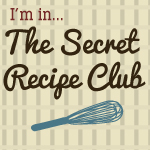 It was my job this month to explore her blog and cook from it for Secret Recipe Club, and today is our reveal day. She got my blog to review in June and did right by my Slow Cooker BBQ Brisket.
Thanks, Erin, for a winner of a chicken dinner! I think I gained a few pounds just reading your delicious blog this month.   😎
Meanwhile, browse the photo array below to see what else the Secret Recipe Club cooked up this month!