Print This Post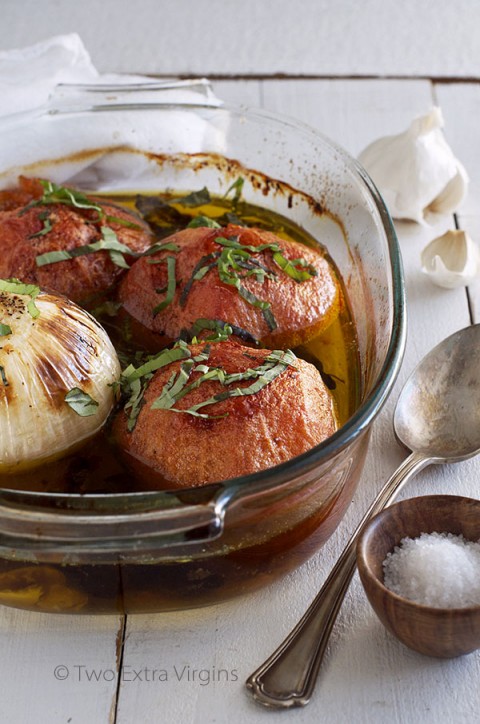 Olive oil has taken up more and more shelf space in our collective pantries as it has gained prominence in our kitchens during the past decade.
We drizzle it on our salads, we marry it with balsamic vinegar and sop it up with our baguette slices for a rustic lunch, we spritz it on our vegetables before we roast them and we even splash a bit on our vanilla ice cream. (Yes, we actually do!)
And if authors Laura Bashar and Mary Platis have their way, we'll poach, braise, marinate, steam and bake with it, too.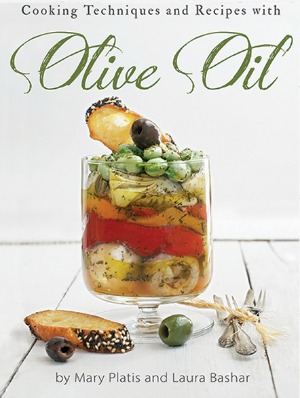 They've written a wonderful new cookbook in praise of the liquid gold, and I've been successfully turning to them and their book for advice on how to coax the most out of my stash of extra virgin olive oil.
One day I asked Mary how to substitute olive oil for the butter in a recipe for Banana Breakfast Cake with Pecan Streusel, and her advice to substitute 3/4 cup of olive oil for every cup of butter was right on. It made one of the best snack cakes I've ever made, and I promptly made it nine times in one month. (No one ever got tired of it.)
"Cooking Techniques and Recipes with Olive Oil" leads us through the history, varieties, storage and cooking tips for olive oil, before we happily plunge into the gorgeous recipes, each one prettier and more delectable than the one before it. The book deservedly won a Gold Medal in the global Ebook Awards.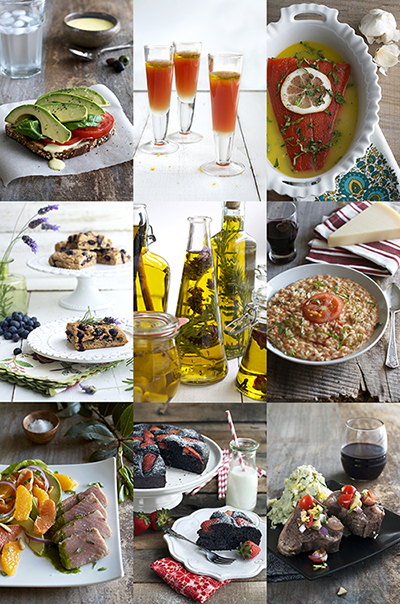 I was tempted by Figs with Muscato Grapes, which could be either an elegant appetizer or a simple dessert. I wanted the Greek Style Vegetables with Tomatoes that day for lunch, and the New York Strip Steak with Warm Cabbage Salad for dinner. I wanted the Kalamata Olive Bread with Rosemary all for myself — just me, my loaf, and some olive oil to dip it in. And I wanted to put the cap on it all with an Olive Oil Sugar Cookie. Oh yes I did.
Since we're high into tomato season, I made the Fresh Tomato Risotto, in which creamy Arborio rice is steeped in fresh tomato sauce and drizzled with olive oil. I sat out on the patio on a warm night and ate this, accompanied by a nice glass of wine. I also happily had it for lunch several times. (You can see it in the collage above in the middle right.)
For today, I chose the rustic charm of tomatoes and onions poached in olive oil flavored with basil and garlic. This deceptively simple combination is summer in a bowl.
Try it and then tell me you agree my friends Mary and Laura are the genius cooks I think they are.
Tomatoes and Onions in Olive Oil with Fresh Basil
Warm tomatoes and onions poached in olive oil with garlic and basil are spooned rustically atop toasted crusty bread.
Ingredients
12 fresh basil leaves
3 large tomatoes, peeled and cored
3 large onions, peeled and cored
3-4 cups extra virgin olive oil (I used Arianna Trading Company Organic Extra Virgin Olive Oil)
6 garlic cloves, peeled
1/2 teaspoon salt
1/4 teaspoon freshly ground pepper

Garnish

: 2-3 fresh basil leaves, julienned for garnish
1 loaf artisan bread, sliced and toasted
Directions
Heat oven to 375ºF. Line the bottom of a large ovenproof dish with basil leaves.
Place tomatoes and onions core side down in the dish so they are snug but not touching. Pour enough olive oil to cover tomatoes and onions halfway up its sides. Add and submerge garlic cloves in the oil.
Bake for 45-60 minutes or until tomatoes and onions are soft. Remove from oven and sprinkle with salt, pepper, and freshly sliced basil.
Slice and toast the bread and serve with the warm tomatoes and onions.
Serves 4.
Notes
Recipe source: "Cooking Techniques and Recipes with Olive Oil," by Mary Platis and Laura Bashar (2014; Two Extra Virgins; $26.95). Recipe reprinted with the authors' permission. Photos by Laura Bashar.
https://www.shockinglydelicious.com/tomatoes-and-onions-in-olive-with-fresh-basil/
Copyright Dorothy Reinhold | ShockinglyDelicious.com. All rights reserved.
Disclosure: The authors sent a copy of the book for review. All opinions are my own.