Print This Post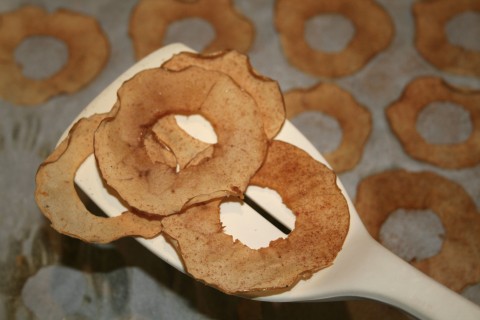 All you have to do is say the word "chip," and most people's eyes light up. Where are the chips? Who has the chips? Is the bag open, and are they willing to share?
Recognizing the fact that chips are culinary currency, I've been making these Cinnamon Apple Chips for my kids, to great acclaim.
We have a smart and iron-clad rule at our house that if you are starving and need something to eat while watching the tube, you may only eat fruits or veggies. No pretzels, no potato chips, no crackers, no cookies, no ice cream, no, no, no. It's too easy to mindlessly pack in calorie-dense sweet/salty/crunchy/creamy junk food if you aren't careful. And who among us, young or older, can resist running to the pantry for a cookie or three if we see them advertised on a show?
Because of this inflexible rule, a lot of carrot sticks, broccoli florets, cherry tomatoes, grapes, bananas and apple and tangerine slices get popped into the gaping maws of my little TV-lovin' couch spuds. By the way, I heartily recommend this rule to parents everywhere. Stick to your guns, and your biggest problem will be keeping the fruit stocked in the bowl on the counter, and the veggie bin in the refrigerator full. Those are problems we parents can handle!
These Cinnamon Apple Chips not only legally bridge the gap between fruit and chip, but they're delicious and nutritious. Leave off the cinnamon sugar if you like.      
This recipe also gives you the chance to employ two under-used kitchen gadgets you might own – an apple corer and a mandolin slicer. You can certainly perform both functions with a knife, but if you have either of these, the job will be that much easier.
Recipe: Cinnamon Apple Chips
Summary: A cinnamony, crisp, baked Apple Chip bridges the snack gap between fruit and chip. Fuji, Gala or Golden Delicious are good choices for apple varieties to use in this recipe.
Ingredients
2 organic apples with skin left on, cored and sliced wafer-thin
Cinnamon sugar (see note below)
Instructions
Heat oven to 200 degrees. Line 2 baking sheets with parchment paper (for easy removal of slices later, and to avoid adding grease to the recipe). Lay apple slices on paper, without overlapping any. Sprinkle lightly with cinnamon sugar (or you may leave plain).
Bake about 2 hours (2 1/2 hours if your slices are a little thick), until light brown and mostly dry. Using a spatula, remove apple chips to a wire rack. Chips will crisp and dry further as they cool.
Serves 2-3.
How to make cinnamon sugar
Stir together 1 tablespoon granulated sugar and 1 teaspoon ground cinnamon. Pour into a spice shaker, label it and store it with your other herbs and spices, ready to use for toast or to sprinkle on top of muffins before they go into the oven to bake. I usually triple or quadruple this so we always have it on hand for cinnamon sugar emergencies.
Note
You may double or triple this recipe easily.
Preparation time: 10 minutes
Cooking time: 2 hours
Diet type: Vegan, Vegetarian
Diet tags: Reduced fat, Gluten free
Number of servings (yield): 2
My rating 5 stars:  ★★★★★ 
The #SundaySupper group encourages gathering around the family table to share a meal. conversation and family time. These talented cooks have lots of recipes to share. Choose something from the list below and add it to your family meal!
Here's our Autumn Apple Party Menu featuring apples!
Soups, Salads, Starters and Breads
Main Meals
Sides
Desserts
Beverages
Please be sure you join us on Twitter throughout the day during #SundaySupper. We'll be meeting up at 7 p.m. (Eastern) for our weekly #SundaySupper live chat where we'll talk about our favorite apple recipes! All you have to do is follow the #SundaySupper hashtag, or you can follow us through TweetChat!