Print This Post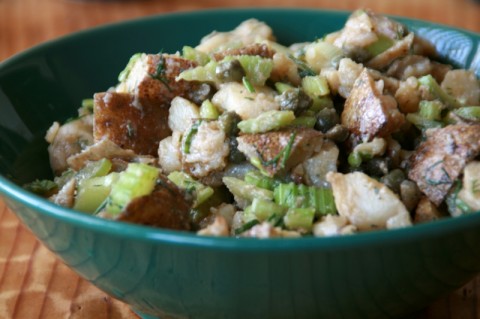 This is a beguiling, no-mayo, summer-friendly potato salad that can be tweaked endlessly, until you run out of culinary creativity.
You want to add a handful of chopped sugar snap peas? Go ahead! You want to chop and add some fresh rosemary or fresh parsley from the garden? Go ahead! You want to add crispy bacon (because let's face it, who doesn't want to add bacon?), go ahead! Some roasted red bell pepper? Don't even ask…just do it!
You have my blessing on all of it.
If you want a great basic grilled potato salad, this will do ya. When I have the oven on for whatever reason, I will usually bake some potatoes, so they are available for whatever strikes my fancy down the line.
Cool the taters, wrap them in a plastic bag and refrigerate. In the next couple of days when you have the grill going, give them a quick grilling and you are good to go for this taterlicious side dish.
Grilled Potato Salad
Grilling the potatoes adds a smoky note to this mayo-less spud salad, amped up with capers and fresh dill. 
6 medium Idaho russet potatoes (skin on), baked, cooled, sliced in half and grilled
4 tablespoons drained capers
4 ribs celery, thinly sliced
3 green onions, thinly sliced
2 tablespoons fresh dill, minced
Dressing
1/4 cup olive oil
2 tablespoon balsamic vinegar
1 tablespoon Dijon mustard
1 teaspoon crushed garlic
Grinding of fresh pepper
When potatoes are cool after being grilled, slice each half horizontally in 3 strips, and then chop into chunks. Add chopped potatoes to a large mixing bowl. Add capers, celery, onion and dill and mix well.
In a separate small bowl, whisk oil, vinegar, mustard and garlic until well mixed and slightly thick (the mustard will emulsify the dressing). Pour over potato salad and mix well, Grind some fresh pepper over top, mix again and taste. Adjust seasoning by adding more vinegar, oil, salt or whatever you think it needs (a squeeze of fresh lemon juice?), to your taste.
Place in a nice serving bowl. (Or stand over the sink and eat it sneakily – whatever works for you!)
Serves 6.