Print This Post
Cheese Herb Potato Gratin is the impressive side dish you'll want for the holidays, but can eat all year long. Impossibly thin leaves of potatoes stack sideways in a skillet with herbs and cheese for a deeply satisfying, comforting dish.
I'm all about the side dishes for holiday and special dinners. I could fill up my plate with all the sides, and I might forget to hit the main dish. Are you like that, too?
Bring on the stuffing, vegetables, grains, pilafs, chutneys, sauces and most of all, bring on the potatoes! White, gold, sweet, purple — we like them all, and they all find a home at our dinners.
Today's dish cleverly combines both gold potatoes and sweet potatoes, for the best of both worlds, full of herbs — both dried and fresh — and flavorful cheese. It's a marvel of lacy delicacy that looks far more complex than it is. In fact, putting this together is far faster than you imagine when you look at it. Trust me, you will be done and say to yourself, "That wasn't as hard as I thought it would be!"
Want to wow your family for Thanksgiving of a fall or winter holiday dinner? Cheese Herb Potato Gratin is it.
How to make Cheese Herb Potato Gratin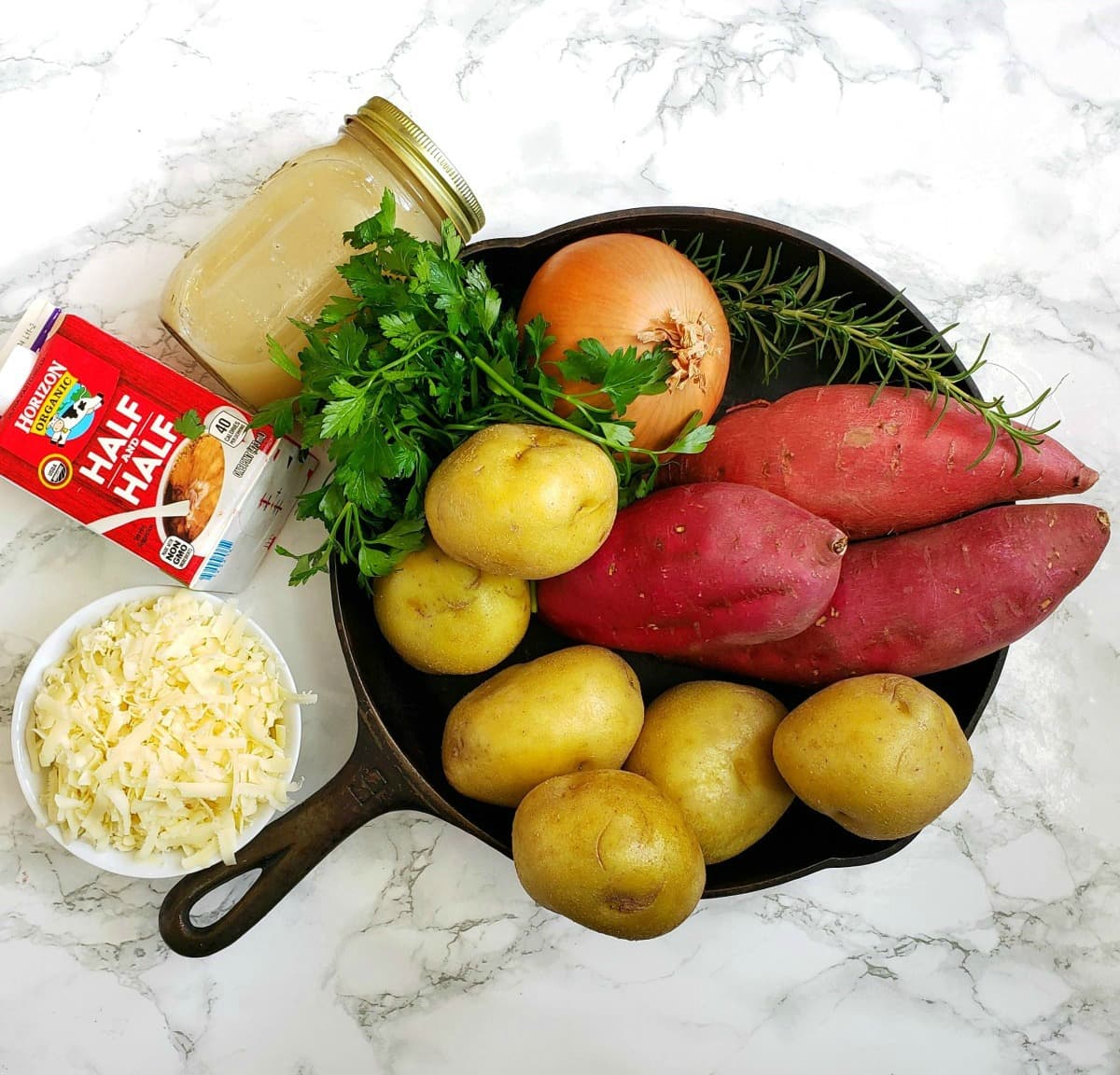 First, assemble your ingredients. The recipe called for dried parsley and rosemary, but I had fresh versions of both, so used fresh. The rule of thumb is twice-t0-three-times as much of the fresh as you use of the dried. Go with your gut on that, and don't overplay the thyme.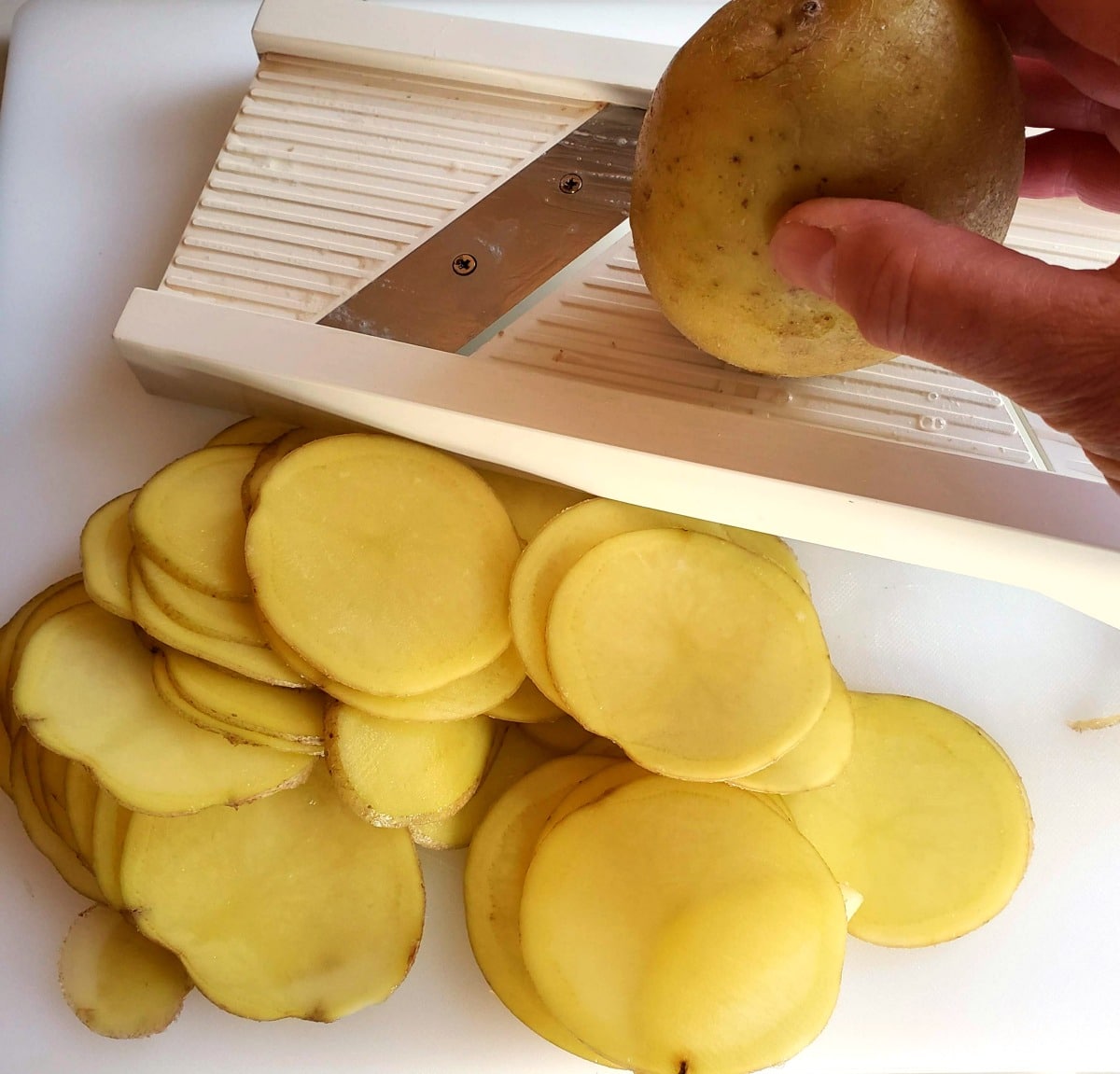 Slice the potatoes — both Yukon Gold and sweet potatoes — very thinly. A mandolin really helps do that quickly.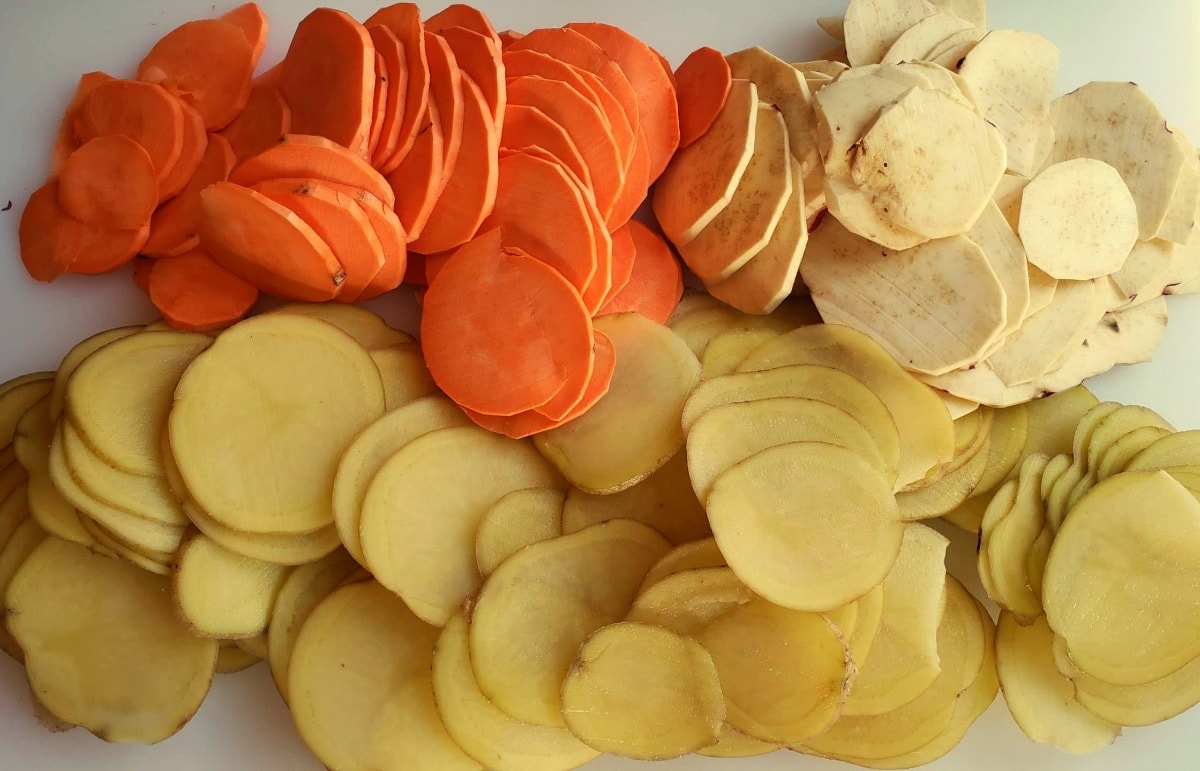 You can do it with a knife of course, but it will take a lot longer. It's a lot of spuds!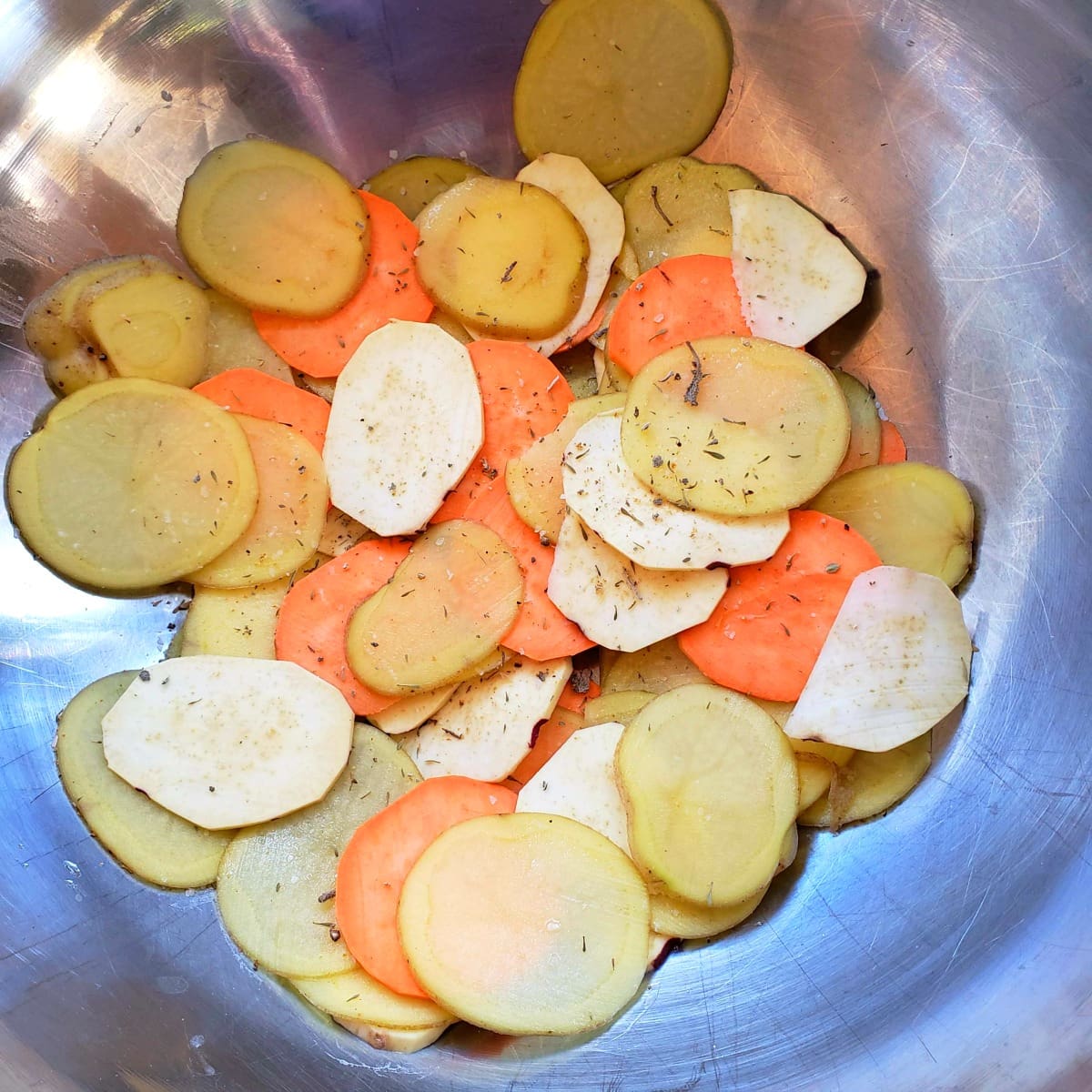 Separate the potato slices from each other and add them to a very large mixing bowl, layering them with the herbs and spices, cheese and onion. It helps to layer them as you go, so they mix up nicely.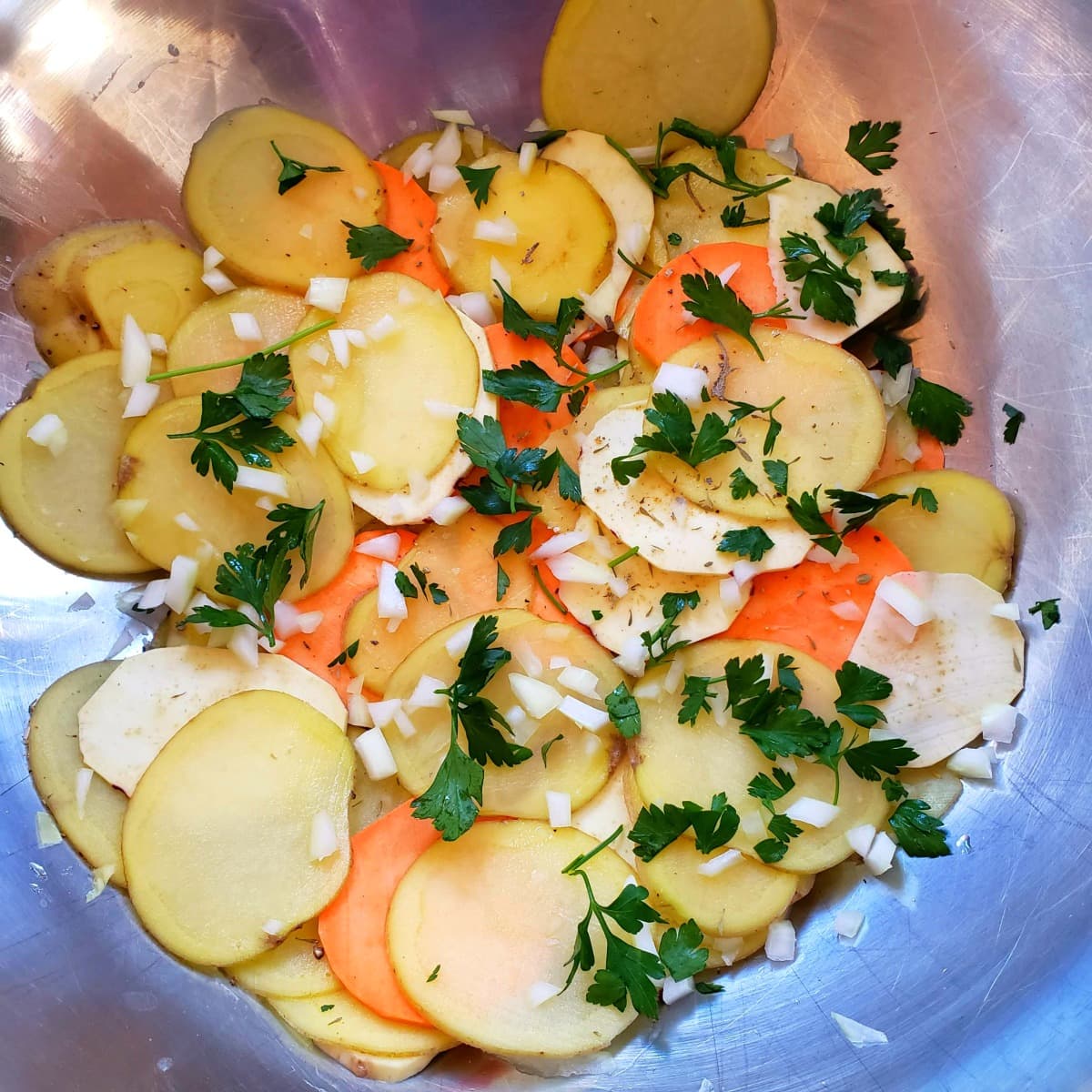 Be sure to layer with your onions, cheese and any fresh herbs you are using.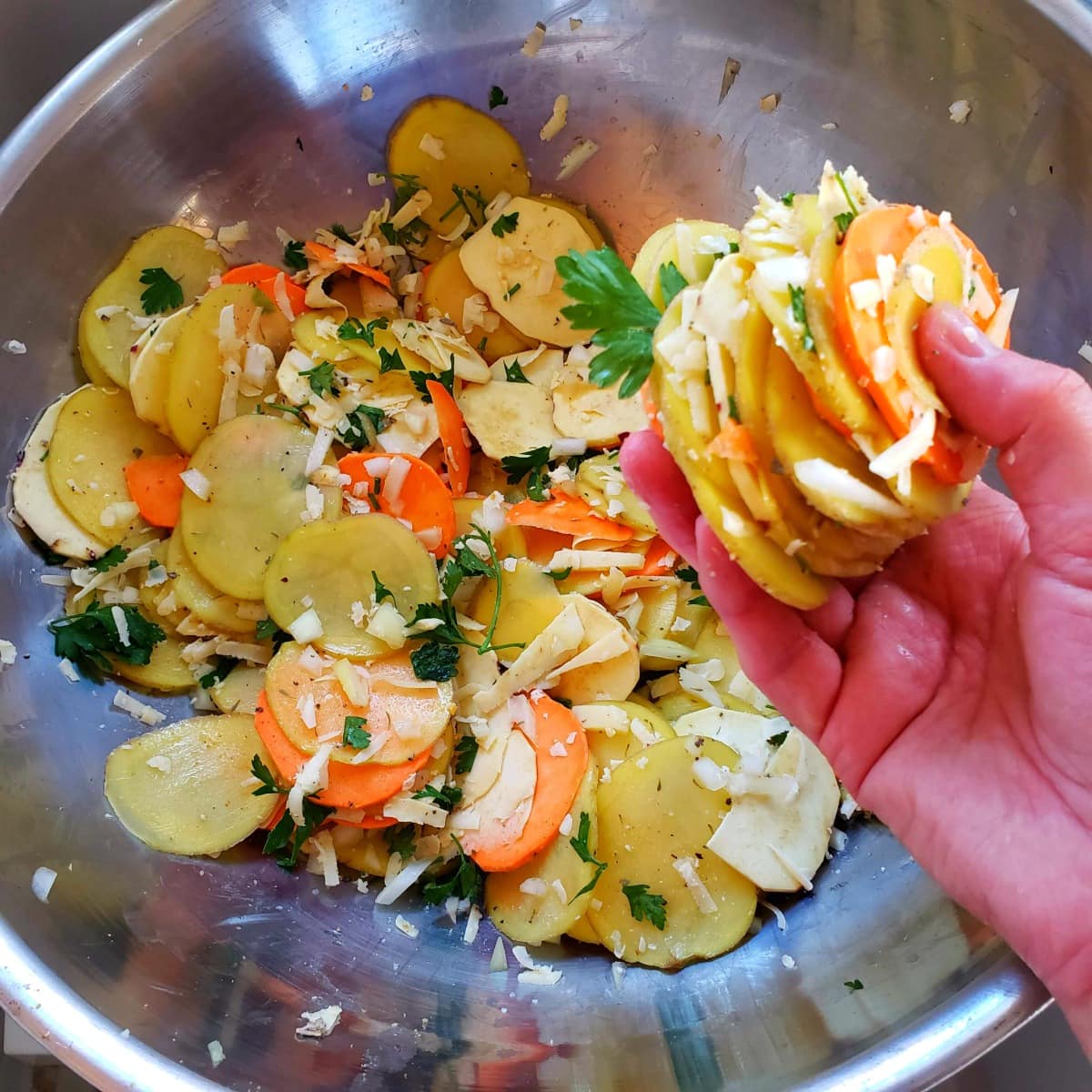 Grab a stack of them in your hand.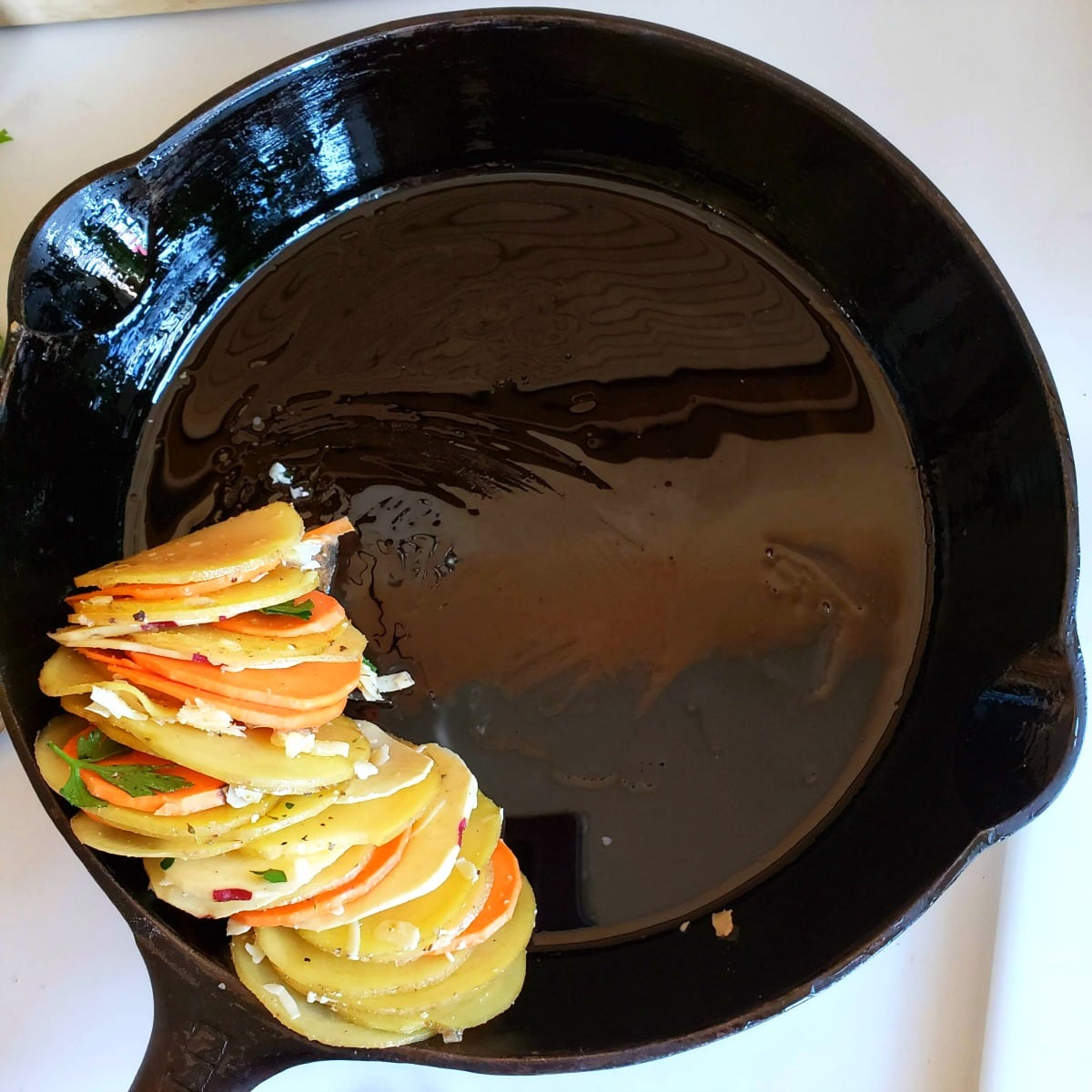 Place the stack in your skillet.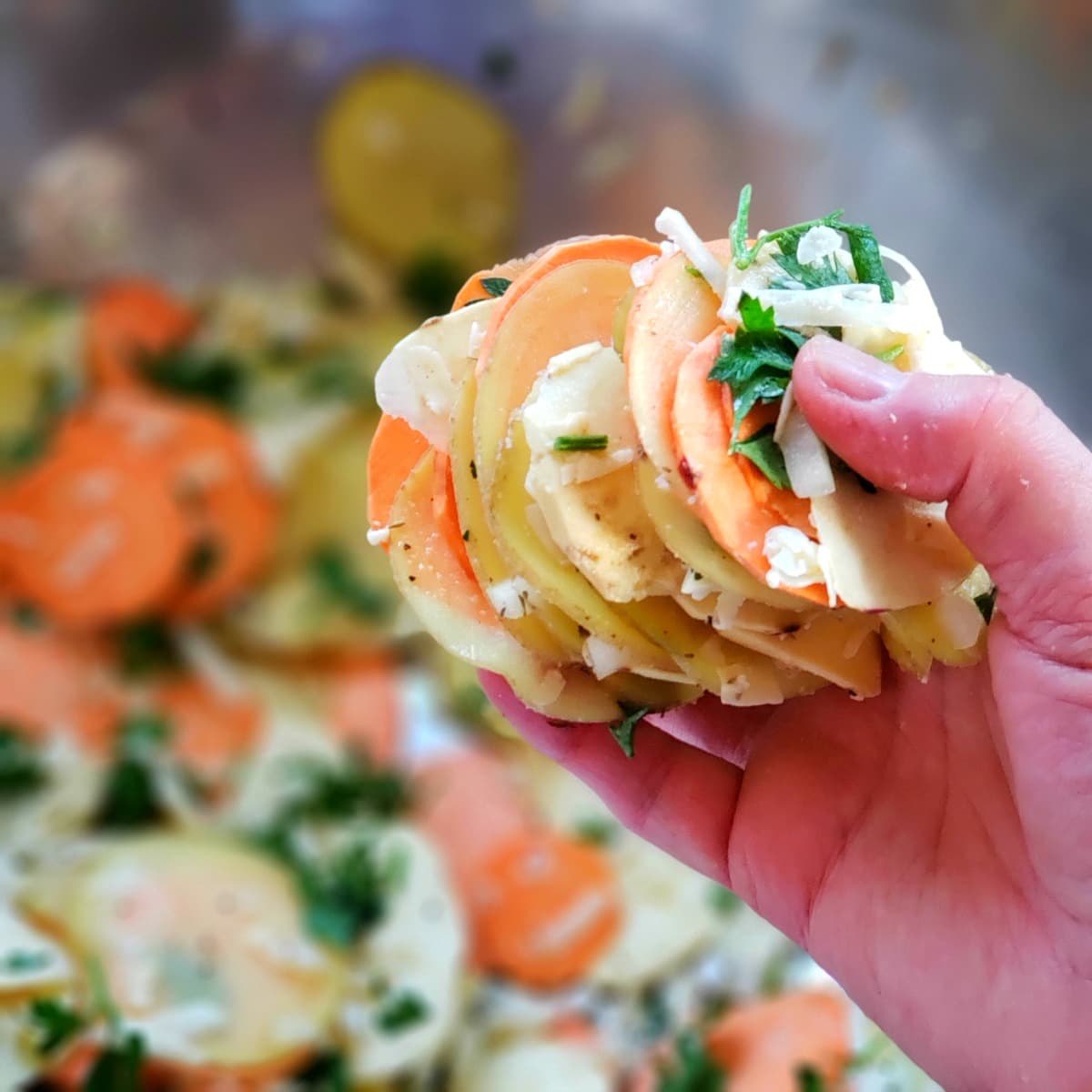 You don't have to overthink the stacking process; just stack them easily.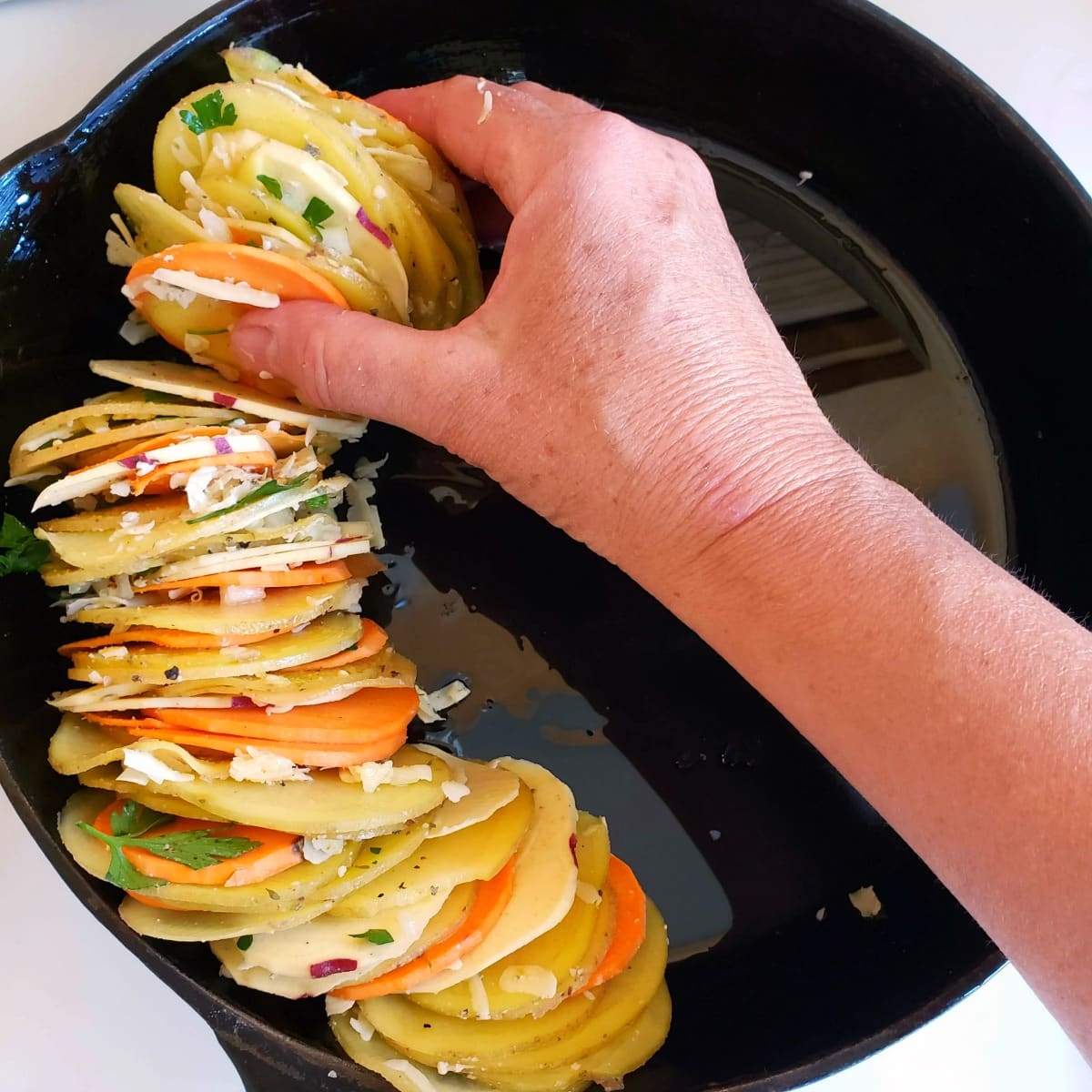 Keep stacking potatoes in the skillet.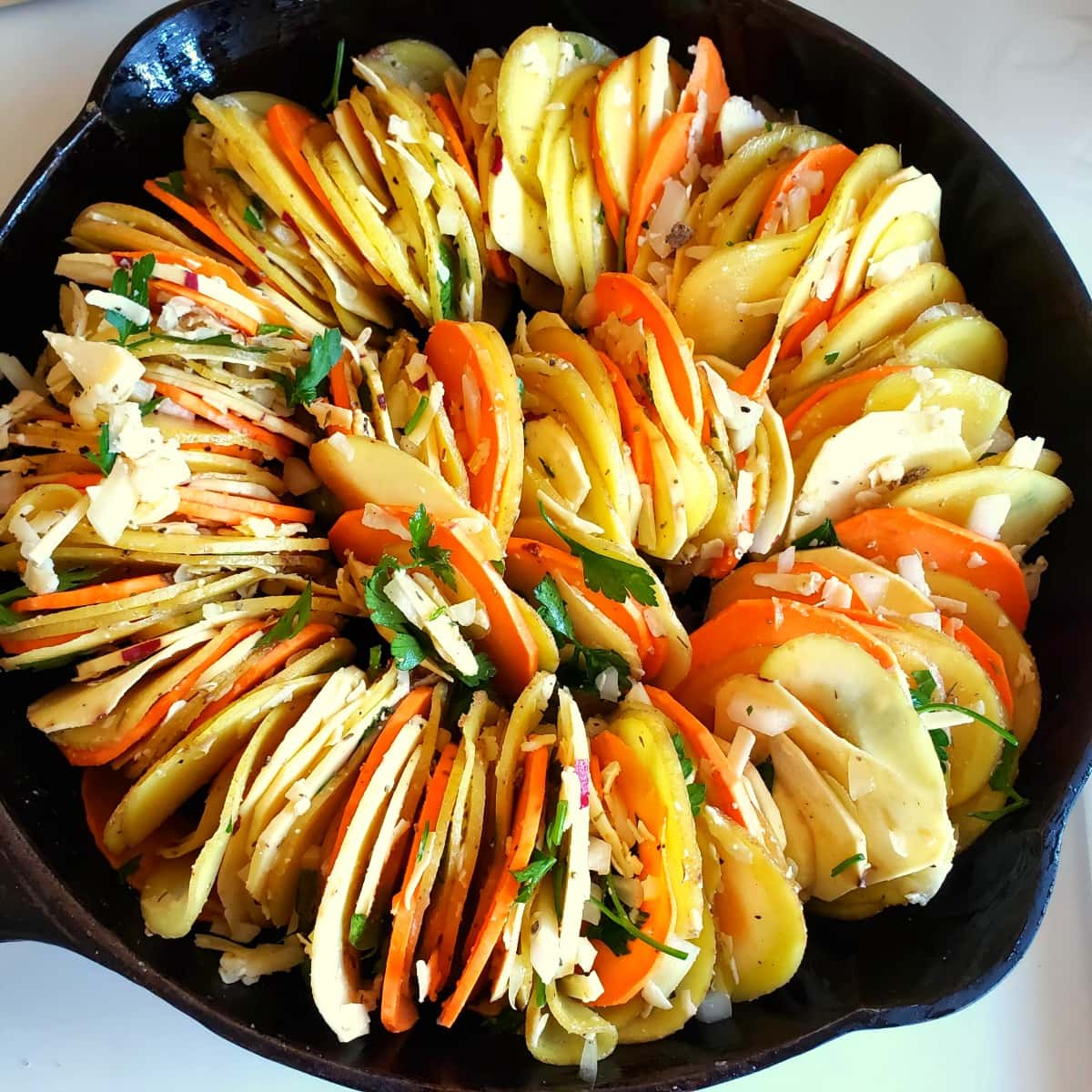 Repeat that until you have a full skillet.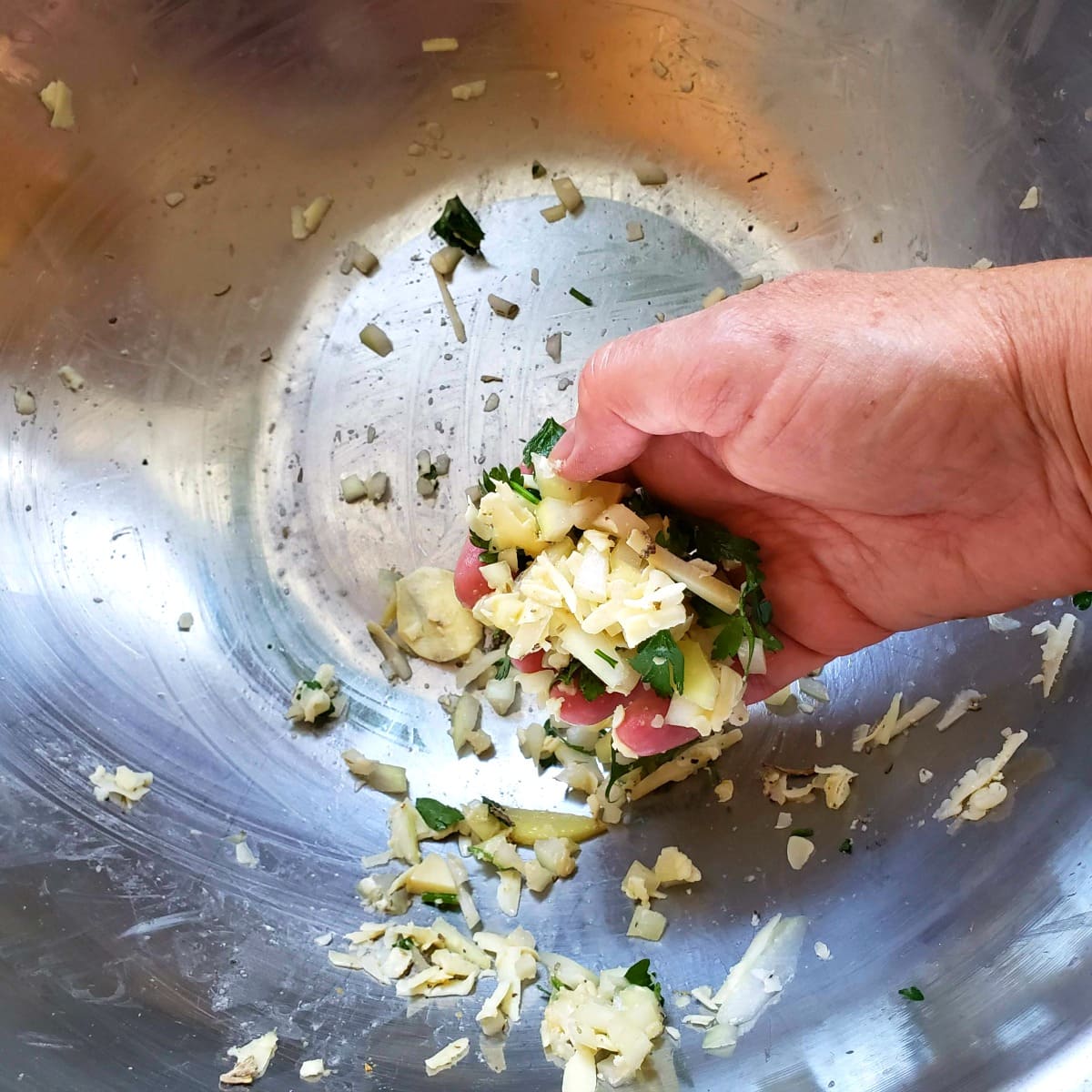 If there are any little snibbies of stuff left at the bottom of the mixing bowl when all the potatoes are in the skillet, just add the leftover stuff to the top of the dish. No waste!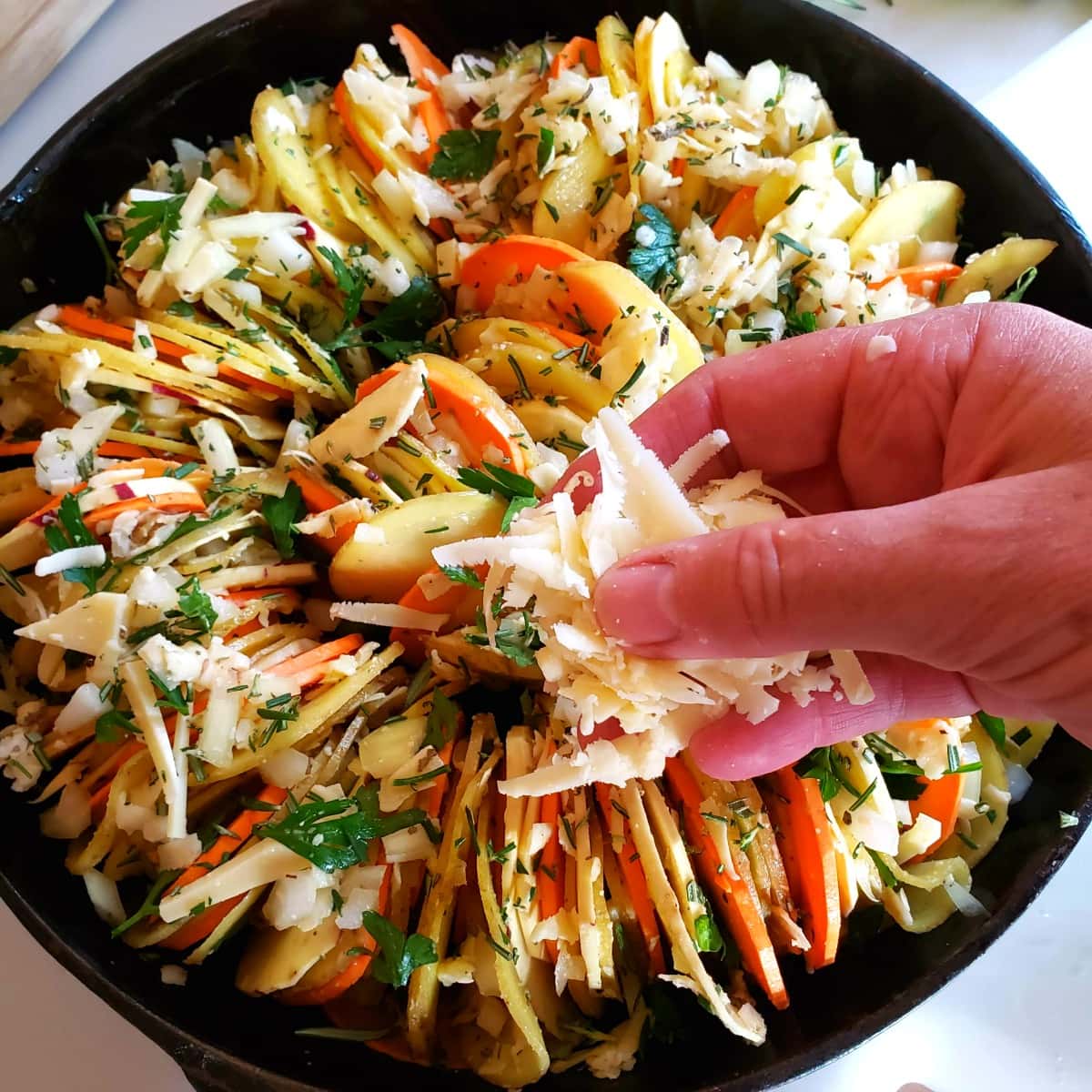 Sprinkle with a bit of cheese you have reserved.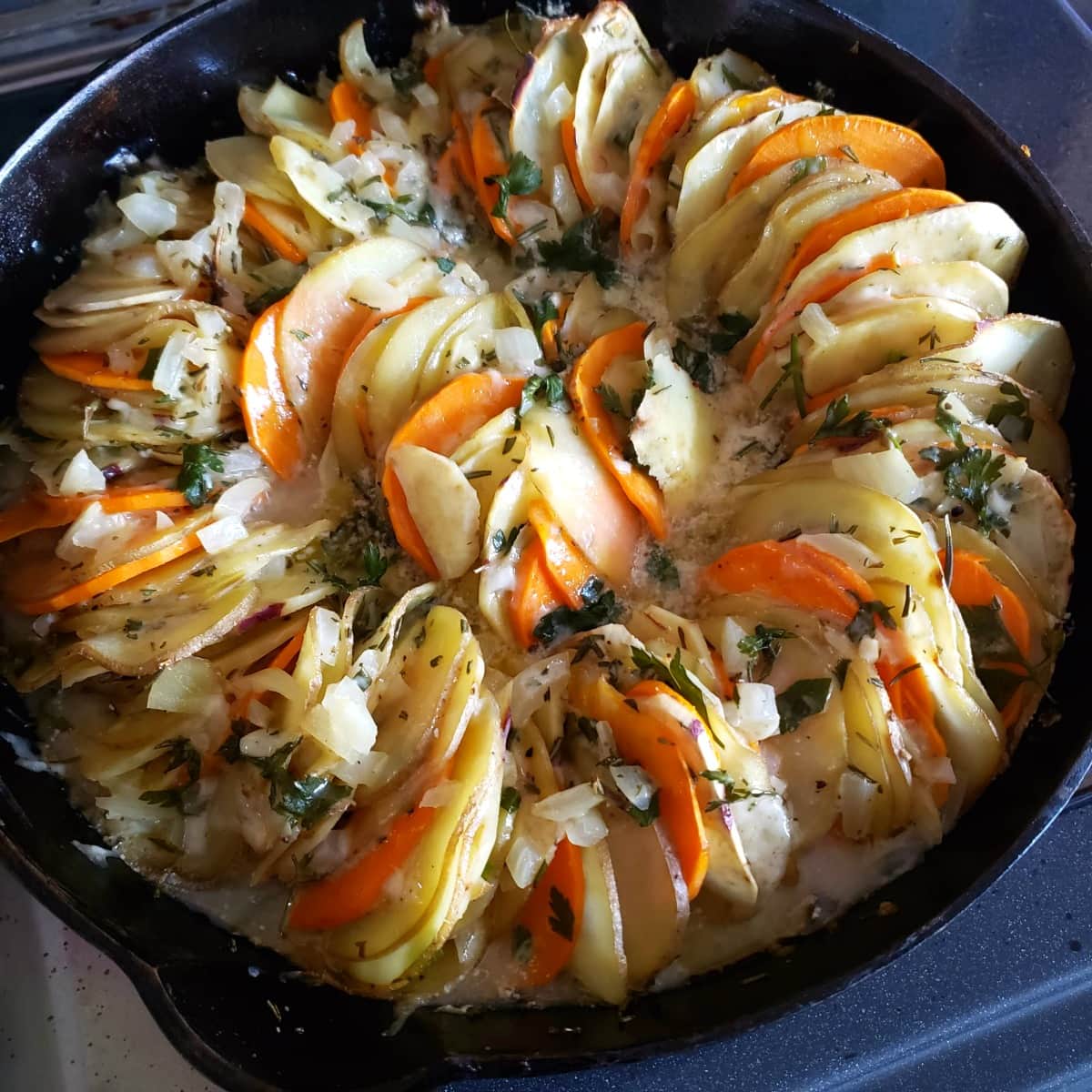 Pour over the broth and milk or half and half, cover with foil and bake. Once baked and out of the oven, remove foil and allow to rest for a couple of minutes. It's OK if there is a little liquid at the bottom. The potatoes will not be dry.
Let's make Cheese Herb Potato Gratin, shall we?
Cheese and Herb Potato Gratin
Cheese Herb Potato Gratin is the impressive side dish you'll want for the holidays, but can eat all year long. Impossibly thin leaves of potatoes stack sideways in a skillet with herbs and cheese for a deeply satisfying, comforting dish.
Ingredients
1 tablespoon olive oil
3 medium sweet potatoes
6 small Yukon gold potatoes
1 teaspoon kosher salt
1/4 teaspoon ground black pepper
3/4 teaspoon garlic powder
1/2 teaspoon dried thyme
1/2 teaspoon ground sage
1 1/2 teaspoons dried parsley (or 1-2 tablespoons fresh chopped parsley)
1/2 teaspoon dried rosemary (or 2 teaspoons fresh rosemary finely minced)
8 ounces Gruyère or sharp white cheddar, grated (2 cups)
1/2 cup thinly sliced yellow onion, chopped
1/2 cup whole milk or half-and-half
1/2 cup low-sodium chicken broth
Directions
Heat oven to 375ºF. Brush inside of a 10-inch cast-iron skillet with olive oil and set aside.
Peel potatoes, and, using a mandolin or vegetable slicer, cut into very thin slices. In a large bowl and using your hands, gently toss potatoes with salt, pepper, garlic powder, thyme, sage, parsley, rosemary, cheese (reserve a little bit for the top), and onion, until everything is evenly mixed. Be careful not to break the thin potato slices.
Working with a small handful of potatoes at a time, gently line up coated slices in prepared skillet or 2-quart baking dish. Sprinkle with reserved cheese. Pour milk and broth over potatoes. Cover pan with foil and seal around edges.
Bake 50 minutes and remove foil. Continue to bake until potatoes are tender and top is golden, 15-20 minutes more. You can test the potatoes with a knife to see if they are tender throughout. Cool slightly and serve hot.
Serves 8-10.
Notes
Recipe source: "Live Life Deliciously: Recipes for Busy Weekdays & Leisurely Weekends," by Tara Bench / Tara Teaspoon (Shadow Mountain Publishing; 2020). Used with permission.
https://www.shockinglydelicious.com/cheese-herb-potato-gratin/
Copyright Dorothy Reinhold | ShockinglyDelicious.com. All rights reserved.
About the cookbook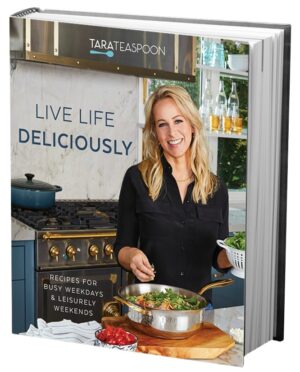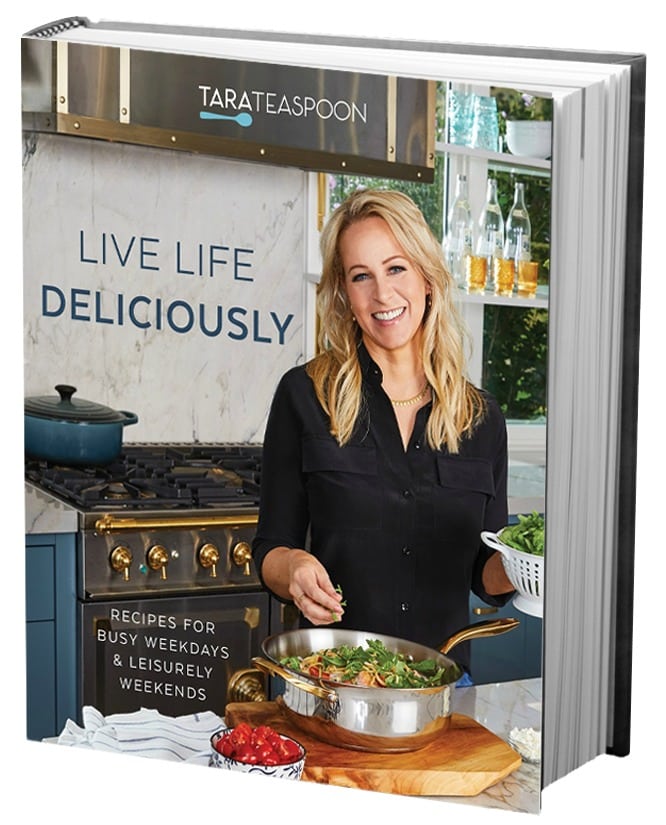 This recipe came from "Live Life Deliciously: Recipes for Busy Weekdays and Leisurely Weekends," by Tara Bench / aka Tara Teaspoon (2020; Shadow Mountain publishing) affiliate link. It's a great book, and worthy of a spot in the home cookbook library. Tara helps you elevate your easy weeknight meals and take a shot at some more elegant party-type dishes for weekends when you might have additional time to cook. This gratin is a good example of both…if you can stack a deck of cards, you can make this with far less fuss than you imagine, AND it is showy enough to be the centerpiece for your holiday dinner. I have my eye on her Salmon, Veggie and Carrot-Ginger Rice Bowl, her Dill and Feta Orzo Salad, and her Pepperoni Pizza Pasta with Ricotta. That might be dinner tonight! Tara is a former food editor and stylist with Martha Stewart and food director of Ladies' Home Journal magazine; she know's what's what.
Pin the image below for Cheese Herb Potato Gratin to your Pinterest board to save it
Two more Shockingly Delicious Potato Gratin recipes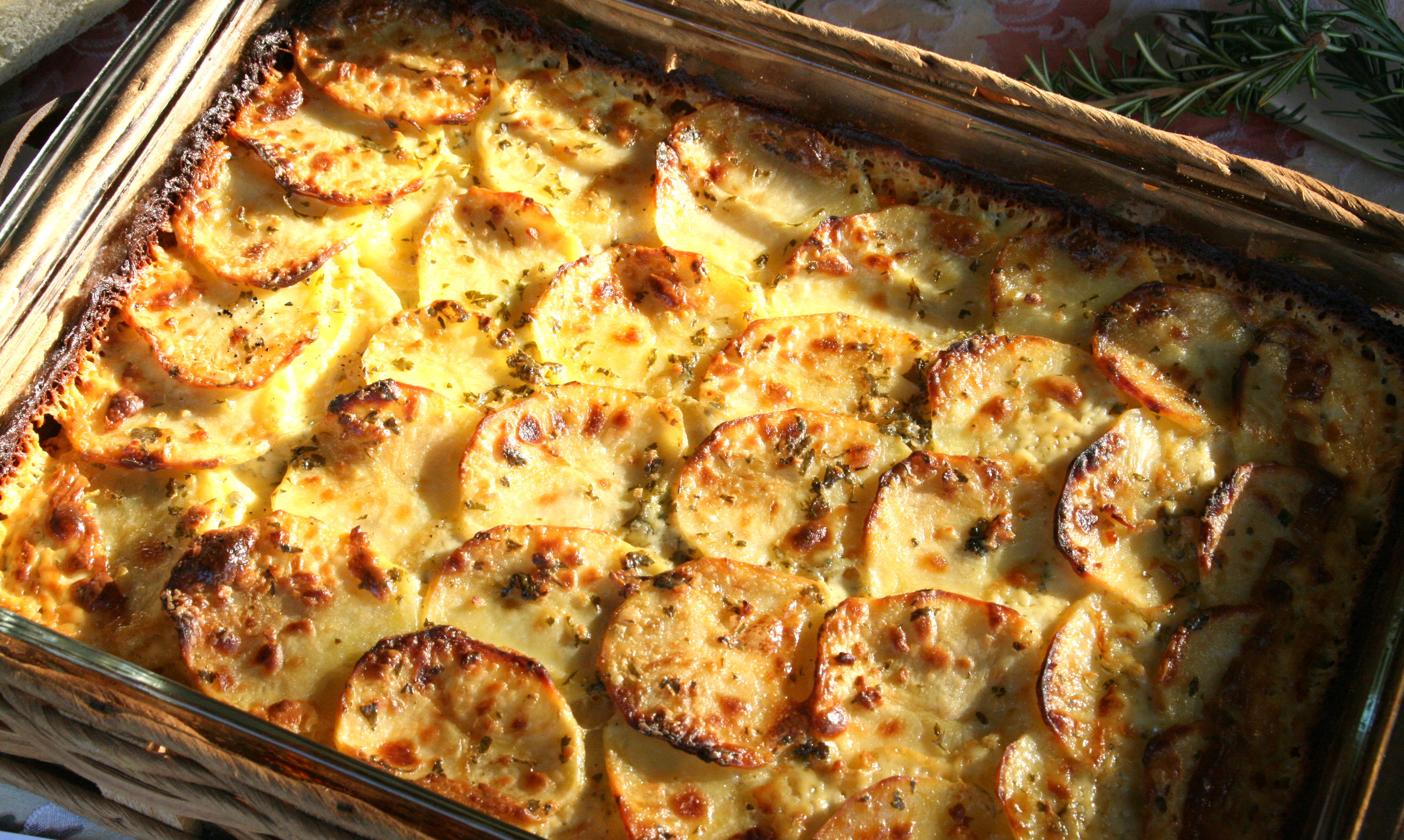 Garlic and Herb Potato Gratin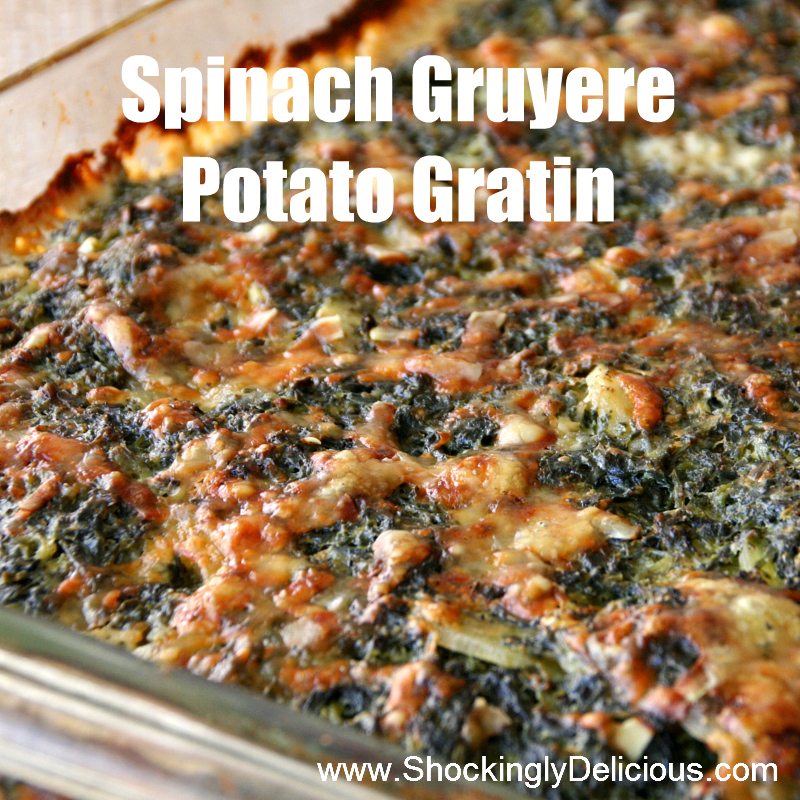 Spinach Gruyere Potato Gratin
Thanks for visiting…are you hungry for more? Follow Shockingly Delicious on…
FACEBOOK | PINTEREST | INSTAGRAM | TWITTER
…for all the latest recipes, ideas and updates!
This post may contain affiliate/referral links. It is a way for this site to earn advertising fees (at no cost to you) by advertising or linking to certain products and/or services that I approve and prefer.