Print This Post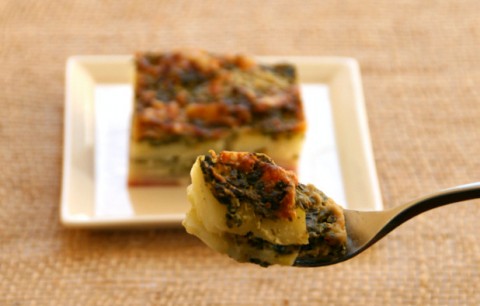 You know that hot, cheesy spinach dip served in steakhouse restaurants? The kind that you could make a meal out of? The kind that is so good you eat way too much of it and it ruins your appetite for the steak that is supposed to follow it?
This is like that, only with potatoes to fill it out and make it an authentic side dish.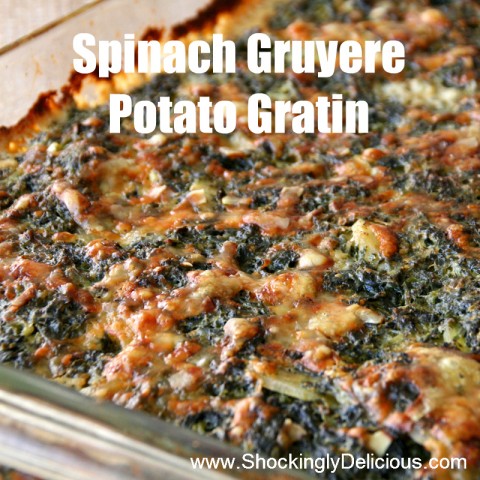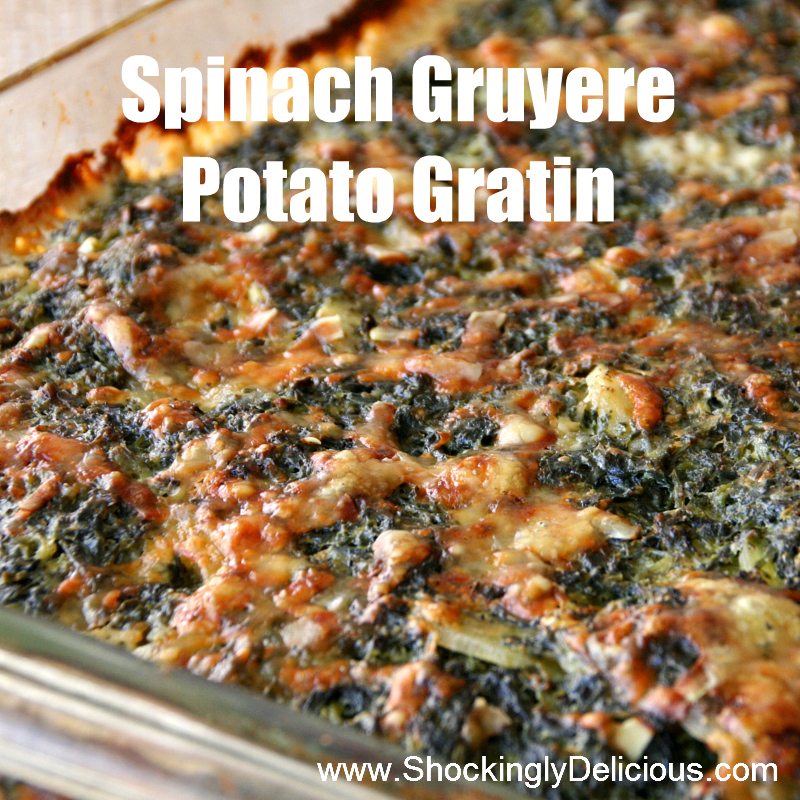 The Idaho Potato Commission asked me to come up with a wonderful potato casserole for New Year's and this emerged, steaming and fragrant, from my kitchen. It would be magnificent served alongside roast beef, ham, roast turkey or poultry, for a special dinner, or offered on the buffet table at a party. Vegetarians can make it a main dish.
Potatoes, garlicky cheese and spinach – best friends forever!
Recipe: Spinach Gruyere Potato Gratin
Summary: Cheeses and spinach combine to enrobe Idaho Russet potatoes with garlicky goodness, in a side dish that is rich, comforting and reminiscent of hot spinach dip.
Ingredients
1 cup heavy whipping cream
1 cup half and half
1 (5.2-ounce) package Boursin Cheese with Garlic and Herbs
1 1/4 teaspoons kosher salt
2-3 tablespoons finely minced Italian flat parsley (about 1/3-1/2 cup leaves measured before mincing)
3 fat garlic cloves, crushed or finely minced
1 (9- to 10-ounce) container frozen chopped spinach, thawed and squeezed dry
3 pounds Idaho Russet potatoes (or Idaho Yukon Gold potatoes), peeled, thinly sliced (about 1/8-inch-thick slices)
Freshly ground pepper
4-6 ounces Gruyere, shredded
Instructions
Heat oven to 400°F. Butter (or mist with nonstick spray) a 9- by 13-inch baking dish with 2-inch-high sides, and set dish aside.
In a heavy medium-sized saucepan, heat cream, half and half, Boursin cheese and salt over low heat until cheese melts and mixture is smooth, stirring frequently. Sauce will thicken just slightly as it heats. (Keep an eye on this so it doesn't boil over, which will make a huge mess on your stove! Trust me on this.) When sauce is melted and mixed, remove pan from heat and stir in the parsley, garlic and spinach.
Arrange half of sliced potatoes in prepared baking dish. Generously season potatoes with pepper. Ladle half of sauce mixture over, and sprinkle on half the Gruyere. Arrange remaining potato slices atop first layer in dish, creating a pretty overlapping shell pattern if you like. Season again with a grinding of fresh pepper. Ladle remaining sauce mixture over potatoes, and sprinkle on the rest of the Gruyere.
Bake until top is golden brown and potatoes are tender when pierced with knife, about 50-55 minutes.
Remove from oven and serve, or place hot dish on a buffet table and allow diners to serve themselves.
Serves 8-10.
Quick notes
The Idaho Potato Commission hired me to create this recipe.
Preparation time: 30 minutes
Cooking time: 55 minutes
Diet type: Vegetarian
Number of servings (yield): 8-10
Culinary tradition: USA (General)
My rating 5 stars:  ★★★★★