Print This Post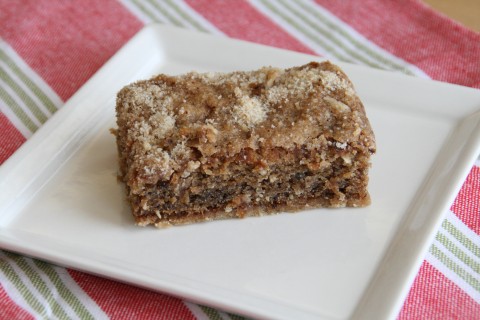 Not everything I make is fantabulous. Not everything is worth making again. Not everything is worth writing home about. And certainly not everything is worth writing about to you, my most cherished recipe recipients!
But when something hits big, I do like to make sure you are in on it.
My first hint that this was something better than ordinary was that my husband's eyes bulged out when he first tasted it, and he immediately scanned the kitchen for the dish to see if there was more. "Don't let the kids at this," he said. "It's mine." The next night he announced that if he put a piece in a small bowl and microwaved it to heat it slightly, and then put vanilla ice cream on top, it tasted like Bananas Foster. Okie dokie.
Then I tucked a few pieces into a bag for my daughter's 2nd grade teacher. "I MUST MUST MUST have the banana recipe," she scrawled across some homework that came home in the backpack. Sure thing, especially when you're doling out the grades!
I gave a plate of it to a neighbor fellow, and his wife called within 10 minutes to get the recipe.
And then I dropped some off at the house of a fellow pre-school mom who just had a baby. Here's a direct quote from her e-mail: "I'm slightly embarrassed to admit this, but you left my house three minutes ago and I've already eaten two of the banana bars. They are to die for!!!!"
Anything that rouses a post-partum mom and makes her commit four exclamation points needs to go in this space.
Enjoy, as we are! 
Recipe: Spiced Banana Coffee Cake with Crumbs
Summary: An addictive spiced, crumb-topped banana coffee cake is a big hit!
Ingredients
2 cups all-purpose flour
1 1/4 cups granulated sugar
3/4 cup firmly packed brown sugar
1/2 cup (1 stick) butter, at room temperature (add 1/4 tsp. salt if using unsalted butter)
1 cup (2-3 small) thinly sliced overripe bananas (to see what they should look like, go here)
1/3-1/2 cup sweetened shredded coconut
1 teaspoon baking soda
1 teaspoon cinnamon
1/2 teaspoon nutmeg
1 teaspoon vanilla extract
1/2 cup sour cream (low-fat version works fine)
1 egg
Instructions
Heat oven to 350 degrees.
In a large bowl, combine first four ingredients (flour through butter) and mix at low speed until crumbly.
Press 1 1/2 cups crumb mixture into an ungreased 13- by 9-inch baking dish. Measure out another 1/2 cup crumbs and set aside.
Combine remaining crumbs in mixing bowl with remaining ingredients. Beat 30-60 seconds at medium speed until well blended (this will mash the bananas). Pour evenly over crumb crust. Sprinkle with reserved 1/2 cup crumbs.
Bake 30-35 minutes, until golden brown.
Cool, cut into 40-48 small bars if serving as bar cookies, or 16 squares if serving as a plated dessert.
Preparation time: 15 min.
Cooking time: 30 min.
My rating 5 stars:  ★★★★★