Print This Post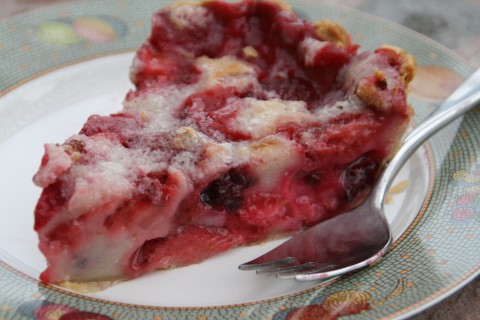 It's hard to beat a fresh strawberry pie. This one might just do it, though.
Stuffed with a mixture of strawberries, raspberries and blackberries bound together with a sweet sour cream-enhanced filling, it is so good you will be eyeing the pie dish for seconds before you are finished with firsts.
Which is exactly what happened at cucina Shockinglydelicious. Everyone tucked into a piece of pie, and within 30 seconds, my husband said, "Is there any more?" My daughter followed with, "When I'm finished with this one, can I have another piece?"
They probably feared I would give the rest away to neighbors, as I often do when I bake. It keeps us from eating the whole thing, and gives me an excuse to bake something new.
So yes, you have to make this, while fresh berries are in season and you don't need a line of credit to buy them.
Thanks to food pro and blogger Patti at Worththewhisk, for writing about her all-strawberry version of this pie. Her unequivocal rave got me intrigued, and when I saw I had other berries to use up, this berrylicious version emerged.
By the way, Patti also notes that she had to scoot the leftovers out of the house, because it was THAT GOOD! So there you have it — two of us telling you to beware of the deliciousness.
On the other hand, pie makes a perfect breakfast!
Not that I would know.
Berrylicious Sour Cream Pie
1 unbaked 10-inch pastry shell (homemade or Pillsbury)
1 (1-pound) container fresh strawberries
1 (6-ounce) container fresh raspberries (a few saved for garnish)
1 (6-ounce) container fresh blackberries (a few saved for garnish)
1 cup flour
1 cup + 3 tablespoons sugar
Dash salt
1 cup sour cream (can use light sour cream, but NOT fat-free)
1/2 teaspoon vanilla extract
1/2 teaspoon almond extract
1 tablespoon coarse sugar crystals for top
Heat oven to 450 degrees F. Fit pastry shell into a 10-inch pie plate, flute edge and set aside. (If you want to cheat time, use the Pillsbury rolled crust in a red box from the refrigerated aisle at the grocery store.)
Wash and dry strawberries, hull and slice in half into a bowl. Gently wash other berries, dry on a towel, reserve a few for garnish at serving time and add to strawberries.
In a large mixing bowl, add flour, sugar and salt and stir to combine. Add sour cream and extracts and stir just until creamy (it will look like thick pancake batter). Gently fold in the berries; don't over-mix or you'll crush the berries.
Pour fruit mixture into pie shell and gently spread to edges but DO NOT PACK DOWN. There should be some air holes throughout. Sprinkle the top with 1 tablespoon coarse sugar crystals.
Bake for 10 minutes, and then reduce the heat to 350 degrees F. and bake an additional 60 minutes. Crust will be golden brown and pie will be set in the center.
Remove from oven, cool and serve, garnished with the berries you reserved earlier. It is great just warm or at room temperature.
Serves 8.