Print This Post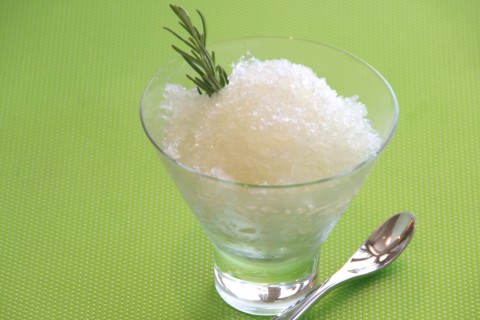 This is the happiest, most delicious serendipity!
I was making the kids some summertime snow cones the other day, and I just couldn't bring myself to pour that fakey, chemically, neon syrup on them. Kids love that stuff, but it's just awful, really, in so many ways.
So how hard could it be to make some actually tasty syrup with ingredients you can recognize?
Not hard at all, and with some sugar, water, and a couple of items plucked from the backyard, we had a surprisingly sophisticated, elegant Rosemary-Lemon Simple Syrup that totally ROCKED the snow cone! This was one wowser of an impromptu frozen treat!
Believe it or not, my kids preferred this to the wacky grape/cherry/blue raspberry type snow cone syrups we had in the pantry. (Which now reside in the trash.)
This is an adult taste, but it appeals to contemporary kid palates, too. It would be a lovely finish to a patio dinner, or just a quick refresher during a hot afternoon.
You can also use any leftover syrup to flavor a cocktail. Just sayin'