Print This Post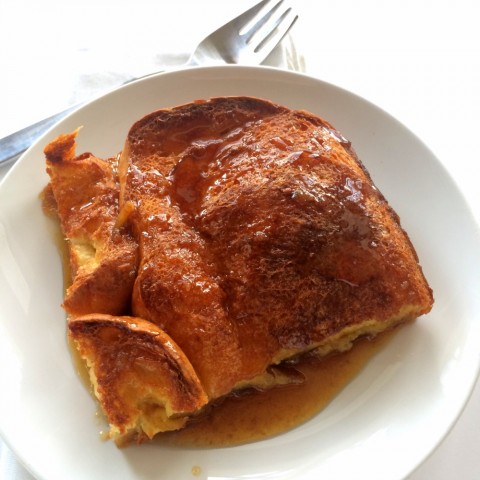 Baked Creme Brulee French Toast. Doesn't the name alone make your mouth water?
It should. This is the most spectacular French toast breakfast bake I've ever made, and for good reason. It has a stick of butter, cup of brown sugar, nearly half a dozen eggs and enough half-and-half to drown a Starbucks. You take a bite, and you can't breathe; that's how good it is. Over the years, I've made approximately a zillion and 23 French toast baked dishes, and this is the winner. It has a very pure butter-sugar flavor, like a good brulee. There is no cinnamon or pecan or other unnecessary fripperies to get in the way.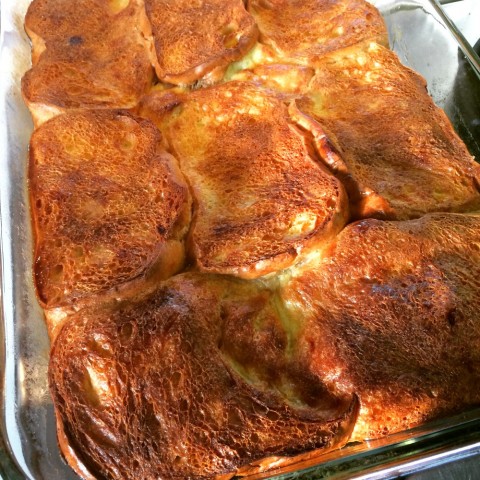 The professor mumbled, "This is awesome" as he was stuffing his face with it. I muttered back, "#winning." (Yeah, I said "hashtag," too.)
I got the recipe from a friend of a friend, on Facebook. That's today's equivalent of hanging over the back fence trading food ideas with your neighbor, isn't it?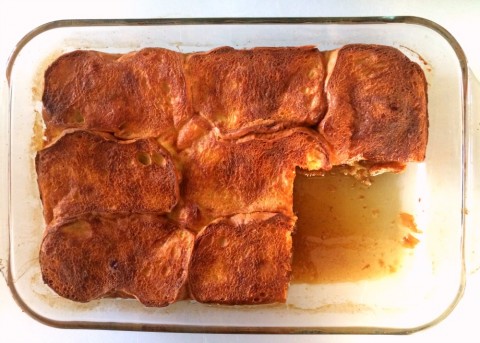 Listen to what the friend of a friend said, that made me drop everything and throw this together:
"We got it from the hosts of a B&B where we stayed in Sonoma (Calif.). Crazy good, super easy, heart attack on a plate. People always request it, so it's on the perm menu (for Easter). "
He's Marc Schermerhorn, a Microsoft honcho from Seattle who writes a hilarious food and cookbook blog called Baketard. (Yes, the name is politically incorrect.)
Based on this French toast recipe alone, he's now my new BFF. When I messaged him that I made it and it was astoundingly good, he shot back, "We lost our sh*t the first time we tried it, too!"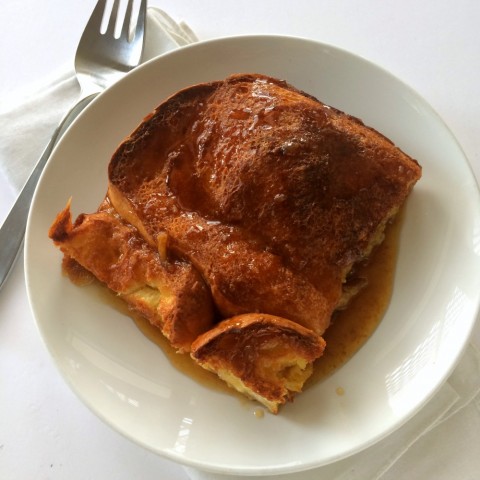 It's just that kind of recipe.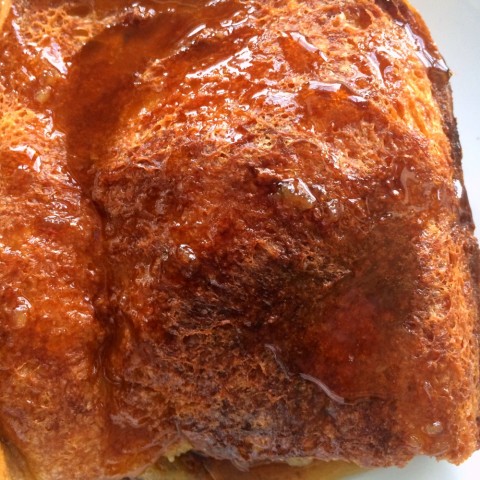 Are you convinced yet? Here's an up-close-and-personal of the Baked Creme Brulee French Toast. Scamper into your kitchen and put this together. It needs to rest in the fridge overnight, so now's the time. Tomorrow morning will be here before you know it.
Baked Creme Brulee French Toast
Sweet, buttery Baked Creme Brulee French Toast is a decadent, spectacular breakfast and the best version you'll likely ever have.
Ingredients
1 stick (4 ounces) unsalted butter
1 cup firmly packed brown sugar
2 tablespoons corn syrup
4 croissants (I used 4 oblong challah rolls; use what you like or have!)
5 large eggs
1 1/2 cups half-and-half
1 teaspoon vanilla
2 tablespoons Grand Marnier (I used Cointreau; use what you have!)
1/4 teaspoon salt (can omit if you are using salted butter)
Directions
WARNING: Start this recipe the day before you want to serve it, because it needs to rest in the refrigerator overnight.
Lightly mist a 13-by-9-inch baking dish with non-stick cooking spray.
In a small heavy saucepan, melt butter with brown sugar and corn syrup over moderate heat, stirring until smooth. Pour into prepared baking dish. Slice croissants in half length-wise and lay in pan, overlapping slightly if needed.
In a bowl, whisk together eggs, half-and-half, vanilla, Grand Marnier and salt until well combined and pour evenly over bread. Cover the dish with plastic wrap or foil, and chill bread mixture in the refrigerator, overnight. This will allow the bread to fully absorb the egg-milk mixture.
The next morning, remove dish from refrigerator and heat oven to 350°F. Allow dish to come to room temperature (so you don't put a chilled dish into a hot oven and risk cracking). Bake, uncovered, in middle of oven until puffed and top of bread is golden, about 40-45 minutes.
Remove from oven and allow to rest for 5 or so minutes. Cut into squares and serve, spooning some of the liquidy caramel sauce from the bottom of the pan overtop the servings. Maple syrup would be overkill with this, because it is already super sweet.
Serves 6.
Notes
Bread: Although the original recipe called for croissants, I successfully used oblong challah rolls. Brioche would be amazing, as well. I say use whatever bread-type thing you need to use up! (Although, of course, it will be most elegant with croissants.)
Recipe source: Marc Schermerhorn channeled this recipe from The Trojan Horse Inn in Sonoma, Calif. I believe the inn is now closed, but it obviously is still gaining fans because of this spectacular recipe.
https://www.shockinglydelicious.com/baked-creme-brulee-french-toast/
Copyright Dorothy Reinhold | ShockinglyDelicious.com. All rights reserved.
 
If you like this recipe and want to save it, pin the image below to your Pinterest board.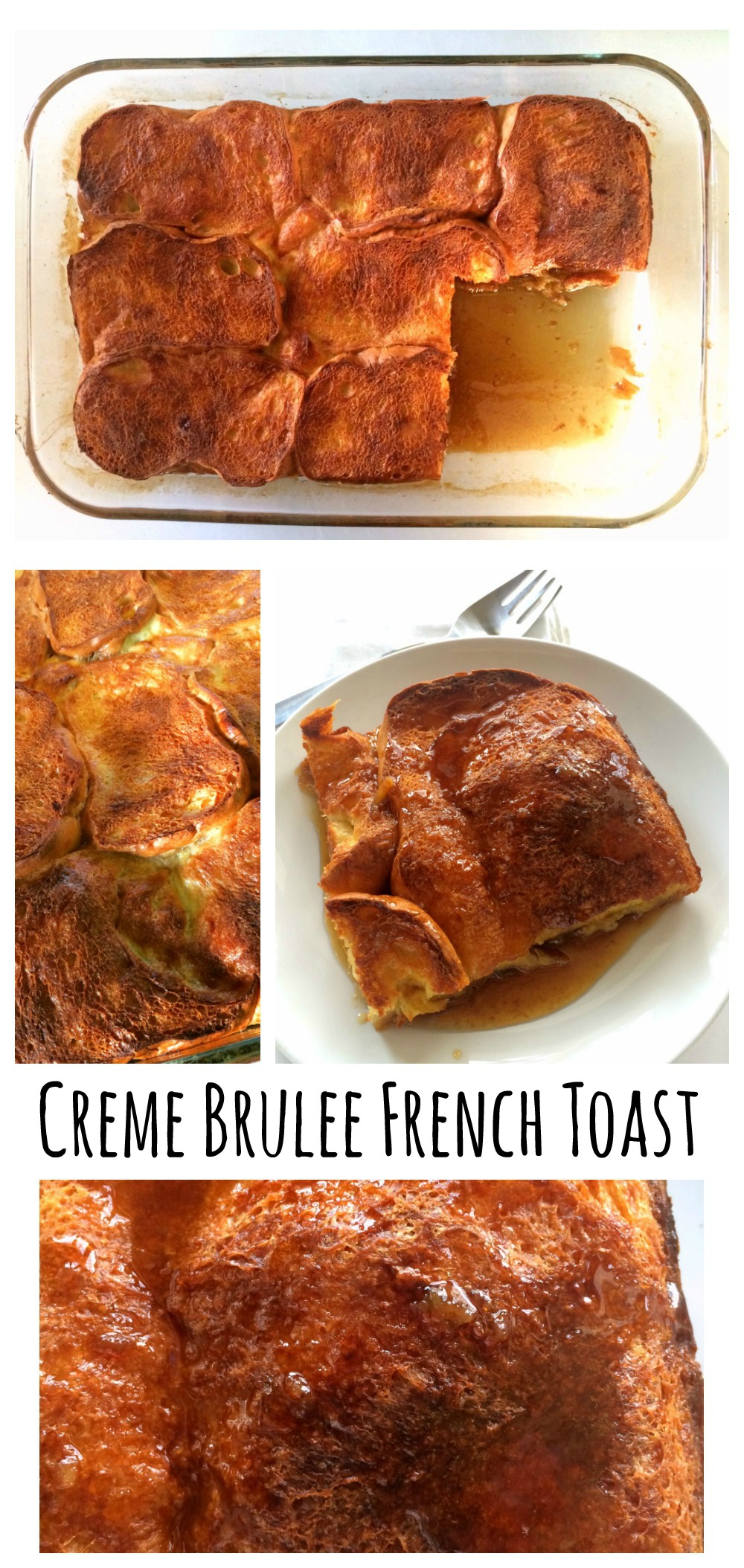 Save
Save
Save
Save
Save
Save
Save
Save