Print This Post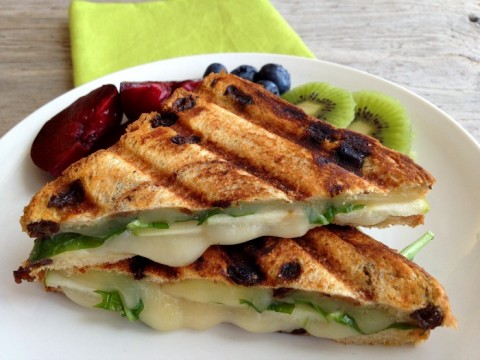 Honestly, here's the secret to a fantastic grilled cheese sandwich: Great cheese and interesting bread.
If you have both of those, you are golden.
So when Great Midwest offered to send me samples of their Wisconsin artisan Cheddar and Monterey Jack cheeses so I could panini-up a cool grilled cheese sandwich, I said an enthusiastic "yes!" and plugged in my George Foreman.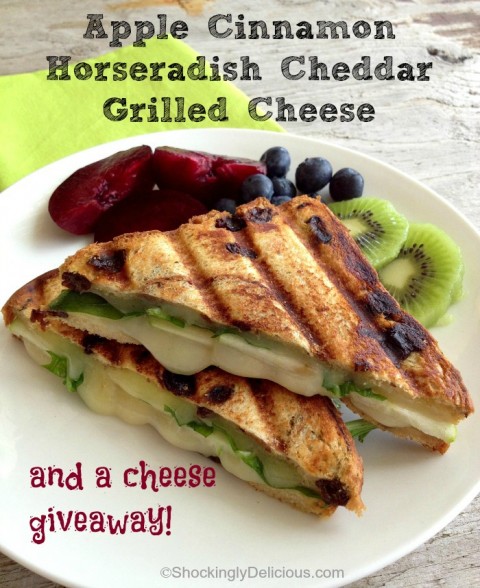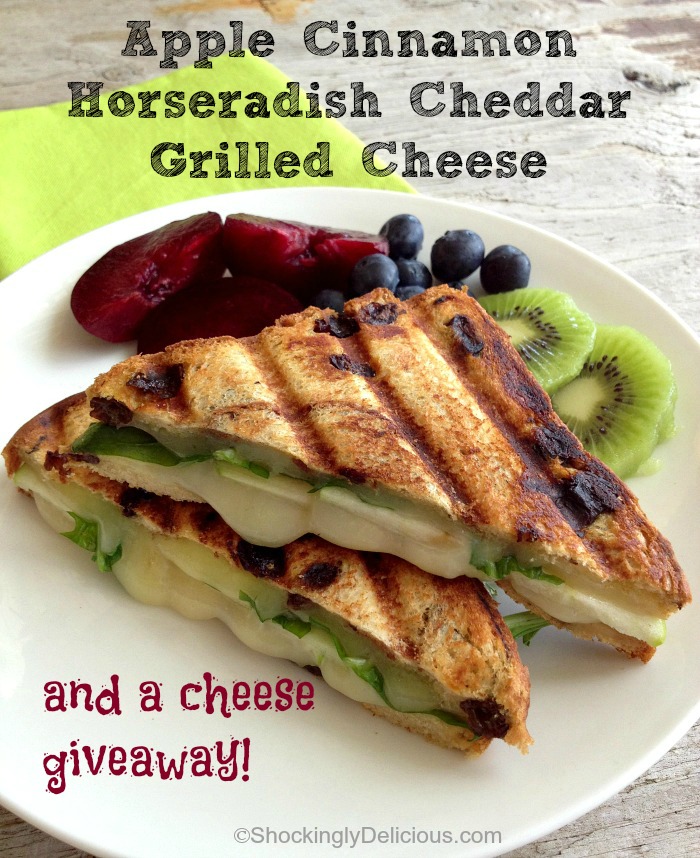 My mind was reeling with the possibilities, as I contemplated their delicious flavors. A few of the surprisingly good samples were the Apple Cinnamon Cheddar, Cranberry Cheddar and the Blueberry Cobbler Cheddar. All had pronounced yet not overpowering flavors of their namesake fruit. I was completely taken by the Horseradish Cheddar – zippy in a way that clears your sinuses – and the sophisticated Morel & Leek Jack, and Garlic & Dill Cheddar. Great Midwest brought the heat with Chipotle Cheddar, Habanero Jack, Jalapeno Jack, Mango Fire Cheddar and Salsa Jack.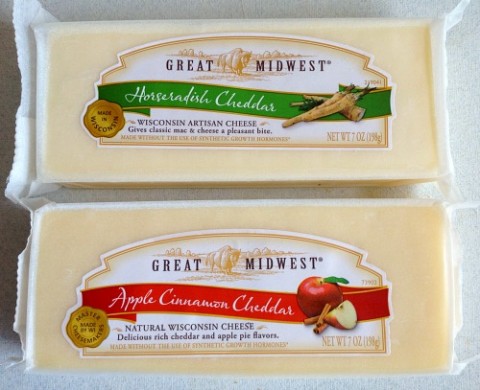 My secret for a great grilled cheese is to feature yin and yang – smoky and sweet, sweet and sour, sweet and hot, or the like. Since I had snacked my way through their sample of Smoked Cheddar (oops!), the smoky was out, so I turned to the Horseradish Cheddar and Apple Cinnamon Cheddar for my sandwich.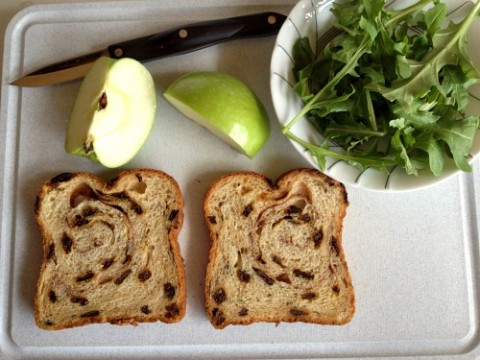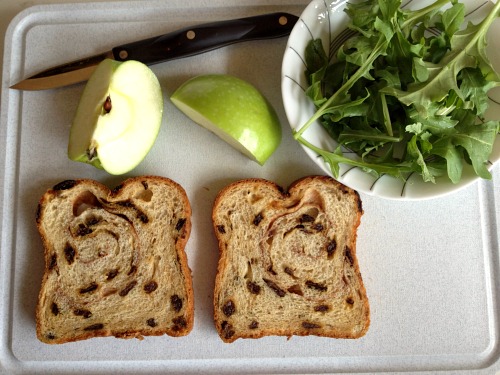 I started with my favorite bread for grilled cheese – cinnamon raisin swirl, and decided to add some baby arugula for a peppery bite and some green apple for a tart crunch.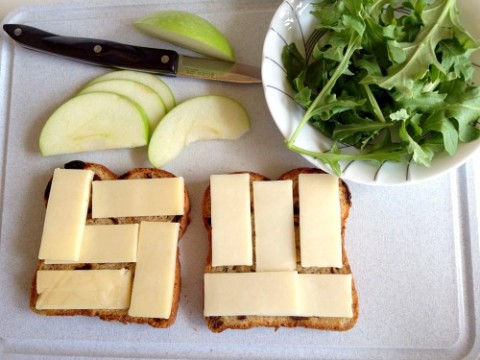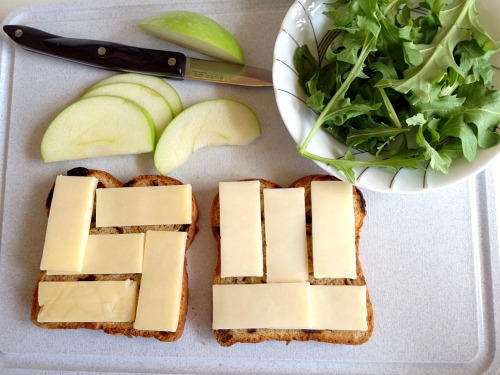 Horseradish cheddar went on one side, Apple Cinnamon Cheddar on the other side…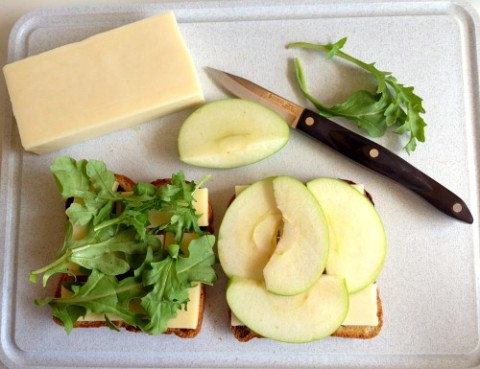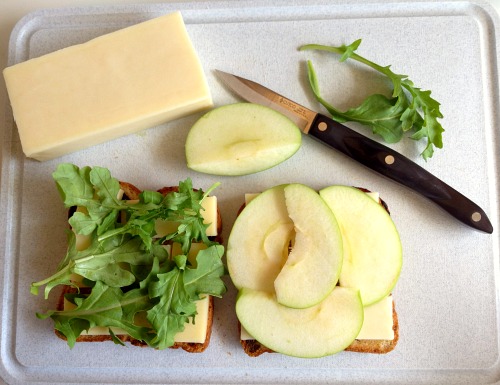 …with paper-thin apple slices and baby arugula inside.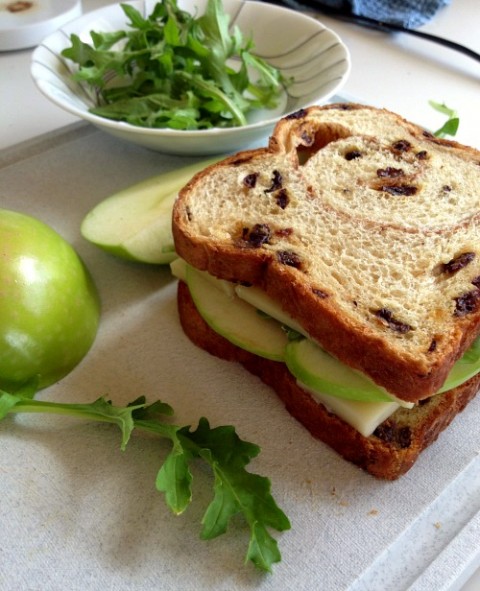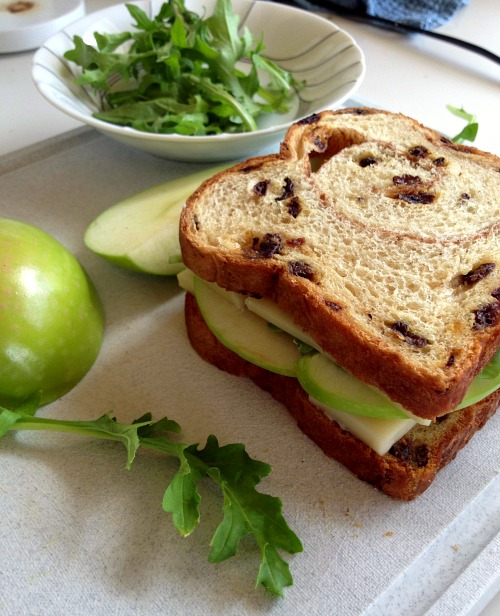 Frankly, it looked pretty good as a regular sandwich!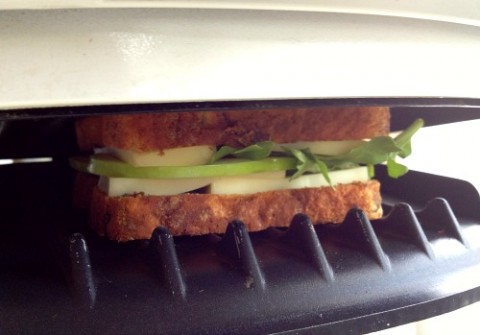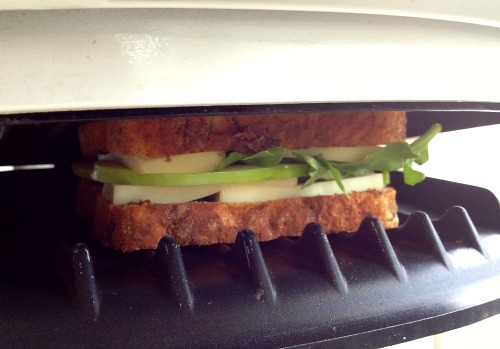 But into the George Foreman grill it went. This appliance was one of my best purchases ever. My son and I found it at the thrift store for $1, and we have used it every day for the past 2 years – grilled cheese, hot dogs, boneless chicken thighs, or whatever needs a quick grilling. Highly recommend.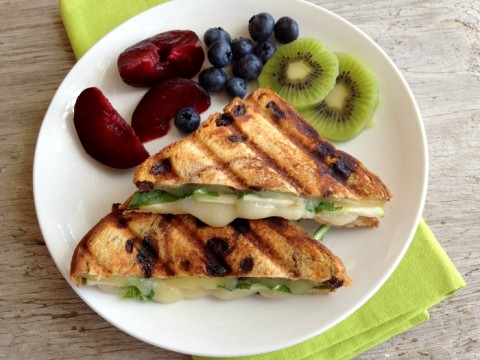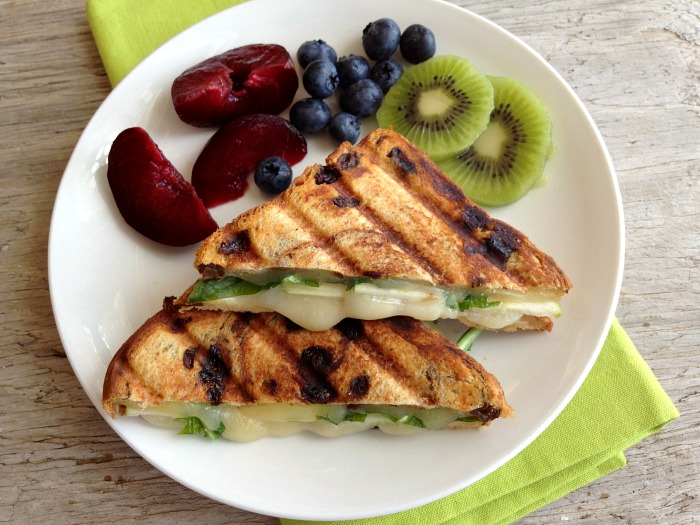 What emerged was a melty, crispy sandwich with elegant contrasting flavors – sweet from the raisin bread, a bite from the horseradish and arugula, appletastic from the apple cheese and fruit – perfect for a lunch plate with fresh fruit alongside.
Contest
Great Midwest is sponsoring a grilled cheese contest where you're invited to submit your creative and favorite grilled cheese recipe for a chance to win one of eight prizes including a vacation, Panini presses and cookbooks.
If you want more inspiration for your contest entry, Great Midwest has a Pinterest page, a Facebook page, and a general website.  All have wonderful ideas to get your creative cheese brain working, and all have information on the contest, which ends Sept. 30.
And stay tuned below the recipe for a chance to win the 12 cheeses they sent me. Yep, it's a cheesetastic giveaway!
Recipe: Apple Cinnamon Horseradish Cheddar Grilled Cheese
Summary: Sweet, peppery, crunchy, melty, crispy and sinus-clearing, this Apple Cinnamon Horseradish Cheddar Grilled Cheese sandwich hits all the flavor notes!
Ingredients
2 slices cinnamon swirl raisin bread (I used my favorite Sun-Maid brand)
Great Midwest Apple Cinnamon Cheddar cheese
Baby arugula
1 green or red apple
Great Midwest Horseradish Cheddar cheese
Instructions
Heat your countertop grill, panini press or skillet.
Lay out the bread on a board. Top one slice with thin slices of Apple Cinnamon Cheddar, then a few leaves of baby arugula, a couple of paper-thin slices of apple, and then thin slices of Horseradish Cheddar.
Put the lid on the sandwich and toast it in your device of choice. It will take 1-2 minutes for the cheese to melt and the bread to get toasty. (You don't need to butter the bread; it will toast just fine on its own. You also don't need any condiments on this sandwich because it is packed with flavor!)
Remove from grill, allow to sit for 1 minute, and then slice in half and serve. Fresh fruit goes well with this sandwich.
Serves 1.
Source
Dorothy Reinhold / Shockingly Delicious
Finding Great Midwest
Great Midwest is available at select retailers such as Target, club stores and cheese shops nationwide.
Preparation time: 7 minutes
Cooking time: 2 minutes
Diet type: Vegetarian
Number of servings (yield): 1
Culinary tradition: USA (Nouveau)
My rating 5 stars:  ★★★★★ 
Cheesetastic Giveaway!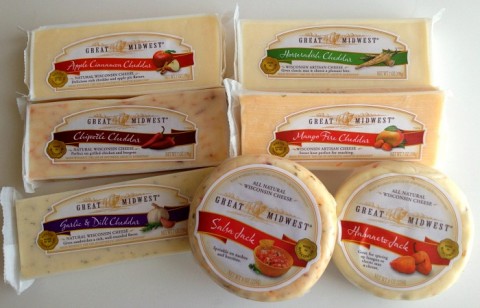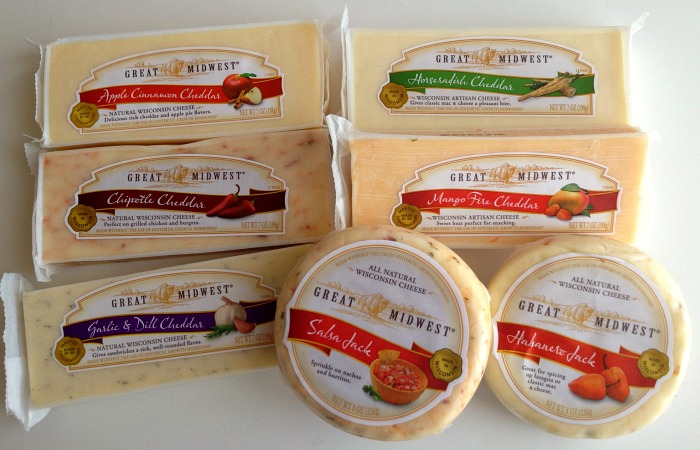 Update 9-4-13: A winner! Lana W. of Redondo Beach, Calif. has won the giveaway (I used Random.org to pick the winner). Congrats to her, and soon she will be sitting in a sea of cheeses! Thanks to everyone for entering.
Great Midwest is giving away the 12 cheeses they sent me to one lucky reader of Shockingly Delicious. To enter, simply do any or all of the following: 
Leave a comment on this post telling me which Great Midwest cheese sounds best to you for a grilled cheese sandwich.
Like Shockingly Delicious on Facebook and leave a comment telling me you did.
Follow Shockingly Delicious on Twitter and leave a comment telling me you did and what your Twitter handle is.
Put me (Dorothy Reinhold) in your Google+ circles and leave a comment telling me you did and what your Google+ name is. You can find me on Google+ here.
To participate in the giveaway you may do any of these, and each is considered a separate entry, so leave a separate comment for each one you do.
This giveaway is for one winner of a selection of cheeses from Great Midwest.
Open to those with mailing addresses in the USA only.
Deadline: Submissions will close at noon Pacific Time on Tues. Sept. 3, 2013.
Winner will be notified via email within 24 hours of the close of the giveaway, and given 48 hours to respond. If I do not receive a response in 48 hours, I will need to draw a new winner.
There is more legal fine print here.
Ready, set, GO!
Disclosure: I received cheese samples and compensation for this post from the Great Midwest Cheese Company. All opinions expressed in the post are my own, and the recipe, of course, is a Shockingly Delicious original!