Print This Post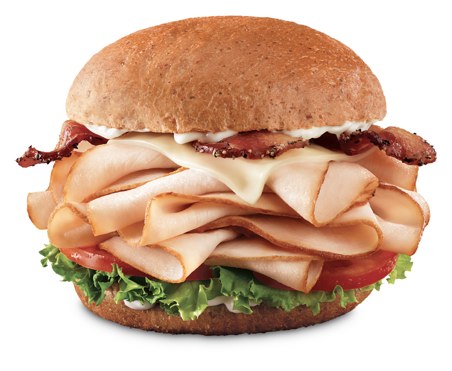 This is a sponsored post written by me on behalf of Arby's. All opinions are 100% mine.
We love a good turkey sandwich in the Shockingly Delicious household. My husband and son take one nearly every day for work and school, respectively — nice bread, sliced turkey, Pepper Jack cheese and a smear of mustard. Done!
But it can get tedious to confront the same sandwich every day, despite the fact that they pack it themselves. So they jumped at the chance to try the new Grand Turkey Club at Arby's. We usually think of Arby's for roast beef sandwiches, but the restaurant has much more than that.
Turkey has arrived!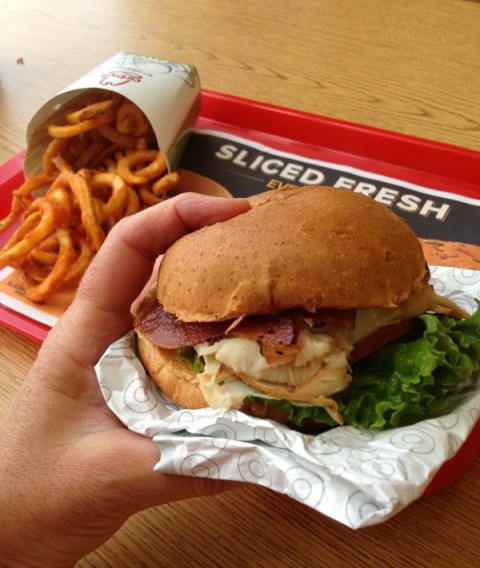 We found the new Grand Turkey Club fresh, delicious and satisfying — hot roast sliced turkey, with Swiss cheese that melts into the sandwich, some peppery bacon, lettuce, fresh tomato slice and a smear of mayonnaise, all stuffed into a Harvest Wheat Bun.
This is not the same-old, same-old turkey sandwich! The flavors were balanced, the turkey was freshly sliced and fluffy (not stuck together), the lettuce was crisp and not at all wilted. It's a lot of sandwich for $4.99. I appreciated that it had only 480 calories (I probably trimmed a few by omitting the mayo on my sandwich, but then I may have sneaked a few seasoned curly fries, making it all a wash. Sigh.)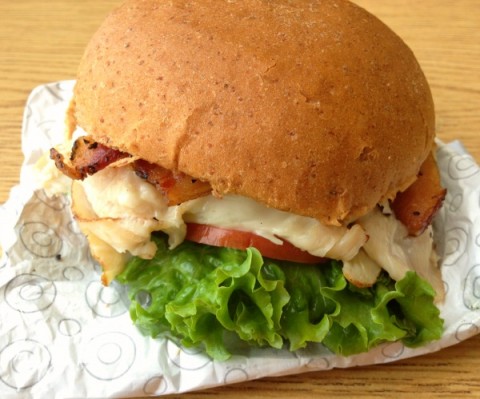 If you like to change things up even more, add sliced ham by ordering the Grand Turkey Ham Club. That's our plan next visit.
Giveaway!
Update 9-4-13: Linda C. from Palos Verdes Estates. Calif. is the winner of the gift card. Congrats, Linda, and thanks to everyone for playing along! I am on the lookout for some great giveaways for my readers, so stay tuned.
If you'd like to try the new Arby's Grand Turkey Club sandwich yourself, I have a $5 Arby's gift card to give away!
To enter:
1. Leave a comment on this blog post below telling me why you love Arby's.
2. For a second entry, sign up here to get my email so that you will never miss a recipe that I post. Leave me a separate comment below telling me you did this.
Deadline: Wed. Sept. 4 noon Pacific Time
Conditions: This giveaway is for one winner of a $5 gift card to Arby's. Open to residents with U.S. addresses only. There is more legal fine print here.
Ready, set, GO! You can find an Arby's here. I want you to be able to try this sandwich, too!