Print This Post
I have you covered for Sunday, whether you're celebrating your dad, the dad to your kids, or those who had a dad-like influence in your life.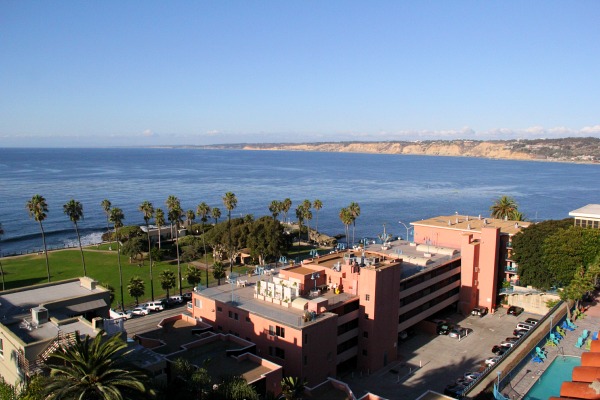 1. GETAWAY
Only 2 hours south of Los Angeles and just on the upper edge of San Diego is La Jolla, one of the best, mostly "undiscovered" getaway towns in Southern California. And unquestionably the best place to stay is 5-star, historic, breathtakingly beautiful La Valencia hotel, aka La V, or The Pink Lady of La Jolla (but don't let that charming nickname bother you; it's all about the pink stucco outside). I went there for a Girlfriend Getaway and had a memorable and delicious time, but for dad, you'll want to take advantage of their special Father's Day packages available though June. They're manly and fun, just like the dadster.
Ferrari for Father's Day Package (a Ferrari for a day, a private surfing lesson in a nearby cove, a bacon welcome snack (!), beer tasting, 2 nights in a Vintage, Classic or Villa room, and overnight parking. $2,400, and worth every penny for your man.  
Steak & Sunshine Father's Day Package (a night in your choice of Vintage, Classic or Villa rooms, a Tomahawk Steak [that has been dry aged at the hotel by rock star chef Daniel Barron] dinner for two in La V's newly refreshed, elegant-yet-not-stuffy, ocean-view The Med dining room, and overnight parking). $450.  
This is the kind of hotel you visit for peak life moments — anniversaries, birthdays with zeros, weddings, the weekend you celebrate making partner, or just times when you want things to be very, very special, and you want to be taken care of in the best way. I think a reservation for June, tucked into a Father's Day card, would be epic.
2. KITCHEN GADGET
If dad loves gadgets and delicious food, you know he's been secretly coveting the new Ronco EZ-Store Rotisserie oven. Perfect golden rotisserie chicken from his own kitchen? Check. Compact counter-top size (17″ W x 15.5″ D x 12.5″ H)? Check. Non-stick spit rods, gear wheels, retractable feet, a rotisserie basket for hamburgers, fish, roasts, vegetables, dishwasher-safe, and less than 8 inches tall in its storable position… this is a gadgethead's dream machine. $180.
3. GRILL
When people eat at tony Café Habana in Malibu (and New York), they order a coupla ears of this corn, and a cocktail, and call it dinner. Once you taste this amazing grilled corn, you'll know this is the highest purpose to which your grill can be put. Make Mexican Street Corn (Elote) for the dad in your life.
4. SWEET TREAT
If dad likes fruit, this is your dessert. If dad likes sweet things, this is your dessert. If dad likes cool treats, this is your dessert. It's perfect in every way. No-Bake Frozen Berrylicious Cracker Cake. Oh yeah.
5. FATHER'S DAY BRUNCH
We fuss all over mom for her day, pouring champagne for brunch, setting a lovely table, folding the napkins just so. What is dad, chopped liver? Not with this Baked Lentil Chilaquiles Casserole. It's basically chips with Mexican stuff baked right in. Make it for him. Enough said.
Disclosure: Thanks to La Valencia Hotel for providing my hotel room and dinner at The Med for review, and to Ronco for sending a grill for review.