Print This Post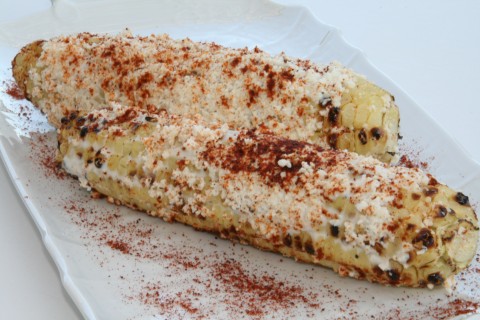 I had lunch at the newly opened Café Habana at the Malibu Lumber Yard three weeks ago, and ever since then, I have been preoccupied with thoughts of their scary good Grilled Corn Mexican Style ($4). Maybe they should rename it "Crack Corn" for its addictive properties. It's the kind of thing foodie dreams are made of. This is the "it" dish of summer 2010!
The PTA ladies and I plopped down on their comfortable, temperate patio and promptly said to the charming waitress, "What is your specialty?" Apparently we have been living under a rock, because half the civilized world seems to know that Café Habana's specialty is "the corn."
Our waitress informed us that in the New York restaurant, people line up around the block for an ear of corn, and think nothing of ordering several at a time. She whispered conspiratorially that she had customers at the Malibu outpost who come in regularly, order a drink and four ears of the corn, and call it dinner, even though the restaurant considers the corn an appetizer.
Well then, I needed some corn, and pronto! A grilled sweet ear slathered with salty Cotija cheese, spiked with hot chile powder and a tang from lime juice, this cob is a taste revelation. You take a bite, reel from the punchy flavors, and you immediately get to work on it, gnawing each row of kernels like an old-fashioned typewriter. With barely a breath between rows, you finish your cob before the waitress returns to check on how things are. It no longer surprises you that people eat multiple ears for dinner, even in Southern California where it seems that every third person eschews carbs.
Oh, but what carbs these are! If you are going to go down, you might as well do it with a smile on your face.
When pressed, our waitress revealed the secret ingredient that glues the cheese onto the kernels.  It's way too easy to make at home. But at least once, you need to eat it at the restaurant, because it's a beautiful spot, with beautiful food, eaten by beautiful people.
Café Habana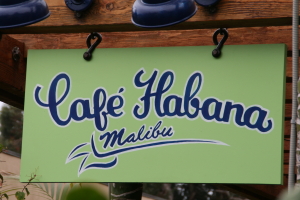 at the Malibu Lumber Yard
3939 Cross Creek Road
Malibu, CA 90265
310-317-0300
Grilled Mexican Street Corn like Café Habana (Elote)
6 ears of corn, husks and silk removed
1/4 cup mayonnaise (homemade, recipe here; or Best Foods brand — can use light version)
3 tablespoons sour cream (Daisy brand preferred; can use light version)
1/4 teaspoon ground cumin
Pinch salt
1 cup freshly grated Cotija cheese (about 4-5 ounces)
Ground chili powder (or ground cayenne pepper or ground chipotle)
1 lime, cut into 6 wedges, for serving
Fire up the grill and get all ingredients ready.
Microwave 3 ears of corn at a time in a covered container, 5 minutes. When first batch is done, microcook second batch.
While corn is cooking stir mayonnaise, sour cream, cumin and salt together in a small bowl and set aside. Place grated cheese on a large plate and set aside.
When corn is done in the microwave, grill it, turning frequently, until browned in spots, about 10-12 minutes. When corn is done on the grill, attach corn holders to each ear, and, working quickly, smear each ear with the mayonnaise mixture (this is the glue for the cheese), and then roll it in the grated cheese, sprinkle with chili powder and place on a plate. Use whatever chili powder you like, and give it a light sprinkle. You are working quickly because you want the heat of the corn to soften the cheese. Don't let the corn cool off.
Serve immediately, with lime wedges alongside. Squeeze lime over the corn before eating.
Serves 4-6.  (Some people will eat 1 ear, and some people – you know who you are – will want 2 ears.)