Print This Post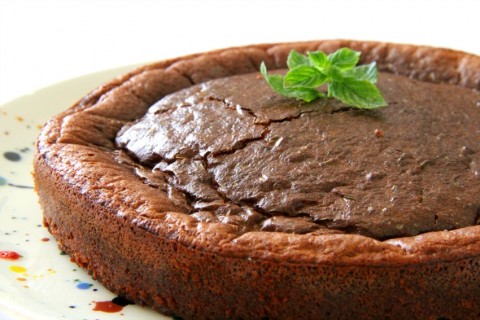 I know you're going to have pumpkin pie for Thanksgiving dessert, but do you have anyone in your family who isn't a big pumpkin fan?
I have the solution. 2-Ingredient Flourless Nutella Cake. That's right. Two ingredients, and you can offer an alternative dessert that just might nudge the pie off the buffet table.
The batter whips up in 15-ish minutes, and the cake bakes in under 30. There…I've taken away all your excuses.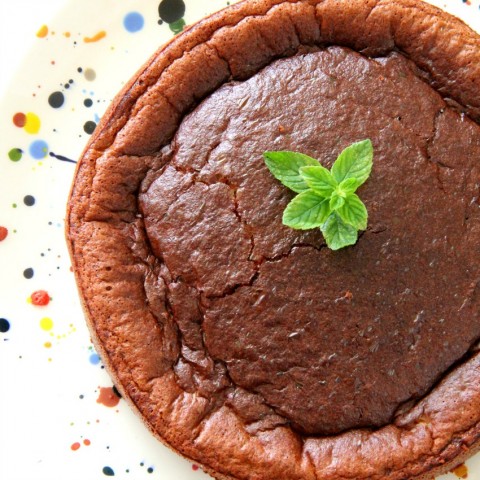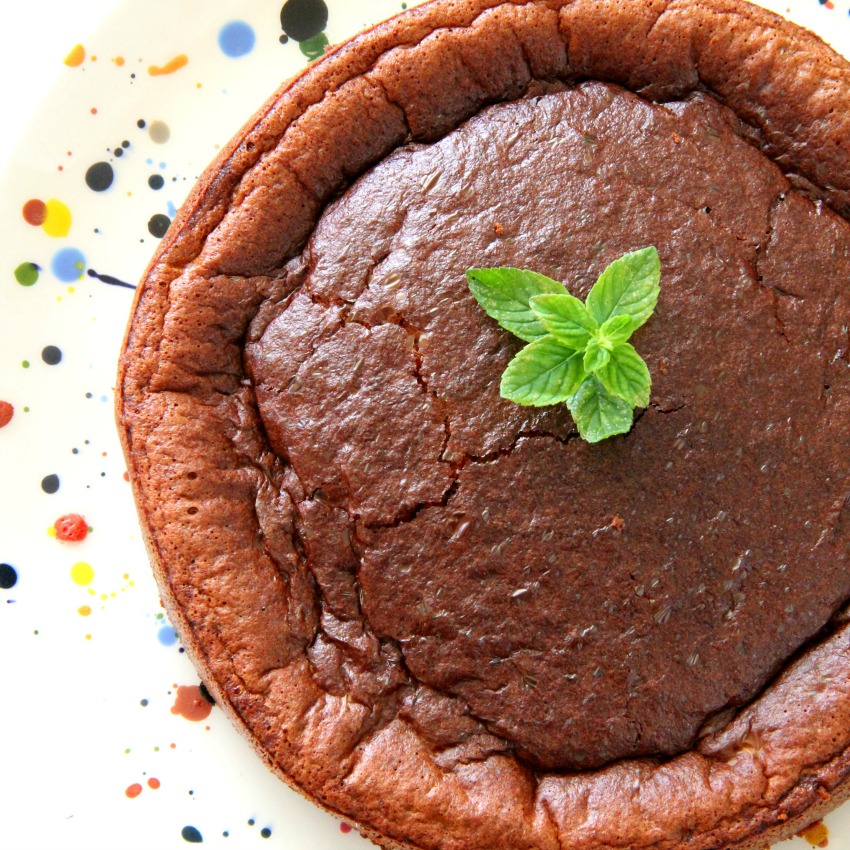 Let's turn on the oven and get this Nutella-licious baby in there.
2-Ingredient Flourless Nutella Cake
A rich, dense, decadent, gluten-free 2-ingredient Flourless Nutella Cake that has the simplest preparation for a wallop of flavor.
Ingredients
4 large eggs
8.5 ounces Nutella (weigh it on a digital scale. 8.5 ounces by weight is not the same as 8.5 ounces liquid measure)
.

Garnish:

powdered sugar, fresh berries, vanilla ice cream (optional)
Directions
Heat the oven to 350 degrees F.
Grease an 8-inch round Springform pan. Don't be shy with the shortening or whatever you use, because this cake WILL stick if you're not careful.
In a mixing bowl using a stand mixer, beat the eggs until they are triple in volume. Use the highest speed and plan on mixing at least 8­-10 minutes. (If you don't get the consistency and volume right, you're going to have some issues so it's important to follow this and not try to shorten the time. This is truly the step that will make the cake, so don't skip this.)

ShockD tip:

I used a regular beater for 5 minutes, and then switched to a whip beater for the last few minutes.
Weigh the Nutella on a digital kitchen scale and place it in a glass bowl (be sure to get all the Nutella in the bowl; it can be sticky). Microwave the Nutella about 20 seconds or so to soften it just a bit. Into the Nutella, gently mix by hand (with a spatula or scraper) about 1/3 of the egg mixture, until egg is well combined and there are no streaks.
Add in another 1/3 of the egg mixture and repeat, folding again until there are no egg streaks. Repeat one last time with the last of the egg mixture, using the spatula to scrape the egg foam that is still in the bowl into the batter. Stir again until no streaks remain. (The gentle and slow combining of the ingredients is how this cake bakes up fluffy, so don't skip any of these steps or do them differently.)
Pour batter into prepared Springform pan. Bake at 350F degrees F for 20­-25 minutes or until a toothpick inserted in the center comes out clean.
Remove from oven and allow cake to cool completely to room temperature before you remove it from the pan. This cake should NOT be served hot; it needs to cool completely before cutting and serving. (Cooling allows the chocolate flavor to fully develop, and reduces the eggy flavor.)
Garnish at serving time with a dusting of powdered sugar, a couple of fresh berries, or even a small scoop of vanilla ice cream, if you like (all entirely optional).
Serves 8.
Notes
Note on size: To get a taller cake, bake in a 7-inch round Springform pan. You'll probably need to bake it a couple minutes longer.
Recipe source: Crazed Mom who got it from Kirbie's Cravings
https://www.shockinglydelicious.com/2-ingredient-flourless-nutella-cake/
Copyright Dorothy Reinhold | ShockinglyDelicious.com. All rights reserved.
If you like this recipe, please pin the image below to your Pinterest board.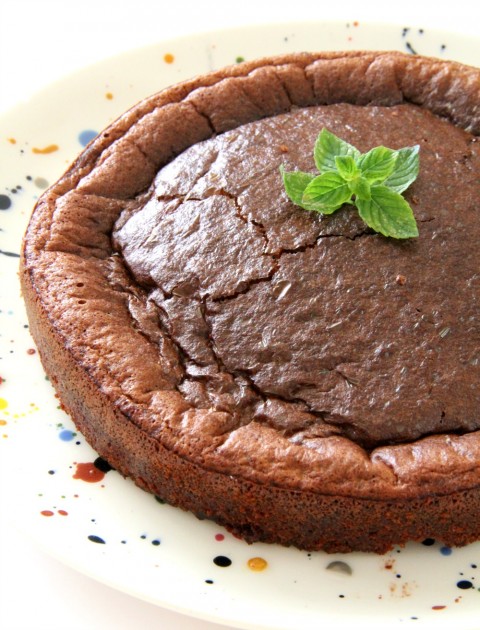 Today's recipe comes from Nicole, a St. Louis-based food blogger who writes Crazed Mom.  She has earned her blog title, as a mom to five, and a new-ish grandma, too. I'm exhausted just thinking about her life!
I was assigned her blog as part of Secret Recipe Club.  I was to investigate and cook from her site this month, and today is our "reveal day." It also happens to be the last day of my participation in Secret Recipe Club, as it is disbanding after this month. It has been a fun ride for the past 5 years, and I've enjoyed having a chance to spelunk deeply into other food blogs to find new recipe treasures. You can see all my SRC recipes on this page, as well as the ones that others chose to make from my blog.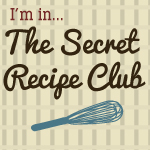 I've also made some great online friends through SRC. From my earliest involvement under the tutelage of April, to more recent years under the guidance of Sara and Susan, the Secret Recipe Club has been a wonderful experience, filled with fellowship and delicious recipe sharing. These are the best, most collegial people around. Each month I tease Sally about beating her to recipe selection, and now we have Karen and Sidsel joining in as well, to see who can find their designated recipe first and get it on the stove on into the oven. Luckily, my cooking friends aren't going anywhere, and I will continue to stalk their blogs for good eats to share with you, dear readers.
Nicole has quite the treasure chest of recipes, from her decade-plus online writing career. I was tempted by her…
But as soon as I saw the 2-Ingredient Flourless Nutella Cake, I stood up and saluted. Take a look at her photo to the right, which is her version. See what I mean?
If you'd like to see what else Secret Recipe Club tastemakers cooked up this month, browse the photo array below and click on any link to go to that recipe.