Print This Post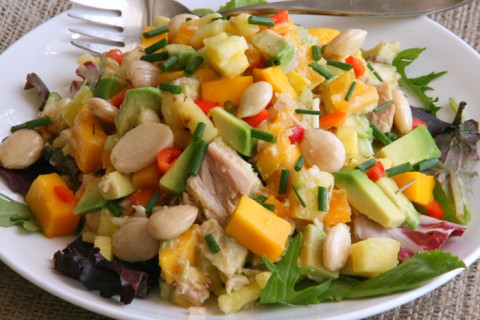 Nearly 50 years ago I had the most delicious tuna salad at a department store lunch counter with my mother. That was back in the day when we still called them department stores, and they still had lunch rooms serving delicate meals to the well-mannered ladies who were shopping.
Lunching out was heady stuff for a child. And the unusual flavor combination was certainly memorable for it to stick with me all these years.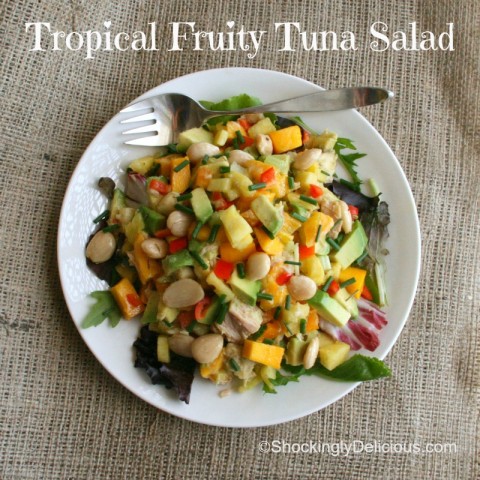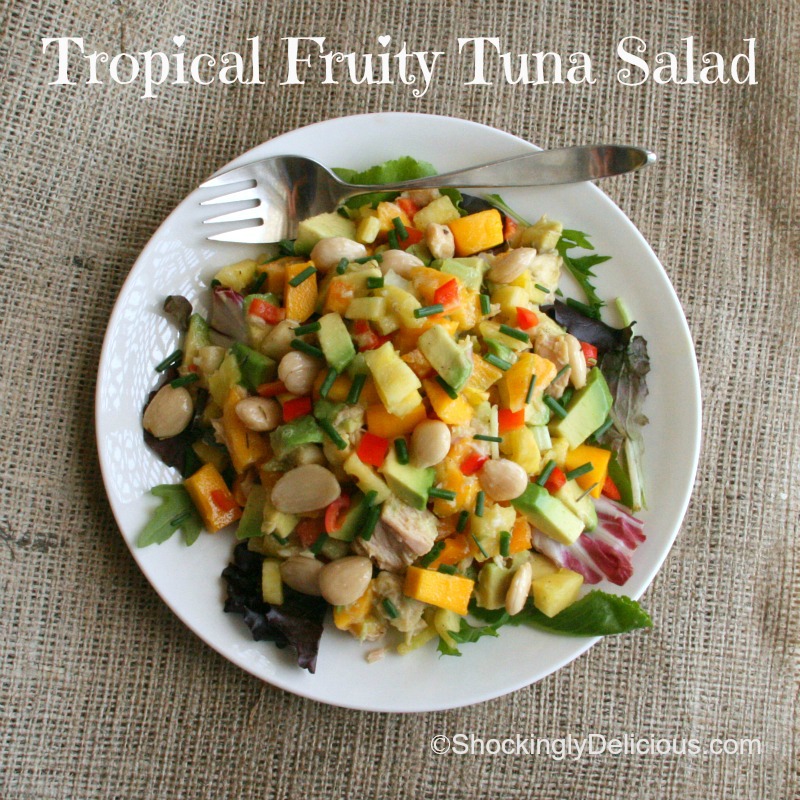 It was a tuna salad plate that included fresh pineapple and sliced bananas alongside the scoop of tuna salad. Sounds tame enough in today's world of fusion cooking, but you must remember that was a unique and rather daring combination back in the '60s.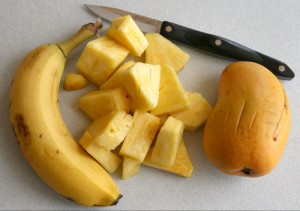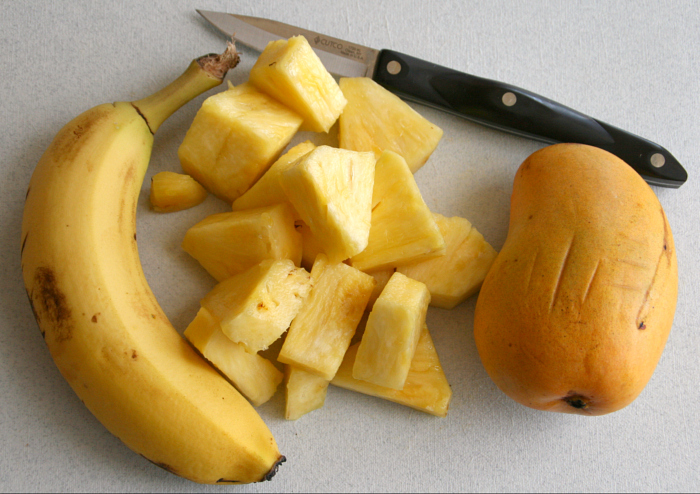 So when I grabbed a can of tuna for lunch for me and my own daughter yesterday, and saw a plethora of fresh fruit on my counter, I knew right what needed to happen. History must repeat! I added a few more elements, and eschewed the mayo in favor of my new salad dressing discovery.

I developed this recipe as part of the Bee Squad — six bloggers chosen to work with Bumble Bee Foods products this year. I am calling for low-sodium tuna here because like most people, I am trying to be more conscious of sodium in my diet. This variety of Bumble Bee tuna is premium, solid, high-quality white albacore packed in water — without broths or extra additives. And it's extra-low on sodium for special diet considerations; the whole can contains 87 mg. sodium. This tuna is also extra lean, making this dish both good for us and good tasting.
Fifty years in, I find I'm looking for heart-wise AND tongue-friendly — perfect characteristics for a new generation of healthy eaters.
Recipe: Tropical Fruity Tuna Salad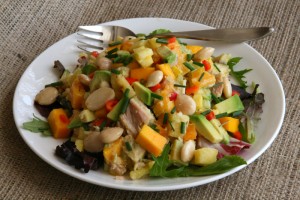 Summary: A plethora of fresh tropical fruits take canned tuna to a whole new lunch level in this heart-healthy, tongue-friendly salad.
Ingredients
1 (5-ounce) can Bumble Bee Very Low Sodium Solid White Albacore in water (or your favorite variety), drained
½ cup diced fresh pineapple
1 small banana, diced
1 Ataulfo mango, diced
½ a California avocado, diced
1/3 cup diced celery (about 1-2 ribs)
1 shallot, finely minced
2-3 colorful mini bell peppers, diced
4 tablespoons Lemon Vanilla Salad Dressing (or your favorite vinaigrette-based dressing)
Mixed salad greens (optional)
Garnish: Marcona almonds and snipped chives
Instructions
In a large salad bowl, add all ingredients except the garnishes. Stir gently to combine.
Place a few salad greens on plates or in wide bowls for pretty, and then spoon the salad on top. Strew a few almonds over top and sprinkle with snipped chives.
Serves 2-4, depending on whether you are eating it as a main dish or side dish.
Quick notes
If you don't like some ingredient, or don't have it, leave it out! This is YOUR salad; feel free to substitute at will. And if you don't have fresh pineapple, feel free to use canned tidbits or chunks (that you cut up smaller).
Mini peppers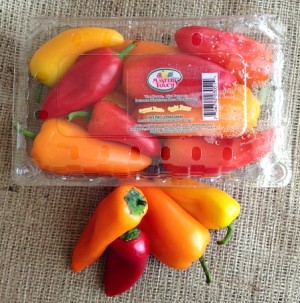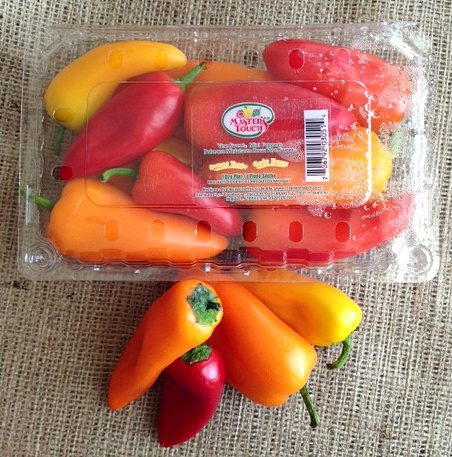 You could certainly use part of a full-size red, orange or yellow bell pepper, but I am currently in love with these mini peppers, which are more tender and sweet than the big ones, and you won't have leftover pepper in your veggie drawer. Once you cut the cap off, you'll also find they have few or no seeds, another plus!
Preparation time: 20 minutes
Diet type: Pescatarian
Diet tags: Low-sodium
Number of servings (yield): 2-4
Culinary tradition: USA (Nouveau)
My rating 5 stars:  ★★★★★
Disclosure: Bumble Bee Foods sent the tuna and Frieda's Produce sent the mini sweet peppers for recipe development.