Recipe: Tropical Fruity Tuna Salad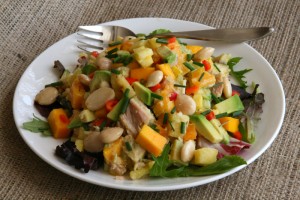 [1]Summary: A plethora of fresh tropical fruits take canned tuna to a whole new lunch level in this heart-healthy, tongue-friendly salad.
Ingredients
[2]1 (5-ounce) can Bumble Bee Very Low Sodium Solid White Albacore in water (or your favorite variety), drained
½ cup diced fresh pineapple
1 small banana, diced
1 Ataulfo mango, diced
½ a California avocado, diced
1/3 cup diced celery (about 1-2 ribs)
1 shallot, finely minced
2-3 colorful mini bell peppers, diced
4 tablespoons Lemon Vanilla Salad Dressing [3] (or your favorite vinaigrette-based dressing)
Mixed salad greens (optional)
Garnish: Marcona almonds and snipped chives
Instructions
In a large salad bowl, add all ingredients except the garnishes. Stir gently to combine.
Place a few salad greens on plates or in wide bowls for pretty, and then spoon the salad on top. Strew a few almonds over top and sprinkle with snipped chives.
Serves 2-4, depending on whether you are eating it as a main dish or side dish. [4]
Quick notes
If you don't like some ingredient, or don't have it, leave it out! This is YOUR salad; feel free to substitute at will. And if you don't have fresh pineapple, feel free to use canned tidbits or chunks (that you cut up smaller).
Mini peppers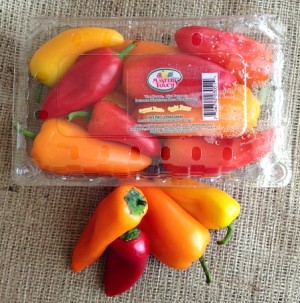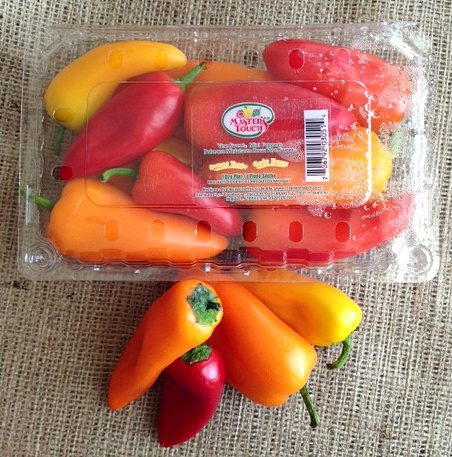 [5]You could certainly use part of a full-size red, orange or yellow bell pepper, but I am currently in love with these mini peppers, which are more tender and sweet than the big ones, and you won't have leftover pepper in your veggie drawer. Once you cut the cap off, you'll also find they have few or no seeds, another plus!
Preparation time: 20 minutes
Diet type: Pescatarian
Diet tags: Low-sodium
Number of servings (yield): 2-4
Culinary tradition: USA (Nouveau)
My rating 5 stars:  ★★★★★
Disclosure: Bumble Bee Foods sent the tuna [6] and Frieda's Produce sent the mini sweet peppers [7] for recipe development.