Print This Post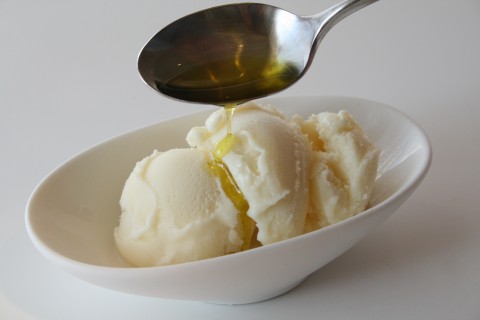 Do you trust me when it comes to dessert?
After all this time, of course you do! I bat 1000 when it comes to dessert.
Then follow these directions and prepare to have your world rocked!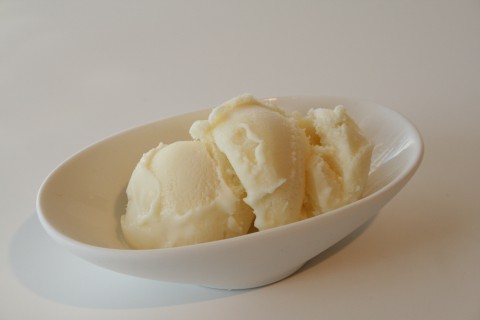 Grab some super premium French vanilla ice cream and put it in a pretty bowl. (Yes, spring for the Haagen-Dazs.)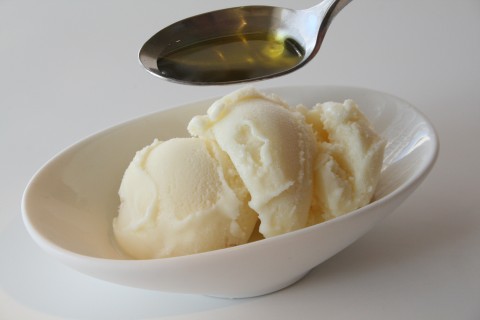 Drizzle it with super premium Romanelli Quattro California Super Premium Extra Virgin olive oil. (I'll wait while you absorb the radical idea of olive oil on ice cream.)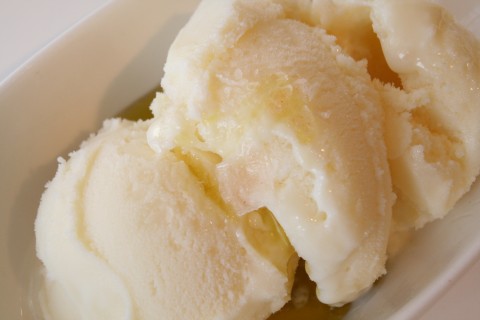 Then sprinkle on a little sea salt.
Get a spoon. And don't share.
While you are eating, let your eyes roll back in your head. Go ahead. Cool and creamy, sweet and salty, peppery and perfumed, this is a divine revelation. It's larger than you. It's primal. It's otherworldly.
You may thank me later.
But first, let's hear from the producer of that vaunted olive oil – Robert Jaye, owner of the Malibu Olive Company.  A lighting cameraman and media artist, Jaye planted 12 olive trees at his Malibu home back in 2000, and what was a hobby meant to provide a few olives for his table has turned into a business producing the highest quality super premium California extra virgin olive oil.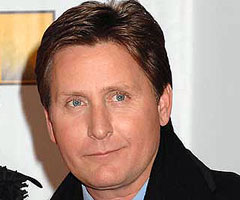 A brush with actor Emilio Estevez and a group of grape growers known as "the Malibu wine Mafia" at a party led him to make oil from the olives. The wine gang was actually urging him to start a vineyard, telling him it would "change his life."
"I did have a small grove of olive trees, and I started thinking and looking into it, and I thought, 'This is something I can do. Olive trees aren't difficult to grow.' That suited my agricultural capability quite well," he said with a laugh.
After educating himself on olive growing and marketing at UC Davis, he's on a bit of a mission to educate and inform consumers about the liquid gold coming out of the Golden State, which for the past decade has been lucky enough to have an artisan olive oil renaissance. In essence, his message is this: In California, we are really getting a deluxe, super premium gourmet, healthy, best-in-the-world product for half the price of the best quality imported extra virgin olive oils. California super premium extra virgin olive oils are among the highest quality anywhere, adhering to strict standards and quality controls. That's not the case with every grocery store oil labeled extra virgin.
All Olive Oil is Not Equal
Remember the New Yorker article in August 2007 about the bogus olive oils from Spain and Italy that were actually cheap nut and seed oils doctored up and passed off as extra virgin olive oil? The article alleges that fraud remains a major international problem because olive oil is more valuable than most other vegetable oils — costly and time-consuming to produce, but easy to adulterate.

No thanks. I'll stick closer to home and look for the California Olive Oil Council seal, which signifies it is authentic, certified extra virgin olive oil that has met the highest standards in the world.
The flavor profile of olive oils ranges from 1 to 10, 1 being light, and 10 being most robust. Jaye acknowledges that, "A lot of people aren't ready for the 10s, but once you begin tasting and using super premium California olive oils, you crave a more robust oil. You can definitely train yourself to want a robust oil."
Extra virgin signifies the highest standard. The oil must be from the first pressing, cold pressed (as opposed to extracted using heat or chemical solvents), must have an extremely low acidity (lab tested), must have appreciable levels of pepperiness, bitterness, and fruitiness and must be free of official taste defects, which can include "musty," "fusty," and "rancid."
Jaye's Malibu Olive Company makes two oils, both extra virgin – one a Mission blend of Manzanillo and Mission olives, and a more robust version with a bite called Romanelli Quattro, a blend of Ascolano, Leccino and Arbequina olives.
Although he admits to using butter on his toast, Jaye uses olive oil for everything else – drizzling it on a steak after he cooks it, using it to flavor a simple pasta, salad or fish.
And then there's the ice cream. He got the idea from his daughter Sara Jaye, a food writer in the San Francisco Bay Area, who described to him the way restaurants up there served it.  
Vanilla Ice Cream with Olive Oil and Sea Salt
Jaye says, "Trust me on this one…it is fabulous."
Two scoops of premium French Vanilla ice cream
1 tablespoon Malibu Olive Company Organic Extra Virgin Olive Oil
A pinch of sea salt
Serve the ice cream with the olive oil at the bottom of the bowl, sprinkle with sea salt and serve with your favorite cookie.
National Vanilla Ice Cream Day is July 23. You do not have to wait until then to try this!
Other Robert Jaye recipes that show off his oils
Where to find Malibu Olive Company oils
—Malibu Olive Company
—Malibu Farmer's Market (23519 Civic Center Way, Malibu; every Sunday from 10 a.m. to 3 p.m.)
—Malibu Fish and Seafood
—Guido's restaurant (you have to ask for it)
—Canyon Gourmet in Topanga
—Rosenthal Vineyard tasting room
—PC Greens grocery store
—Room at the Beach
—Tra di Noi (the chef will make your whole dinner using it if you make a special request)