Print This Post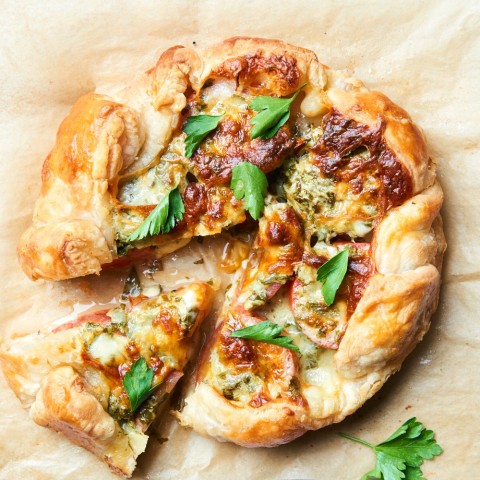 A Tomato Galette is a free form savory tomato tart that brings the best ripe tomatoes to rest on a crispy crust, blanketed by herby, melty cheese. Whether you want a kid-friendly dinner, a date-night entree or are trying to impress at a dinner party, this delicious tart fits the bill.
I'm clinging desperately to the last little bit of summer, trying to eke out the last days (weeks?) of summer warmth, summer mindset and summer produce. In other words, it's all berries and basil and tomatoes here, all the time now.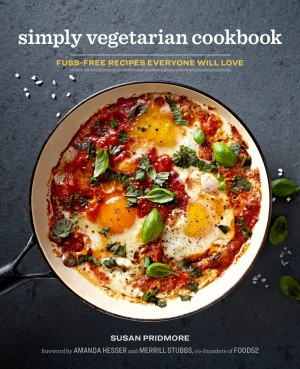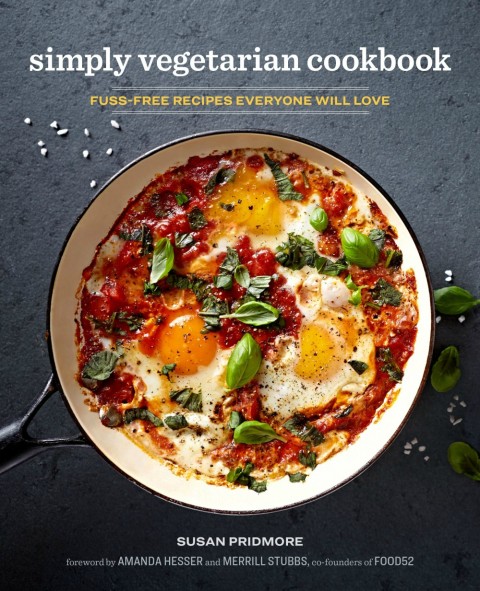 I'm currently savoring a Tomato Galette (a fancy French word that has come to be used for a more free-form tart or pie) that I got from a new cookbook, "Simply Vegetarian Cookbook," by my friend Susan Pridmore. Susan pens the blog "The Wimpy Vegetarian," where she is on a constant hunt for healthy, delicious recipes that she, a mostly vegetarian, and her husband, who she calls Carnivorous Maximus, will both adore.
Great quote from him: "I need meat. If I wasn't supposed to eat it, I wouldn't have incisors."
In the forward, Amanda Hesser and Merrill Stubbs, co-founders of the site Food52, say it best: "As omnivores, we love that this book doesn't make us feel judged or less than. Perhaps this is because Susan is upfront about the challenge of navigating dinner with her husband Myles (who is mostly carnivore) and advocates for compromise over standoff (her vegetarian main dishes often become his sides. … What we love about this book is it's just as much a book for us as it is for the committed vegetarian cook. We think of it as a dear friend whose first language is home cook, but who also happens to be fluent in vegetarian."
I also like that the book is organized by cooking method, which helps you choose a recipe at the outset by taking into consideration time, seasonality and your own equipment. Although all recipes in the book are vegetarian, everything can be adjusted to different diets, and she gives frequent variation tips to add fish, poultry or red meat if your eaters want those.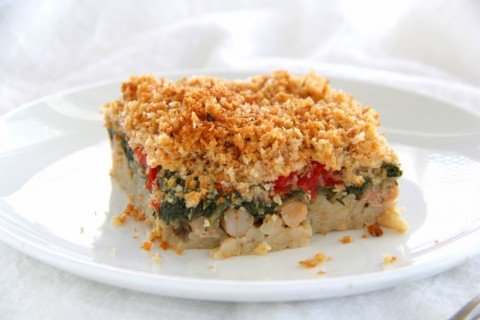 Susan asked me to test one of the recipes — Swiss Chard and Orzo Gratin (pictured above) — before she turned in her manuscript, and let me tell you, it was scrumptious! I ate it for breakfast, lunch and dinner for several days in a row, and was quite happy. Orzo, white beans, wilted chard, roasted red peppers, topped with crispy lemony breadcrumbs…let me tell you, it would make a wonderful addition to a holiday table, and will offer your vegetarian guests something out of the ordinary.
Her cooking is straightforward, inventive, health-conscious and relies on a panoply of herbs and easy-to-make flavor enhancers to add punchy flavor and texture.
The Tomato Galette is a great example of her cooking. Here's what she says about it:
"Galettes are a crowd-pleaser, and easy to make. Just thaw and roll out store-bought dough, layer vegetables in the middle, and fold and pleat the crust up around them. A galette crust can't be pre-baked, and sometimes results in a slightly soggy bottom. For that reason, I use Roma tomatoes because they aren't as wet. Occasionally I'll divide slices of one firm yellow tomato between the tarts for contrasting colors and flavors, which adds an ingredient, so that's why I note it as optional. If you'll be serving galettes to others, it can be pretty to dress up the crust with seeds, not to mention the seeds add a nice crunch. I include an optional step to do this, but feel free to skip it."
It's easy to make Tomato Galette. Let's do it!
Tomato Galette (Tomato Tart)
A Tomato Galette is a free form savory tomato tart that brings the best ripe tomatoes to rest on a crispy crust, blanketed by herby, melty cheese. Whether you want a kid-friendly dinner, a date-night entree or are trying to impress at a dinner party, this delicious tart fits the bill.
Ingredients
1 frozen store-bought puff pastry, thawed and formed into a 13-inch round (you could also use a pie crusty pastry)
4-5 ripe Roma tomatoes, slice crosswise 1/4-inch thick
1 firm yellow tomato, sliced 1/4-inch thick (optional)
1/2 teaspoon kosher salt, divided
1/4 teaspoon freshly ground black pepper, divided
2/3 cup shredded mozzarella cheese
1/3 cup mayonnaise
1/4 cup finely chopped fresh herbs, such as basil, parsley, and/or oregano
.

Optional Crust Garnishes

1 egg white
1/2 teaspoon poppy seeds
1/2 teaspoon sesame seeds
Directions
Preheat the oven to 425°F. Position a rack in the center of the oven. Place a pizza stone or baking sheet turned upside down on the rack while the oven preheats.
Place the pastry on a sheet of parchment paper on the counter.
Arrange the tomato slices in two circles starting from the middle of the pastry, slightly overlapping the tomatoes. Be sure to leave a minimum 1 1/2-inch border around the outer edge of the dough. Sprinkle the tomatoes with 1/4 teaspoon of salt and 1/8 teaspoon of black pepper.
In a small bowl, combine the mozzarella, mayonnaise, herbs, remaining 1/4 teaspoon of salt, and remaining 1/8 teaspoon of black pepper. Place dollops of the cheese mixture over the tomatoes.
Fold the excess dough over the tomatoes to form a crust border. (Optional: baste the top of the crust with the egg white and lightly sprinkle with the poppy seeds and sesame seeds.) Transfer the galette on the parchment paper to the preheated pizza stone or baking sheet. Bake for 20-25 minutes, or until the crust is golden and the cheese is melted and bubbling.
Remove from the oven and let cool for 15 minutes before cutting.
Notes
Recipe source: Susan Pridmore, "Simply Vegetarian Cookbook," 2018, Rockridge Press. Used with permission.
PER SERVING: CALORIES: 386; TOTAL FAT: 25G; TOTAL CARBS: 35G; FIBER: 5G; SUGAR: 12G; PROTEIN: 8G; SODIUM: 702MG
INGREDIENT TIP: Other techniques for preventing soggy galettes are to bake them on a pizza stone, baste the bottom with egg white, or add a sprinkling of breadcrumbs on the pastry before layering the food on top.
SUBSTITUTION TIP: In fall, make this galette with butternut squash, kale, and manchego cheese, or try one with broccoli and cauliflower topped with Cheddar. For a Thanksgiving dessert, toss apple slices with butter, sugar, and cinnamon, and fold the pastry up around them.
https://www.shockinglydelicious.com/tomato-galette-tomato-tart/
Copyright Dorothy Reinhold | ShockinglyDelicious.com. All rights reserved.
Pin the image below to your Pinterest board to save this recipe.

I think this cookbook would make a wonderful gift for a friend or family member! It's never too early to think about your holiday gift list.
Want another galette?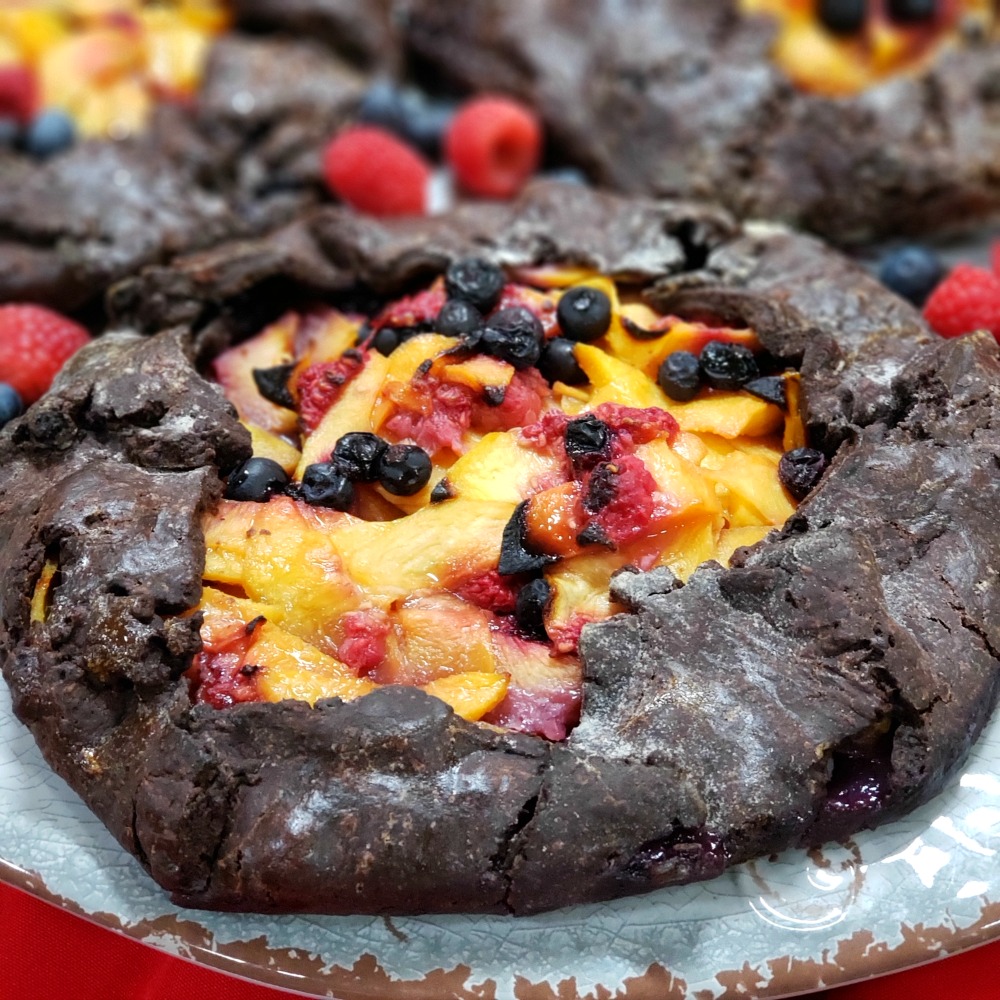 Fruit Galette with a Chocolate Crust.
Perfect during the stone-fruit-rich summer days, as well.
Thanks for visiting…are you hungry for more? Follow Shockingly Delicious on…
FACEBOOK | PINTEREST | INSTAGRAM | TWITTER
…for all the latest recipes, ideas and updates!
This post contains affiliate/referral links. It is a way for this site to earn advertising fees (at no cost to you) by advertising or linking to certain products and/or services that I approve and prefer.