Print This Post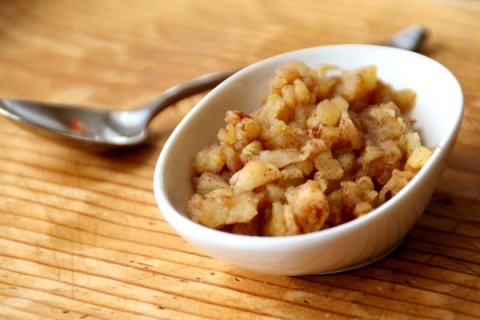 Quick Applesauce for One: Chop an apple finely, microwave it briefly with cinnamon and vanilla, mash, and you have super fast applesauce for one person.
If you have an apple, you can have applesauce for one in 5 minutes. And let's admit upfront that fresh apples deliver a big reward, flavorwise, so this is worth your (little) while.
Sometimes you want a dollop of applesauce on your morning oatmeal, or you need a bit to eat with your pork chop, roast chicken or grilled sausage dinner. You don't have to open a big jar just to get the amount you need; just let your microwave oven do the quick work for you.

How to make Quick Applesauce for One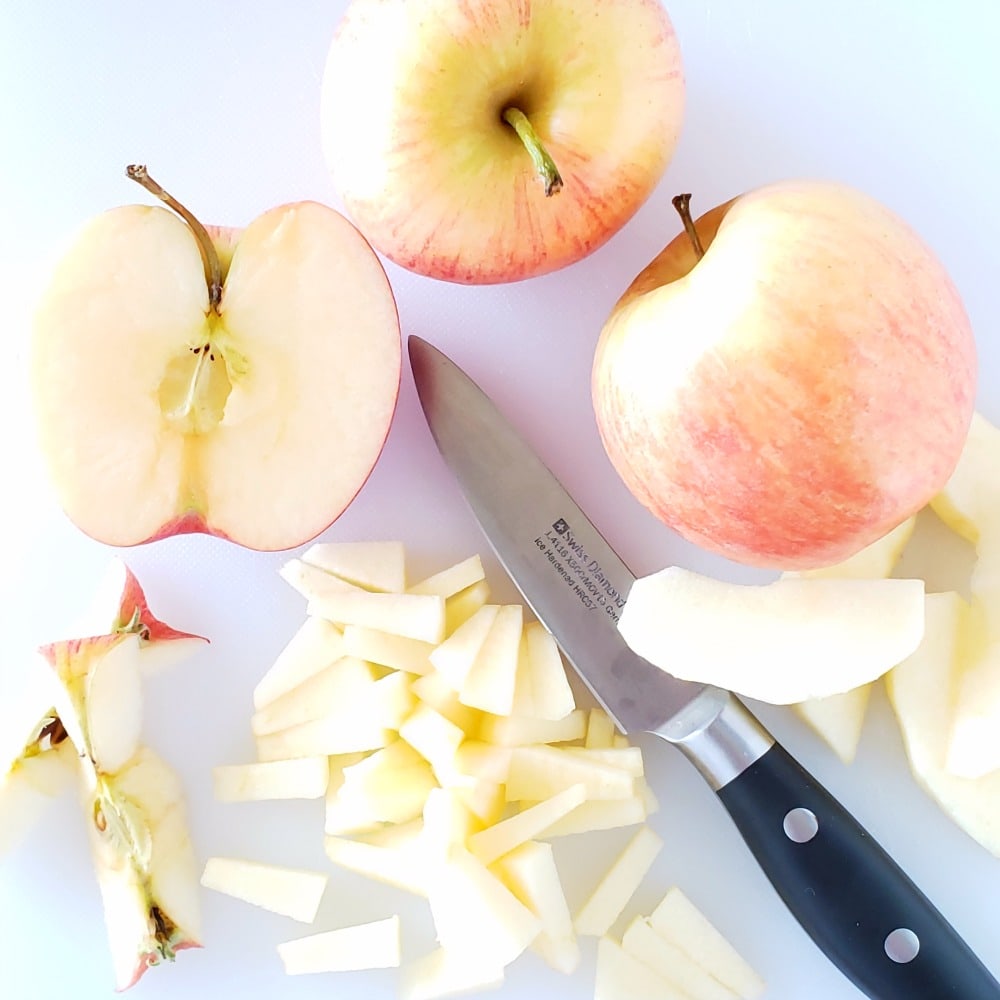 The hardest part is cutting the apple, and that isn't hard. Cut the apple in half, then in quarters. Remove stem, cut out core, and peel each quarter.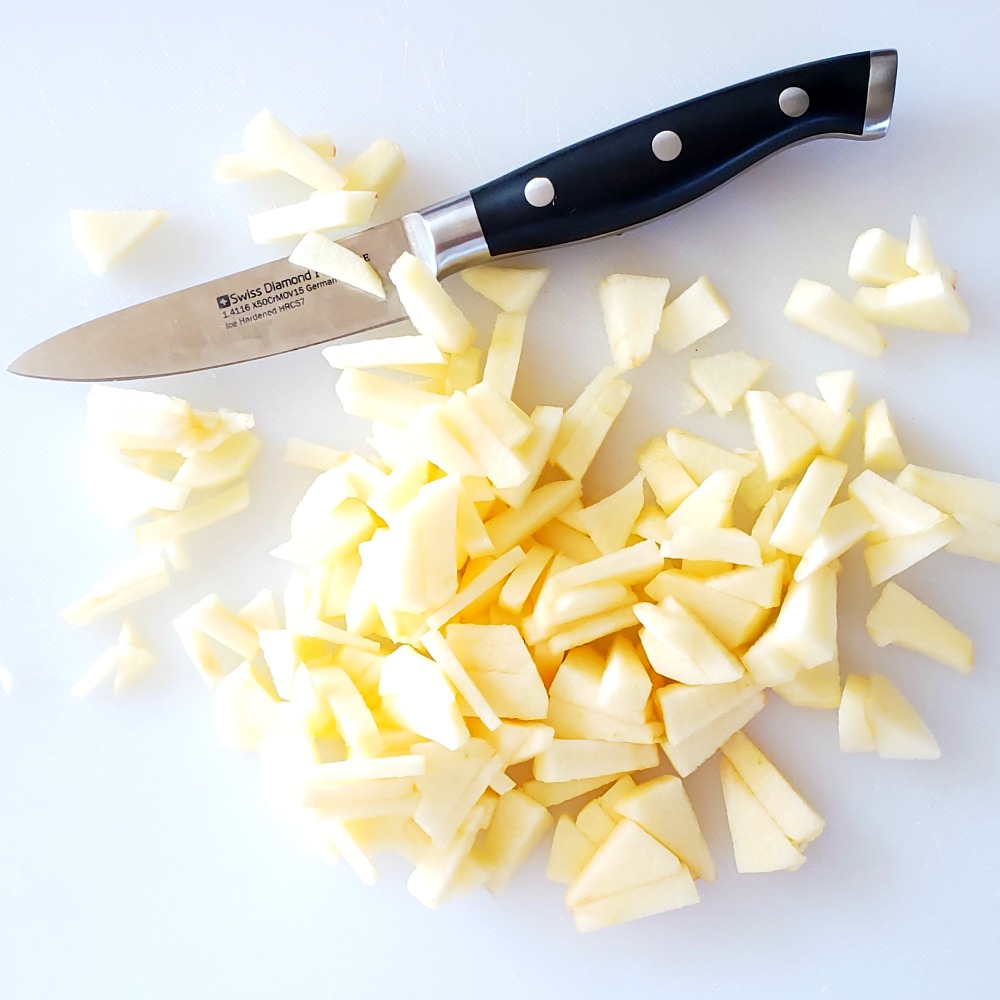 Chop the apple finely. If you leave it in big chunks, it takes longer to cook.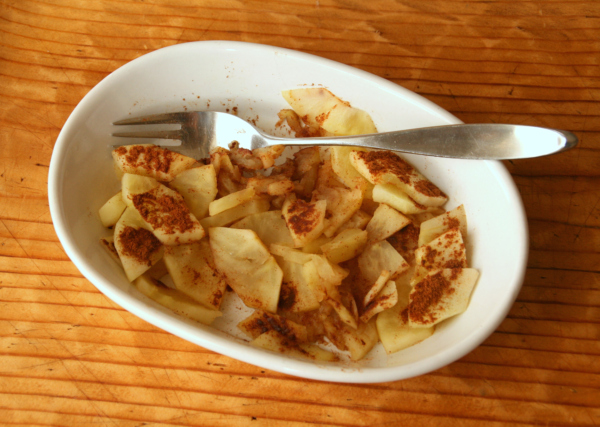 Slice the apple thinly into a microwave-safe bowl and sprinkle with cinnamon or a spice blend (use what you have). No sugar is needed for most apples, but suit yourself and add a pinch of sugar, brown sugar or honey if you want to.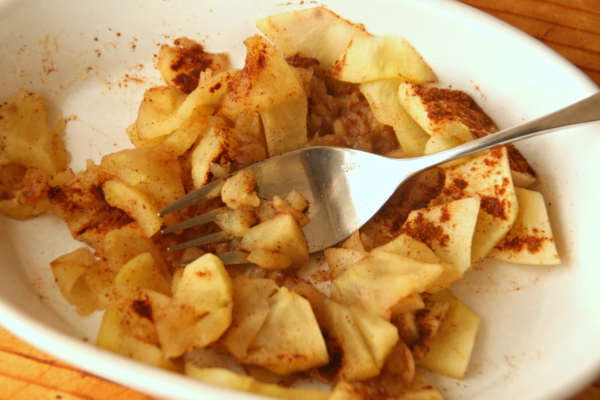 Once it has cooked, mash it with a fork until it is as chunky as you like it.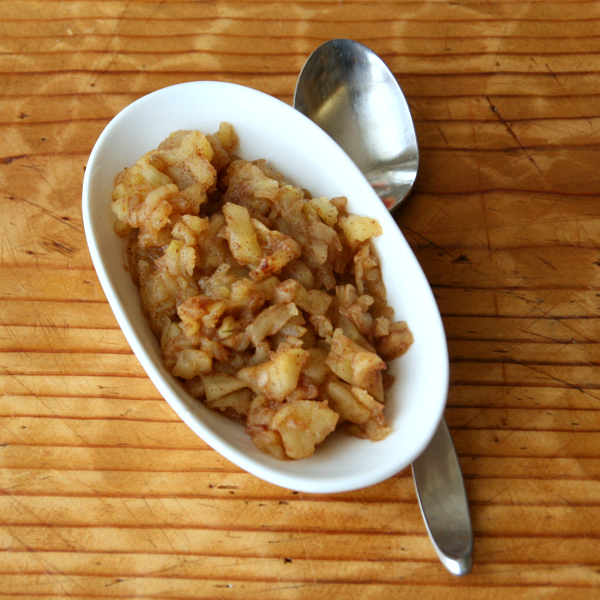 Are you ready to make it? It is so easy.
Quick Applesauce for One: Chop an apple finely, microwave it briefly, mash, sprinkle with cinnamon and you have super fast applesauce for one person.You don't need to open a big jar when you just need a bit of applesauce for your morning oatmeal or for dinner with a pork chop or sausage.
Ingredients
1 apple (Fuji, or use your preferred variety)
1/4 teaspoon or more ground cinnamon, or a spice blend like Apple Pie Spice or even Pumpkin Pie Spice (use what you have!)
1/4 teaspoon vanilla extract
Directions
Quarter, core and peel the apple. Slice the quarters thinly into a microwave-safe bowl. Sprinkle with cinnamon to your liking -- 1/4 teaspoon or more -- and vanilla.
Microwave cook on high for 2-2 1/2 minutes (I tested this in a 1100-watt microwave). Test with the tines of a fork; apples should "give." Remove from microwave and mash with a fork until chunky, to your liking.
Makes about 1/4-1/3 cup applesauce -- enough for one good serving!
Notes
Recipe source: Dorothy Reinhold | Shockingly Delicious
This recipe was tested using a 1100-watt oven. If yours is more powerful, it might take less time; a less powerful oven will take more time.
Different varieties of apple may take differing amounts of time. Check at the 1-minute mark.
Do me a personal favor and don't use a Red Delicious apple. Pick something more flavorful and with a better texture! Fuji, Gala, any interesting heirloom variety you have access to.
https://www.shockinglydelicious.com/cooking-hack-quick-applesauce-for-one/
Copyright Dorothy Reinhold | ShockinglyDelicious.com. All rights reserved.
Pin this recipe for Quick Applesauce for One to your Pinterest board to save it
What to eat with homemade applesauce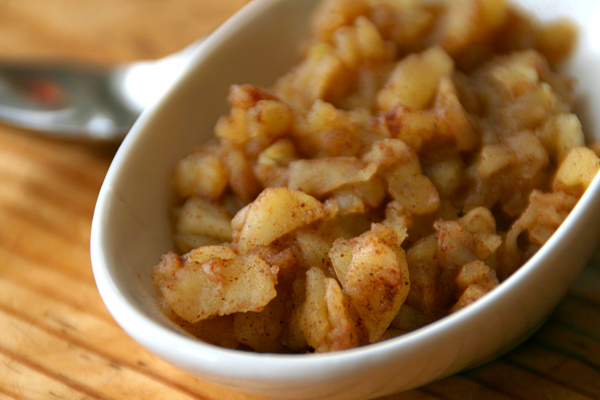 Oatmeal
Cottage cheese
Roast pork or pork chops
Grilled sausages
Roast chicken
For a healthy dessert!
This post was originally published July 14, 2012. It has been revised and updated.
Thanks for visiting…are you hungry for more? Follow Shockingly Delicious on…
FACEBOOK | PINTEREST | INSTAGRAM | TWITTER
…for all the latest recipes, ideas and updates!
This post may contain affiliate/referral links. It is a way for this site to earn advertising fees (at no cost to you) by advertising or linking to certain products and/or services that I approve and prefer. Thank you for using my affiliate link to shop, so I can continue to bring you shockingly delicious recipes!