Print This Post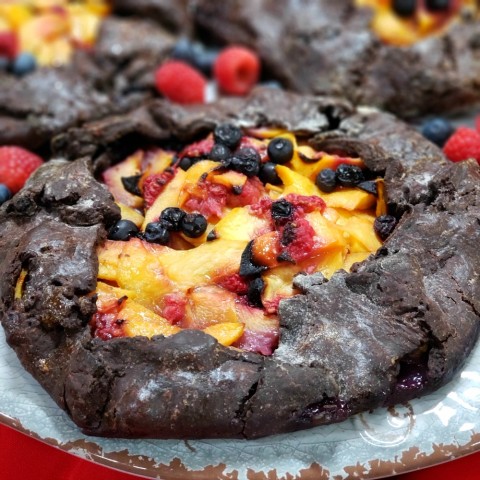 An explosion of summer fruits in a dark chocolate crust, this easy, not-too-sweet fruit tart is the perfect dessert after a meal. You don't even need a tart pan or pie plate!
Cookbook author Paula Shoyer says a galette is "like baking for dummies."
That right there — she is speaking my language. Any recipe that demystifies baking so that anyone and everyone can be successful at it, is my kind of recipe. And it can be yours, too!
She continues, "You literally don't even need a rolling pin for a galette. I have done this with a wine bottle! You don't have to have a fancy pie pan, you don't have to be so precise. It's an open-faced tart."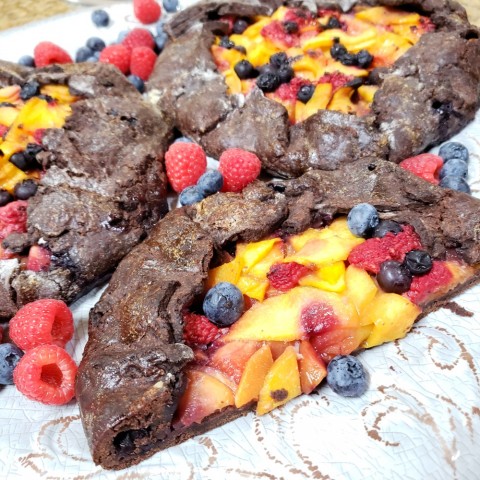 Paula, a French-trained pastry chef, not only knows her stuff, but she's sharing it with us in her latest cookbook, "The Healthy Jewish Kitchen." She showed us how to make this galette at a luncheon at Melissa's Produce yesterday. We food bloggers were so impressed by the delicious menu from the book, and by her prowess in the demonstration kitchen.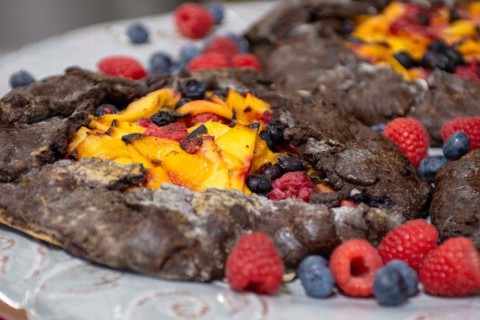 She had a couple of tips for us:
Tips to make a Fruit Galette with a Chocolate Crust
Freeze the blops of coconut oil before buzzing them into the dry ingredients with a food processor.
Don't over-process. You want to see pea-sized bits of the fat, which will make a flaky crust.
Use plastic wrap to help you mold the dough before freezing.
Roll it out between two pieces of parchment paper. You can then transfer it still on the parchment, right onto the baking sheet.
You want to taste the actual fruit, so don't use too much sugar of your dessert will merely taste sweet and you won't taste whatever fruit you're using.
Don't worry, she gives explicit instructions. In fact, her recipe, below, might seem a bit long to you if you glance at it, but it is only because she is carefully explaining her technique. Once you read through it, you will understand her strategy, and can do it quickly.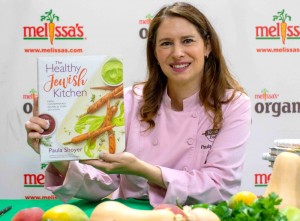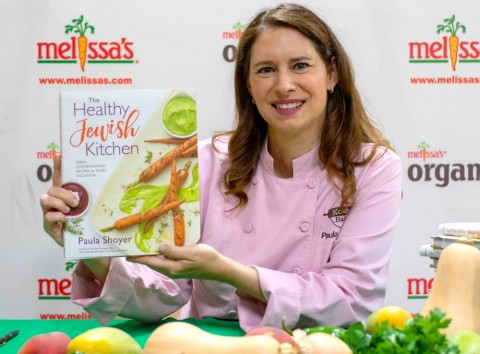 "You can use any fruit, but it tastes best with summer fruits and looks best to combine raspberries and plums with peaches or apricots to contrast with the crust." –Paula Shoyer
Fruit Galette with a Chocolate Crust
An explosion of summer fruits in a dark chocolate crust, this easy, not-too-sweet fruit tart is the perfect dessert after a meal. You don't even need a tart pan or pie plate!
Ingredients
CRUST

1 cup (125g) all-purpose flour; plus extra for sprinkling on the dough and parchment
1/3 cup (25g) dark unsweetened cocoa
3 tablespoons sugar
1/4 teaspoon salt
7 tablespoons (105ml) coconut oil, measured, and then frozen for about 20 minutes, until hard
1 large egg, plus 1 large egg white for glaze
3 tablespoons ice water, divided
.

FILLING

3 cups fresh fruit: berries, plums, peaches, or apricots, cut into 1/2-inch (12-mm) pieces, or peeled and thinly sliced pears
3 tablespoons plus 1 teaspoon sugar
2 teaspoons cornstarch
Garnish for top: Confectioner's sugar, optional
Directions
Make the dough:

Place the flour, cocoa, sugar and salt into the bowl of a food processor. Pulse to mix. Cut the frozen coconut oil into pieces and add them to the bowl of the food processor. Pulse into the flour mixture 10 times or cut the frozen oil pieces into the dry ingredients by hand, using two knives or a pastry cutter.
Add the egg and 1 tablespoon of the ice water to the bowl of the food processor. Pulse the mixture 5 times or mix it gently by hand. Add another tablespoon ice water and pulse another 5 times or mix gently by hand. Add the last tablespoon of water, pulsing or lightly mixing for 10-15 seconds, until it looks like clumps of couscous; the dough doesn't have to come completely together.
Cut off a large piece of plastic wrap (like Saran Wrap), place the dough on top of it, lift the sides of the plastic to wrap it around the dough, and then flatten it into an 8-inche (20-cm) pancake. Place the dough in the freezer for 15-20 minutes, until it feels firm, but you can still press into it a little.
Heat the oven to 425F degrees (220C) and place a rack in the lowest position in the oven.
Cut off a large piece of parchment paper, place it on counter, and sprinkle it with some all-purpose flour. Remove the dough from the freezer, remove plastic wrap, and place dough on the parchment. Sprinkle some flour on the dough and then place a second piece of parchment on top. Using a rolling pin, roll over the top of the parchment to smooth out the dough into a 12- to 13-inch (30- to 33-cm) round shape. Peel back the top piece of parchment paper and sprinkle some more flour over the dough, one or twice, while you are rolling it out. Place the parchment and rolled crust onto a cookie sheet or jelly roll pan.

Make the filling:

Place the fruit in a medium bowl. In a small bowl, mix together the sugar and cornstarch, then sprinkle it on top of the fruit and mix it in gently until the cornstarch dissolves. Place the fruit in the center of the dough circle and spread it outward, leaving a 2- to 3-inch (5- to 7;5-cm) bornder. Fold about 2 inches (5cm) of the border over the fruit, leaving the fruit-filled canter open. Fold over another 2-inch (5-cm) secion of the border and repeat this step, pressing one section of the border into the next, so you end up with dough pleats all the way around. This will seal in the fruit and fruit juices. Use a pastry brush to dust off any excess flour on the dough.
Beat the reserved egg white with a fork, then brush the egg white all over the dough. Sprinkle it with the remaining teaspoon of sugar. Bake for 30 minutes, then remove the pan from the oven. Using oven mitts, move the rack to the middle position, then move the galette back to the rack and bake for another 5-10 minutes or until filling looks bubbly.
Remove pan from oven and let cool for 20 minutes and serve, dusted with confectioners' sugar if you like.
Serves 8.
Notes
Recipe source: "the Healthy Jewish Kitchen," by Paula Shoyer; (Sterling Epicure; 2017). Used with permission from the publisher.
Note on cocoa: Paula Shoyer says, "Dark cocoa is a favorite ingredient that gives chocolate desserts deeper flavor and color. Whenever I substitute dark cocoa for the regular cocoa in a recipe, I add 2 tablespoons of sugar to the recipe to balance the slight bitterness of the dark cocoa."
https://www.shockinglydelicious.com/fruit-galette-with-a-chocolate-crust/
Copyright Dorothy Reinhold | ShockinglyDelicious.com. All rights reserved.
Pin the image below to your Pinterest board to save it.
Have you seen Paula Shoyer on TV? She's had nearly 40 appearances, so chances are you have. But you also may have seen her now-gone-viral Chocolate Quinoa Cake.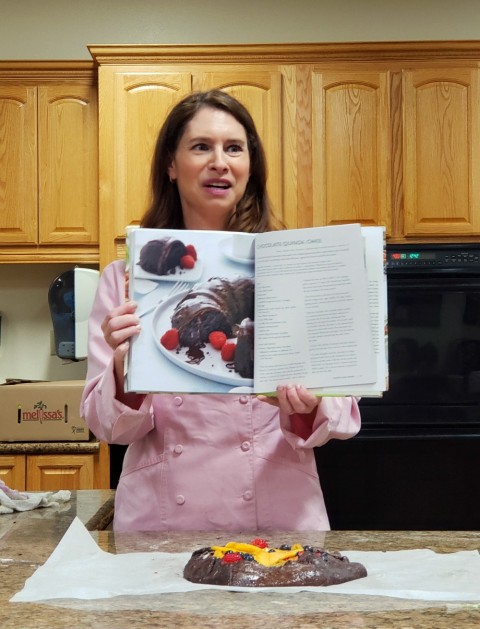 She's showing the recipe for her Chocolate Quinoa Cake, which is included in this cookbook, while demonstrating the Fruit Galette for us. It is so fun to hear directly from cookbook authors. It makes you want to race home, crack open the book and turn on the oven!