Print This Post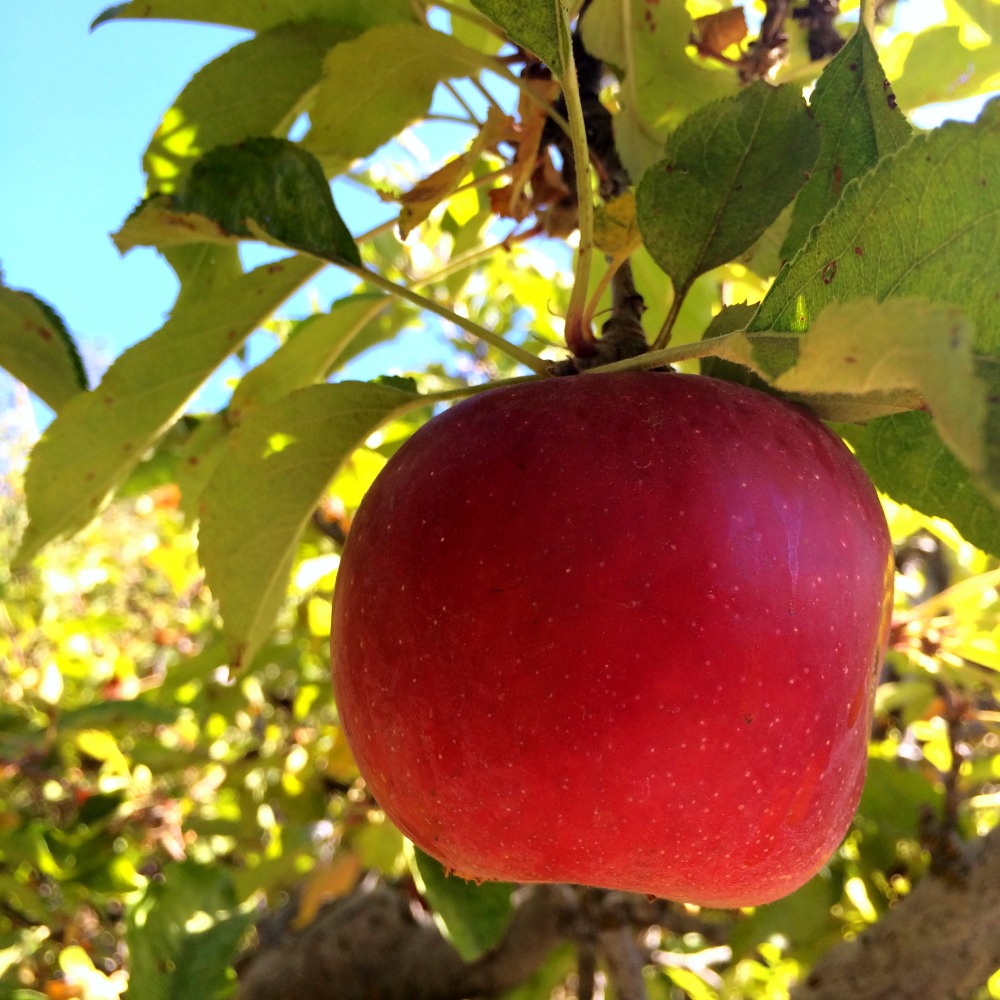 Make a day of apple picking in Oak Glen, California. Bring the family, breathe the crisp mountain air, pick your own apples, eat pie and enjoy the gorgeous scenery in this old-fashioned Southern California mountain town.
If you live in or are visiting Southern California now, get yourself to Oak Glen, a rustic, scenic agricultural community in Apple Country in the San Bernardino Mountains, about 15 miles east of San Bernardino.
It's a perfect Fall day trip or autumn get-away — family-friendly, old-timey, with places for the kids to run around, gift shops for the adults, and apple-picking and apple-eating as the underpinning of a great day. The crisp mountain air is matched by the crisp apples just waiting to be plucked by flatlanders, who have flocked here since apples became the main crop in the 1940s.
Oak Glen Road is a 5-mile loop with more than 30 independently owned ranches, farms and businesses, so there is plenty to explore, but I'll start you out with the apple picking in Oak Glen tour we did with a small group of Los Angeles food bloggers.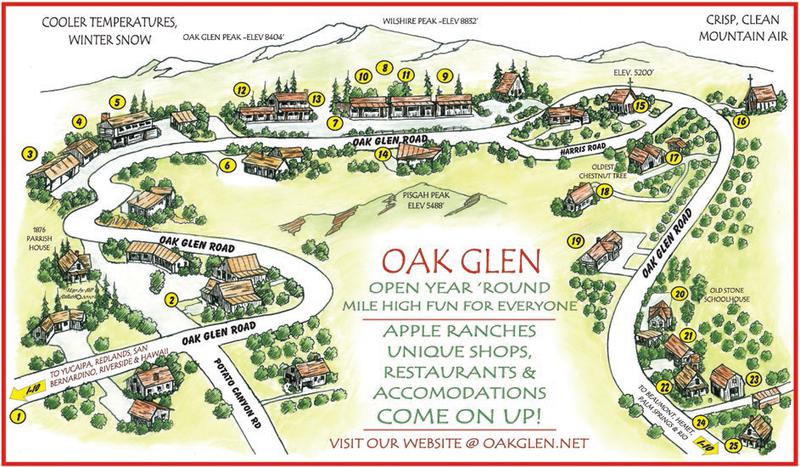 You know we're going to steer you to some some delicious destinations. 😀
1. Apple picking in Oak Glen
Riley's at Los Rios Rancho: This 103-year-old ranch is Southern California's largest historical apple ranch. Orchards open, ripe, and ready to pick the weekend we went were Granny Smith, Red Rome and Fuji; as different orchards ripen, they will open to pickers. Grab a bag from the counter, walk to the orchard, stroll among the trees and reach up and pick your favorite fruits. When you're done, pay by the pound. There's a country store there, as well as meat roasting on a barbecue outside. Take a rest on their expansive grassy lawn (perfect for a picnic), or head on your way to the next stop.
Riley's at Los Rios Rancho
39611 Oak Glen Road
Yucaipa, Calif. 92399
2. Hard cider
While at Los Rios Rancho, hit the Oak Glen Cider Company stand outside, where you can taste and buy their artisanal heirloom hard cider. It's "hard" because it is fermented, using only apple cider and yeast, which produces a carbonated beverage that is about 6% alcohol. What does it taste like? Rootstock reminded me of an apple-tinged beer, and Gravenstein Cider and Apple Berry Cider might be more likened to wine (rose?), although each taster in our group had a different opinion. I imagined myself with a drippy grilled Gruyere cheese sandwich for lunch, accompanied by a chilled glass of their Rootstock Hard Cider, and I got a big smile on my face. They can hardly keep up with demand, and sell out each weekend, so go early.
3. Apple Cider Donuts
Those three little words…so good, so worth the line you may wait in to get them. Stop at Snowline Orchard and Winery, get in the queue outside, and breathe deeply of the cinnamon-inflected air wafting out from the donuttery. (Is that a word? It should be.) Watch as their machine plops mini donuts into a lake of hot oil, where they swim for a bit, do the backstroke, and emerge, only to be dried off, dusted with cinnamon sugar and slid into a bag for you to munch on, hot, sugary and so deeply satisfying. "These will change your life," said our blogger guide Sara De Leeuw. I scoffed until I had one in my mouth. Then I just nodded; the universe had opened its secrets to me.
Snowline Orchard and Winery
39400 Oak Glen Road
Oak Glen, Calif. 92399
4. Mile-High Apple Pie
You didn't expect to leave Oak Glen without a bakery box heavy with a freshly baked apple pie, did you? Stop at Apple Annie's in Oak Tree Village and rest your gaze on their shelves of tall pies. Eat a mel in the restaurant (chicken pot pie, fried chicken, ribs, fish and chips, apple pie by the slice) if you like, but don't leave without a whole pie, either with a top crust or streusel. Buy the mini pie if you must, but I'm here to tell you there is no finer breakfast the next morning than a slice of Apple Annie's Mile-High Apple Pie. Plan accordingly; buy the big 5-pound pie. There's 14 acres of family fun here, as well, so bring the kids.
Apple Annie's Restaurant & Bakery
39062 Oak Glen Road
Yucaipa, Calif. 92399-9749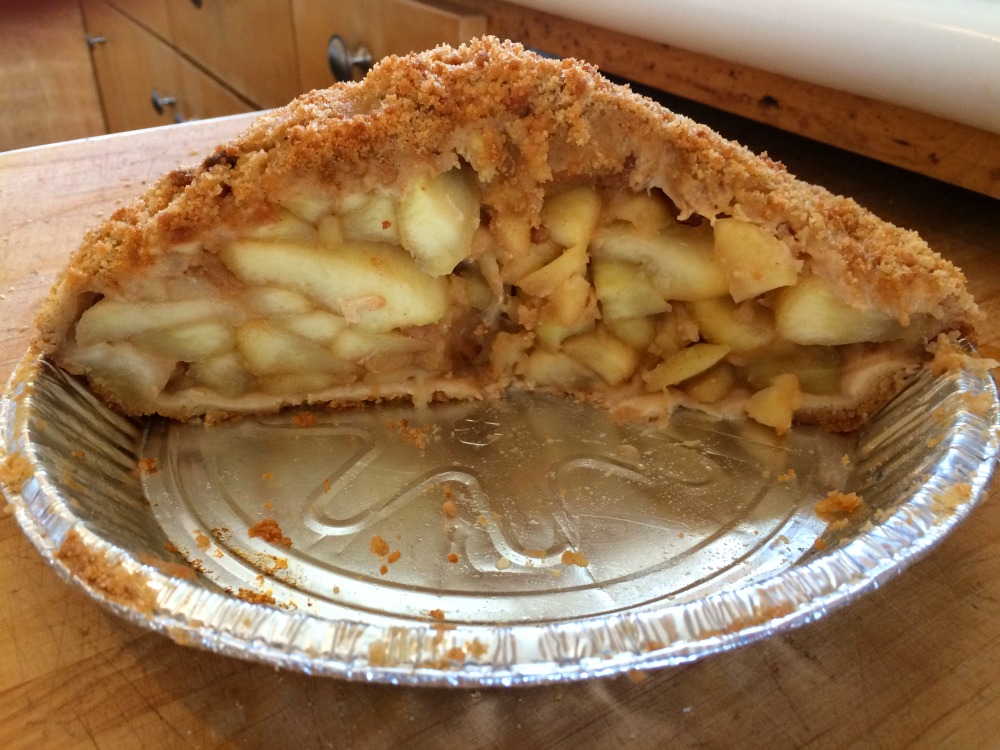 Are you ready to take a trip to go apple picking in Oak Glen? I'd go again in a New York minute!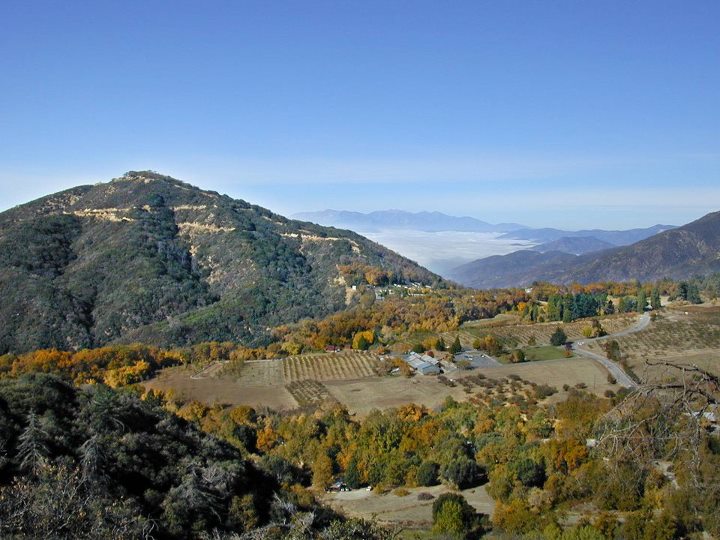 Great apple recipes on Shockingly Delicious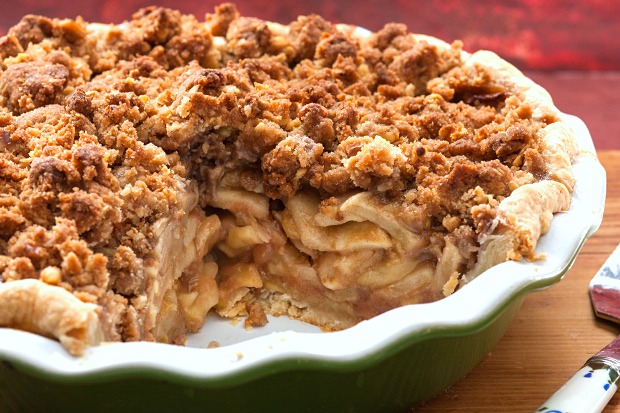 Apple Pie with Streusel Topping. It's not quite mile-high, but it's every bit as delicious and addictive.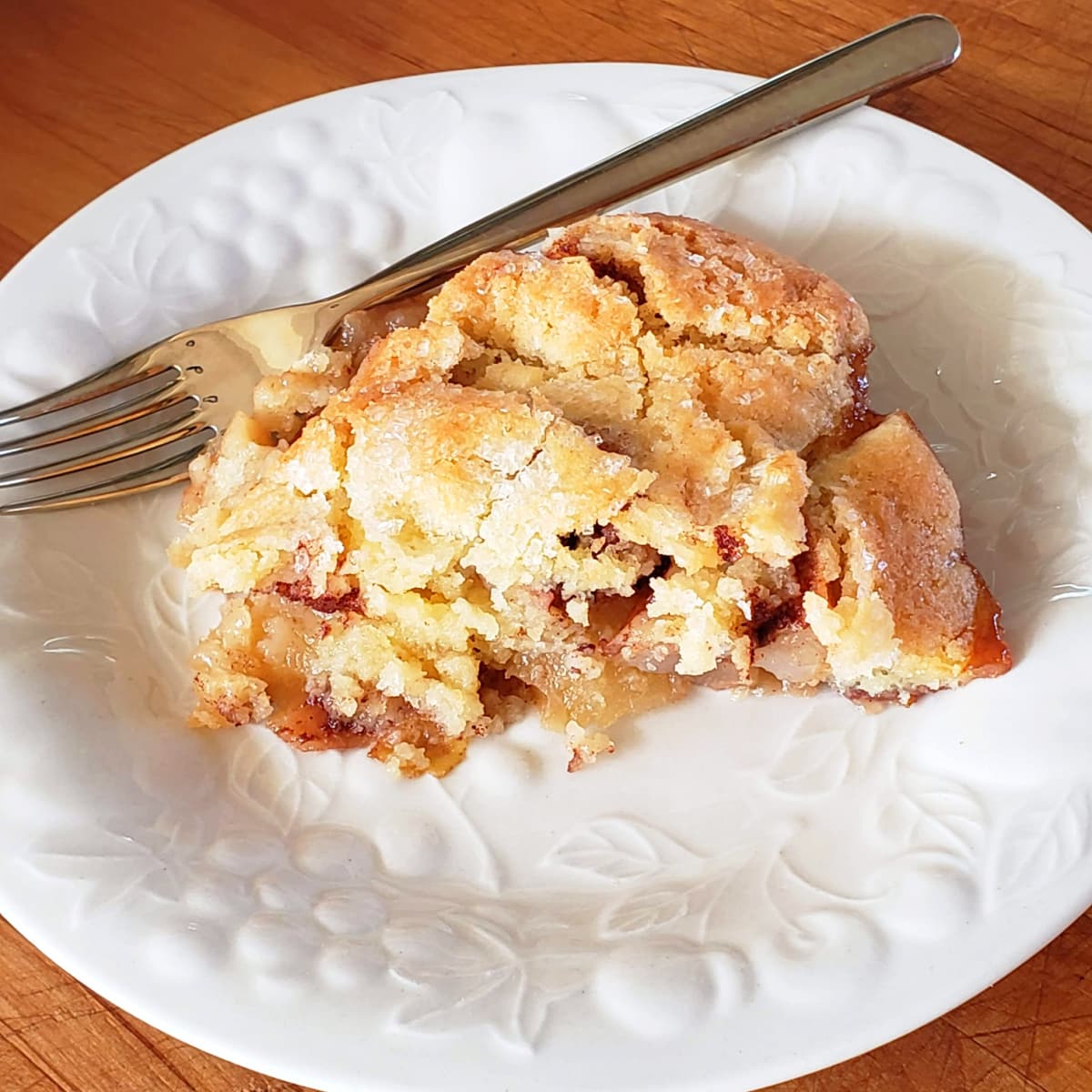 Swedish Apple Pie. Deeply spiced apples with a sweet topping but no bottom crust. Easy as pie!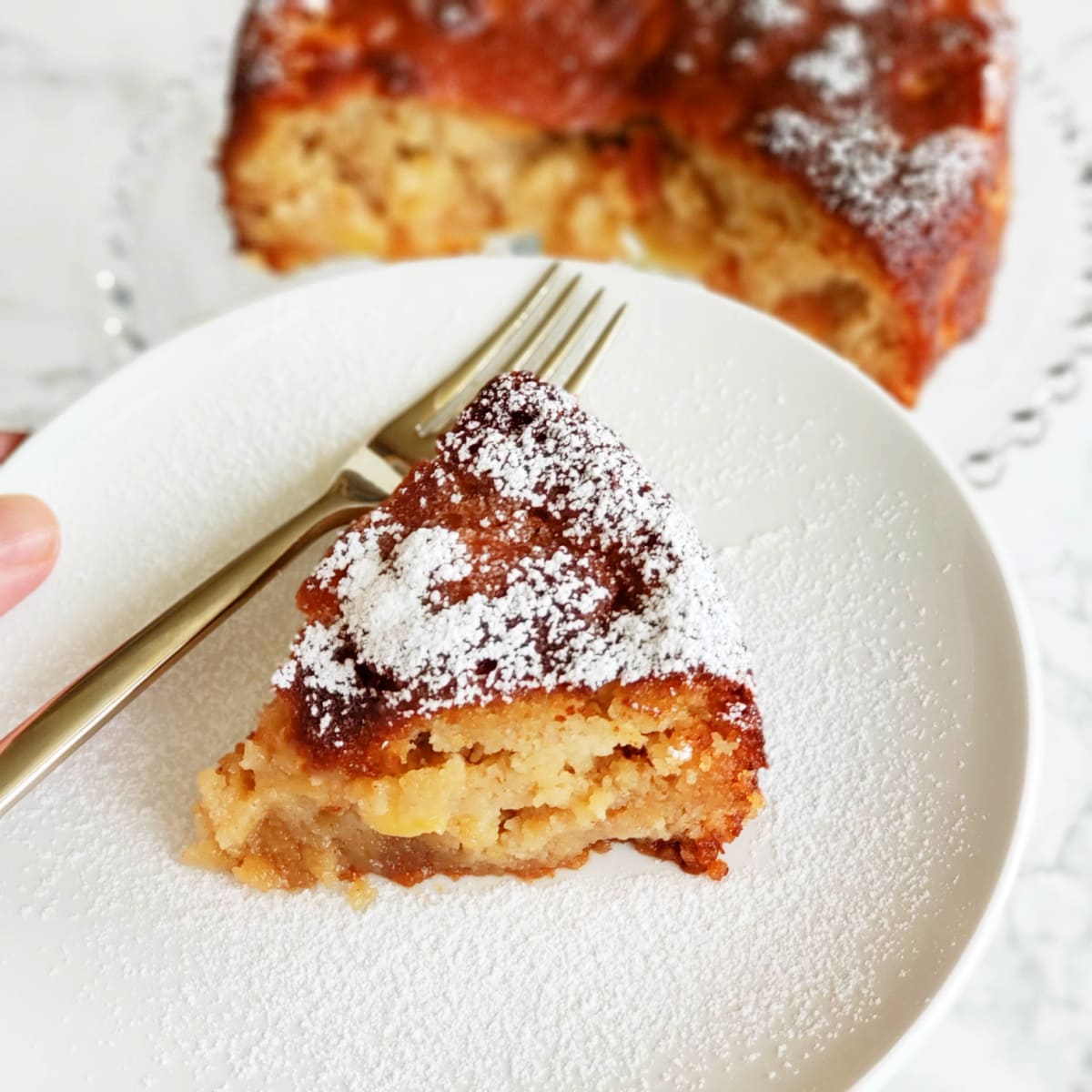 Apple Almond Olive Oil Cake. A rustic, farmhouse-style cake perfect for breakfast or dessert. Natually gluten-free, too.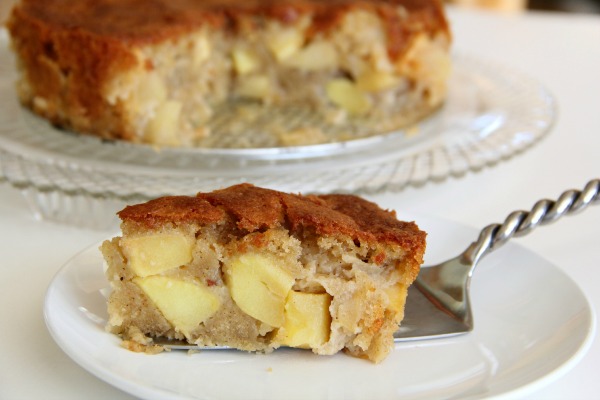 Ultimate Apple Spice Cake. Moist, overloaded with apples, spiced just right, for a wonderful breakfast cake, tea cake or dessert.
Pin the image below of Apple Picking in Oak Glen, California to save this to your Pinterest board

Thanks for visiting…are you hungry for more? Follow Shockingly Delicious on…
FACEBOOK | PINTEREST | INSTAGRAM | TWITTER
…for all the latest recipes, ideas and updates!
This post may contain affiliate/referral links. It is a way for this site to earn advertising fees (at no cost to you) by advertising or linking to certain products and/or services that I approve and prefer.
This was originally published Oct. 9, 2017 on Shockingly Delicious, and has been republished today.