Print This Post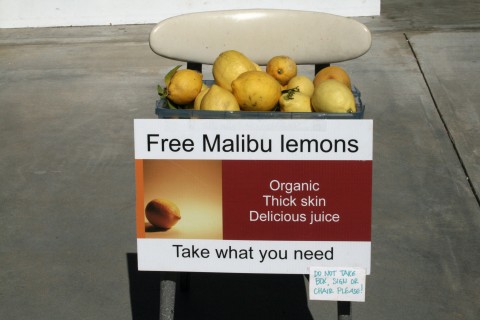 If you have a fruit tree in your backyard and you know you are not going to use all of it up, share your bounty!
It can be as simple as dropping a bag of something off at the next door neighbor's house (and who among us zucchini growers has not done that in August?).
Since my immediate neighbors can't possibly use all the lemons my tree supplies, I go one step further and put a box out front on the driveway, with a sign inviting passersby to take them. People on their daily walks, neighbors driving by, and workers and vendors doing jobs in the neighborhood have all stopped by for lemons. One person even left a thank-you note scrawled on a scrap of paper!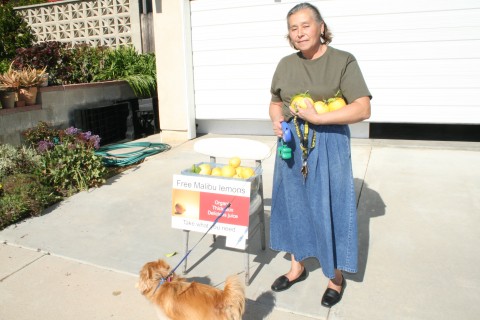 I put lemons out the other day and I saw the mailman snatch a few and tuck them into his sack (hi Barry!), and then a nice woman walking her dog stopped for an armful. Although she didn't speak much English, she allowed me to take her picture (the sun was very bright so her eyes are closed). I told her I wanted to prove that this strategy works!
Within a few hours, all the lemons were gone.
I'll put another box out tomorrow. It would be a shame to waste them.
Resources needed:
1 old chair or stool
1 sign (I designed and printed mine from Vistaprint.com; they call it a lawn sign; you don't have to order the metal stand)
1 hand-lettered card that says "don't take my box, chair or sign!" (highly recommended; you don't want someone thinking the chair is there for the taking, or that they can just take your whole box)
Fruit from your backyard tree
Join the club and share your wealth!
There are websites that have sprung up to encourage this, including:
Once you get your lemons, what can you make?
How about Meyer Lemon Curd?
How about Strawberry Basil Lemonade? Strawberries are starting to flood the markets!
Or the stunningly simple Lemon Whip!