Print This Post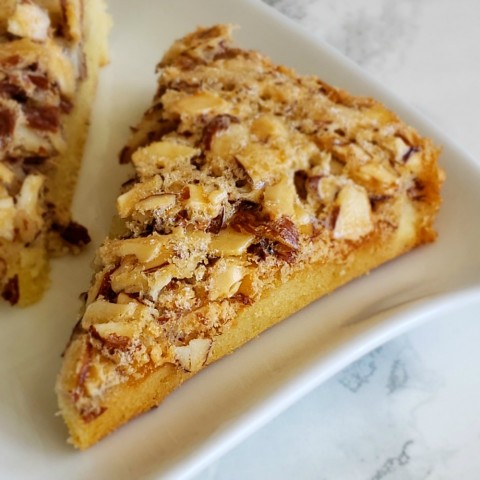 SWEDISH VISITING CAKE BARS: Chewy cookies topped with crisp almond meringue dotted with sliced almonds are for all the almond lovers out there.
When we last talked about my love of almonds, I had anointed myself president of my made-up Almond Lovers' Society.  Almond extract is in my baking pantry 24/7, and I have slivered, sliced, whole and chopped almonds in my refrigerator, waiting for the moment they are needed in a sweet or savory dish.
If I found an almond-scented perfume, you can be sure I would spritz it on.
So when OXO asked me to be a part of their "Bake a Difference with OXO for Cookies for Kids' Cancer" project and make Dorie Greenspans' almond-centric Swedish Visiting Cake Bars, I was ALL IN!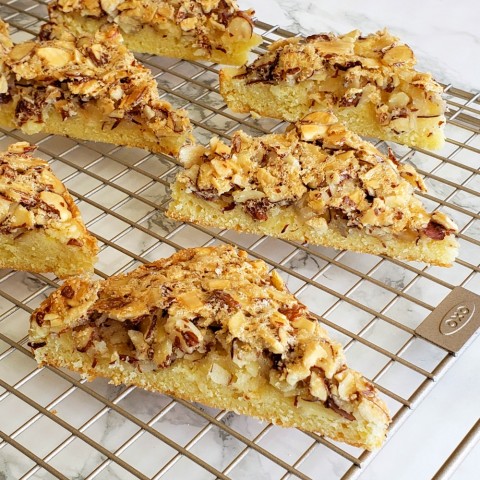 What's it about?
OXO is partnering with chefs (like Dorie) who support Cookies for Kids' Cancer, who are providing recipes to inspire people to host their own Cookies for Kids' Cancer bake sales. If you join in the Cookies for Kids' Cancer challenge by registering your event online and mark that you were inspired by OXO when you register, they will match proceeds from your bake sale up to their annual commitment.
That's an easy yes, especially since OXO makes it simpler, easier and better to bake.
"I have been a supporter of Cookies For Kids Cancer from before Day 1 and with good reason: It's a targeted source of funding for research into pediatric cancer treatments," says Dorie. "That pediatric cancer is so prevalent and so poorly funded is a terrible paradox. Cookies for Kids Cancer is changing this and I love helping them reach their goals."
How to make Swedish Visiting Cake Bars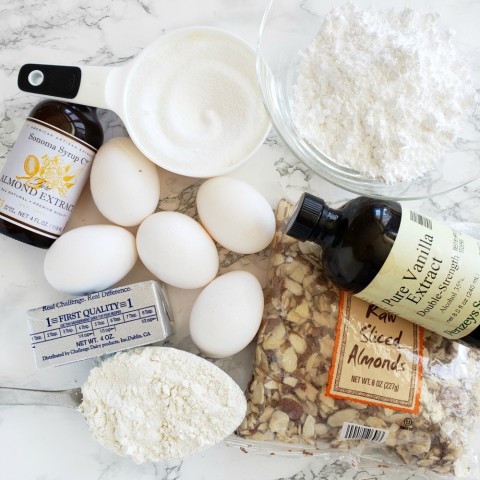 First, as with all recipes, assemble your ingredients to make sure you have everything.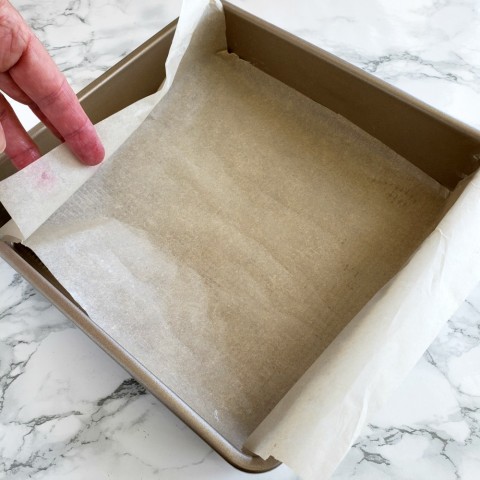 Then turn the oven on and prepare your pan by buttering it and lining with parchment paper.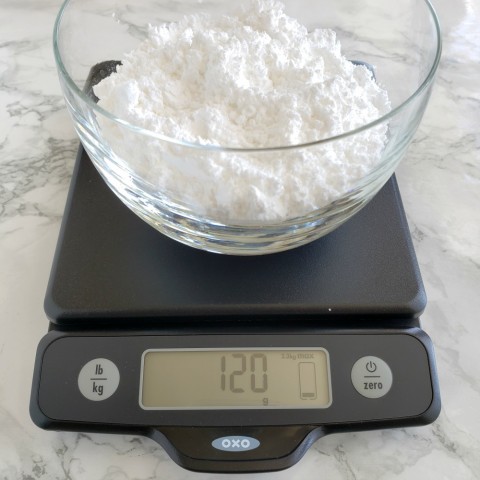 Measure the powdered sugar and almonds using a scale (if you can, for better accuracy).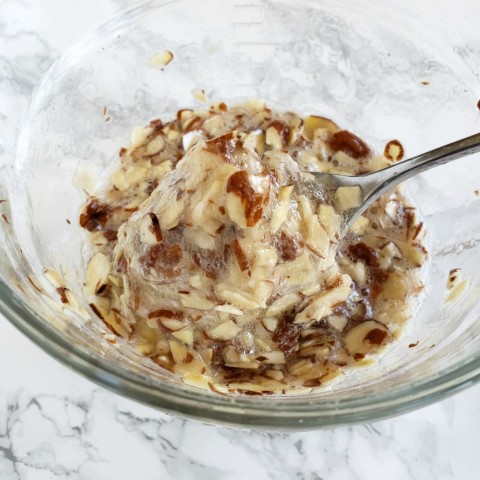 Then mix the topping with your fingers or a fork in a bowl and set it aside. It's slimy/slippery!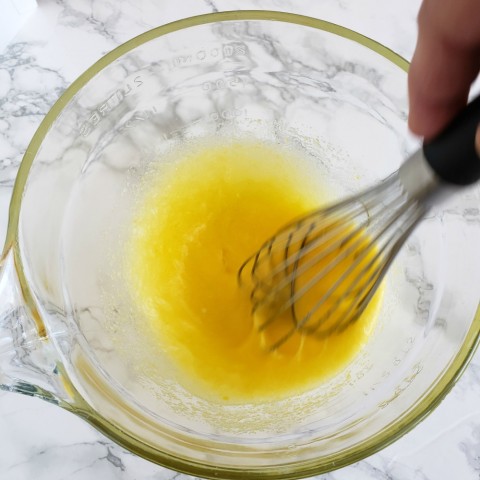 Whisk together sugar, eggs, salt and extracts for the bars.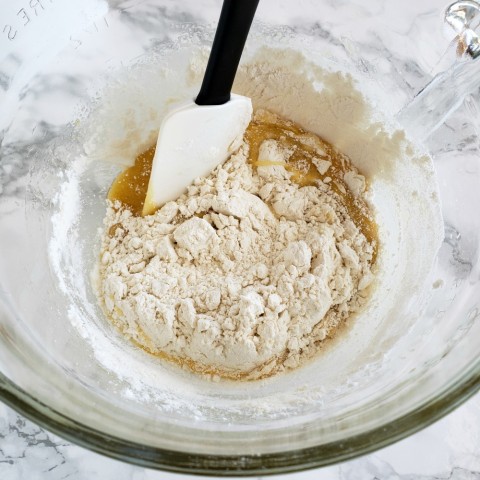 Fold in the flour with a spatula, and then fold in butter.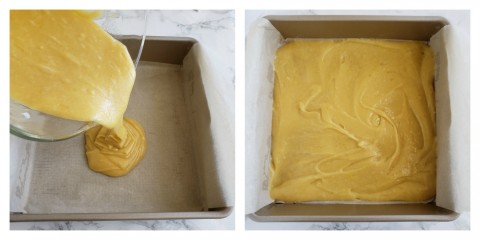 Scrape into the pan and smooth out to the corners and edges.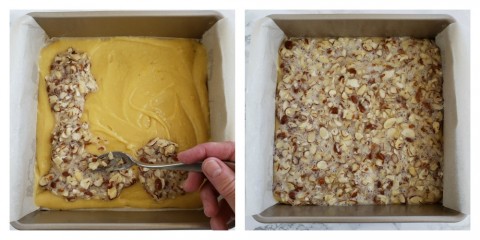 Add the topping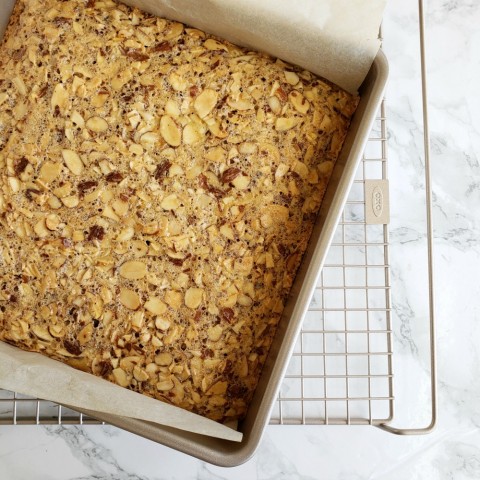 Bake until beautiful! Let cool on rack for a couple of minutes, then remove from pan….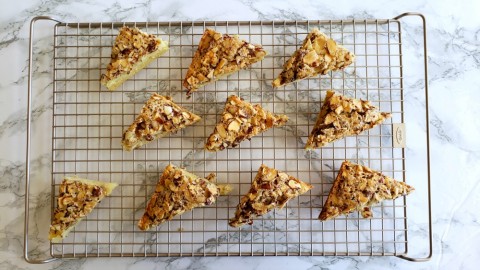 …cut and allow to cool thoroughly on rack.
Dorie says, "These are a mash-up of two recipes I love: almond-meringue topping, which I usually use on fruit tarts and (a variation of the) Swedish Visiting Cake, which is usually unadorned. I can no longer remember when or why I married these two, but once I did, the knot was tied for life — the crisp almonds and chewy cake make a perfect couple. The cake is supremely satisfying and the topping is unusual in that it bakes to a meringue finish, but there's no whipping involved. You just mix egg whites and confectioners' sugar together — I do it with my fingers — swish sliced almonds around in the mix and spread it over the batter. The oven does all the work."
That does it…let's turn on the oven and make Swedish Visiting Cake Bars!
Swedish Visiting Cake Bars
SWEDISH VISITING CAKE BARS are for all the almond lovers out there -- a mashup of crisp almond-meringue topping and chewy almond-scented cake.
Ingredients
For the topping

1 cup (120 grams) confectioners' sugar
3 large egg whites
1 1/2 cups (150 grams) sliced almonds, blanched or unblanched
.

For the bars

3/4 cup (150 grams) sugar
2 large eggs, at room temperature
1/4 teaspoon fine sea salt
1 1/2 teaspoons pure vanilla extract
1/4 teaspoon pure almond extract
1 cup (136 grams) all-purpose flour
1 stick (8 tablespoons; 4 ounces; 113 grams) unsalted butter, melted and cooled
Garnish: Confectioners' sugar, for dusting (optional)
Directions
Center a rack in the oven and preheat it to 350 degrees F. Lightly butter a 9-inch square baking pan and line it with parchment paper, leaving the parchment long enough to overhang one 2 opposite sides of the pan for easy removal of the bars later.

To make the topping:

Put the sugar in a medium bowl and pour over the egg whites. Using your fingers or a fork, mix until the sugar is moistened. If there are lumps, ignore them. Toss in the almonds and stir them around until they're coated with the sugared whites. Set aside while you make the batter.

To make the bars:

Working in a large bowl, whisk the sugar, eggs and salt together until the mixture lightens in color and thickens a little, about 2 minutes. Whisk in the vanilla and almond extracts. Switch to a flexible spatula and gently stir in the flour. When the flour is fully incorporated, gradually fold in the melted butter. You'll have a thick batter with a lovely sheen. Scrape it into the pan and use the spatula to work the batter into the corners. The layer will be very thin.
Give the topping another stir, or a run-through with your fingers, and turn it out onto the batter. Use a spatula or your fingers to spread the almonds evenly over the mixture, making sure to get nuts into the corners too.
Bake for 28-32 minutes, or until a tester inserted into the center of the cake comes out clean or with only a few crumbs stuck to it. The meringue topping will be pale golden brown. If you'd like a deeper color on the topping, run it under the broiler until you get the shade of gold you like best.
Transfer the pan to a rack and let rest for 5 minutes, then run a knife around the edges of the cake and unmold it onto the rack. Very gently peel away the parchment and invert the cake onto another rack to cool to room temperature.
Transfer the cake to a cutting board and, using a long, thin knife, slice it into nine 3-inch squares. For smaller portions, cut each square into two triangles. If you'd like, you can dust the bars with confectioners' sugar just before you serve them.
Makes 9 squares, or 18 small triangles.

Storing:

Wrapped, the bars will keep at room temperature for 4 to 5 days.
Notes
Recipe source: From "Dorie's Cookies," by Dorie Greenspan; Houghton Mifflin, 2016. Used with permission.
https://www.shockinglydelicious.com/swedish-visiting-cake-bars/
Copyright Dorothy Reinhold | ShockinglyDelicious.com. All rights reserved.
If you like this recipe and want to save it, pin the image below to your Pinterest board.

Tools I used in this recipe
It helps to use the right tools when you bake or cook. You'll get better results, and it will be more enjoyable for you. I used the following OXO tools to make the Swedish Visiting Cake Bars: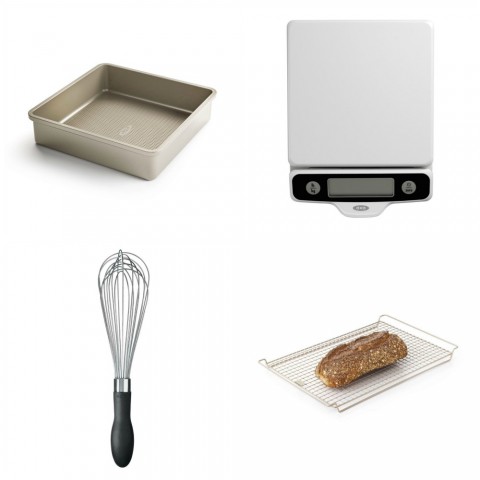 Non-Stick Pro Cake Pan – 9 inch:  This commercial grade pan will last you a lifetime. Here's what I like about it — the textured pattern on the bottom ensures even baking, square-rolled top edges add strength and make it easy grip, the side walls are straight (helps make a uniform layer), and the seamless bottom corners won't trap food.
5lb Food Scale with Pull Out Display: The more I bake, the more often I weigh ingredients. It is just a better, more accurate way of doing it, and I use my kitchen scale every day for one thing or another, including portioning food. This well-designed version has an 11-pound capacity (within 1/8 ounce or 1 gallon), measures in ounces or grams, has large numbers, and a unique pullout design feature so that even when you are weighing large plates or bowls, you don't have to peek underneath to read the display. You know how to use a kitchen scale, right? You simply set the bowl you're using on the scale, and zero it out to offset the weight of the bowl so only the weight of the ingredients are counted. You can also zero it out to weigh several items without removing them from the scale, so you keep zeroing it out as you add each ingredient. Another thoughtful detail is that the top stainless steel plate pops off for handwashing, in case you spill something.
11″ Balloon Whisk: A whisk is so handy to whip ingredients to make them fluffy, whether it is eggs or cream. This whisk has stainless steel wires that flex while you whisk and a teardrop-shaped handle that won't slip even if you have wet hands.
Non-Stick Cooling and Baking Rack: No matter what you're baking, you no doubt need a cooling rack. When you take the cookies off the baking sheet, or the bars out of the pan, you need to fully cool them before packing them in a container. This rack serves double duty, and can also be used for making crispy bacon in the oven, or lifting other items off the bottom of the pan while roasting or baking. It has a 2-layer coating for great food release, and a pattern designed for 360-degree air circulation. The handles are perfect for transferring safely, and it will fit a standard half-sheet pan.

This is a sponsored post written by me on behalf of OXO. They sent the tools in this post to facilitate baking the recipe. Please join me in supporting the companies that I love.