Print This Post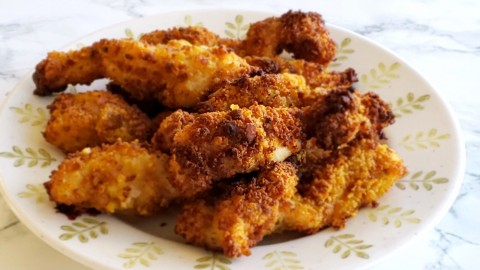 Honey Mustard Pretzel Chicken Fingers: An addictive pretzel snack transforms itself into a superlative breading for chicken fingers that are toasted quickly in an air fryer.
I contemplated the crumbs at the bottom of a honey mustard flavored pretzel snack bag, wondered why there were so many tiny pieces, and whether they should be eaten or tossed. These are the big questions in life, folks.
Eaten of course! But how else could I deploy them, other than pretzel detritus straight into the mouth? And thus, was born this little genius tip, a kind of recipe strategy.
You're going to laugh when I tell you this "recipe." It is boneless, skinless chicken thighs, and pulverized honey mustard pretzel bites. That's it.
I can show you easily how to make it, so let's have a visual recipe today.
How to Make 2-Ingredient
Honey Mustard Pretzel Chicken Fingers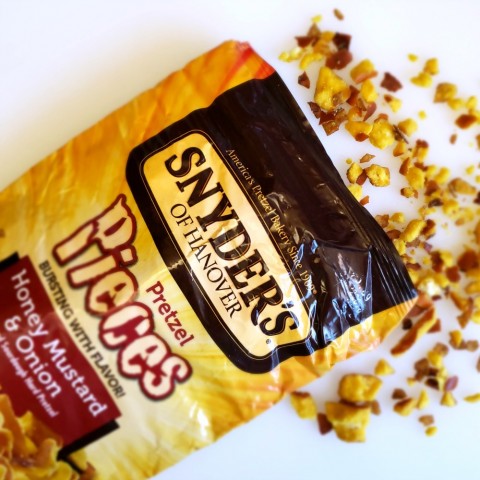 This is my favorite brand of honey mustard pretzels. They're crazy addictive, and I shouldn't even have them in the house, but I tell myself I am getting them for my teenager. Ha! Delusions are wonderful, aren't they? But when all the big pieces are eaten, you're left with teensy tiny bits. There is a ton of flavor in these pretzels — sweet honey, mustard, garlic, onion, salt. It's everything you would put in a coating anyway, right?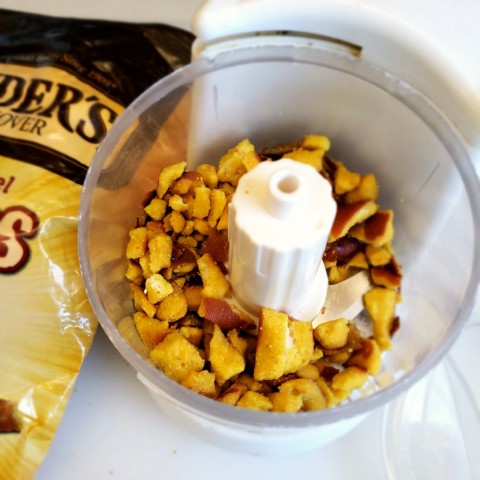 Whirl them up in a small food processor, until they form crumbs. If you don't have a small food processor, get one.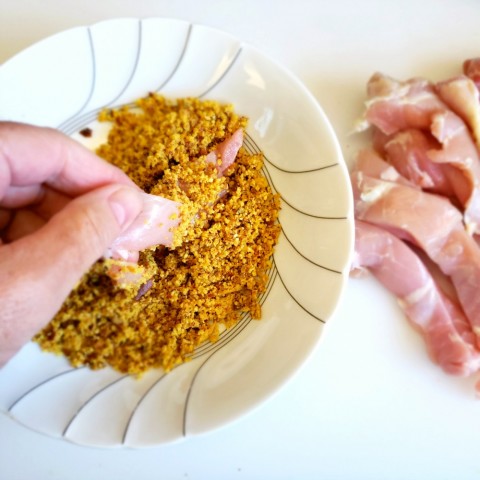 Put those whirled pretzel crumbs in a wide, shallow bowl.  Cut skinless, boneless chicken thighs into strips (about 3 strips per thigh, is my guess). Crank your air fryer up to 400F degrees and get it started heating by turning the dial to 20 minutes (there is nothing in the air fryer at this point). Don't have an air fryer? This is the one I have, and I love it. I use it daily, and sometimes twice a day. Think of it as a small, counter-top convection oven.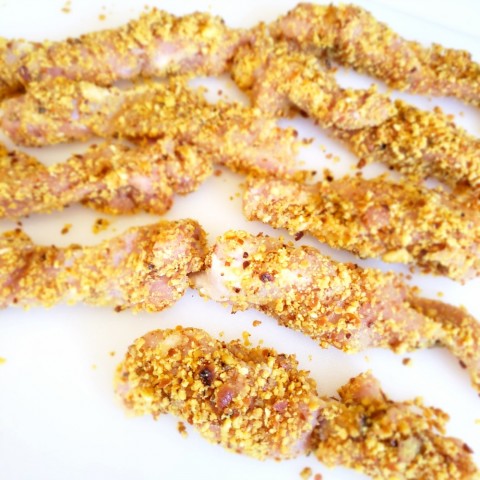 Bread all the pieces well by rolling them one by one around in the crumbs, and then put them on a plate or a board.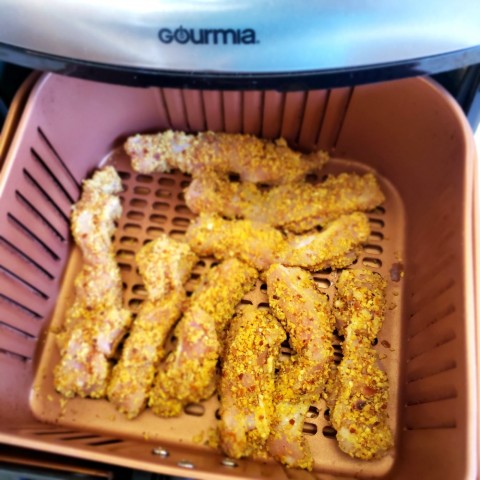 Lay them into the air fryer basket, close it, and adjust the timing for 10 minutes or so. The coating will get darker brown and will make your house smell amazing! At the 10-minute mark, I like to insert an instant-read thermometer in them to make sure they are done (at least 165F degrees for food safety), but you don't have to do this if you don't have one. Give them the poke test with your finger…they're done.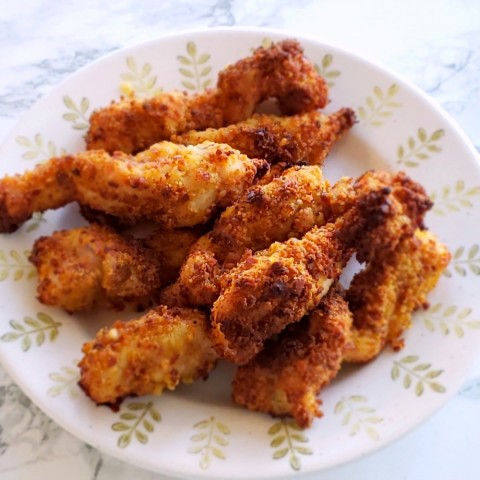 Using a tongs, place them on a plate. I'm betting you won't even have to call anyone to the kitchen…the aroma wafting through the house will do that for you.
Enjoy!
Here's a little written recipe card for Honey Mustard Pretzel Chicken Fingers, below, if you really think you need it. But honestly, just wing it. Two ingredients…you can do this! Do not let the kitchen intimidate you!
2-Ingredient Honey Mustard Pretzel Chicken Fingers
Honey Mustard Pretzel Chicken Fingers: An addictive pretzel snack transforms itself into a superlative breading for chicken fingers that are toasted quickly in an air fryer.
Ingredients
Directions
Whirl pretzel pieces in a small food processor until they become crumbs. Pour crumbs into a wide, shallow bowl.
Cut chicken thighs into fingers (about 3 fingers per thigh, or so). Heat air fryer to 400F degrees and set the timer for 20 minutes to get it started heating.
One by one, roll chicken fingers in crumbs, setting each one as it is coated onto a plate or cutting board. When all are coated, open air fryer and place chicken fingers carefully into the basket. Re-set timer to 10 minutes. At 10-minute mark, test chicken fingers with an instant-read thermometer (it should be at least 165F degrees, and will possibly read higher), or give it the poke test.
When done, remove from air fryer with a tongs, to a plate.
Enjoy!
Notes
Recipe credit: Dorothy Reinhold | Shockingly Delicious
https://www.shockinglydelicious.com/2-ingredient-honey-mustard-pretzel-chicken-fingers/
Copyright Dorothy Reinhold | ShockinglyDelicious.com. All rights reserved.
If you like this recipe and want to save it, pin the image below to your Pinterest board.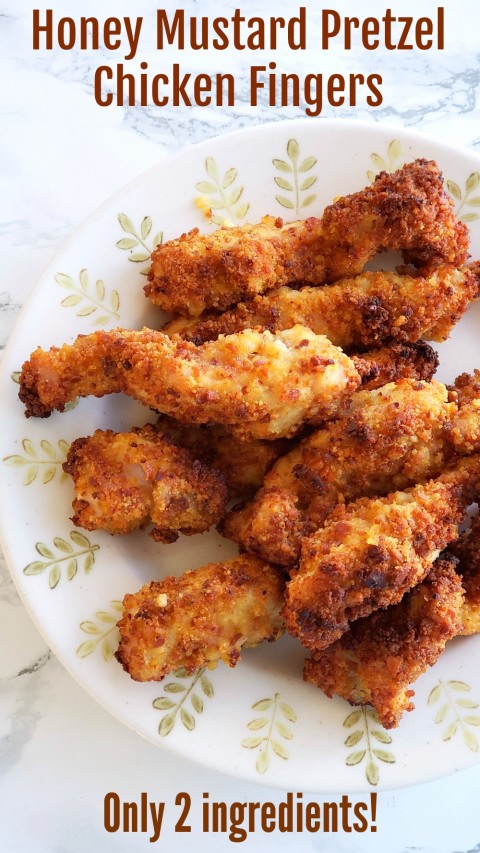 Thanks for visiting…are you hungry for more? Follow Shockingly Delicious on…
FACEBOOK | PINTEREST | INSTAGRAM | TWITTER
…for all the latest recipes, ideas and updates!
This post contains affiliate/referral links. It is a way for this site to earn advertising fees (at no cost to you) by advertising or linking to certain products and/or services that I approve and prefer.