Print This Post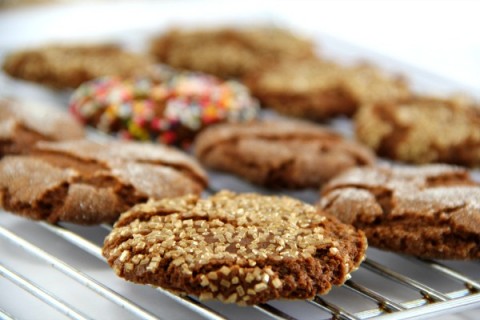 We're busy people today, eh? Let's cut to the chase. If you're looking for an awesome, deeply spiced gingerbread-y tasting cookie, you've come to the right place.
This cookie is by Elizabeth Morner, and was one of the 10 finalists in the fifth annual L.A. Times Holiday Cookie Bake-Off. Elizabeth says these are from her grandma, also named Elizabeth. Her grandma told her to roll them "the size of a walnut." I like that directive.
Redolent of cloves, of cinnamon and the color of molasses, these classic cookies are sugar and spice and all things nice.
Merry Christmas to all Shockingly Delicious family, friends and readers!
May your day be merry and bright…


and may all your Christmases be spiced!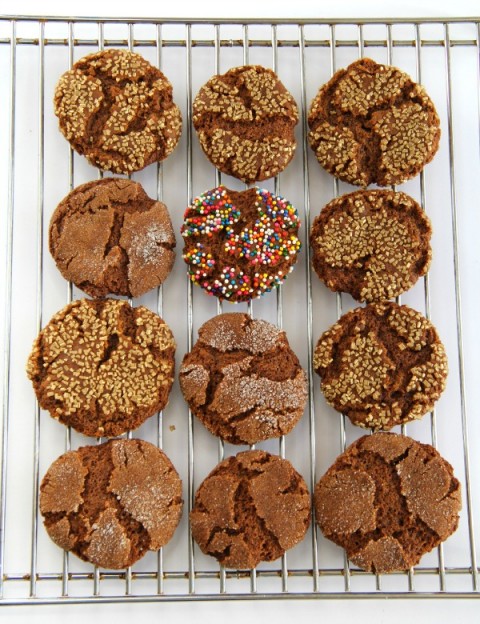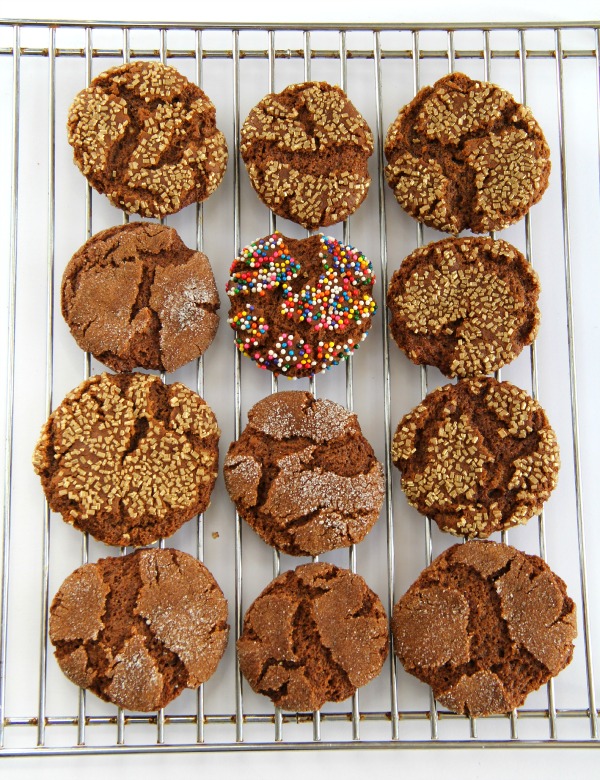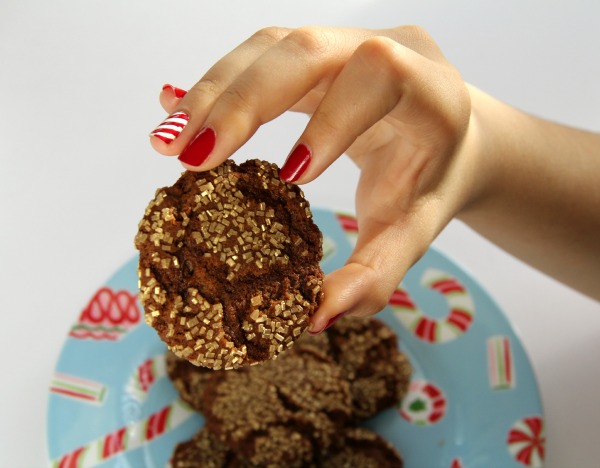 Redolent of cloves and cinnamon, colored like molasses, these are Sugar and Spice and all things nice cookies.
Ingredients
3/4 cup shortening
1 cup white sugar, plus more for rolling (I used Vanilla Sugar)
1 egg
1/4 cup molasses
2 cups (8½ ounces) flour
2 teaspoons baking soda
1/4 teaspoon salt
1 teaspoon ground cinnamon
3/4 teaspoon ground cloves
1/4 teaspoon ground ginger

My addition:

Coarse sugar for rolling
Directions
Heat the oven to 375 degrees. Line 3 to 4 cookie sheets with parchment paper.
In the bowl of a stand mixer fitted with the paddle attachment, or in a large bowl using a hand mixer, cream together the shortening and 1 cup sugar. Add the egg and molasses, and mix well.
In a separate bowl, whisk together the flour, baking soda, salt, cinnamon, cloves and ginger. Add this to the shortening mixture and combine.

I chilled the dough overnight.

Using your hands, form the dough into 1-¬inch balls, and roll in sugar to coat

(I rolled some in coarse gold-colored sugar, and some in colored jimmies, for pretty).

Space the balls 2 inches apart on the prepared cookie sheets. Bake the cookies until browned, 10-12 minutes.
Remove the cookies from the baking sheets and cool on wire racks.
Makes 48 cookies.

Each of 48 cookies:

Calories 69; Protein 1 gram; Carbohydrates 9 grams; Fiber 0; Fat 3 grams; Saturated fat 1 gram; Cholesterol 4 mg; Sugar 5 grams; Sodium 67 mg
Notes
https://www.shockinglydelicious.com/sugar-and-spice-and-everything-nice-cookie/
Copyright Dorothy Reinhold | ShockinglyDelicious.com. All rights reserved.
 What was the best cookie YOU made this season?