Print This Post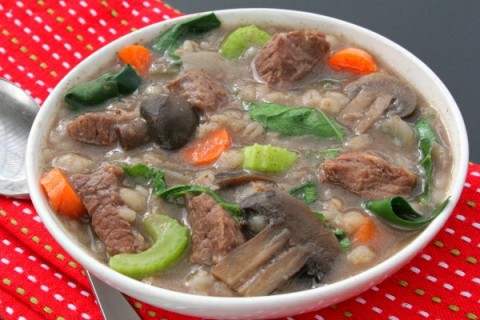 Try as we might to remain calm and serene during this holiday season, sometimes the self-generated stress of it all gets the better of us.
So let's not let dinner present any more pressure to our already blow-a-gasket days. Grab your slow cooker out of the recesses of your cabinet and put it to work while you go about your shopping, decorating, gingerbread-making, carol-singing, ice-skating wonderful life.
Personally, I plan to watch some favorite holiday movies with my family instead of doing my chores or shopping (which I sort of hate). Who's with me? Here's what I like, and I don't care what professional film critics say. I like what I like.
1.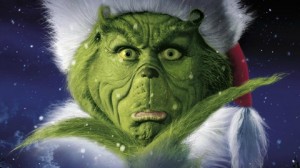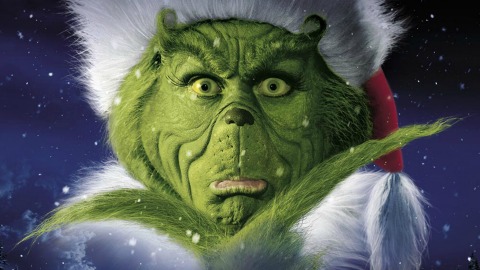 Rudolph the Red-Nosed Reindeer
2. A Charlie Brown Christmas
3. Elf
4. The Polar Express
5. Love Actually
6. How the Grinch Stole Christmas (2000)
7. The Family Man
Now that you have lost all respect for me in the cinema department, I hope to regain your respect in the kitchen with this uber-easy, hearty, warming soup. It cooks all day in the slow cooker, so you can just put in all the ingredients before work or at the beginning of your day, and forget it.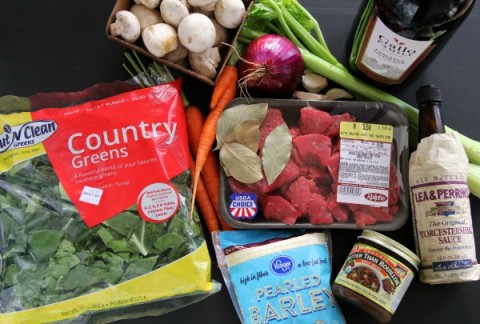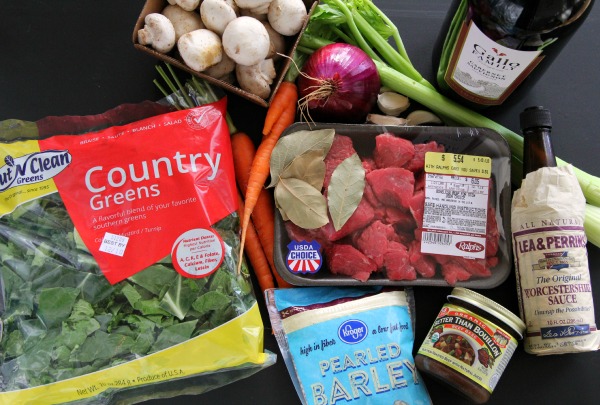 Or, how about this? Put everything in there after dinner and cook it overnight. Wake up and simply put it in the refrigerator before you leave for the day, to be reheated when you get home. Either way, dinner is ready.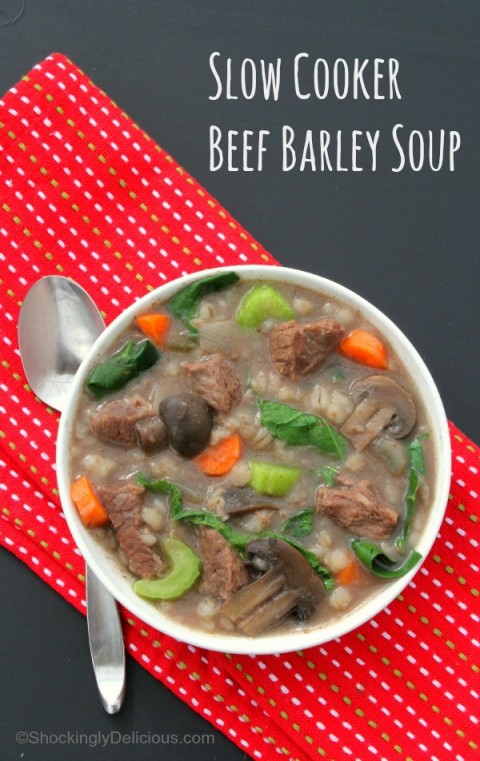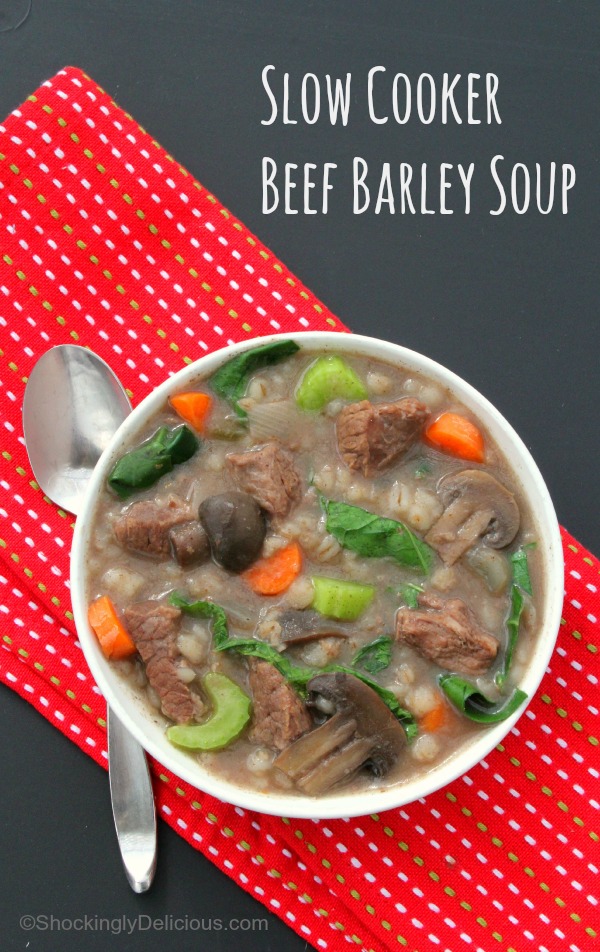 This soup is chock-full of stewing beef (a satisfying cost-conscious cut you'll often find on sale), vegetables, barley and greens. Ladle into bowls for serving and fling on some freshly grated Parmesan. Mmmmm…it has more umami than you are entitled to.
If you serve it with crusty bread and a glass of wine for the adults, you'll be declared an angel.
Can you handle the pressure of that?
Slow Cooker Beef Barley Soup
Hearty, warming, healthy Beef Barley Soup is done easily in the slow cooker, allowing lots of holiday shopping/playing while dinner is cooking.
Ingredients
1 to 1 1/4 pounds lean stew beef, cut into 1/2-inch cubes
1 onion, chopped (yellow or red)
2 ribs celery, chopped
2 carrots, diced
8 ounces sliced mushrooms
1 tablespoon Worcestershire sauce
1/2 cup red wine (I used Gallo Cabernet Sauvignon)
4 cloves garlic, minced or pressed
3/4 cup pearled barley
2-4 bay leaves
6 cups beef broth (fat-free, lower-salt version preferred)
Freshly ground pepper
1 (10-ounce) package fresh mixed greens (such as collards, turnips and mustard greens)
Garnish: Freshly grated Parmesan cheese
Directions
In slow cooker, combine all ingredients except greens and cheese. Cover and cook on high for 5 hours (or low for 10 hours).
When adding greens, add hearty greens 20-25 minutes before the end of the cooking time (hearty greens = kale, collards, mustard, turnips). If adding tender greens, add them 10-15 minutes before the end time (tender greens = spinach, beet greens, chard).
Taste and add salt and pepper, if needed, or a couple of squirts of hot sauce!
Serve and sprinkle with Parmesan cheese. (Remember the Parmesan will add additional salt, so take care not to over salt the soup during the cooking stage.)
Serves 6.
Notes
Note about slow cookers: Many cooks have found that newer models seem to cook hotter than older models, so if you have a new cooker, watch the time and perhaps check it earlier or cook it on low until you are confident of the performance of your cooker. This recipe was developed on an older version cooker.
Recipe source: Dorothy Reinhold | Shockingly Delicious
https://www.shockinglydelicious.com/slow-cooker-beef-barley-soup/
Copyright Dorothy Reinhold | ShockinglyDelicious.com. All rights reserved.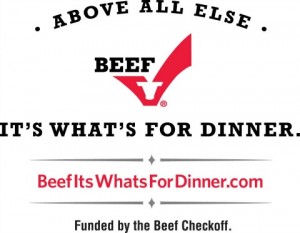 This week our Sunday Supper cooks are celebrating Easy Holiday Entertaining with beef, sponsored by The Beef Checkoff. For more meal ideas, see our 20 delicious recipes below, and follow our beef Pinterest board. Join me in following The Beef Checkoff on social media: Website | Twitter | Facebook | Pinterest. I don't know about you, but I enjoy being at the top of the food chain.   🙂
Now let's hit the kitchen. Sunday Supper will be here before you know it!
Appetizers
Brunch or Breakfast for a Crowd
Main Dish
Potluck Style
Join us around the family table for #SundaySupper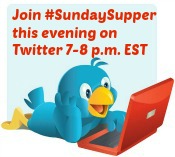 ---
Disclosure: This post is sponsored by The Beef Checkoff. All opinions are my own.