Print This Post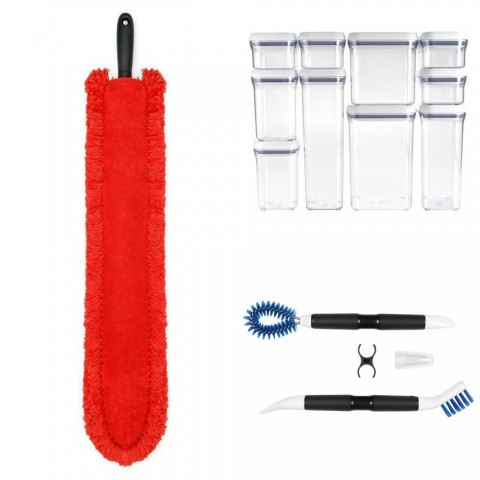 Today I partnered with OXO. Thank you for supporting the brands I work with and love!
Spring has sprung and so has the cleaning and organizing bug.
That little bug in my ear that says, "Time to finally get things a little more ship shape than they have been around here lately."
You know the feeling?
I focused on the kitchen, because, let's face it, that's where all the action is and where the messes happen!
Here's how I cleaned and organized, round 1.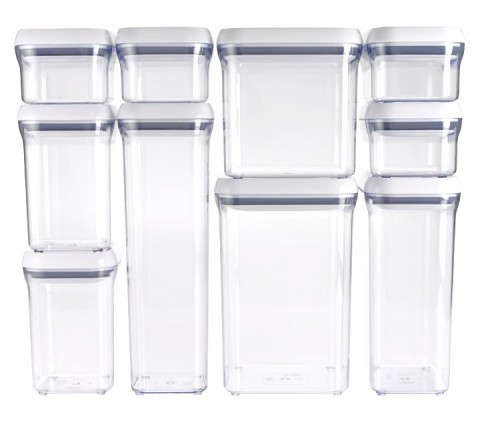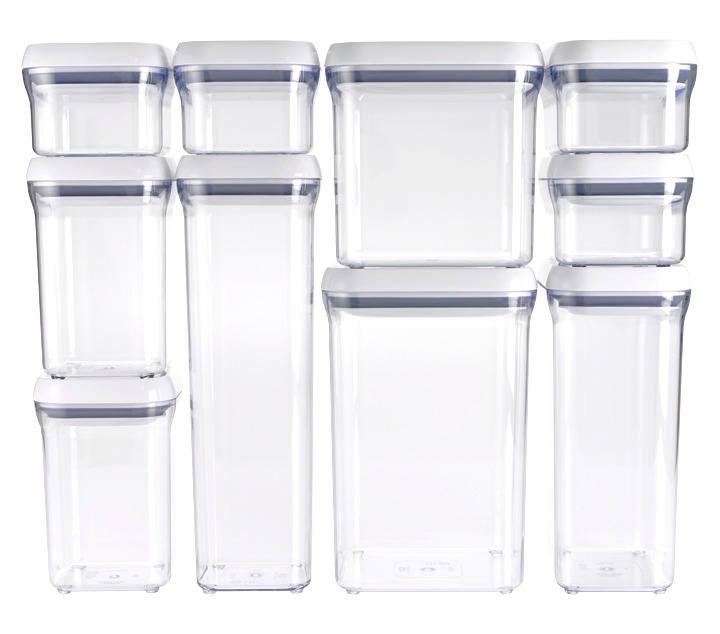 Have you used these POP Containers at your house? I have one that I use as a cookie jar on the counter (pro tip: you can always see if it is empty, and it is easy to clean!). They're stackable and space-efficient, designed for modular use so you can organize in any number of height combinations to fit your counter top and pantry. The push-button mechanism on top creates an airtight seal with a simple touch. Corners are shaped for pouring, should you be putting something like cereal in there that you'll want to pour. They come in a variety of sizes and shapes, to hold everything from 5-pound bags of flour to spaghetti or candy. And if you are a crafter, I think they would be boffo to organize crafting or office supplies, or Legos, or other small kid toys.  $99.99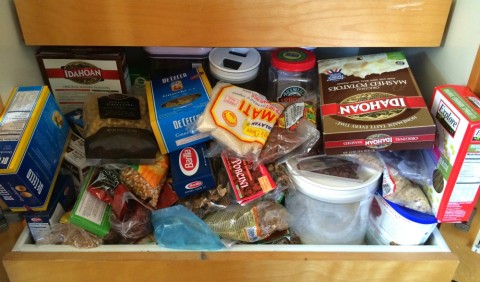 This is embarrassing to admit, but my dry goods pantry could use a little work. OK, it's a disaster. There, I said it so you didn't have to, but I know you were thinking it. When I excavated, I found bugs and some really old stuff I didn't even know I had! I threw out some items f2om 2009 fer gosh sakes. If this area had been more organized, I would have seen it in there and used it.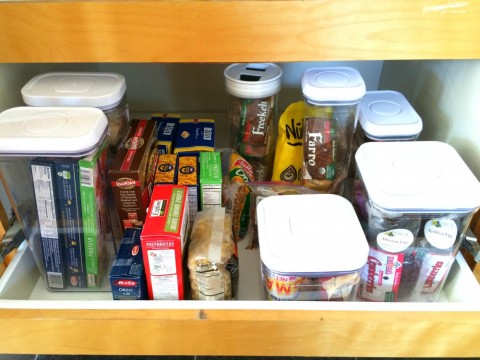 Doesn't it look better? Rice, quinoa, freekeh, farro…I might have a grain-hoarding problem. And a dried fruit problem. But that's a matter for another day.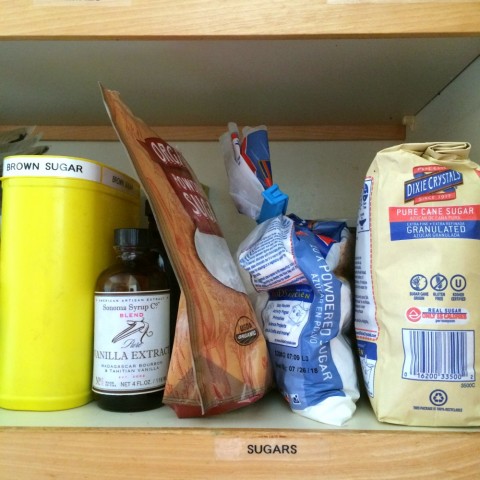 Emboldened, I looked in other cabinets, and saw my sugar pantry. That ratty yellow thing on the left that I keep brown sugar in is a recycled plastic Nesquik container from a million years ago.
Now I have a nice space for my brown sugar (can you see the sugar bear in there keeping it hydrated?), powdered sugar, and regular granulated sugar (you might see a vanilla bean poking through).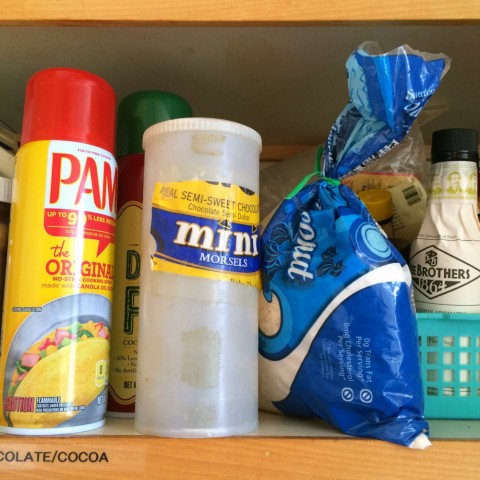 And then I cast my eyes to the area where my son goes to steal my chocolate chips. See that tall plastic container that is supposed to have mini chips in it for his pancakes (but he sneaked them all without telling me)? That's a recycled drink pod container from a zillion years ago, with a label taped to the front.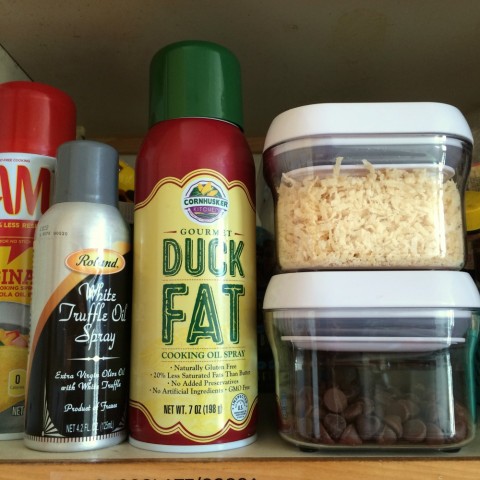 I put chocolate chips in one (clear, so I can see when we're low!), and shredded coconut in another. (I also seem to have a spray oil hoarding issue, but again, that's not today's task. 🙂 )

Do you know what lurks under and behind your big appliances, like your refrigerator or your washer? Let me tell you, you don't wanna know! Most of us only see it when the fridge malfunctions and the repairman comes over and yanks it away from the wall. It's not a pretty sight, and then he gives you a lecture on how you really should clean under and behind the fridge regularly, to keep the air circulating and the appliance working efficiently. This slim duster features a long, flat profile to go where other dusters don't: around and underneath appliances and cabinets. The long, fluffy fibers conform to uneven surfaces (like my slate floor) to capture dust bunnies. $12.99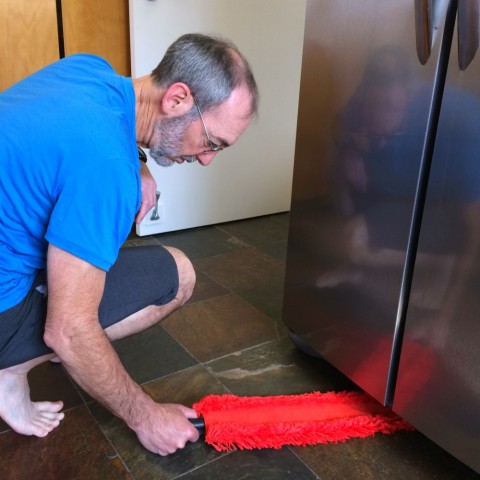 As you can see, I put my husband to work with this gadget. (Pro tip: helpers like to use special tools, will complain less, and find the job more attractive that way!)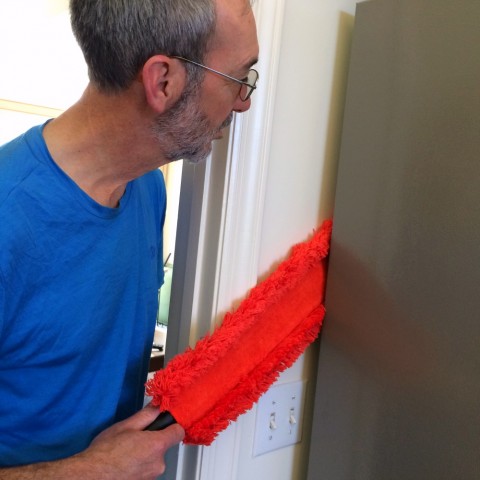 How does dust and grime get behind the refrig? I have no idea, but trust me, it's there messing stuff up.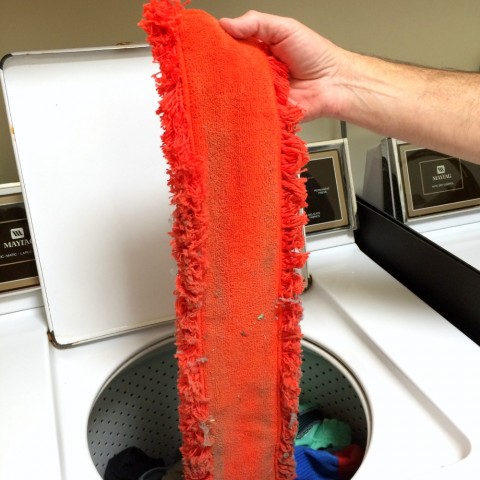 To clean the head, simply unsnap it and wash in cold water, then dry hanging on the clothesline (without heat).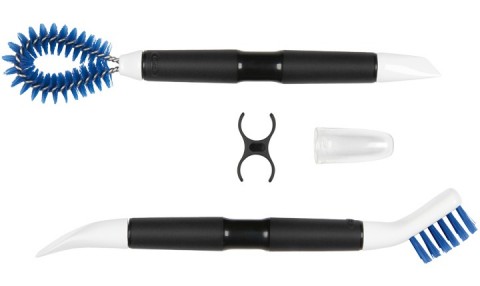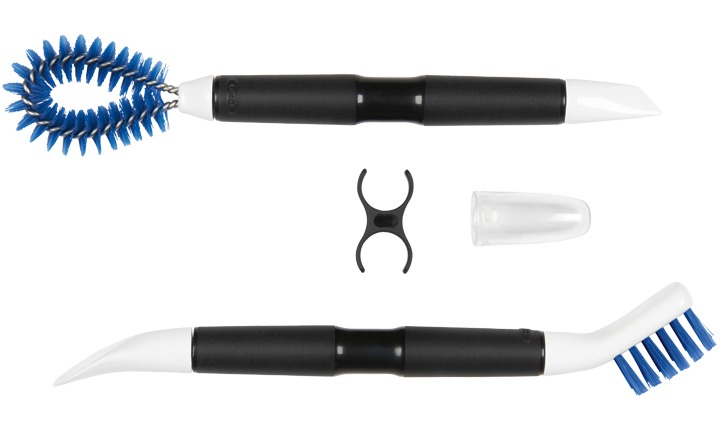 This little set is compact, versatile and practical. The nylon brushes are durable, and the brushes and scrapers can get into your kitchen fixtures and appliances' tight spaces.  The little scraper is good for unsightly buildup, too. Best of all, these tools snap together with a clip for storage. $7.99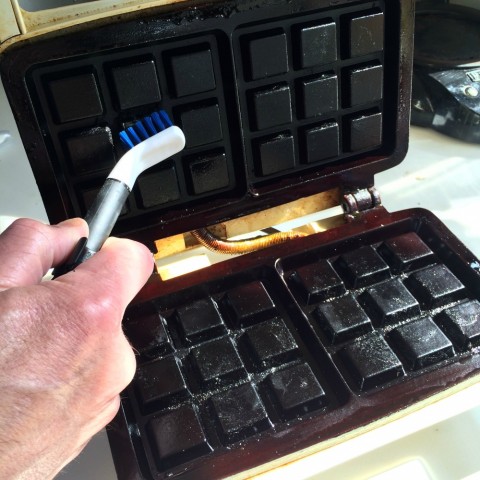 I pulled a Kardashian the other weekend and put cinnamon rolls in my waffle iron. They were good and it was kinda fun to eat waffled biscuits, but man did they leave caramelized gunk behind on the waffle grid, so I used this tool to get that buildup out of there.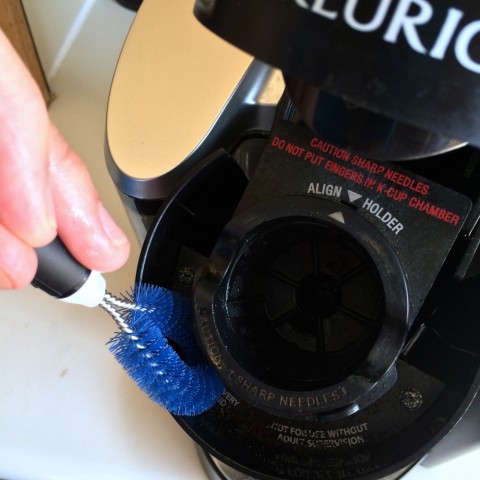 We also used it to clean the debris out of the Keurig. Did you ever notice that? Go take a look at yours…I think you'll be surprised how gunky it can get.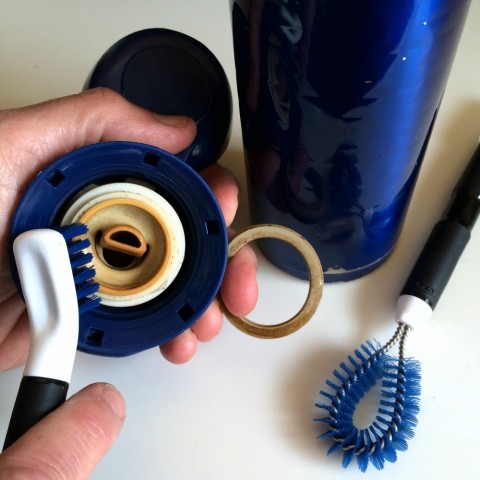 And my husband's coffee Thermos container can get just plain gross. It's been waiting for these tools.
If you like these ideas and want to save them, pin the image below to your Pinterest board.

What's on YOUR spring cleaning list?
Disclosure: I partnered on this post with OXO, which sent the products for use and review.
Save
Save
Save
Save
Save
Save
Save
Save
Save
Save
Save