Print This Post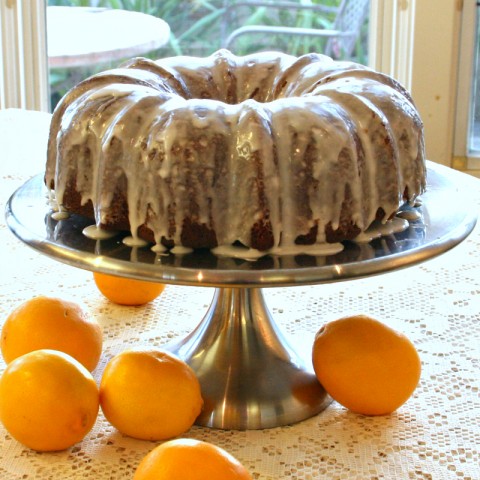 It might be a new year, but familiar flavors are still favorites!
Like lemon. Lemon always wins the race, doesn't it?
I made this cake as part of the #BundtaMonth January baking party, hosted by Lora from Cake Duchess and Anuradha from Baker Street . This month our #Bundtamonth party bakers are celebrating citrus, and while grapefruit, lime, tangerine and blood oranges beckon to me from the produce bins, my heart belongs to lemon.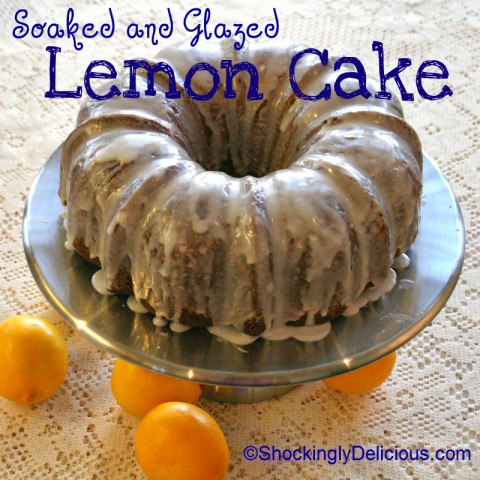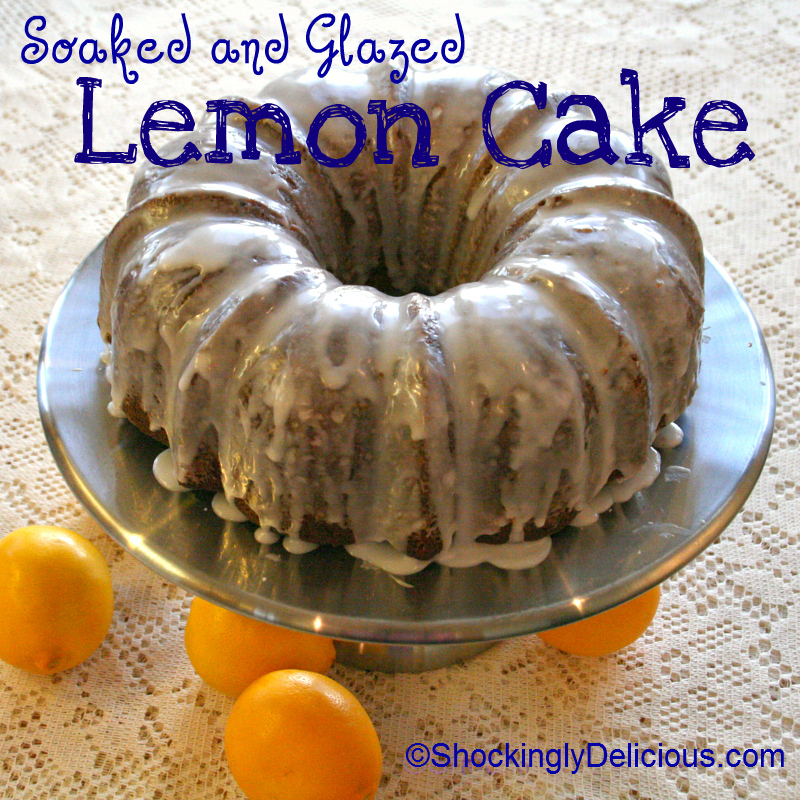 With a zest-filled cake, a lemony soak and a tart glaze, this cake celebrates all things lemon. Serve it as-is, with fresh berries or with vanilla ice cream. And be sure to call me for dessert!
Recipe: Soaked and Glazed Lemon Cake
Summary: With a zest-filled cake, a lemony soak and a tart glaze, this cake celebrates all things lemon. Serve it as-is, with fresh berries or with vanilla ice cream. Call me for dessert!
Ingredients
For the cake
1/2 pound (2 sticks) unsalted butter, at room temperature
1 3/4 cups granulated sugar
4 extra-large eggs, at room temperature
1/3 cup grated lemon zest (7 lemons)
1/2 teaspoon baking powder
1/2 teaspoon baking soda
1 teaspoon kosher salt
1/4 cup freshly squeezed lemon juice
3/4 cup buttermilk, at room temperature

(I used King Arthur Dried Buttermilk Powder + water)

1 teaspoon pure vanilla extract
3 cups all-purpose flour
For the soak
½ cup granulated sugar
½ cup freshly squeezed lemon juice
For the glaze
1 cup confectioners' sugar
1 3/4 tablespoons freshly squeezed lemon juice
Instructions
Preheat the oven to 350°F (175°C). Grease and flour a standard 10-inch diameter Bundt pan and set aside.
Cream the butter and granulated sugar in the bowl of an electric mixer fitted with the paddle attachment, for about 5 minutes, or until light and fluffy. With the mixer on medium speed, add the eggs, one at a time, and the lemon zest.
Add the baking powder, baking soda and salt and mix in. In another bowl, combine 1/4 cup lemon juice, the buttermilk, and vanilla.
Add the flour and buttermilk mixtures alternately to the batter, beginning and ending with the flour. Scrape the batter into the prepared pan, smooth the top and bake for 60 minutes, until a cake tester comes out clean.
While cake is baking, make the soak: Combine 1/2 cup granulated sugar with 1/2 cup lemon juice in a measuring cup and stir until the sugar dissolves and makes a syrup.
When the cake is done, remove pan from oven and let cool for 20 minutes, then invert cake onto a rack and immediately invert it back into the baking pan (this insures the cake is loosened from the pan). Pour soak over the cake while it is still in the pan, allowing some to run down the outer edge of the cake. Allow the cake to cool completely, and then turn it onto a cake stand or cake plate.
Make the glaze: Combine the confectioners' sugar and lemon juice in a bowl, mixing with a wire whisk until smooth. Pour over the top of the cakes and allow the glaze to drizzle down the sides.
Serves 12-16.
Source
Lightly adapted from Lemon Cake  by Ina Garten, from "Barefoot Contessa Parties! Ideas and Recipes for Parties That Are Really Fun" (Clarkson Potter, 2001)
Bundt cakes I have baked for #Bundtamonth:
Jan. 2013: Soaked and Glazed Lemon Cake
Dec. 2012: Eggnog Rum Pound Cake
Nov. 2012: Nutmeg Bundt Cake
Oct. 2012: Pumpkin Pecan Bundt Cake with Maple Glaze
Sept. 2012: Zucchini Cookie Butter Bundt Cake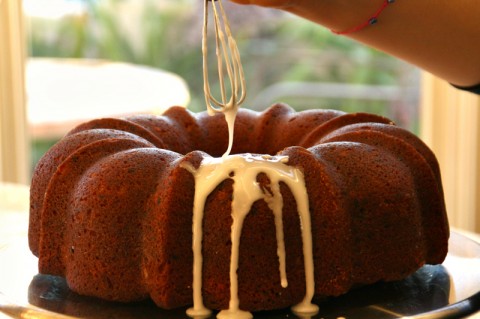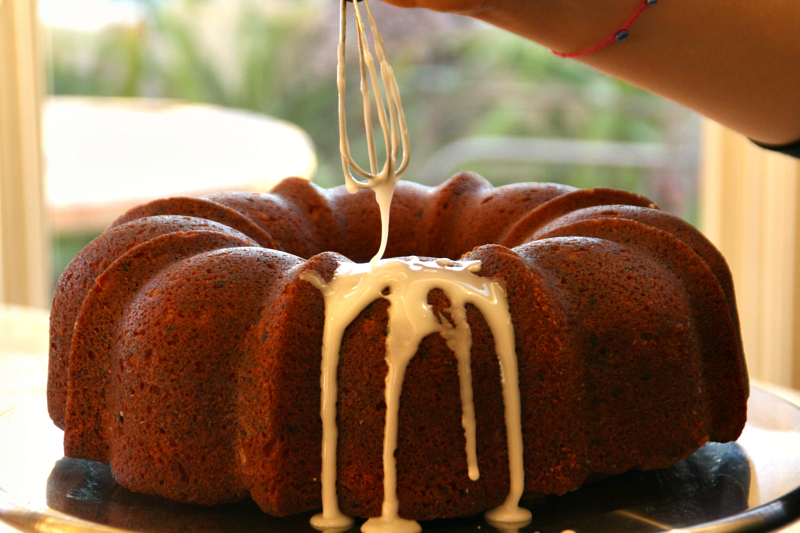 You can see a wonderful gallery of our #Bundtamonth cakes here.  Are you inspired yet to bake something?
Preparation time: 10 minutes
Cooking time: 1 hour
Diet type: Vegetarian
Number of servings (yield): 12-16
Culinary tradition: USA (General)
My rating 5 stars:  ★★★★★ 
Please visit my fellow "Tangy January" bakers this month:
Would you like to bake along with us this month? Here's how:
1. Simple rule: Use mandarin, orange, lime, yuzu, lemons, Key lime or ANYTHING citrus, and bake us a Bundt for Tangy January
2. Post it before Jan. 31, 2013.
3.  Use the #BundtAMonth hashtag in your title. (Ex: title should read #BundtAMonth: Chocolate Cinnamon Bundt)
4. Add your entry to the Linky tool below.
5. Link back to our announcement posts.
Follow Bundt-a-Month on Facebook where we feature all our gorgeous bundt cakes. Or head over to our Pinterest board for inspiration and choose from over 350 Bundt cake recipes.
Here are the Bundt cakes for Tangy January. Want to add yours?