Print This Post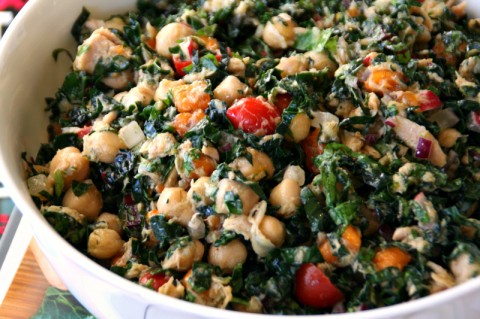 Riffing on a great basic recipe is one of the pleasures of cooking. I start by simply taking out a beloved formula – in this case my light and Lemony Garbanzo Kale Salad with Tuna – and beginning to embellish.
Perhaps I have something in the fruit bowl that needs using – Fuyu persimmons, for example. Perhaps I have a few grape tomatoes that have seen better days, and are begging to be put to good use. Perhaps I have radishes that I meant to roast, but never got around to it.
And so was born Kale-a-palooza Salad, a fitting main dish repast for any lunch or dinner when I want to feel like I'm eating cleaner than usual.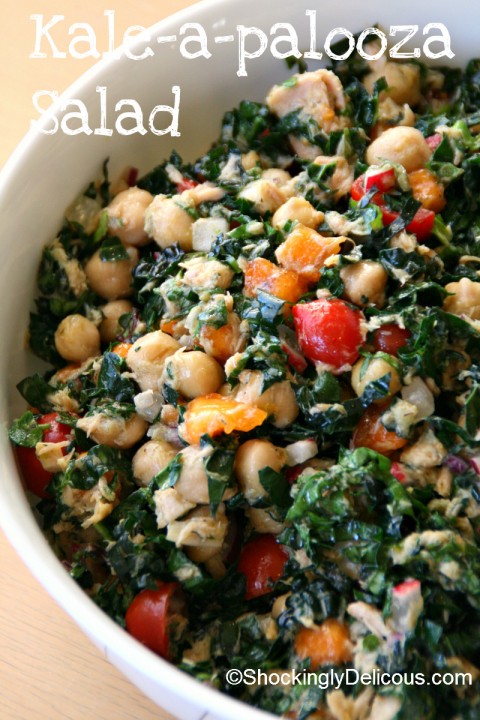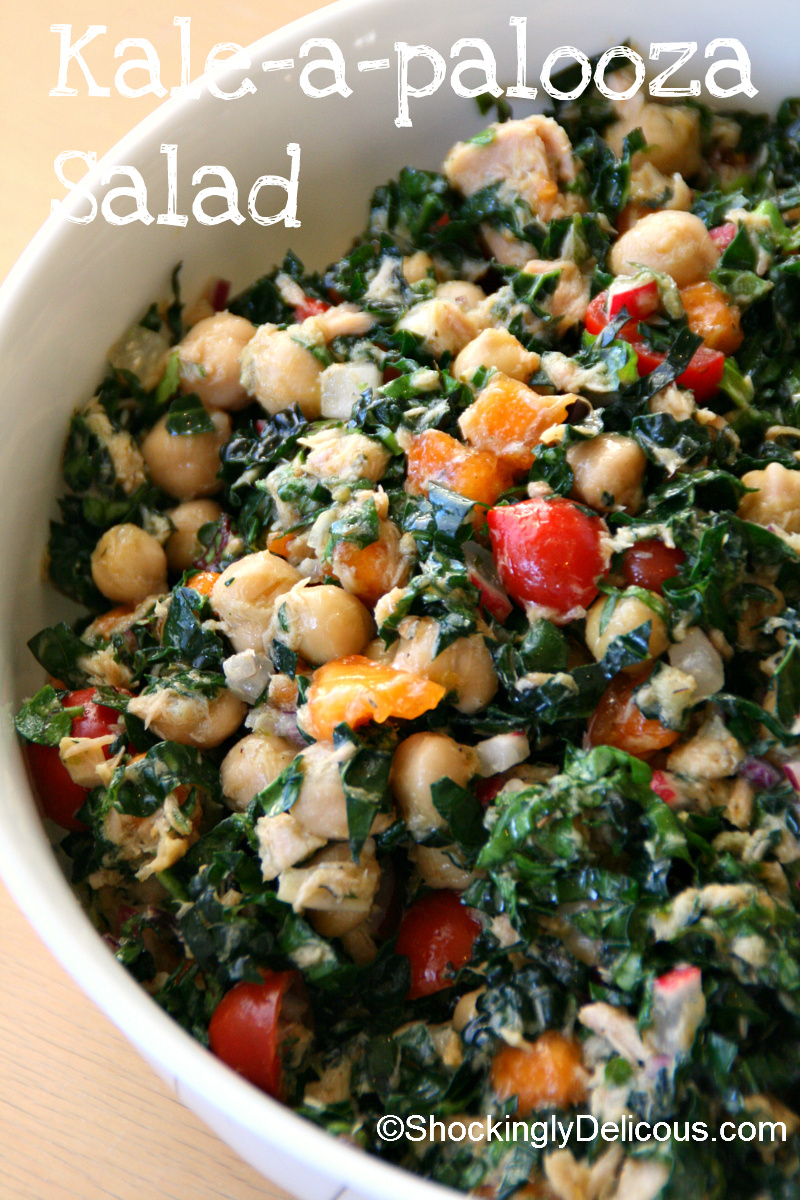 I named it for our Food Bloggers Los Angeles event – Kale-a-palooza – held on Saturday to celebrate kale — among the healthiest, most nutrient-dense vegetables on the planet.
More on that event later this week, when I will feature all the kale-tastic dishes FBLA members created.
But for now, feast on this salad, and dream of bikini season.
Recipe: Kale-a-palooza Salad with Garbanzos, Persimmons, Tuna and Tomatoes
Summary: Light, lemony, packed with tuna and garbanzos for protein and nutritious kale, this is a main-dish salad that satisfies for dinner or lunch the next day, if you have leftovers.
Ingredients
1 (15- or 16-ounce) can garbanzo beans, rinsed and drained
1 (5-ounce) can Tonno solid light tuna in olive oil (you will use the oil)
3 tablespoons red onion, sliced paper thin and finely minced
6 leaves Lacinato kale (aka Dinosaur, Cavolo Nero or Tuscan), stems removed and leaves cut in a chiffonade
2 firm Fuyu persimmons, skinned and diced
Handful of grape tomatoes, quartered
4-5 radishes, finely diced
1 garlic clove, crushed
1 lemon (you will use 1 teaspoon zest and 3 tablespoons juice from it)
3 tablespoons olive oil
3 tablespoons fresh basil cut in a chiffonade
3 tablespoons fresh mint cut in a chiffonade
Freshly ground pepper
A pinch of EACH of the following:

Ground ginger
Dry mustard
Dried oregano
Dried thyme
Kosher salt (taste salad before adding)
Instructions
In a large bowl, add garbanzos, tuna with its oil (this will contribute to the dressing), onion, kale, persimmons, tomatoes, radishes, garlic, 1 teaspoon lemon zest, 3 tablespoons lemon juice, olive oil, basil, mint, pepper and all dried spices. Stir and toss to mix well. Taste and add salt if needed. (The tuna and garbanzos will likely have salt in them, so taste before adding more.)
Allow to rest for at least half an hour before serving (better for an hour or two).
If you wish to serve immediately, massage the oil and lemon juice into the cut kale leaves for about 3-5 minutes to soften them, then add all the rest of the ingredients and stir to combine. You can soften the kale either by hand massaging it (for instant consumption), or by letting time do the trick.
Serves 4 (main dish for dinner)
Quick notes
This salad holds up very well in the refrigerator for several days. In fact, I recommend making it at least 2-4 hours before you want to eat it, so all the flavors mix and mingle!
Variations
Try making a wrap out of it the next day for lunch. Wrap in tortilla or soft lavash.
Source
Created by Dorothy Reinhold/ShockinglyDelicious.com
Preparation time: 25 minutes
Diet tags: High protein
Number of servings (yield): 4
Culinary tradition: USA (General)
My rating 5 stars:  ★★★★★
Come back later this week for a full display of all the kale-rific potlock offerings brought to Kale-a-palooza!