Print This Post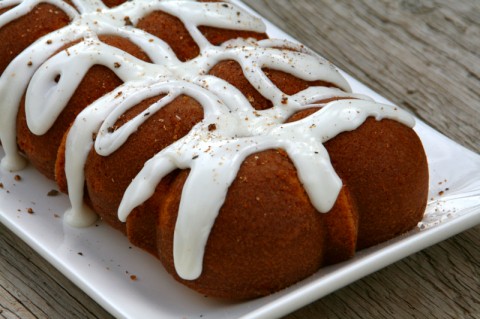 Can there be a better perfume during December than eggnog and rum? Methinks not.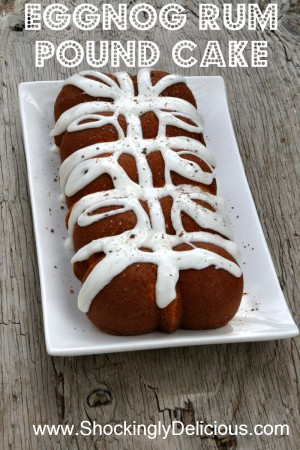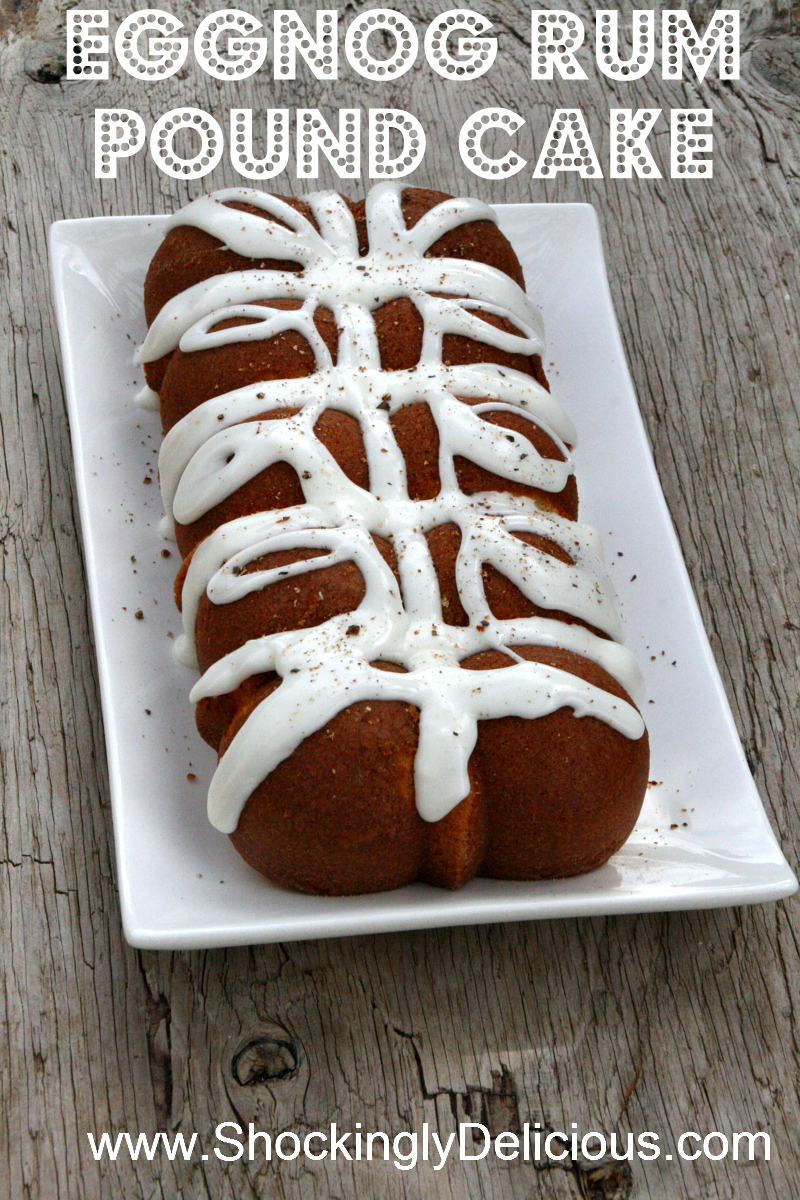 My son agrees, and as soon as the eggnog hits the store shelves in November, he is all over it, drinking it for breakfast, for a snack after school, and before bed if he can get away with it. Luckily he has the metabolism of a 10-year-old surfer. 🙂
I baked him this treat using eggnog extract to concentrate the flavor, and rum extract to avoid the alcohol. (It didn't hurt that I dabbed a bit of both extracts on my wrists.)
It was a total winner!
I made this cake as part of the #BundtaMonth December baking party, hosted by Lora from Cake Duchess and Anuradha from Baker Street. This month our #Bundtamonth party bakers are:
If YOU would like to join the #BundtaMonth party this month:
Bake your Bundt for December following the theme: Boozy December! (Pick your favorite liqueur and incorporate it into a Bundt, or get inspired by your favorite cocktail or mocktail. You can use an extract if you don't want to use alcohol.)
Post it before Dec. 31, 2012.
Use the #BundtaMonth hashtag in your title. (Ex: title might be #BundtaMonth: Spiced Chocolate Bundt)
Add your entry to the Linky tool below.
Link back to both Lora and Anuradha's announcement posts.
That's it! Fire up your oven and get baking!
Recipe: Eggnog Rum Pound Cake
Summary: Perfumed with the heady fragrance of rich eggnog and frisky rum, this Eggnog Rum Pound Cake is a perfect dessert for the season.
Ingredients
Cake
3/4 cup (12 tablespoons or 1 ½ sticks) organic unsalted butter, at room temperature
1 cup + 6 tablespoons sugar
3 eggs, at room temperature
1 1/2 cups all purpose flour (or you can use cake flour)
1/4 teaspoon baking powder
¼ teaspoon salt
1/2 cup milk, at room temperature
1/2 teaspoon eggnog flavor
1/2 teaspoon rum extract
Icing
1 cup powdered sugar
1 tablespoon milk
1/8 teaspoon eggnog flavor
Freshly ground nutmeg
Instructions
Heat the oven to 325 degrees F. Grease and flour an 11- by 5 1/2-inch nonstick Bundt loaf pan and set pan aside.
In a large bowl using an electric mixer, beat the butter and sugar on high speed until light and fluffy, about 3 minutes. Add eggs, one at a time, beating well after each addition. Scrape down the sides of the bowl.
Add the flour, baking powder and salt and mix until combined, a minute or so. Add milk and extracts and mix until combined, about a minute or so.
Pour batter into the prepared loaf pan. Bake for 55-60 minutes or until a cake tester inserted in the center comes out clean.
Remove cake from the oven and set on a rack to cool for about 20 minutes. Using a knife, loosen the edges of the cake where it adheres to the pan, and then invert it onto a serving plate. Cool cake completely on a wire rack.
Make icing: In a small bowl, vigorously stir together powdered sugar, milk and eggnog extract for icing. Dribble onto cake in a decorative fashion, and immediately grate fresh nutmeg over top. (How pretty did this icing pattern turn out?)  If you wait too long, the icing will dry and the nutmeg won't stick. Or forgo the icing and simply sprinkle decoratively with powdered sugar before you slice to serve.
Serves 10-12.
Source
Inspired by this recipe on Magnolia Days, which talented baker Renee adapted from the "Southern Living 1985 Annual Recipes" cookbook. That's a good pedigree on both counts!
Preparation time: 10 minutes
Cooking time: 55 minutes
Diet type: Vegetarian
Number of servings (yield): 10-12
Culinary tradition: USA (Traditional)
Bundt cakes I have baked for #Bundtamonth
Dec. 2012: Eggnog Rum Pound Cake
Nov. 2012: Nutmeg Bundt Cake
Oct. 2012: Pumpkin Pecan Bundt Cake with Maple Glaze
Sept. 2012: Zucchini Cookie Butter Bundt Cake

You can see a wonderful gallery of our #Bundtamonth cakes here. Are you inspired yet to bake something?