Print This Post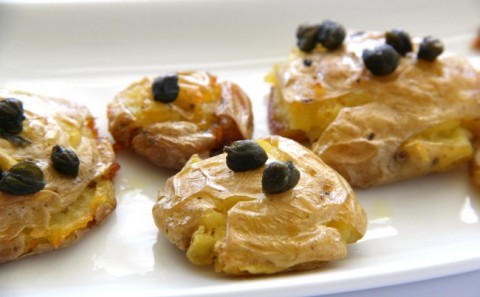 If you're never made Irish Roadkill before, you need to get on it!
I've been making them for 15 years, but back then I called them by a more ladylike name — Crispy Smashers. I thought that's what described them best.
But then a funny reader renamed mine for me, and now Irish Roadkill is the name that sticks!
Over the years, I've tweaked the original recipe every which way —
chopped bacon and shredded cheese and chives (a loaded potato idea)
a shower of fresh chopped herbs
a sprinkling of smoked paprika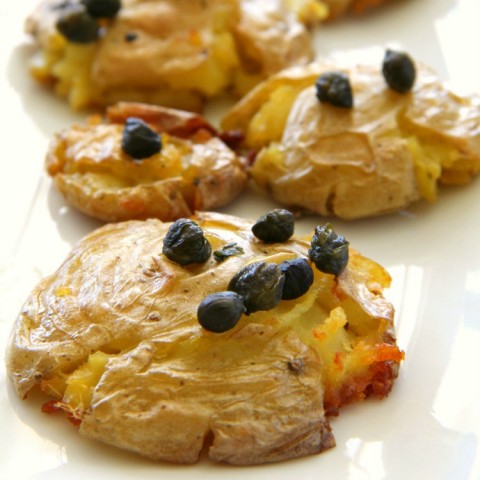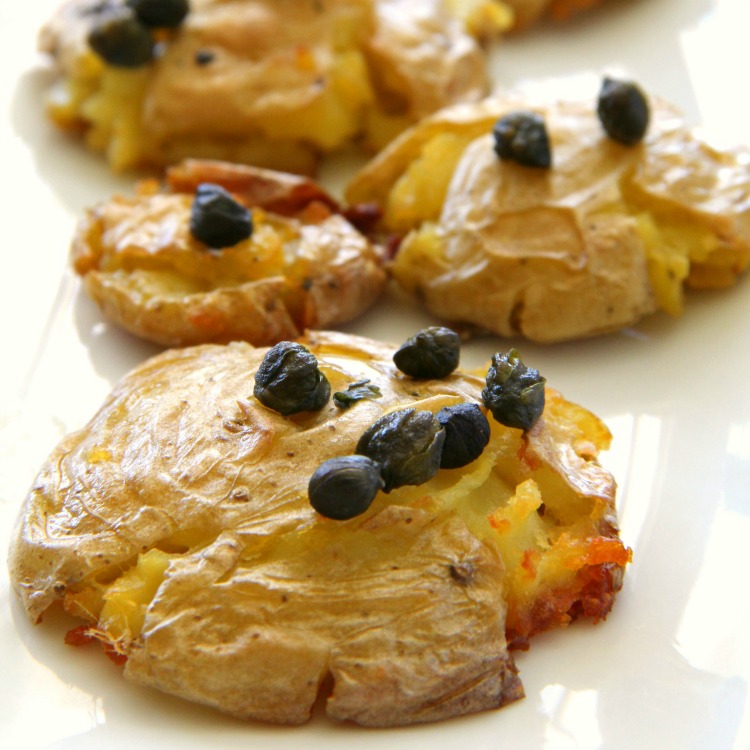 This is one of my favorite variations. I simply douse them in a good olive oil and sprinkle with salty capers and a bit of their brine before roasting to crispy perfection. The capers even get bit crispy in the oven. It's a veritable festival of crisp.
Start off with one of my favorite potatoes (from Idaho, of course!). These Baby Dutch Yellow Potatoes from Melissa's Produce have a rich and buttery flavor (which doesn't mean you can't add more butter if you want to 🙂 ). They cook quickly and you leave the tender skins on. In the past, I have used them lots of ways — in potato salad, in a Bagna Cauda Italian dip, as a simple skillet side dish, roasted with chile, mashed with garlic and herbs…use your imagination.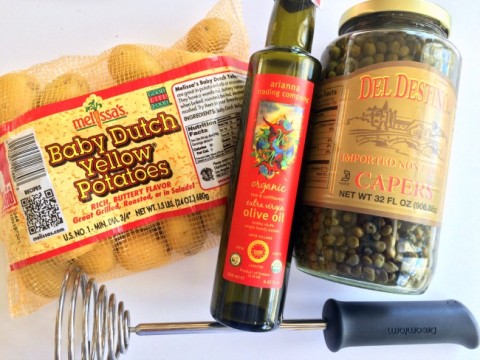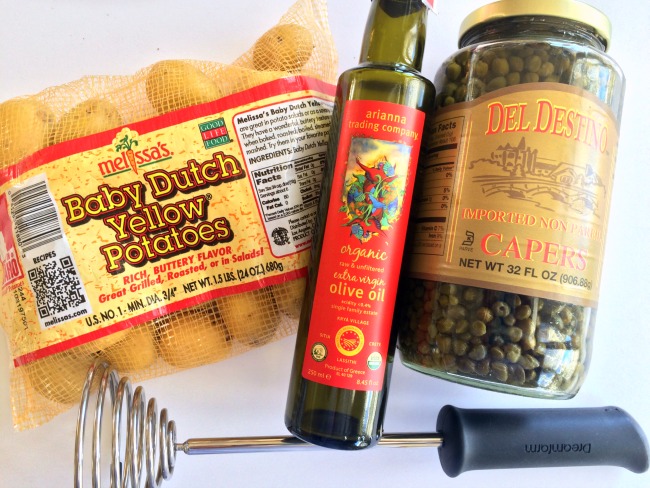 And what's that funny-looking coiled gadget? It's called a Smood, and I talk more about it right below the recipe.
Let's get this Irish Roadkill with Capers in the oven, friends!
Irish Roadkill with Capers
Unbelievably good, crispy, salty potatoes, better than a French fry or latke, with only 3 ingredients. The spuds AND the capers get crispy! Irish Roadkill with Capers will be your new potato dish forever.
Ingredients
1 (1.5-pound) bag Baby Dutch Yellow Potatoes
Capers + some brine
Extra-virgin olive oil
Directions
Heat oven to 425F degrees. Get out a 10x15-inch sheet pan and set aside.
Wash and dry potatoes. Poke each one 2-3 times with a toothpick, so they won't explode while microwaving. Put them in a glass bowl and microwave, on high, for about 5 minutes. They should be able to be pierced with a toothpick easily. Remove from microwave oven and dump potatoes onto sheet pan.
Use the Smood or a potato masher to lightly smash down on the potatoes, one by one, and position them in rows in the pan. Don't push so hard that the potatoes escape through the coils, just enough to smash them down. The skin will break and the soft potato will spread out yet will remain one piece.
Sprinkle some caper brine on each potato, using about 2-4 tablespoons for the whole pan of potatoes. Drizzle olive oil over each potato, using 3-4 tablespoons for the whole pan. Using your fingers, arrange a few capers on top of each potato. Don't worry if a few fall into the pan. They'll be fine.
Roast for 30 minutes. Remove from oven and serve, using a wide spatula to transfer them onto your dinner plates. Be sure to serve any escaped capers with them! The capers will be crispy too.
Serves 4-6.
Notes
Recipe source: Dorothy Reinhold | Shockingly Delicious
https://www.shockinglydelicious.com/smashed-potatoes-with-capers/
Copyright Dorothy Reinhold | ShockinglyDelicious.com. All rights reserved.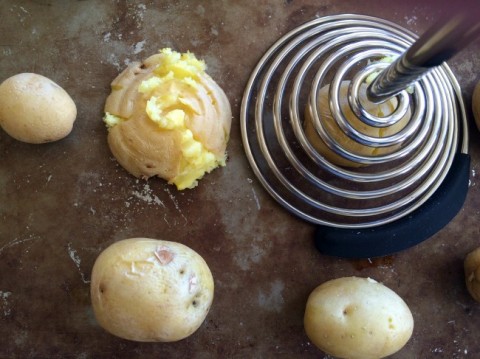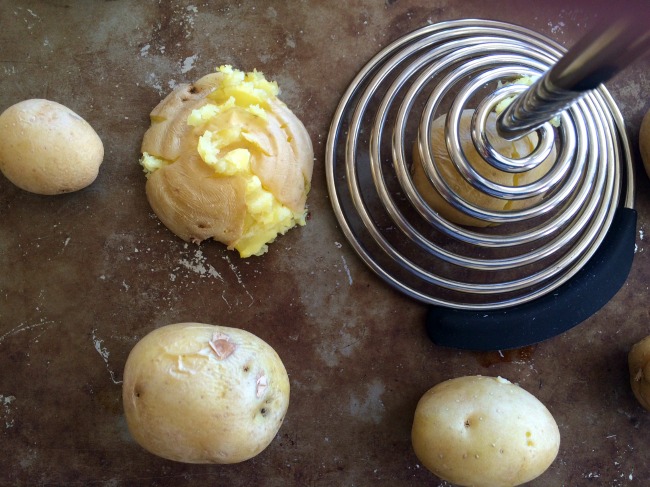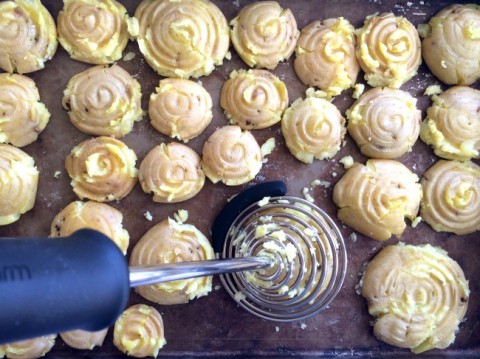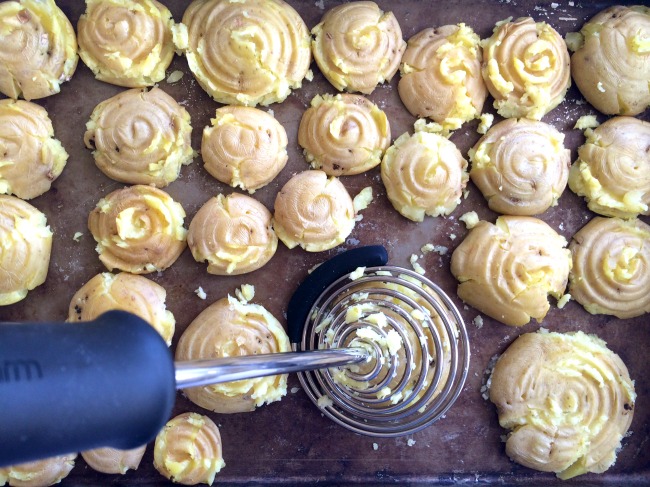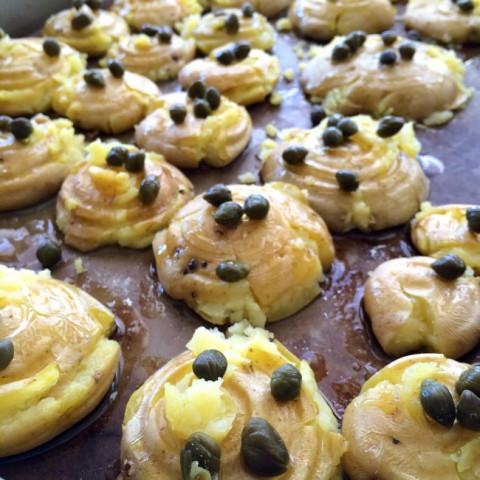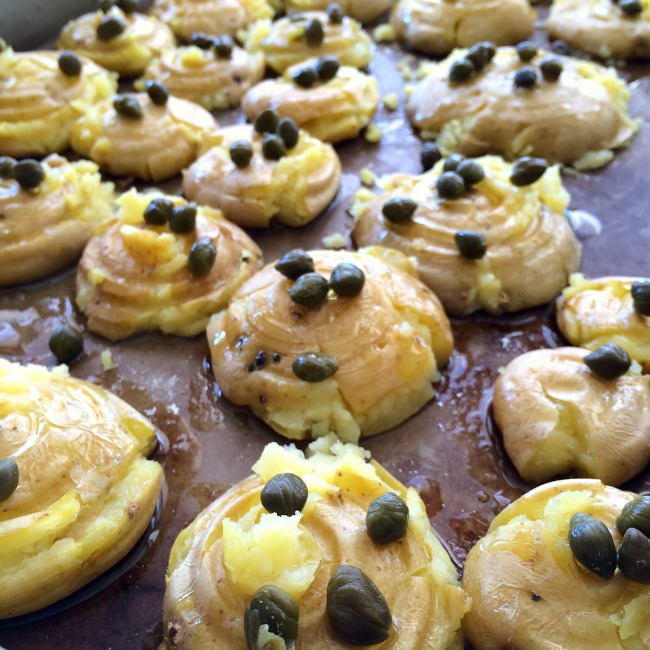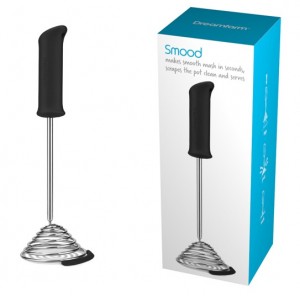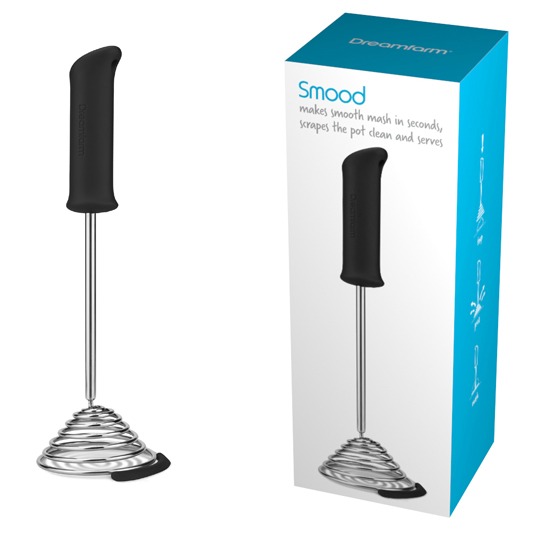 Smood Potato Masher
What's that cool tool I am using to smash the spuds? It's called a Smood, and is a new kind of potato masher. As you push it down, the spring flattens. For these, I pushed down only hard enough to smash the spuds a bit. If I wanted to make mashed potatoes, I would put the potatoes in a bowl or pot and push the Smood all the way down, which would force the spuds through the coils. A smash or two and you have smooth, fluffy mashers! You can use it for avocados (guac!), squash, bananas, or any cooked or soft food you'd like to mash. Made by Dreamfarm; dishwasher-safe, about $25. Very cool.
If you'd like to save this recipe for Irish Roadkill with Capers, pin it to your Pinterest board using the image below.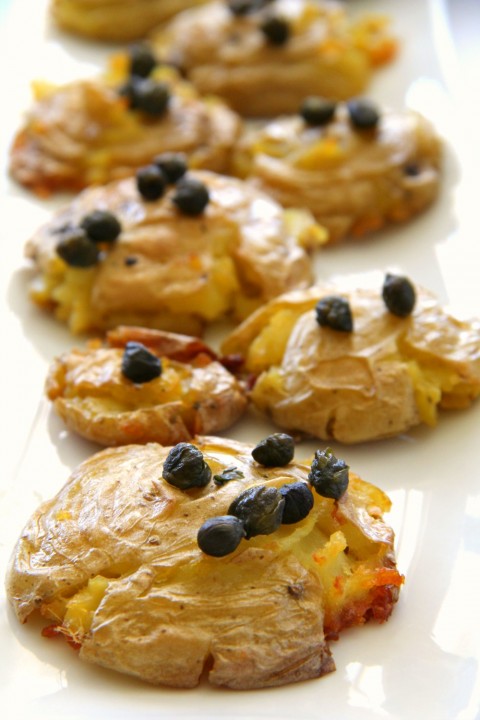 Disclosure: The potatoes were supplied by Melissa's Produce, and the Smood was supplied by Dreamfarm, for review.

Save
Save
Save