Print This Post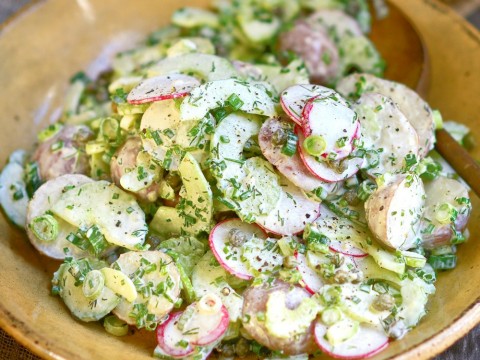 We need a new potato salad recipe, don't we, spud lovers? It's coming up on Easter, and we need something lively to put beside the ham, and to eat with our sandwiches the next few days.
I have just the ticket for you today, with this incredibly flavorful Russian Potato Salad from a new cookbook that celebrates the potato in all its spudtastic glory.
Just feast your eyes on this beauty of a salad for a minute, and imagine the explosion of flavors going on here – a homemade mayo-based dressing infused with anchovies, mustard, garlic, Worcestershire, lemon and cayenne! WOW, does it ever sing!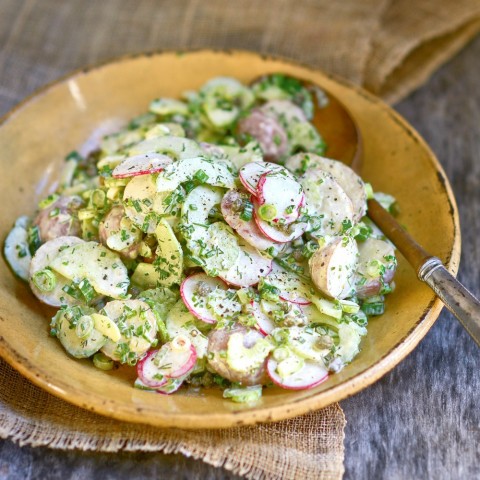 The body of the salad has crunchy radishes, celery and cucumber, along with aromatic scallions, capers, dill and chives, cuddled up next to those glorious red potatoes.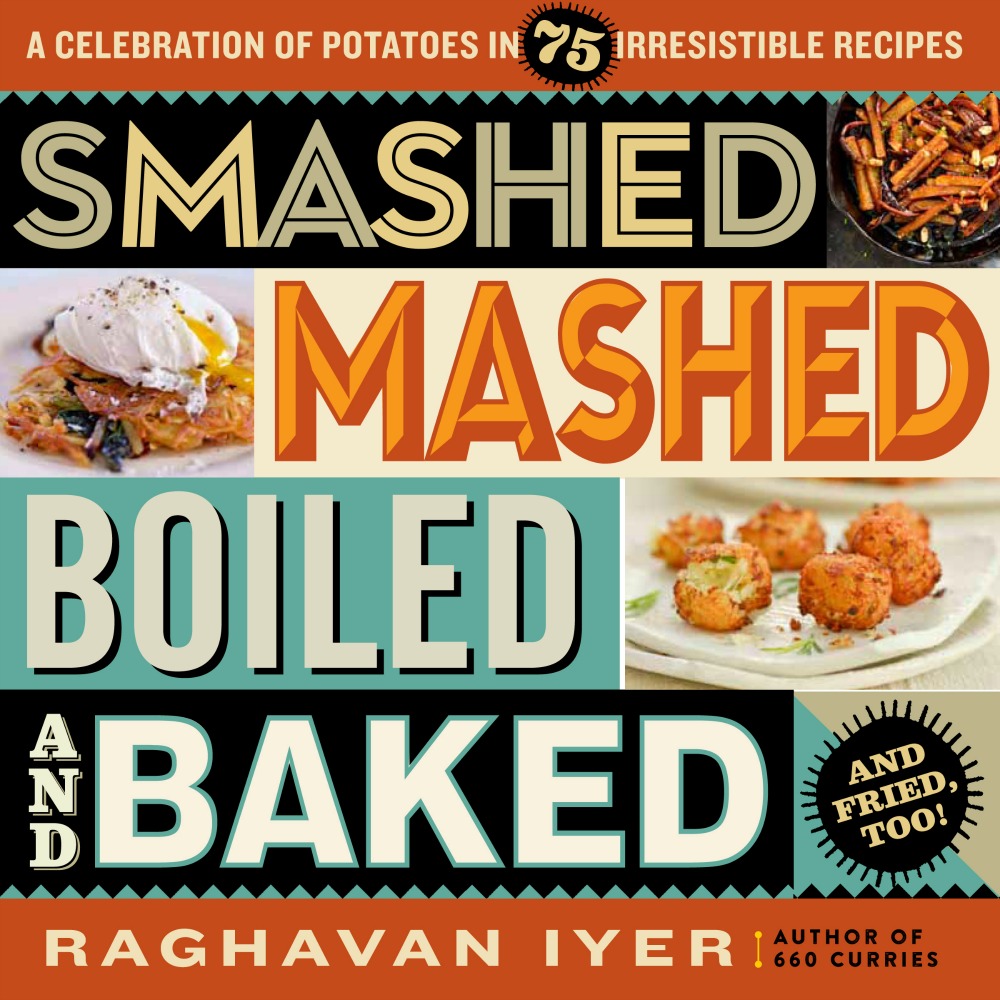 It's from a new spud-centric book that feels like it was written just for me — "Smashed, Mashed, Boiled, and Baked – And Fried, Too!" by veteran cookbook author Raghavan Iyer (2016, Workman Publishing, $16.95). With 75 creative recipes, this is a tater tribute that spans the globe, covering culinary needs for finger foods, soups and salads to main dishes and even desserts. Yes, you can eat potatoes for dessert, and I will show you in a minute. The photos are gorgeous, and the recipes expertly written so that cooks of all abilities will have success.
Iyer got the recipe from his friend Scott Edwin Givot, whose grandmother was the originator.
Listen to what Iyer writes about this salad:
"Married at the age of 17, (Scott's grandmother) was swept into her husband's underground world of smuggling diamonds (in Scott's father's diaper when he was a baby!), drugs, guns and more. Grandma Ida's ancestral roots were a hodgepodge, ranging from Crimean to Catalan, Hungarian and French. This Russian salad was special to her and Scott, a summer tradition they shared in the kitchen as she gave him advice on all that life could throw at him. 'Even as a kid, I never minded the idea of the salty little fish being used in the dressing. It's what gave the salad that undeniable umami flavor,' Scott mused. 'She always served it next to her sweet 'n' sour Swedish meatballs, which had a mellifluous tomato sauce punctuated with whole allspice. I loved both dishes and still make them to this day.' "
Melissa's Produce threw a party to highlight the book, and look what we got to eat:
(all recipes can be found in the book)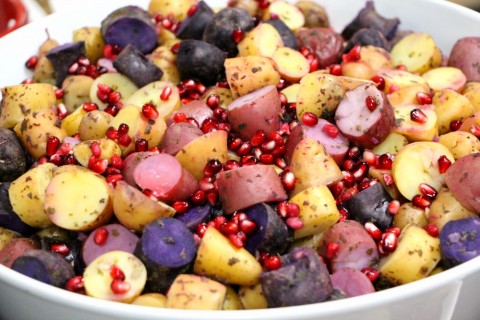 Mojito Potato Pomegranate Salad, with key lime, mint, a touch of sugar and white rum. It's 5 o'clock somewhere, isn't it!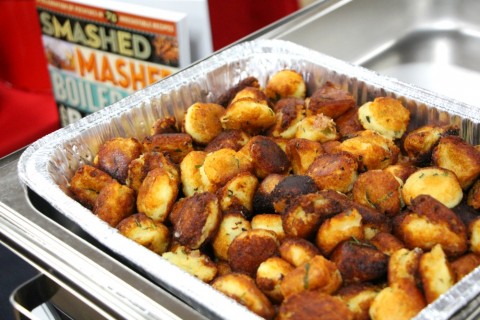 Cheesy Tarragon Tots. Tots are what you want, and trust me, you'll want a handful.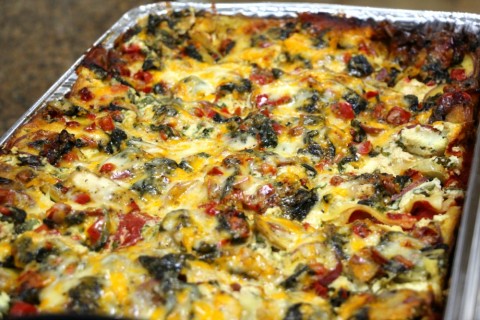 Potato Lasagna, with both potato planks and pasta, but the secret ingredient is lemon zest in the ricotta mixture. Perhaps the best lasagna I've ever had!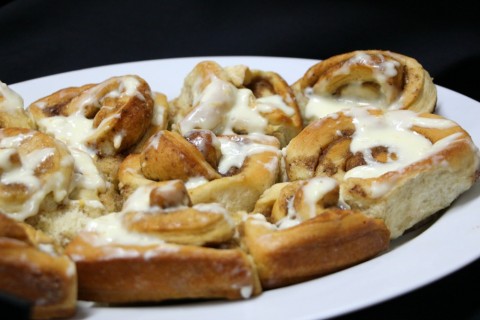 Sweet Potato Rolls with a Creamy Cointreau Glaze. Can you say brunch?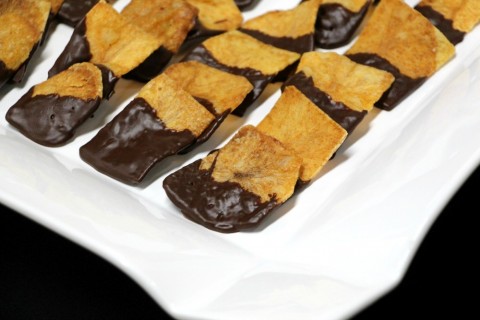 And yes, dessert was Thick Cut Potato Crisps with Dark Chocolate. I swooned, and snitched three. Look, there's Halley's Comet! Oops, I might have snitched four.
Are you drooling yet?
But back to our beloved Russian Potato Salad, which will be the solution to any ho-hum meal you have coming up, or a prized offering at a holiday get-together.
Iyer says this about it:  "A true fine balance of taste, color, temperature and texture."
I say let's make it. I'm on it right now. Are you?
Russian Potato Salad, with crunchy radishes and celery, aromatic scallions, capers, dill and chives, draped in an umami dressing of anchovy, garlic, Worcestershire and lemon juice, is a wondrous balance of taste, color, temperature and texture.
Ingredients
For the Salad

1 1/2 pounds new red potatoes
6 medium-size to large red radishes, scrubbed, trimmed, and thinly sliced
4 ribs celery, leaves discarded, thinly sliced
1 large English cucumber, peeled, cut in half lengthwise, seeds discarded, and thinly sliced
4 scallions, beards trimmed, green tops and white bulbs thinly sliced
1/4 cup baby capers, drained
1/4 cup finely chopped fresh dill
1/2 cup finely chopped fresh chives

For the Dressing

6 anchovy fillets
2 egg yolks (see note below)
1 tablespoon Dijon mustard
2 large cloves garlic, crushed
1/4 cup extra-virgin olive oil
1/4 cup canola oil
1 teaspoon Worcestershire sauce
1/4 cup freshly squeezed lemon juice
1/2 teaspoon cayenne pepper
1 teaspoon coarse sea or kosher salt
1/2 teaspoon coarsely cracked black peppercorns
Directions
To make the salad, scrub the potatoes well under running water, cut them in half, and place them in a medium-size saucepan. Cover them with cold water and bring to a boil over medium-high heat. Briskly boil the potatoes, uncovered, until they are just tender but still firm, 12-15 minutes. Take care not to overcook the potatoes.
Drain the potatoes in a colander and rinse them under cold running water to cool them down. Give the colander a few good shakes to rid the potatoes of excess water, and transfer them to a large bowl. Add the radishes, celery, cucumber, scallions, capers, dill, and chives to the potatoes.
To make the dressing, place the anchovy fillets, egg yolks, mustard, and garlic in a blender jar and puree, turning off the blender and scraping the inside of the jar as needed, until smooth. Combine the two oils together in a small bowl. With the blender on low speed, drizzle the oils through the hole in the cover in a steady stream. Once the oils are added, you will have a thick emulsion, which is your own homemade mayonnaise. Add the Worcestershire, lemon juice, cayenne, salt, and peppercorns and pulse the dressing to ensure a smooth mix.
Pour the dressing over the salad and give it all a good toss. Serve at room temperature, but because this is a mayonnaise-based salad, do not leave it at room temperature for long periods of time.
Serves 4.
Notes
Egg yolks: Raghaven Iyer says this: "The use of raw eggs and/or yolks is always a cause for concern in this day and age of salmonella. You may fall on either side of the argument -- should I use raw eggs from a source I am familiar with, or should I consider using pasteurized eggs? Pasteurized whole eggs are heated in the shell at a safe temperature for the requisite number of minutes to make the eggs safe for raw consumption. They certainly work well in any recipe that calls for raw eggs."
Recipe source: Raghavan Iyer, from "Smashed, Mashed, Boiled, and Baked – And Fried, Too!" (Workman Publishing), from an original recipe from Scott Edwin Givot.
Photo credits: Photos from the book by Matthew Benson. Photos from the party by Melissa's Produce.
https://www.shockinglydelicious.com/russian-potato-salad/
Copyright Dorothy Reinhold | ShockinglyDelicious.com. All rights reserved.
If you like this recipe and want to save it, please pin the image below to your Pinterest board.
And stay tuned to ShockD for another recipe from the book: 4-Ingredient Sweet Potatoes with Chicken and Lemongrass.

You'll have an incredible chicken dinner on the table in 30 minutes.




Disclosure: Melissa's Produce and the publisher provided a copy of the book for review. Photos from the party are courtesy of Melissa's Produce. Photos from the book are by Matthew Benson. 

Save
Save
Save
Save
Save
Save
Save
Save
Save
Save
Save
Save
Save
Save
Save
Save
Save
Save
Save
Save
Save
Save
Save
Save
Save