Print This Post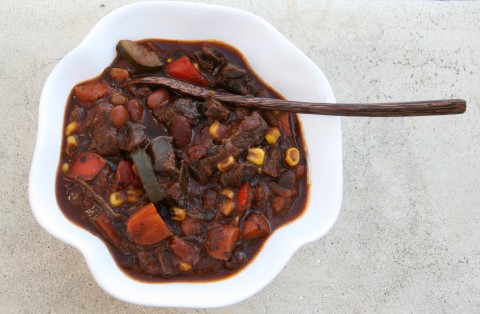 Eating lower on the food chain can be delicious as well as nutritious. And whether you do it every day, or are easing into a plant-based diet using the excuse of Meatless Monday, it's a good thing you are doing for yourself AND the 3rd rock from the sun.
This tasty version came from Teri Carcano, a neighbor who is currently on a year-long around-the-world adventure, and living for the moment in Nelson, New Zealand.
Now we all might have a little case of wanderlust, but the Carcano family was truly bitten hard by the travel bug. They longed to travel more extensively and really see the world, and more importantly, to show it to their young children. So mom Teri, dad Steve and Adele, now 9, and Vince, 4, packed up their carry-on luggage, waved goodbye to their Malibu neighbors and friends, and last June set off.
That last sentence makes it sound almost effortless or at least easy, but rest assured, there were months and months of prep work, from planning itineraries in each country, renting out their house, selling the cars, finding a temporary home for their dog, alerting friends, automating the bills, packing belongings for storage…the list was seemingly endless for Teri, a former media executive at Turner Broadcasting International and Steve, a former senior VP with Lifetime TV.
The day after school let out last summer, they were on a plane to London. This was followed by a swing through Paris, Brussels to catch the Tour De France, Frankfurt to pick up the camper they dubbed "House on Wheels,"  the Rhine Valley, Amsterdam, Northern Germany, Denmark, Norway, Sweden, Lucerne, the Swiss Alps, Italy (to visit the Carcano homeland), Austria, Turkey, Jordan, Egypt, a safari in South Africa, Vietnam, Laos, Malaysia, Australia and finally, Nelson, NZ, where they have plunked down as temporary Kiwis and stayed put since January.
Whew. I am exhausted simply reading the list of destinations! They are blogging about their amazing year of travel at their site called The Places We Will Go.
But this pair is indefatigable. For the first six months of their travels, they also home-schooled Adele, who would have been in 3rd grade this year, and Vinnie, who would have been in his final year of preschool.
But wait. We're not done yet. While on the road, they also began a couple of online businesses. The first is Call Me Cuffs – durable, waterproof ID wristbands  customized with a mobile phone number and allergy/medical information, designed to give parents some peace of mind when they are out and about with their little ones in crowds. The light bulb moment for the bracelets was when they stood outside the San Diego Zoo writing a cell phone number on the arm of their 4-year-old. They wanted an affordable, customizable, environmentally friendly bracelet to use by the day, and unable to find one, they developed it.
The second business is called VinniVooms – father and son  board shorts made of recycled polyester microfiber — old plastic bottles reclaimed from the huge plastic floating "island" at sea called the Great Pacific Garbage Patch. There's something right and full-circle about plucking plastic trash from the ocean to make recycled fabric that becomes board shorts that are in turn worn while swimming in the sea. VinniVooms also pledges to donate 50% of its profits to organizations aligned with ocean preservation. The Carcanos want a purchase of VinniVooms to be mean you are buying not only exceptional quality, but buying for good.
While they go full throttle on both of those businesses, there are still the practical matters of keeping the family going. Both children are enrolled in school in New Zealand, and the family enjoys their rented home by the sea in Nelson with an unbeatable view of the Tasman Bay, an offshore island, and a lively shipping lane to watch with binoculars.
It's an active life, with lots of hiking, swimming lessons at the aquatic center for the kids, yoga for Teri and Steve, and long-distance running for Steve as well.
While camping and traveling in their house on wheels, they ate lots of pasta dinners that were easy to cook in a tiny camper kitchen. And although pasta is a perennial favorite, having the luxury of a real home kitchen has allowed them to branch out to make more complex meals.
Still, though, cooking for a family requires a practical approach. Dinner can't take forever, and above all, it must taste good. And for Teri, it also means a healthy approach, as the family embraces a more plant-based diet that fuels their athleticism.
My family visited the Carcanos in April and Teri, an adventurous cook, treated us to her signature vegetarian chili, which really hit the spot after a day of zipping around Nelson. Since the seasons in New Zealand are opposite to ours here, it was autumn there, with a nip in the air and some rainy days.
My kids loved it, and we adults gobbled it up as well. It makes a perfect, healthy bowl of comforting dinner, no matter what beach you call home.
Teri Carcano's Vegetarian Chili
Teri tweaked this to her liking from the original recipe by Emeril Lagasse. The notes in blue are my tweaks. Feel free to make it your way!
2 tablespoons olive oil
1 1/2 cups chopped yellow onions

(I used 2 onions)

1 cup chopped red bell peppers

(I used 1 red bell)

2-3 carrots, chopped

(I used 3 carrots)

2 tablespoons minced garlic
1 medium zucchini, stem ends trimmed and cut into small dice
2 cups frozen corn
1 1/2 pounds Portobello mushrooms (about 5 large), stemmed, wiped clean and cubed

(I used 1 pound Portobellos)

2 tablespoons chili powder

(I used 1 tablespoon chili powder + 1 tablespoon ancho chili powder, which has flavor but not too much heat)

1 tablespoon ground cumin
1 tablespoon unsweetened cocoa (I added this as an homage to mole)
1 1/4 teaspoons salt
1/4 teaspoon paprika
2 (15-ounce) cans diced tomatoes in juice
2 (15-ounce) cans black beans, rinsed and drained
1 (15-ounce) can tomato sauce
1 dark beer
1/4 cup chopped fresh cilantro leaves

Accompaniment

: Cooked brown rice

(I like this chili with a side of cornbread)

Garnishes

: Sour cream or strained plain yogurt, diced avocado, chopped green onions
In a large, heavy pot, heat the oil over medium-high heat. Add the onions, bell peppers, carrots, and garlic, and cook, stirring, until soft, about 3 minutes. Add the zucchini, corn, and mushrooms, and cook, stirring, until soft and the vegetables give off their liquid and start to brown around the edges, about 6 minutes. Add the chili powder, cumin, salt and paprika, and cook, stirring, until fragrant, about 30 seconds. Add the tomatoes and stir well. Add the beans, tomato sauce, and beer, stir well, and bring to a boil. Reduce the heat to medium-low and simmer, stirring occasionally, for about 20 minutes.
Remove from the heat and stir in the cilantro. Adjust the seasoning, to taste.
To serve, place 1/4 cup of brown rice in the bottom of each bowl. Ladle the chili into the bowls over the rice. Top each serving with a dollop of sour cream and spoonful of avocado. Sprinkle with green onions and serve.
Serves 8.