Print This Post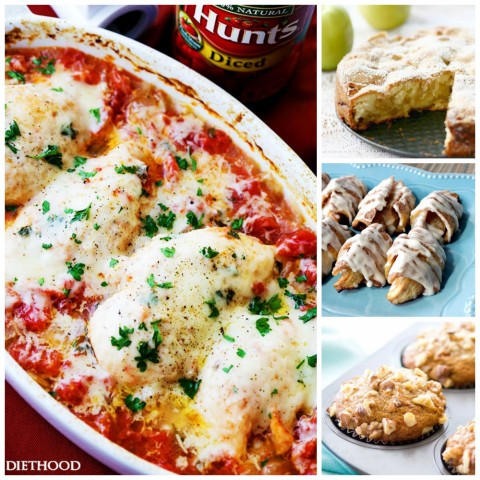 I have 500+ cookbooks (don't judge! I hear you calling "Hoarders," the reality TV show…).
But these days, I turn most often to food blogs and websites for quick meal inspiration and new recipe ideas.
From banana muffins to apple Charlotte cake or deconstructed apple pie wedges, and a sanity-saving one-dish chicken dinner, here's what I'm crushing on this month…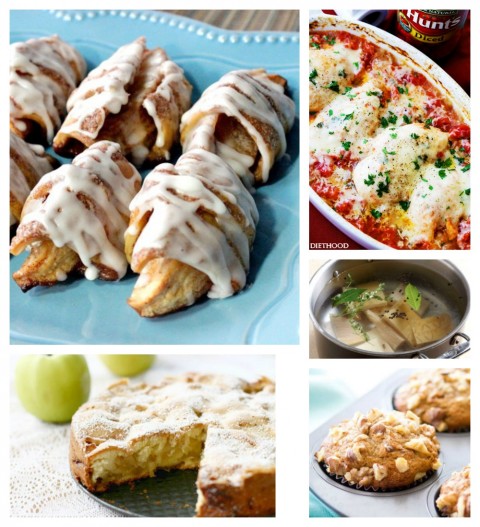 You really, REALLY need to try these. (Click on the recipe title to be taken straight to that recipe.)
Apple Sharlotka is a light and fluffy Russian apple cake that is impossibly airy from eggs beaten with sugar, so that it almost but not quite has a meringue quality. Studded with cinnamony apples, this easy cake makes a great breakfast or tea-time sweet with a hot beverage, or a dessert dusted with powdered sugar for pretty. It's simple enough for Sunday supper, but nice enough for company. Feride Buyuran has this wonderful version on her AZ Cookbook site. I tweaked it just a bit by reducing the sugar to 3/4 cup (that worked just fine), and next time I make it I will add some lemon zest for additional spark. We loved it!
♥
I've never actually met a banana bread or muffin that I didn't like, but I truly LOVED (all caps!) these muffins from Michelle of A Latte Food. They're light and fluffy, not dense, with a great clean banana flavor (especially if you use overly ripe black bananas).  We ate them for breakfast, as a snack, tucked them into the lunchbox, etc. Buy extra bananas if you need to, and let them go entirely black, and make these!
♥
I need to call this what it is — A GENIUS IDEA! — and yes I am shouting so you'll pay attention. Listen to what Fine Cooking magazine says about it:
"If you've ever tucked a rind of Parmigiano into a simmering pot of minestrone to add savory umami flavor, then this trick should make total sense: save up scraps of Parmigiano and Grana Padano, then simmer them in water (with a few herbs if you like) to make a light golden broth that tastes almost entirely of cheese. Then use the broth to add richness and depth to dishes such as butternut squash risotto, braised chicken, pasta, and creamy vegetable soup. It's a genius, practically free way to make your cooking even more delicious."
Firstly, if you aren't saving and freezing the rinds of your Parm, then get right on that. Collect them in a zipper-top bag in the freezer, until you have a quantity to make this. (Or simply throw those rinds in the soup pot when you're making soup. Just please don't throw them out.) Secondly, make this! Thirdly, invite me over for whatever you make from this!
♥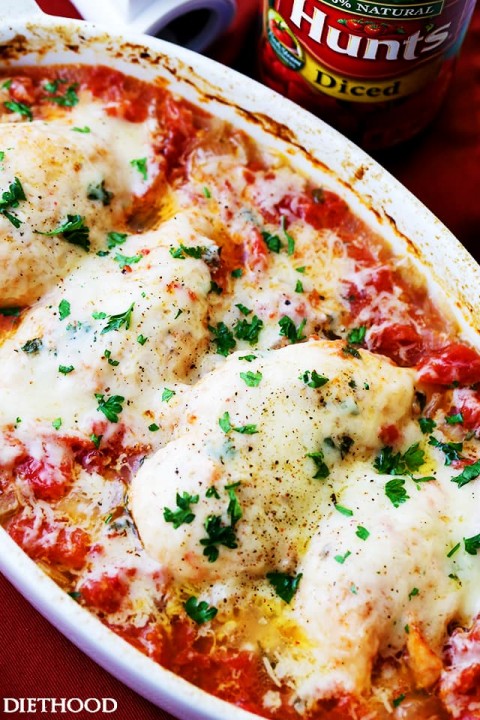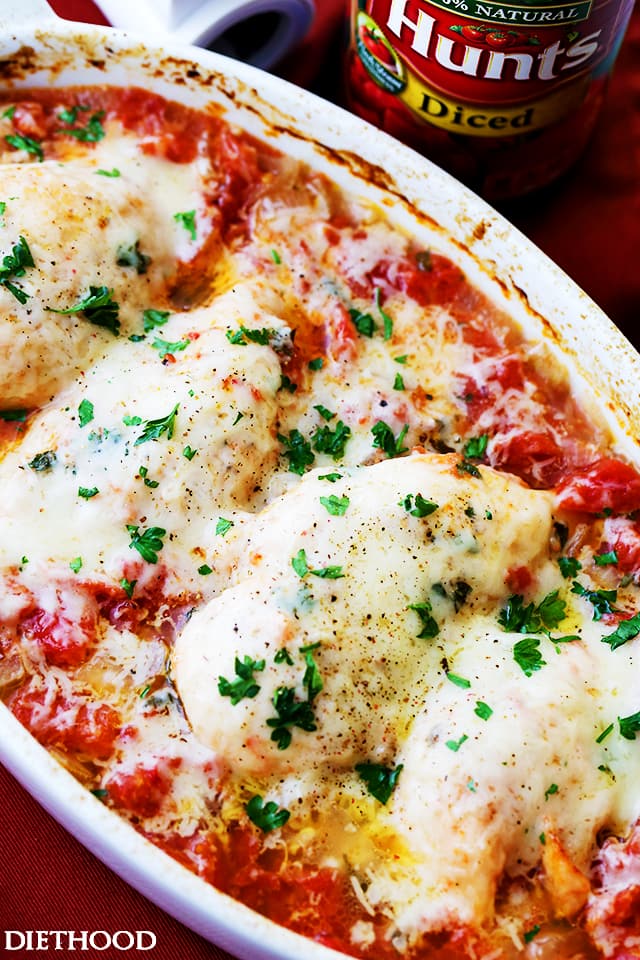 Anything that starts with an onion and a can of diced tomatoes is going to be a winner, in my book, and this meal did not disappoint. If you make it once, you won't need a recipe for it in the future…that's how easy it is. Great chicken, nestled in a bed of garlicky diced tomatoes and onions, given a final robe of cheese at the end. And one dish to clean up. I didn't have parsley so I showered it in basil for serving, and I didn't have gruyere, so I used shredded mozzarella. It's all good. Thank you for Katarina from Diethood for the recipe!
♥
"What do you get when you roll a sliced apple wedge in pie dough that has been brushed with lots of melted butter, sprinkled with cinnamon sugar, and baked until it's golden brown and crunchy? Cinnamon Sugar Apple Pie Wedges, that's what! Mark my words…you're going to LOVE them!"
So says Renee Goerger, who publishes Kudos Kitchen  by Renee. I have made these four times since she first chatted about them on Facebook, and every time I have a couple of old apples sitting around, I turn to this. It's easy, it's show-offy and it tastes like a million bucks! What else do you need? I recommend her version, of course! But let me also tell you my secret, though, which shows that this recipe is versatile and you cannot wreck it. I don't brush the dough triangles with butter. I know, sacrilege. But it still works out OK. I cut the pie round into 12 triangles, cut 2 apples ( I leave the skin on!) into 6 thick wedges each, and sprinkle the dough with some cinnamon or cinnamon sugar. I bake for about 45 minutes, and try not to go crazy while the smell wafts through the house. Once they're out of the oven, I drizzle with a glaze that I stir together with powdered sugar and boiled cider. That's it! So whether you make Renee's original version, or my stripped-down lazy version, you will be so happy. Renee and I guarantee it!
♥
If you like this collection and want to save it, pin the image below to one of your Pinterest boards.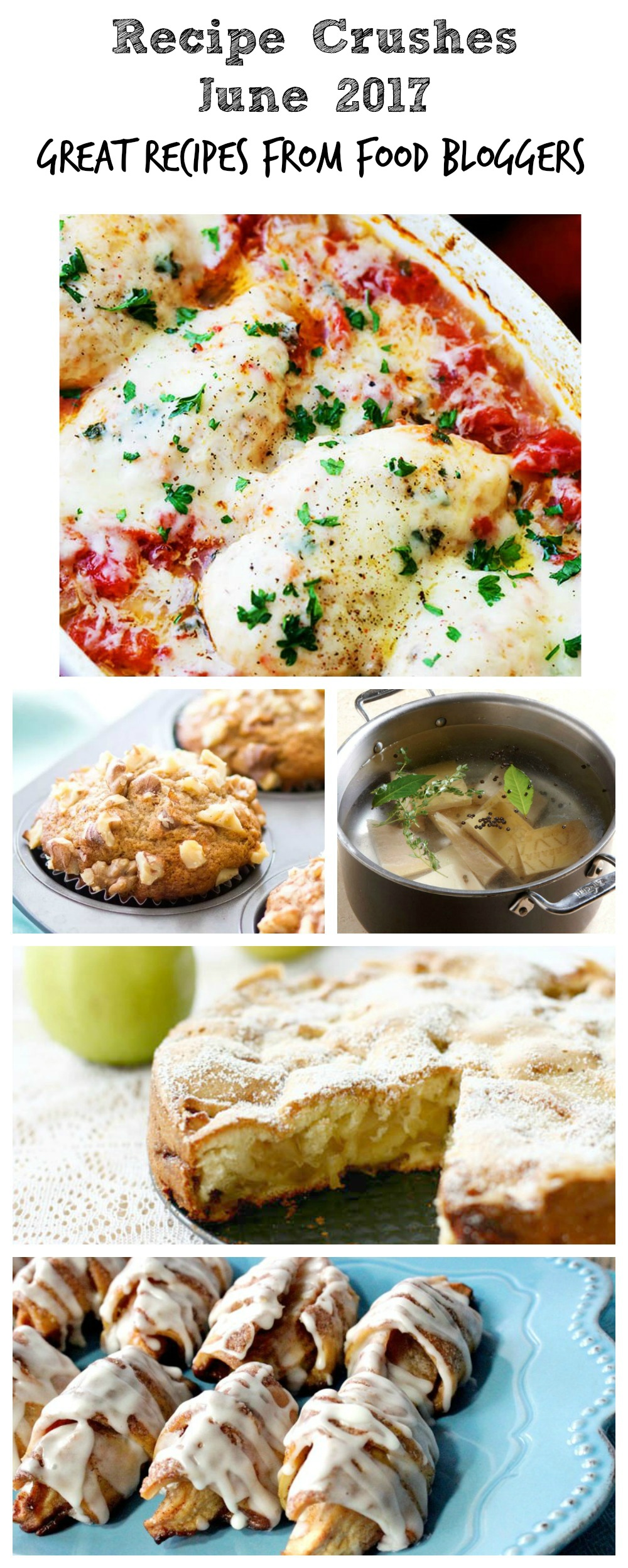 Want to see my other recipe crushes?
Jan. 2017
Vibrant Lemon Polenta Cake
Banana Bread from The Loft in Orange County, Calif.
Easy Slow Cooker Parmesan Olive Bread
Corn and Gruyere Mashed Potato Gratin
Nov. 2016
Apple Pie French Toast for One
2-Ingredient Flourless Nutella Mug Cake
Southwestern Breakfast Scramble
Maple Vinaigrette
Kale and Bacon Baked Risotto
Spiced Buttermilk Roasted Apple Muffins
Slow Cooker Green Enchilada Soup
Sept. 2016
Herbs de Provence Orange Roasted Chicken
Slow Roasted Cherry Tomatoes
Low-Carb Eggplant Casserole
Aug. 2016
Meyer Lemon Chicken Thighs
Azerbaijani-Style Eggs with Tomatoes
Clementine Gingersnap Cheesecake Bars
Slow Cooker Garlic Parmesan Potatoes
What have YOU made from food blogs lately? Lead me to some of your favorites by leaving me a comment below.
Save
Save
Save
Save
Save
Save