Print This Post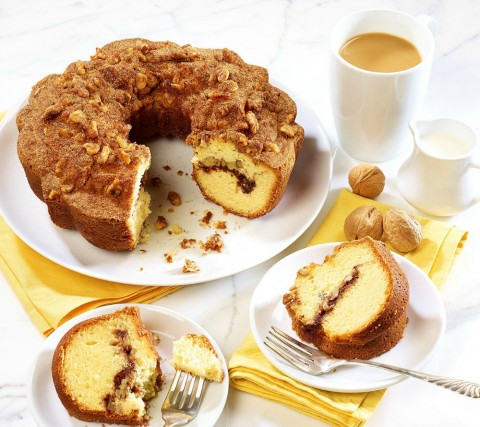 Today I'm partnering with Boston Coffee Cakes, which sent me cakes to sample and compensated me for my time. Thanks for supporting the brands that I love and that help me provide you with free recipes and food ideas all year long.

How do you say "thank you" when you have been invited to someone's home, someone has done something nice for you at work, or you just want to appreciate the extra mile someone went to help you out? Beyond words, what sort of thank-you gift is appropriate?
Something from the oven
Something baked, I say. Something baked is ALWAYS welcome. Etiquette maven  Emily Post backs me up on this: "It's a very nice gesture to bring a small gift.  Wine, flowers, and specialty food items, all make good gifts." Wine and flowers are nice, sure, but eyes truly light up when something baked enters the house. Try it.
When I don't have time to put something in the oven myself, or my recipient lives too far for me to drop something by, I will turn to an expert to help out. My latest find is Boston Coffee Cake, which has been baking delicious coffee cakes for people to send as gifts for a quarter of a century.  [I have a 35% off promo code for Shockingly Delicious readers: use code BCC35D at checkout. Sweet!]
Like many family businesses, it started with two siblings (brothers, in this case), a cherished family recipe (from Nana Esther Cluck) and a dream to bake the best coffee cake out there. Back in the day, they baked about 50 cakes a day and hand delivered them. These days, their reach extends far beyond Boston, and their cakes and other specialty baked goods have become a popular gift for friends and for business associates across the country. Nowadays, 12,000 cakes come out of their ovens.
The original cake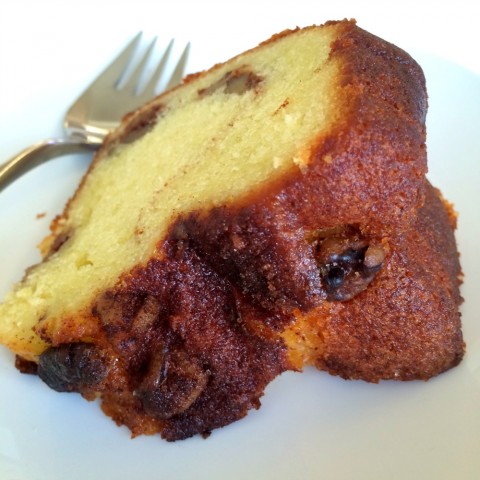 The original cake — Cinnamon Walnut Coffee Cake — that launched the business, is still their most popular variety, and I can see why. It is studded with large walnuts, kept moist by sour cream, and is shot through with a decadent layer of cinnamon sugar (of course!).  This is a coffee cake like your grandma or mom used to make. I dream in streusel-vision, and this doesn't disappoint.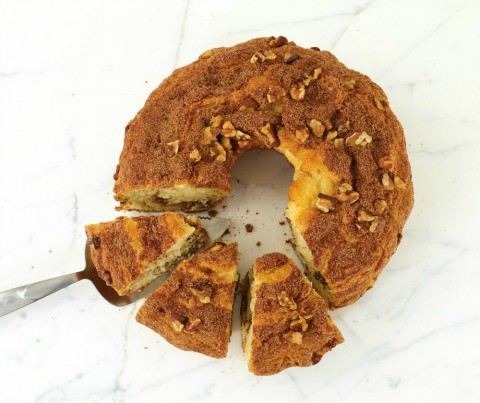 Check out the nuts and streusel on top!
The company touts its cakes as "the best cakes in America," but you don't have to take their word for it. Boston Coffee Cake was awarded the gold medal as a U.S.A. Taste Champion by the American Masters of Taste.
If you are not a coffee cake aficionado, you have 25 other gourmet gifts they make that can be used not only as a "thank you," but as an expression of congratulations for birthdays, anniversaries, graduations,  new babies and other milestones. These would make great client and employee appreciation gifts, too.
If you still need convincing, here's a little video that shows the original cake, and some of their other goodies. Try not to drool.


DISCOUNT: If you order from Boston Coffee Cake, be sure to use the PROMO CODE BCC35D for 35% off, for Shockingly Delicious readers.
Their motto is "Let us do all the work, so you can take all the credit." I can agree with that!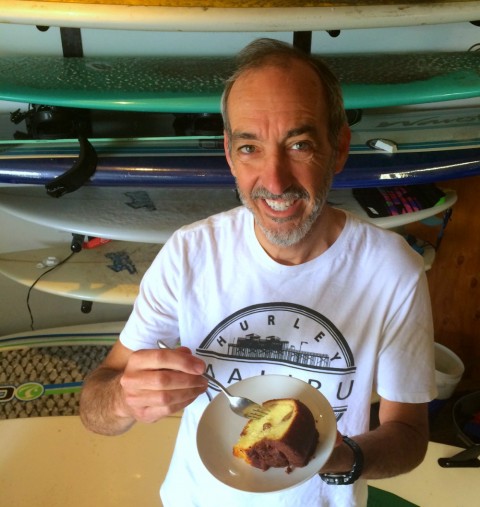 So can my husband, who enjoyed a piece of Cinnamon Walnut Coffee Cake after surfing today. He emerges from a surf sesh completely ravenous, and this really hit the spot!
Connect with Boston Coffee Cake on Facebook to get more tips for gift-giving!
If you want to keep this gift-giving idea handy, pin the image below to your Pinterest board!

Save
Save
Save
Save
Save
Save
Save
Save
Save
Save
Save
Save
Save