Print This Post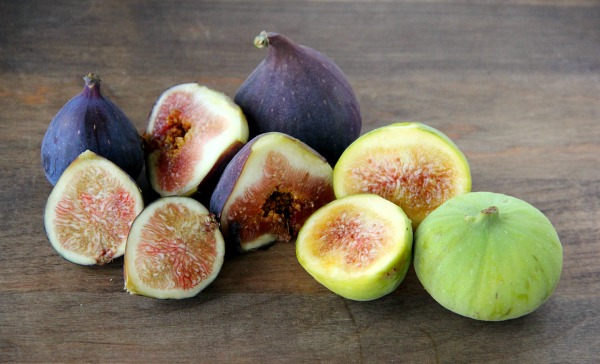 The bountiful fruits of summer include fresh figs from California, surely one of the most elegant ways to get your sweet on. We start to see fresh figs in mid-May, and they continue through mid-December, marching through four varieties that grace our markets as the months tick off – Brown Turkey, Black Mission, Calimyrna and Kadota.
In fact, if you've had a fresh fig, it's most likely we grew it for you, because 98% of American fresh figs are grown in California (and 100% of this country's dried figs are grown here). You're welcome.
I was lucky enough to taste several varieties at Figology Fest, a party sponsored by the California Fig Commission to showcase fresh figs, and the recipes served were astounding, each one better than the one that emerged from the kitchen before. We had…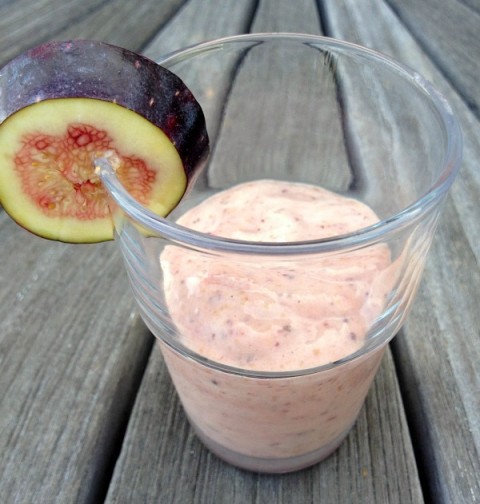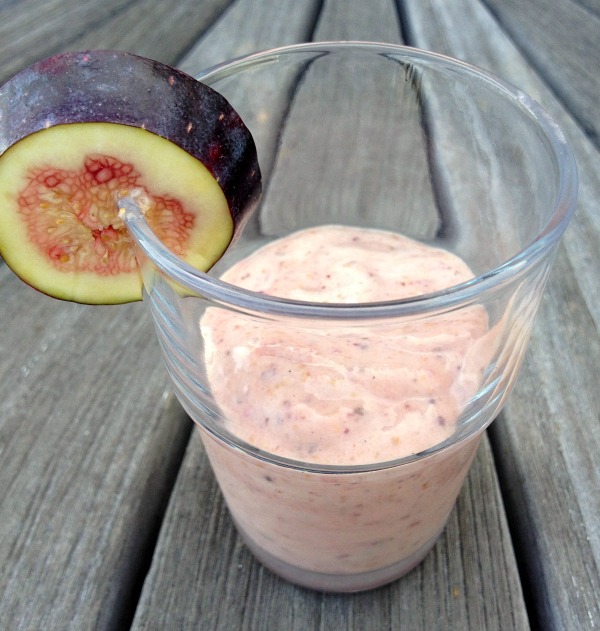 A fig milk shake!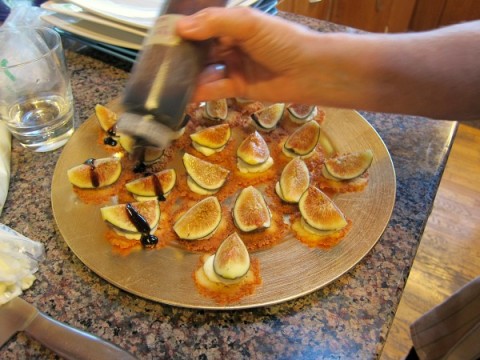 Figs on Parmesan Crackers with Mascarpone and a Drizzle of Reduced Balsamic.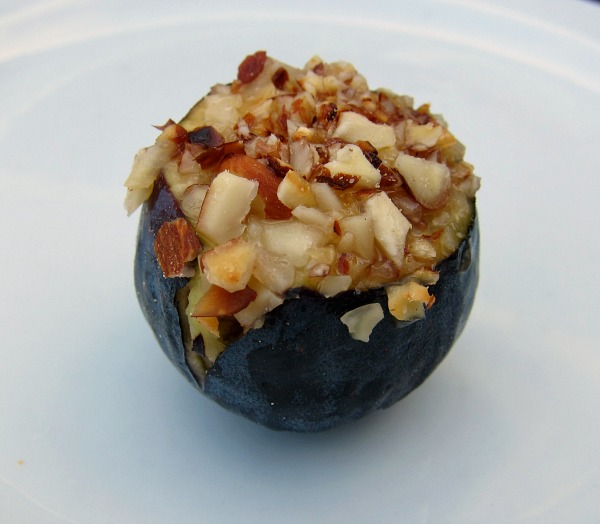 Figs stuffed with blue cheese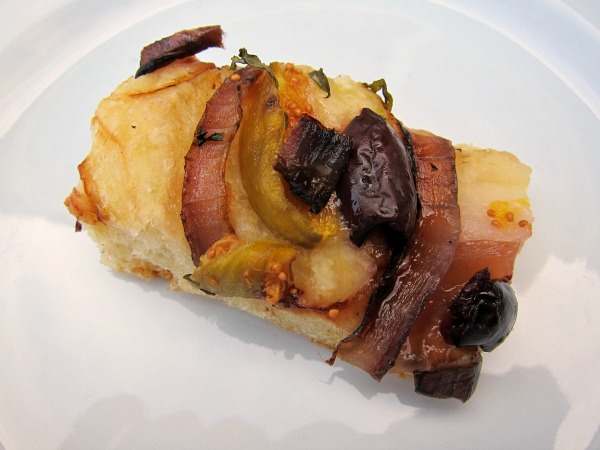 Fig Olive Focaccia (one of my favorites). I might have had three pieces. Maybe five.
Pacific Rockfish Fish Tacos with Fig Fennel Salsa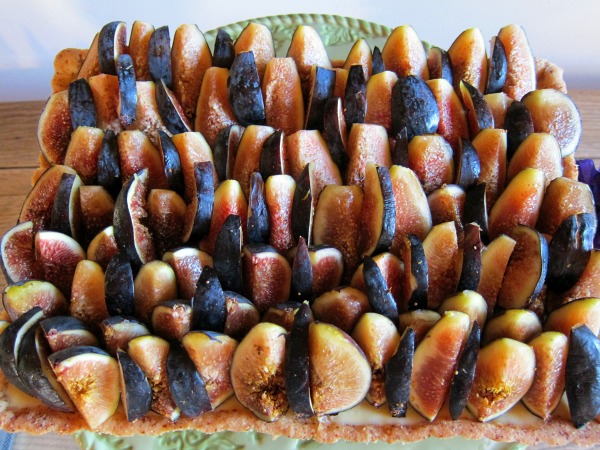 Fresh Fig and Lemon Tart And five more, but aren't you full just hearing about it?
Hosts/chefs Judy Lyness and Erika Kerekes (above, L-R) had such fun with figs that by the end of the evening, Judy was squirting fig salted caramel sauce out of her pastry bag straight onto people's fingers. Food bloggers…we have some fun, don't we? The California Fig Commission threw out the challenge to bloggers – come up with your own recipe using these beauties.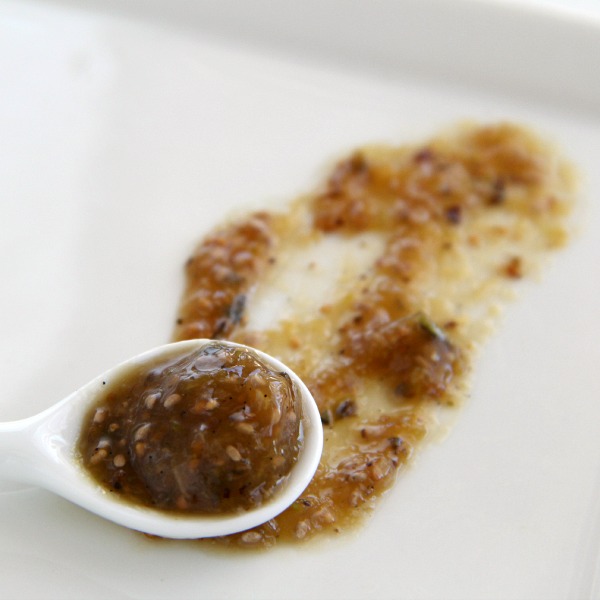 I took them up on it with a simple, no-cook, raw jam. Chia seeds thicken it and vanilla paste perfumes the figs. It's vegan, gluten-free, non-dairy, grain-free, nut-free, low on the glycemic index and promises to help you win the lottery. Just kidding about that last one…I'm checking to see if you are still reading. 😉 
Raw Vegan Fig-Vanilla Jam
When summer hands you fresh figs, you don't need too much else to turn it into a no-cook jammy condiment.
Ingredients
4-6 fresh figs
½ teaspoon vanilla paste (I used Heilala Vanilla Paste)
2 teaspoons coconut sugar
2 teaspoons chia seeds (I used white chia)
Directions
Remove stem from figs, slice and whirl figs in a mini food processor until they turn to paste, a few seconds.
You should have about ¾ cup fig puree.
Stir in vanilla paste, coconut sugar and chia, and taste for sweetness. Add another teaspoon of coconut sugar if you like a sweeter jam. Pack into a clean lidded jar.
Refrigerate for at least 30 minutes to allow time for the chia to absorb the liquid. Jam will thicken to the right consistency once the chia have gelled.
Notes
Recipe source: Dorothy Reinhold | Shockingly Delicious.
https://www.shockinglydelicious.com/raw-vegan-fig-vanilla-jam/
Copyright Dorothy Reinhold | ShockinglyDelicious.com. All rights reserved.
Disclosure: The California Fig Commission gave me figs, and Heilala Vanilla sent the vanilla paste, for recipe development.