Print This Post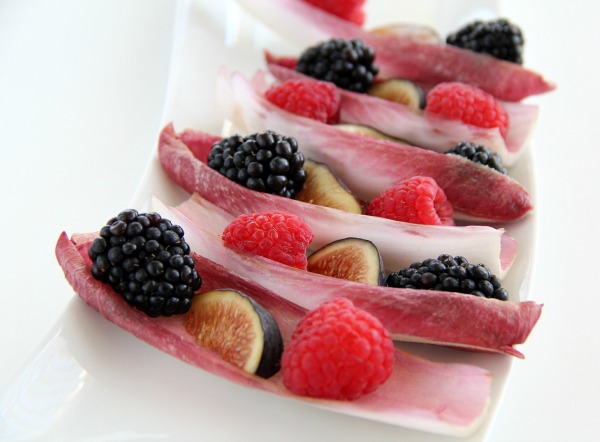 In case it wasn't obvious from the abundance of fresh berries in your market, July is National Berry Month!
In Southern California, we are awash in juicy berries and fresh figs, and I'm serving them for breakfast, lunch, dinner and snacks. We're also blessed by a plethora of tiny little endives – both green and purple – since the only major endive grower in the U.S. is in California. Perhaps you've seen these tiny heads in your store?
At 1 calorie per leaf, high in complex fibers and a good source of potassium, these are little powerhouse substitutes for chips and crackers. I also chop them and add to salads and stir-fries, and sometimes I will whirl them into a green smoothie.
I wanted a quick nibble before dinner the other night, and I piled berries and fresh figs into endive leaves to make the simplest appetizer you will ever find.
When summer gives you fresh fruits and vegetables, you had best take full advantage of them.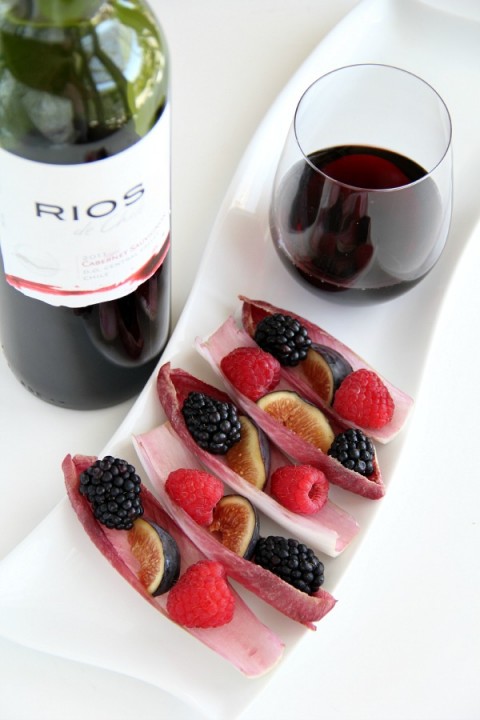 Wine pairing: I paired this with a RIOS de Chile Cabernet Sauvignon ($10-$15ish) — for a memorable summer nosh. The wine was bright, jammy, spicy and complex with soft tannins, so it was easy to drink. If you have not yet tried Chilean wine, you must.
Let's celebrate #berrymonth with fresh and easy foods. Join me!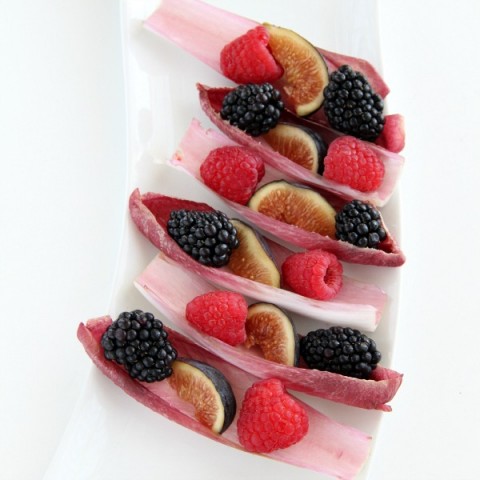 Summer Fruit in Endive Cups for #Berrymonth
Juicy berries and fresh figs in endive cups are a great healthy snack, appetizer or party nibble this summer.
Ingredients
Endive heads
Driscoll's fresh blackberries
Driscoll's fresh raspberries
Fresh Mission figs
Directions
Cut the end off the endive heads, and separate the leaves. Remove stem from each fig and slice fig into 6-8 pieces.
Place each endive leaf on a serving platter, and fill each leaf with a blackberry, raspberry and fig slice.
Allow at least 4 endive cups for each person. They are addictive!
https://www.shockinglydelicious.com/summer-fruit-in-endive-cups/
Copyright Dorothy Reinhold | ShockinglyDelicious.com. All rights reserved.
Disclosure: Endive was sent by California Endive, berries were provided by Driscoll's, figs were from the California Fig Commission, and wine was sent by Pacific Wine Group, for recipe testing. All opinions are my own.