Print This Post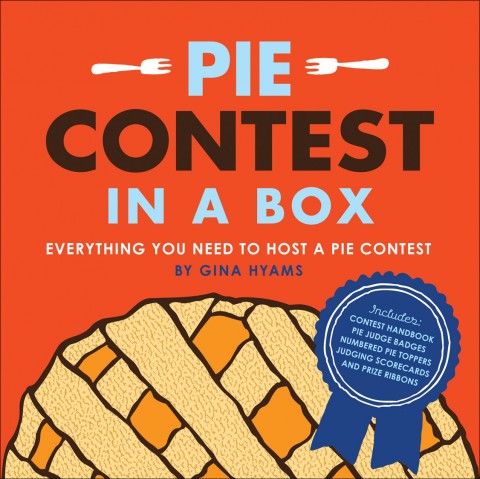 I'm very excited as I approach my first stint as a pie contest judge this month (at the Orange County Fair). I've won 20 ribbons myself in pie contests, and I hope to award as many as possible to other pie bakers. Let's have ribbons fluttering from the sky to all the great pies out there!
Of course, the best acclaim possible is the appreciation your friends and family give you around your kitchen table, but it's a separate kind of sweet victory to get a ribbon for your judged pie. If you've never entered a pie contest, let this be your encouragement.
If there isn't a pie contest near you, why not create one yourself? A joyful new book/kit called "Pie Contest in a Box: Everything You Need to Host a Pie Contest," by Gina Hyams (Andrews McMeel Publishing; $14.99) will help you do it, with ease and panache.
It has everything you need, from an essay on "The Zen of Judging Pie" ("Give the pie your full attention. Awaken all of your senses. Look at the pie, smell it, touch it, taste it and listen to it.") to theme suggestions (regional specialty, seasonal, farmers' market, family heirloom recipes, pies inspired by the movie "Waitress," etc.) and tips and recipes from pie contest winners across the country.
This is a truly fun-filled package, and includes the essential tools such as scorecards, flags to i.d. the pies, ribbons to identify judges, and ribbons to award. It would make a great gift for a baker, or a kid – what fun it would be for kids to hold a pie contest this summer! Or how about a pie contest as a neighborhood block party?
The box doesn't, however, include a pie. So get crackin' on that!
A Giveway
THIS GIVEAWAY IS NOW CLOSED. The winner is Kelli Abrahamian, who Tweets @Crazy4Kale, and who blogs at  ihadadelicioustime.  Congrats, Kelli! 
Before we get to the pie recipe, publisher Andrews McMeel, who sent me a copy to review, was kind enough to offer one of my followers an additional "Pie Contest in a Box." You may enter the giveaway contest in any (or all!) of the following ways. Please leave a separate comment per entry.
Tell me about your favorite pie, including a link to it if you wish.
Follow me on Twitter @Shockinglydlish (note spelling)
Become a fan of Shockinglydelicious on Facebook
Copy and paste this Tweet or write your own: @Shockinglydelish has a giveaway copy of the new "Pie Contest in a Box." Enter to win here: http://ow.ly/5vROA
Stumble this post.
Subscribe by e-mail to this blog.
Subscribe by RSS feed to this blog.
This giveaway will close July 11 at midnight PST. Open to residents of the U.S. only. Winner will be chosen at random. Prize will be mailed by the publisher.
This is a favorite pie of author Gina Hyams. It won the award for "Best Savory Pie" at the 2010 Roaring '20s Jazz Age Lawn Party Pie Contest on New York's Governors Island, and was baked by singer and actress Queen Esther of New York, NY.
It combines a classic spiced apple pie with bacon. Mmmm…bacon.
Recipe: Sweet Applewood-Smoked Bacon Apple Pie
Summary: Award-winning pie from Queen Esther of New York, from "Pie Contest in a Box"
Ingredients
Crust
2/3 cup shortening
2 cups all-purpose flour
1 to 3 tablespoons cold water, or a bit more as needed

Filling

8 to 10 medium/large Granny Smith apples
7 slices of applewood-smoked bacon
4 tablespoons of unsalted butter, sliced
1/2 lemon
3 tablespoons clover honey
1/4 cup all-purpose flour
1/4 cup firmly packed brown sugar
1/2 teaspoon ginger
1/2 teaspoon allspice
1 tablespoon cinnamon
1/2 teaspoon ground cloves
Instructions
Preheat the oven to 400°F.
While you peel and thinly slice the apples, cook the bacon slowly until it's soft and chewy, not hard. Dice the butter by taking a pat and cutting into fourths. Set sliced apples, bacon, and butter aside, while you prepare the crust.
Mix the shortening and flour together gradually with a fork and add water until the dough reaches the appropriate consistency. Cut the dough in half and roll out onto a floured surface with a rolling pin, placing one round section into a 9-inch pie pan, cutting the edges where appropriate. Roll out and shape the top and set aside.
Squeeze the lemon over the apples and pour the honey over them, tossing them lightly. Combine flour, brown sugar, ginger, allspice, cinnamon, and ground cloves in a small bowl, stir, then sprinkle over the apples and toss lightly.
Take 3 slices of bacon, cut them into ½-inch pieces, and cover the bottom of the pie crust. Place one layer of apples over this, along with 4 small cubes of butter. Continue layering the pie with one slice of bacon cut into ½-inch pieces, apple, and butter cubes until the pie is a mound, topped with apple and the last of the butter. Cover it with the rest of the dough. Be sure to make slits in the dough.
Place in the oven and bake for 30-40 minutes. Let it rest for an hour before serving. Enjoy!
Source: "Pie Contest in a Box," by Gina Hyams/Andrews McMeel Publishing
Quick notes
Best Savory Pie Winner at the 2010 Roaring '20s Jazz Age Lawn Party Pie Contest on New York's Governors Island
Preparation time: 30 minute(s)
Cooking time: 40 minute(s)
Number of servings (yield): 8
Culinary tradition: USA (Traditional)