Print This Post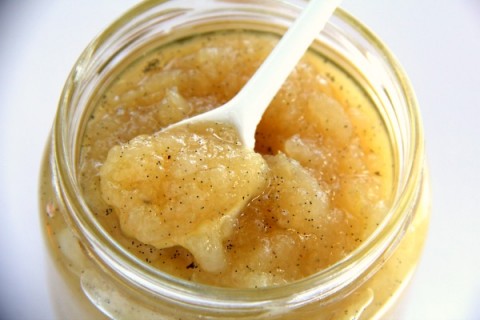 So I bought 6 pears to make a wonderful-looking pear coffee cake I saw online, and I let them ripen on the counter. They ripened, they ripened, they ripened more, going from bright green to yellow, then beyond.
I was lazy, lazier and laziest, and I kept NOT making the coffee cake, no matter how much I wanted to taste it. I wished someone else would make it for me. Alas, that never happened. Does it ever go this way at your house? Please tell me I am not alone.
Finally today I could stand it no longer. Those pears were so ripe, with so many brown spots on the outside, that I would soon have to throw them away if I didn't use them. So I made a quick pear butter, and I'm so glad I did.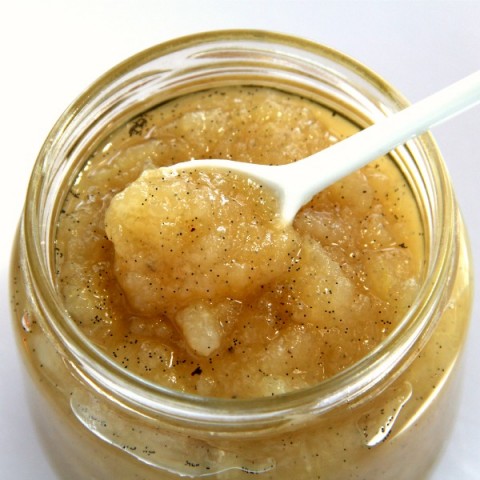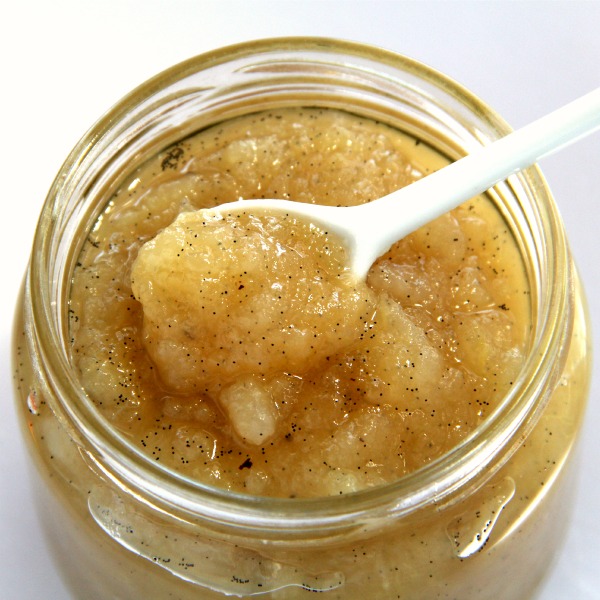 This is my new favorite preserve, tasting intensely of sweet pears, with a perfumed note of vanilla and a hint of something else – nutmeg, it turns out. A fruit butter has no butter, you know. It is just cooked down fruit, spiced and sweetened.
Because I am lazy (see second paragraph), I didn't water bath can it. This means it can't go in the pantry, but must be refrigerated or frozen. No matter though…it won't last more than 5 days, I can tell you now.
I'm eating this with turkey on Thursday. If there's any left, I'll eat it on pancakes, on bagels, on toast or dollop it on my oatmeal.
That's a big IF.
Pear-Vanilla Bean-Nutmeg Butter
Intensely pear-flavored with perfumed whiffs of vanilla and nutmeg, this is pear preserves of the Gods. Good on toast or with roast poultry or meats!
Ingredients
1 2/3 pounds extremely ripe Bartlett pears
1/2 cup vanilla sugar (or plain granulated sugar)
1 vanilla bean
1/2 Meyer lemon, juiced (about 1 tablespoon lemon juice)
1/4 teaspoon freshly ground nutmeg
Directions
Quarter, core and peels pears, cut into chunks, and put chunks into a 10- to 12-inch nonstick skillet. You should have about 1 1/2 pounds of pear left after you discard the peels, cores and stems. Add sugar to pan.
Run a knife along one edge of the vanilla bean to split it. Open it flat and scrape out the tiny seeds and add them to the pears. Add the scraped vanilla bean pod to the pears, too. Add the lemon juice and nutmeg to the pears. Use a potato masher to mash pears in the pan a bit. If pears are extremely ripe, they should collapse immediately. If they are less ripe, you will have to do this after they cook.
Bring to a simmer over medium heat, and cook uncovered for about 20 minutes, stirring occasionally, until liquid evaporates and pears thicken a bit (depending on how ripe they are, pears might be extremely juicy). If you weren't able to potato-mash them earlier, do it now. If it looks like a good consistency to you, remove from heat and allow to cool. If it still looks a little too wet, cook for another 5 or so minutes to further evaporate juice.
Remove from heat, allow to cool and spoon into a squeaky-clean lidded jar. Refrigerate if you will be using within a week or 2; freeze if you need to store for longer.
Makes 1 1/4 cups.
Notes
Recipe source: Dorothy Reinhold | Shockingly Delicious, with inspiration from Food in Jars
https://www.shockinglydelicious.com/pear-preserve-of-the-gods-pear-vanilla-bean-nutmeg-butter/
Copyright Dorothy Reinhold | ShockinglyDelicious.com. All rights reserved.
Disclosure: Melissas's Produce sent whole nutmeg and vanilla beans for recipe development.